Find out the best places to visit in Bhutan and the things to know before you visit plan a vacation.
The Kingdom of Bhutan is a beautiful country situated in the southern lower regions of the Himalayan Mountains sandwiched between the People's Republic of China in the north and the Republic of India in the south. The country is officially divided into mainly three zones, Western Bhutan, Central Bhutan, and Eastern Bhutan.
Bhutan – The Land of Thunder Dragon, is the only Carbon Negative country in the world. Every year, Bhutan absorbs more than six million tonnes of carbon.
Bhutan is aimed at supplementing 17 million tonnes of carbon dioxide with the export of electricity. Bhutan is the only country known for its innovative Gross National Happiness Index. In short, Bhutan has stopped destroying their environment and started protecting it, and that every nation and individual has the power to do.
Thimphu, the capital of Bhutan, does not have traffic lights. Bhutan- an intoxicating country. Vacationers from everywhere throughout the globe visit Bhutan for either social outings or trekking campaigns. Our trek was, to a greater extent, a social outing. We visited Monasteries and Dzongs, which are spread all through the nation.
Things to know before traveling Bhutan:
The 12 Most Frequently Asked Bhutan Travel Questions – Answered
1) Is Indian currency accepted in Bhutan?
Ngultrum (BTN) is the currency unit of Bhutan. A Ngultrum is of the same value as a Bhutan Indian rupee. … INR 100 & 50 Rupee denomination may be used in Bhutan, but Ngultrum cannot be used in India. Indian Rupee denomination note of inr 500, inr 1000 and inr 2000 are not accepted in Bhutan.
2) Is Passport required for Bhutan from India by air?
Indian nationals intending to visit Bhutan can show any of their authorized country identity cards to enter Bhutan. I.e., valid driving license, voter id, etc. Note, Aadhar cards are not accepted until now. And there is no need to get a Visa for people coming from Indian.
3) How much cash can I carry to Bhutan?
If you are an Indian Citizen, as per RBI notification, you are allowed up to a limit of 25000 Indian Rupees per person. Foreigners can carry a maximum of USD 10,000 or equivalent (source IATA), would need to declare if it exceeds the limit.
4) Where can I get a permit for Bhutan?
Indians traveling to Bhutan by road are required to obtain an Entry Permit from the Immigration Office of Royal Government of Bhutan at Phuentsholing, located on Indo-Bhutan border opposite Jaigaon, West Bengal (Nearest Railway Station: Hasimara, Nearest Airport: Bagdogra).
5) How can I go to Bhutan from India?
Indians can reach Bhutan by road, train, and flight.
6) Is there any flight to Bhutan from India?
Druk Air and Bhutan Airlines are the two major airlines in Bhutan and Paro is the only international airport in Bhutan. You can get flights from major cities such as Kolkata and Delhi.
7) How many days do you need in Bhutan?
With so much to see in Bhutan, an ideal tour of the country would be for the whole thirty days of your visa, which might be enough time to visit around two-thirds of the country's amazing sights and attractions. However, to make the most of the best views and experiences in Bhutan, at least five days is needed.
8) Is Bhutan visa-free for Indians?
Visa Free for Indian Passport Holders. This reciprocal visa-free travel system means that no visa is required for Indian nationals traveling to Bhutan, as long as they have the correct identification. Indian tourists can visit the famous Punakha Dzong and all scenic spots in Bhutan without a visa.
9) Which is the best time to plan a trip in Bhutan?
October to December is the ideal time to visit Bhutan as the air is bright and fresh with sunny skies. January and February are colder, but from then until April the climate remains dry and pleasant, and in late spring the famous rhododendrons bloom spectacularly, flooding the valleys with color. One can expect snowfall in mid-Jan till early February snows only in the northern Dzongkhags (Districts) of Bhutan. Gasa, Punakha, Bumthang, Paro, and Thimpu experiences snowfall during late December and January. High season months to visit Bhutan are March, April, May, September, October, and November. Ideally, one can spend around 5-7 days visiting beautiful valleys and attractions.
10) How much does a Bhutan trip cost?
All tourists must pay US$250 per person per day (US$200 a day from December to February and June to August), with a US$40/30 surcharge per person for those in a group of one/two. This covers accommodation, transport in Bhutan, a guide, food, and entry fees.
11) What should I wear in Bhutan?
Comfortable clothing and sturdy, soft-soled shoes are essential for travel in Bhutan. Warm clothing is recommended; and except for summer months, down jackets and woolen sweaters are suggested.
12) What can you buy in Bhutan?
One can purchase traditional handicraft items as souvenirs, namely, handcrafted bags, wall hangings, hand-woven textiles, gold and silver jewelry, Himalayan beads, handmade wooden bowls, cane and bamboo items, wood products.
Top places to visit in Bhutan
1) Paro Taktsang
Paro Taktsang, the cultural icon of Bhutan! Paro Taktsang is a small monastery, also known as Tiger's Nest. It is a Buddhist temple complex and has white buildings with golden roofs. The spot is encompassed with lofty mountains and emerald green valleys. Paro Taktsang is in a remote location, hence can create technical difficulties at times, though the hallmark of the monastery is its solitary location. The monastery consists of 4 main temples and several dwellings.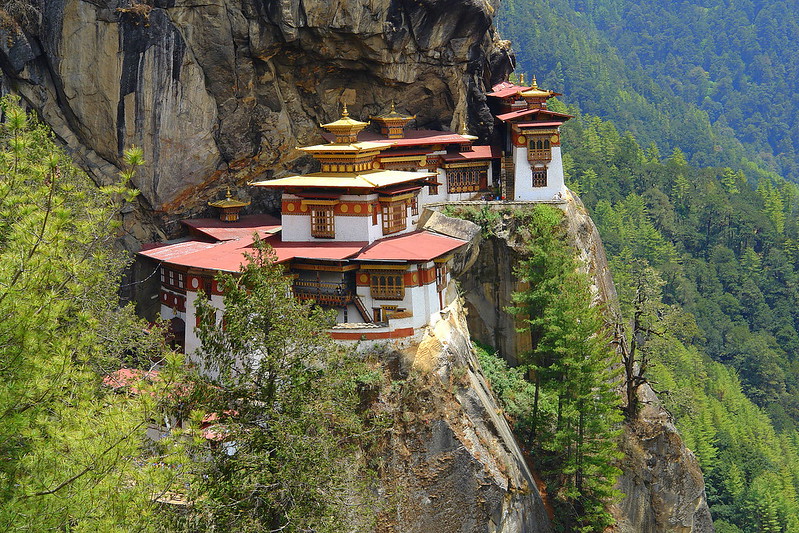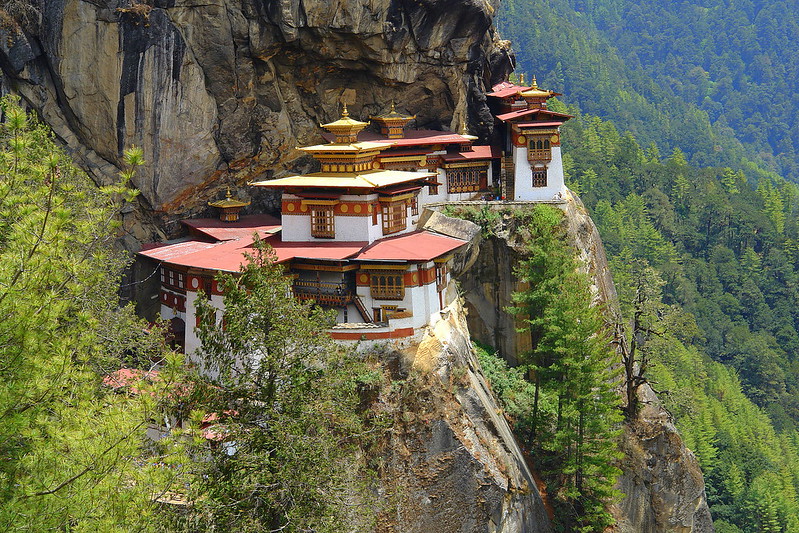 The temple is accessible only by the mountainous paths, hence only three main trails which lead to the holy place. The first path is quite adventurous as there is a trail passing through the pine forest, decorated with bright, prayer bannerettes symbolizing protection from evil forces, positive energy, vitality, and good luck. The other two paths pass through the plateau, called " a hundred thousand fairies plateau." The inside structure of the temple with its extravagant magnificence: gold-plated vault and flashing lights that are enlightening brilliant icons. In the lobby of Thousand Buddhas, which is cut into the stone, an enormous statue of a tiger is found.
The tiger is regarded as the image of Paro Taktsang as a result of the legend, as indicated by which the area of the Monastery was picked by a tigress. The tigress brought here on her back the originator of Bhutan's Buddhism master Padmasambhava. Looking at the Taktsang Palphung monastery from Paro valley or the bottom of the cliff, it seems almost impossible to reach the monastery. The entry fee is 500 Ng for all non-Bhutanese visitors, except those who are traveling on the daily package rate. Worth visiting the Earth's most breathtaking altitude location.
2) The Gangteng Monastery
The Gangteng Monestry (Phobjika) known as Gangtey Gonpa or Gantey Monastery, goes through the Gangteng Valley. Gangteng is the greatest Nyingma cloister (a covered walk in a monastery) in Bhutan and the seat of the Gangteng manifestation line. The valley is encased by the mountain ranges, which experience snowfall.
The valley likewise gets secured with snow throughout the winter months compelling individuals of the valley to move to progressively charming climes during the long stretches of January and February. The most advantageous choice of coming to Gangtey is hiring a taxi from Paro/Thimphu/Punakha/Wangduephodrang.
When traveling from Paro or Thimphu, it is advisable to stop in Punakha for one day and then drive to Gangtey. From Thimphu to Phobjika the distance is 125 km, and the taxi charges 2278 NU. (2278 Nu Bhutan cash approaches 2274.59 Indian Rupees)
3) Great Buddha Dordenma
On a slope in Thimphu, the capital and biggest city of Bhutan is an enormous, brilliant Buddha sitting on an overlaid contemplation corridor. The immense statue of Shakyamuni Buddha constructed on a mountain top is considered one of the biggest statues of Buddha in the world.
The carving is made of bronze with a cover of gold which symbolizes indestructible. The position of authority above which the Buddha Dordenma sits is a huge reflection hall, where several devotees meditate everyday Inside of Thimphu's 169 foot Buddha Dordenma statue, there are 125,000 small Buddhas epitomized within its illuminated bronze chest, extending from 8 to 12 inches tall.
This implies that Thimphu, which has a population of around 100,000, there are a higher number of Buddhas than there are people. The Buddha Dordenma is open from 9 AM to 5 PM every day, and it will be closed on Mondays and other National holidays.
4) Tashichho Dzong
Tashichho Dzong has been the headquarters of the administration since 1952 and directly houses the honored position room and workplaces of the lord, the secretariat and the services of home issues and money. Other government divisions are housed in structures adjacent.
It was first built in 1216 A.D. by Lama Gyalwa Lhanangpa where Dechen Phodrang now remains above Thimphu. The dzong is found near Thimphu town, alongside the banks of the Wang Chhu River. It is an astonishingly enormous structure, encompassed by well-kept yards and delightful greenhouses. There is a Nu 300 (INR 300), Tashichho Dzong entry fee to enter the fortress. You can hire a cab from Paro airport to reach Thimpu.
5) Simply Bhutan Project – a living museum
Bhutan is Simply Awesome! Not at all like conventional historical centers which have everything in a case or holding tight divider, one can encounter everything here. The remarkable characteristic of this project is the depiction of the well-established ways of life of the Bhutanese individuals.
The structure is manufactured reusing old timber, window and door jambs and different things from customary and old annihilated houses and this is a living gallery as it's been said. They will offer you the conventional beverages, move for you, close by involvement about the things that they are discussing in the museum. Maximum of one hour is sufficient to visit the place. A personal guide is available to take a tour of the entire museum. Entry Fee is 300 NU.
6) Bhutan Textile Museum
Bhutan Textile Museum is a national textile museum in Thimphu. The purpose of the textile museum in Bhutan is to promote the history and culture of Bhutan. It is very simple to filter through the vast amounts of various textures in plain view at this world-celebrated Bhutanese propelled culture pot.
The presentations at the National Textile Museum are named as pursues:-
• The Royal Collection
• The Role of Textiles in religion
• Achievements in textile arts
• The weft pattern weaves
• Textiles from indigenous fibers
• The warp pattern weaves
Apart from this, the museum organizes design competitions as well to display the best textiles. Likewise, the museum has probably the most cordial and proficient visit guides who guarantee that you get the chance to find out about the antiquated weaving practices of these glad individuals and everything else in the middle. Another hot fascination includes at this museum is the live weaving studio rooms. Visitors must pay a fee of 250 Nangultram as the entrance fee while visiting the National Textile Museum; the rates are subject to change.
7) Royal Botanical Park
The Royal Botanical Park, Lampelri, is the primary organic park in Bhutan and structures the setting of the Dochula Pass. The park is planted with 46 types of rhododendron of which 18 species are local to the recreation center while the other 26 species are brought from different areas of Bhutan and planted here.
The park office focus opens from 9 am to 5 pm in summer and from 9 am to 4 pm in winter. The park genuinely leaves on waste administration promotion projects to teach the overall population. Trash IN and trash OUT approach is being underscored.
The park has a lake known as Baritsho Lake which has religious holiness as the neighborhood individuals give votive contributions. Aside from the rhododendrons in the natural park, different assortments of plants in the botanical park comprise of 115 types of ferns. Some of the other significant trees are enormous oak, magnolia, and birch.
The park is likewise a well known winged creature watching zone, and 46 avifauna species have been identified. Some of the uncommon species announced are monal fowls and blood birds. There are 21 creature species distinguished in the park which incorporates musk deer, tiger, panther, red panda, and the panther feline. Entry to the gardens is free. All through the year, the gardens are open, with a few exceptions for special events in which tickets are necessary.
8) Changangkha Lhakhang – A Traditional Bhutanese Temple
The Changangkha Lhakhang, the oldest temple in Thimphu! The temple was established in 12th Century from Ralung (Ra means Goat and Lung denotes a place or oral transmission) Monastery, located in the Tsang region of Tibet south of Karo Pass. Guardians come here to get favorable names for their babies or gifts for their young youngsters from the defender god Tamdrin.
Kids are honored by a phurba and given a consecrated string. Once upon a time, the monastery was a large university of Buddhists. The striking feature of this monastery is for individuals with loads of good karma, the statue can be seen grinning (happy), but for individuals with heaps of underhandedness (bad) karma, the statue can be seen bit pitiful.
9) Memorial Chorten
The National Memorial Chorten was worked in memory of Third Druk Gyalpo and is devoted to World Peace. The Chorten is an enormous white structure delegated with a brilliant tower. It is found near the center point of Thimphu city and is one of its most notorious landmarks.
Guests will discover older Bhutanese individuals circumambulating (walking all the way around) the Chorten for the day. Chorten truly signifies 'Seat of Faith' and Buddhists frequently call such landmarks, the 'Brain of Buddha.' The Chorten is an unusual case of Buddhist design and fine art with its exquisite artistic creations and complicated figures. The entry fee is 300 Ng per person.
10) Chagri Dorjeden Monastery
The Chagri Dorjeden Monastery is also known as Cheri Monastery is a Buddhist monastery in Bhutan. The monastery is now the school of Tibetan Buddhism, is located at the northern end of the Thimphu Valley.
It sits on a slope over the stopping point at Dodeyna, and it takes about an hour to stroll up the lofty slope to achieve the cloister from that point. It sits on a slant over the stopping point at Dodeyna, and it takes about an hour to stroll up the lofty slope to achieve the cloister from that point.
Conclusion
Simply, go through this article, and we promise it won't lead to frantic cries in your trip to Bhutan!
Go ahead, Smile, and explore the country that has gained the world's respect and attention. Discover Bhutan's magnificence make your life's best memory.
Please do not hesitate to ask me your queries in the comments section, if any. I'll be happy to answer all your questions.
Next article on Travelling Bhutan with Children!