Sri Lanka, previously known as Ceylon, is a charming island country. Sri Lanka is famous for its rich cultural heritage, tea plantations, beautiful beaches, naturally rich landscapes, flavourful food, and much more to offer.
The Sri Lankan civil war which was carried out for 30 years, ended in 2009. The total population in Sri Lanka is around 20 million. Majority of the people follow Buddhism, and so, there are a lot of Buddhist temples in Sri Lanka.
The common languages in Sri Lanka are Sinhalese and Tamil, where a significant population speaks Sinhalese. Most people in tourist places understand English so it wouldn't be an issue for travelers. Moreover, Sri Lanka is one of the cheapest countries to visit in Asia.
Sri Lanka has many places to visit, as the entire island itself is a tourist spot. We have listed the most popular and beautiful sites which every tourist must-see in Sri Lanka.
Colombo
Colombo is the commercial capital and main economic center of Sri Lanka. Bandaranaike International Airport, also known as Colombo International Airport, is one of the main airports in Sri Lanka. Colombo is an exciting city where you can see a mix of heritage Colonial buildings and skyscrapers.
Here are the beautiful places to visit in Colombo:
Galle Face Green Beach
Galle Face Green Beach is just 1.5 km from the Colombo bus stand and is located in Galle Road, Colombo. You can find exotic beach facing hotels like the Galle Face Hotel and Taj Samudra hotel on the same road.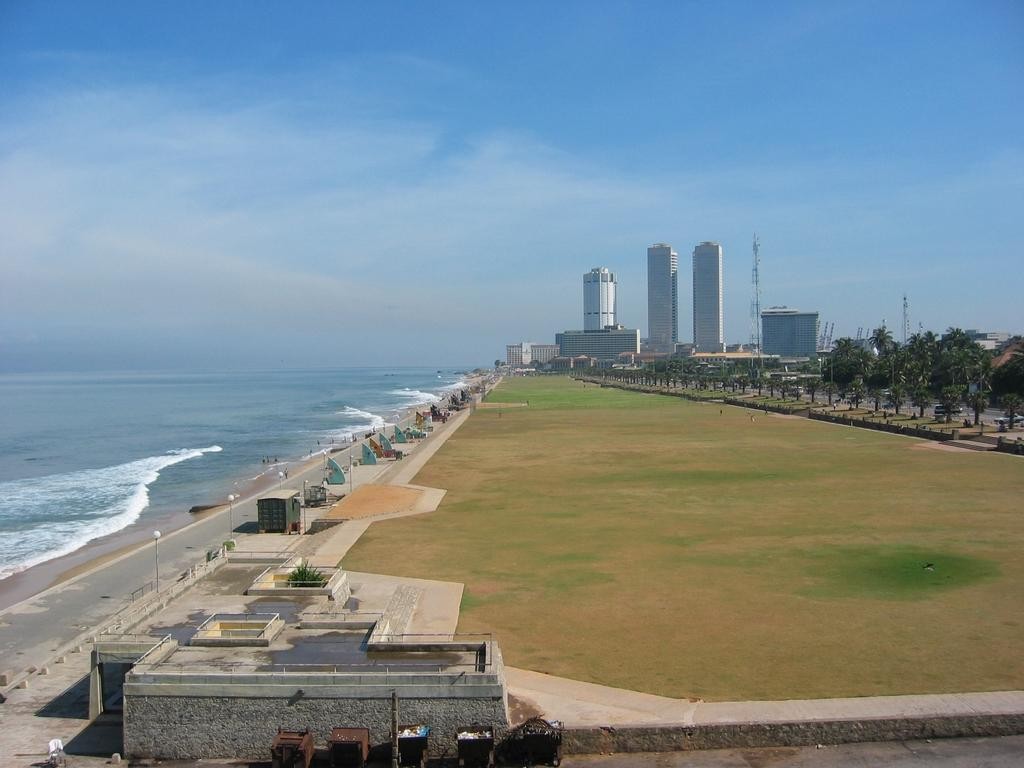 Galle Face Green beach is one of the best sit-out places in Colombo, where you can enjoy your evening with friends and family. You also see many people flying kites and playing cricket on the beach.
If you are looking for a tranquil beach experience, try to get in the mornings, as the evenings get crowded. You can also try a great variety of local cuisine here, and there are many food stalls in the evening.
Remember, there are no entry charges here.
Colombo Harbor
Colombo Harbor, which is another famous place in Colombo, is close to Gale Face Green beach. This is the chief harbor of Sri Lanka where International Shipping Transactions are done. There are still a lot of ongoing constructions here.
Red Mosque
Red Mosque, also known as Jami Ul-Affar Mosque is around 3 km from Galle Face green beach and located in one of the busiest places in Colombo Pettah market. You can quickly get taxies to reach here.
The significance of this 100 years old mosque is its completely in a red and white striped pattern.
Non muslims are allowed to enter inside except during prayer times.
Tip: Best to avoid coming here on Fridays, as the mosque will be more crowded.
The Dutch Museum
If you are a history fanatic, we recommend visiting this place. It is one of the high-grade museums in Sri Lanka. This museum was constructed during the Dutch invasion of Colombo around 1800.
The museum will be operational from 9 am to 5 pm except on Fridays.
What is the cost of the entry ticket for Colombo Dutch Museum?
The entry ticket to Colombo Dutch Museum will cost you 500 Sri Lankan rupees per adult. For the natives, the ticket cost is just 20 LKR. If you are reaching here by taxi, you can ask the driver to get the tickets by paying him some tips!
Gangaramaya Temple
Gangaramaya is one of the most artistic Buddhist temples in Sri Lanka, which is frequently visited by tourists. The significance of this place is the 'Bodhi tree,' which is at least a 1000 years old and you get to see more than 1000 Buddha statues in different postures.
Make sure to cover your knees and don't wear sleeveless while entering inside.
This temple gives a feel of a museum and is definitely a worthy visit. The entry ticket will cost you 300 lkr per person.
Dehiwala Zoo
Dehiwala zoo is a must-visit place if you are visiting Colombo with kids. The zoo was opened in the late 1930s and has more than 300 species. You can see all varieties of animals such as deers, giraffes, lions, tigers, fishes and butterflies, and more.
You can also see a lot of heterogeneous animals, mammals, and aquatic creatures. The elephant show and Sea Lion show are the main attractions in the zoo. Make sure to check the schedule so that you don't miss these shows.
Note: Elephant show starts in the evening around 4:30 pm.
The entrance ticket for Dehiwala zoo costs around 2500 Sri Lankan rupees for foreigners. For locals, the ticket price is around 100 rupees. You don't have to buy a separate ticket for elephant and sea lion shows.
The only point which we didn't like about the zoo is the total land area is comparatively small, where animals and birds are not able to roam freely. Most of the animals are caged.
Overall, it's the best place for kids to enjoy!
Temple of sacred tooth relic Kandy:
The temple of sacred tooth is considered to be the holiest and sacred place for Buddhists and is one among the world heritage sites in Sri Lanka. It is believed that two tooths of the Buddha are stored inside a golden chamber.
It is also said that the Presidents and Prime ministers of Sri Lanka would pay respect to tooth relic as the first thing after they were elected. However, you are not allowed to see the actual tooth relic (if it exists), as it is kept in a small ivory case in a golden casket inside the golden doors.
Where is the temple of Sacred tooth relic located?
The temple of the sacred tooth is located right next to the Kandy Lake and is also 2.5 km from the Kandy railway station.
What is the dress code for the temple of the tooth?
Make sure to wrap your shoulders and knees; shorts are not allowed. You would also notice many people inside with white-colored dress, which shows a symbol of respect to buddha.
Who bought the sacred tooth relic to Sri Lanka?
As per history, the tooth of Buddha was taken from the funeral chamber by Queen Hemamala from India to Sri Lanka, to save her kingdom from enemy invasion. It was also believed that whoever holds the tooth, holds the governance of the country.
Things to Note:
Please note that you would need to remove slippers outside, and walk-in bare feet. If it is a sunny day, it is challenging to walk inside without footwears. It is better to go here in the evenings.
You may also need to offer tips to the person where you leave the footwear.
You need to buy the tickets at the entrance in the ticket vending machine. You have to present the exact amount in the vending machine as it wouldn't return any change.
You can buy flowers at the entrance, and offer to Buddha in the offer flowers table.
You are permitted to take photos and videos. Don't take the photo from the backside of buddha, as it is considered to be a sign of disrespect.
There is a preset time for viewing the golden chamber. So, make a note of it before going. Do note that the place will be more crowded!
Adams Peak
Adam's Peak also called as Sri Pada, which means sacred footprint, is considered to be a divine place for the Sri Lankan people. For Buddhists, it is believed to be a place where they have the footprints of Buddha.
Adam's Peak is at the height of 2200 meters, which is one of the major tourist attractions in Sri Lanka mainly for the ones who love trekking. You have to walk 6000 steps on the staircase from Adam's Peak base to reach the top.
You will get a fascinating view at the top, especially if you reach the top during sunrise. Remember, you need a lot of stamina to reach the top.
How to reach Adam's Peak?
The closest railway station is Hatton. You can either stay in Hatton or Maskeliya, which is around 30 mins from the Dalhousie (Nallathaniya), the base of Adam's Peak.
You can also get the bus from Hatton to Maskeliya for every 20 minutes, and the cost is less than 50 LKR. From Maskeliya, you can reach Dalhousie by taking a tuk-tuk, they charge you around 500 LKR.
You can find a lot of hotels in the Dalhousie and you can either stay there or at Maskeliya.
Our Experience:
We stayed in a hotel at Dalhousie. We started from the hotel around 1:30 am and reached the base by 2 am to start our hike. We were surprised to see shops which were open at that time; you can also buy some snacks before your hike.
Remember, you need a lot of stamina to reach the top, ie, 6000 steps. We were getting tired quickly, for every 500 meters, we were taking short breaks.There were shops for every few meters, and we were able to get snacks and tea throughout the hike.
There are also street lamps throughout the peak. But it is better to carry a torch with you.
After about 3 hours, we reached the top and were on time to enjoy the sunrise. As per our experience, it was worth all the hard work to reach the top. It was an amazing view and a fascinating experience overall.
Reaching down:
By the time you start to come down, you will be totally exhausted. Thanks for the walking poles which will be there throughout reaching down. The route will take you to Maskeliya bus stop, and from there you can take a bus to reach Hatton.
Best time to visit Adam's Peak?
The most suitable time to visit Adam's Peak is from December to May, and this is considered as the hiking season here. If you come here during off-season, there are certain factors such as wind, fog, and rain that will act as a showstopper.
April month is considered to be the Pilgrimage time, where it will be more crowded by the natives.
Tips:
Consider hiking during season time, where you will get the full worth for your hard work.
Bring a good torch light with you. Even though you can rent a torchlight, they might be of poor quality (like the way it was given to us).
Before reaching the top, your clothes will be almost wet because of sweat. So, we suggest you carry a set of dry clothes so that you can change it once you reach the top.
Sigiriya
Sigiriya is another must-visit place in Sri Lanka, located in Matale district which is near to the town of Dambulla. Sigiriya is a 5th-century ancient rock and is one of the world heritage sites in Sri Lanka.
Sigiriya is a 650-meter tall rock, which has a massive gateway in the shape of a lion and that's why this place is also called as the lion fortress. You can also find a lot of monkeys at the base.
Be prepared for a long, challenging walk with over 1200 stairs.
Some stairs are not for the faint-hearted or anyone scared of heights. There is also a spiral staircase on the side of the rock that takes you to the frescoes. The frescoes of beautiful women are well worth the stairs.
You can see the paws of the lion on the gateway, and it is believed that there was a lion's face at the top and got eroded in time. Then, you need to climb the stairs where you will get an incredible view at the top. The view is spectacular and is like someone has cut the rock with a huge knife.
The next challenge is to climb more steel step stairs that hang off the rock to get to the palace remains and the amazing views.
Belief:
It was believed that king 'Ravana' was killed at this place. King Ravana was the one who kidnapped Sita, the wife of Rama and kept her as a hostage in Sri Lanka.
Some also believe that this place was once a Monastery, where several monks lived.
Amazing history:
According to archeologists, Sigiriya is 1500 years old. Once you reach the top, you see plenty of rocks and bricks there. It is said that there are around three million bricks at the top. It looks amazing to think how on earth they managed to get the bricks on the top of 650 feet without any lift or anything before 1500 years!
You can even find marble stones. There is a water pond which was created by scrapping 3500 tonnes of granite stones. You can also see the huge stone throne from where the king held court
How to reach Sigiriya?
From Colombo, take a bus to Kurunegala. It will take up to 2 hours to reach Kurunegala. The bus fare will cost you around 250 Sri Lankan rupees. From Kurunegala, take a bus to Dambulla, which take around 1.5 hours and the bus ticket will cost you around 50 rupees per person.
From Dambulla, another bus to Sigiriya which will take another 30 minutes to reach and cost you around 50 Sri Lankan rupees.
How long will take to reach the top of Sigiriya?
It takes around 2 to 3 hours to reach the top of Sigiriya. Note, you have to climb 1200 steps to reach the top, which requires a lot of energy.
Timings:
Sigiriya is open from morning 7 am to 5:30 PM. We recommend you to reach here early in the morning. Once the sun beings to shine, it becomes challenging to climb the stairs. Make sure to bring a cap and a lot of water with you while coming here.
What is the entry ticket cost to Sigiriya?
It will cost you around 4500 lkr per adult to get inside Sigiriya.
If you are a history lover, you must visit this place while in Sri Lanka. Sigiriya still has a lot of mysteries and questions to be answered, and it is worth giving a visit!
Dambulla golden cave temple / Royal Cave Temple
Dambulla golden cave temple is yet another world heritage site in Sri Lanka and one of the must-visit places in Dambulla. The temple is famous for its caves, which has paintings from the first century. There is a new entrance which was created during the 19th century, and from there you have to take the stairs on the left to reach the top.
Dambulla golden temple is the one which is at the bottom, and there are five temples at the top where you have to reach there by climbing stairs, and they are called as Dambulla cave temples.
What is inside?
Golden temple is at the bottom, and you have to climb the top to get to the caves. There are totally five caves are there at the top.
The caves are situated at the height of 100 meters, and it will take around 10 minutes to reach the top. You can see a lot of monkeys while climbing the stairs.
You can also see rock sculptures from the first century. In one of the caves, you get to see hundreds of paintings, which is astounding. In the third cave, you can see the statue of a king who had rebuilt this cave.
You can enter inside from 7 am to 5 pm. Dress appropriately while entering the temple; you have to cover your knees and shoulders.
Once you reach the top, you have to remove your footwear. It's better to leave the footwear to the person who will take care of your shoes for 20 lkr. Else, if you leave your footwear in the public places, you may lose your shoes while coming back!
Tips:
There are no shops at the top, bring enough water.
Bring a cap and sunscreen if you are going on a sunny day.
It's better to come here either in the morning or in the evening during sunset. You can cover all five caves within two hours.
What is the entrance fee for Dumuall cave temple?
You have to pay an entrance fee of 1500 lkr per adult.
How to get to Dambulla cave temple?
Dambulla Royal cave temple is just 3.5 km from Dambulla bus station. You can take a tuk-tuk from the bus station to reach the cave temple.
Also, you can plan your day to visit Sigiriya and Dambulla cave temple on the same day. It will take just 30 minutes to reach the cave temple from Sigiriya by tuk-tuk.
Overall, Dambulla golden royal cave temple is one of the must-visit places in Sri Lanka.
Yala National Park
Yala National Park is the most famous forests in Sri Lanka. You can see a lot of wild animals in this forest. Yala National Park is renowned for seeing Leopards. It is located in Hambantota district in Sri Lanka.
There is an option for camping in the park. You can stay there for up to three nights. You can pre-book a bungalow and can book for a group as well.
There are 5 zones inside the park and out of which zone 1 and five are open to public and remaining are reserved for research and documentary.
You can pre-book your safari using the link https://www.yalasrilanka.lk/yala-safari-ride.html. You have the option to book a half-day tour for around 6000 LKR or a full day tour for 10000 LKR, where you can book a jeep with a maximum of 6 people.
You also get a free pick up from Tissamaharama area!
We recommend you to go for a full-day tour instead of half-day, which will give you a lot of chances to see the famous leopards and other animals.
You also get to see eagles, peacocks, deers, buffalo, elephants, and crocodiles, and it almost looks like a miniature version of African animal safari.
Tips:
Better to go early in the morning to increase your chances of seeing more animals.
Make sure to take sunscreen, caps, and enough water. Remember, there are only a few toilets stopovers.
The best season to do Yala National park safari is from November to February.
Do not carry cigarette lighters, knives, etc. as it is prohibited inside the park.
Spotting leopards is definitely based on your luck. Your chances of spotting them are higher if you are coming here in season time and early in the morning.
Overall, you will get an excellent animal safari experience at Yala National park and is one of the most recommended attractions in Sri Lanka.
Galle Dutch Fort
Galle Dutch Fort is another cultural heritage site in Sri Lanka. Portuguese initially constructed the fort in the late 1500s, and later it was restored by the Dutch government.
This is not an actual fort; you can just see the fort walls with a beautiful view of the sea. You can walk the streets of the fort. There are shops and eateries throughout. You can spend a half-day in a relaxed way by walking through the small passages around the Fort.
There is a lighthouse inside, which is a famous photographic spot. Note, visitors are not allowed to get inside it. You can also notice the Dutch hospital, which is now converted to shops.
There are plenty of shops selling souvenirs, gold, gems, and antiques where you can find a good collection of items, and you can make a decent buy!
How to get to Galle Dutch Fort?
You can take a train from Colombo to Galle, which will take about two hours. Galle Dutch Fort is only a few minutes away from the railway station. You can catch a tuk-tuk to reach the fort.
What is the entrance fee for Galle Fort?
The entry to the Galle Fort is free of cost.
Overall, it's an excellent way to pass your leisure time for half a day. And if you are interested in historic locations, it is one of the recommended places to visit.
Hikkaduwa
Hikkaduwa is one of the smallest towns in Sri Lanka and is about a hundred km away from Colombo. Hikkaduwa is famous for its beautiful beach. There are so many fabulous accommodations available, and you can plan your stay here.
How to get to Hikkaduwa beach?
From Colombo, take a bus to Matara and get down at Hikkaduwa and this is the cheapest option available. You can also get a train to Hikkaduwa from Colombo. You need to check the schedule prior.
Things to do in Hikkaduwa beach:
Swimming: You can enjoy swimming on this beach. The beach has powdery white sands and crystal clear water, and it is one of the best beaches in Sri Lanka.
Snorkeling: The are many tour operators available on the beach. You can rent the snorkeling equipment, or you can book the activities in a package. You will be taken in a boat to the coral reefs for snorkeling, where you can see a lot of marine creatures. The other activities include Scuba diving, Surfing, and more.
Mirissa beach
It is another beautiful beaches in Sri Lanka with the powdery white sand and clear water. If you crave to relax and stay away from the city, plan to stay here. There are many guest house and beach resorts available near the beach.
How to get to Mirissa beach?
From Colombo, board the bus to Matara and get down at Mirissa. You can reach Mirissa in about 3 hours.
Activities in Mirissa beach:
There are many activities available in Mirissa beach like snorkeling, scuba diving, surfing and swimming on the beach. You can get the equipment from your hotel, or you can take it for rent from the shops on the beach.
The popular activity in Mirissa beach is whale watching. You can book it from any of the tour operators, and the price varies between each operator. They will take you on a boat and get you deep into the sea where there are more chances to see whales. Along with that, we can see dolphins if you have luck!
You can also rent a scooter, and you can go to nearby beaches such as Weligama and Dalawella. These beaches are a few minutes away from Mirissa beach.
Conclusion
Sri Lanka is full of history and heritage, and there are many places that you will fall in love with. It is one of the cheapest Asian countries with beautiful beaches that is worth a visit without any doubt!