Last Updated: September 14, 2023
Rio de Janeiro is arguably the most energized city in Brazil and one of the craziest in the world. Travellers often associate Rio de Janeiro with the beautiful beaches of Ipanema and Copacabana, the insane nightlife and parties that come with Carnaval, and the perceived danger associated with being near favelas. Hiking in Rio de Janeiro is often overlooked given the many other activities in the city.
While popular tourist attractions such as Sugarloaf Mountain and the Christ the Redeemer statue offer incredible views on top of some high peaks, they don't provide a real hiking experience as it's extremely crowded and there is transport provided to the top. With all these amazing peaks and cliffs scattered throughout the city, where can you find some great hiking trails and summit some mountains without all the touristy nonsense?
Here are three amazing hikes in Rio de Janeiro, Brazil.
Two Brothers (Dois Irmãos)
Peak elevation: 533 m (1,749 ft)
Elevation change: 327 m (1,073 ft)
Round-trip distance: 3 km (1.86 mi)
Round-trip time: 90 minutes
Difficulty: Easy
If you are short on time, a quick hike of the Two Brothers is a perfect choice. While it's only 1.5 km long, you will be climbing those two majestic peaks that are in the back of everyone's Instagram photos of Ipanema Beach. To get here, you have to take a taxi or Uber to a favela known as Vidigal.
Safety of Vidigal
Since 2008, Rio's police forces have undertaken pacification efforts in order to kick out drug lords and bring peace and security to many favelas. The pacification of Vidigal is considered a success and is relatively safe to be in now; however, we recommend you always travel in groups and with someone that can speak the language to get you out of sticky situations if they do arise.
Once You Arrive in Vidigal
At the base of Vidigal, your driver will most likely want you to exit and get a ride up with one of the many guys on motorcycles and mopeds waiting for potential hikers. For about R$5 (a little more than $1 USD), you can sit on the back of the moto taxi and enjoy the ride up a crowded, steep, and narrow road. Some days you may see groups of men with large assault rifles. Know that this is normal here and shouldn't be cause for too much alarm. This presence actually keeps the area safe. This part of the journey is almost as great as the hike itself, so hold on for dear life to your new driver, keep your knees close to the motorcycle, and enjoy the ride up!
Once you arrive at a small soccer field, go around left on the tiny dirt path that leads into the forest. It may not look right, but this is the spot – we promise!
During the 40-60 minutes it takes you to get to the top, you will have another favela on your left: the infamous Rocinha. At the time of this publishing, Rocinha is still an extremely dangerous favela currently in a warlike situation. While you definitely shouldn't stop by for a visit, getting a birds-eye view is a pretty cool experience!
On your way back, make sure you stop by one of the many açaí shops and have your taste buds rocked before hitching a ride down or walking.
Pedra da Gávea
Peak elevation: 844 m (2,769 ft)
Elevation change: 754 m (2,474 ft)
Round-trip distance: 5.2 km (3.2 mi)
Round-trip time: 4-5 hours
Difficulty: Advanced
So you tried the Two Brothers hike and want something a little harder? Look no further. Pedra da Gávea is a bigger hike with a solid amount of vertical elevation change that will leave you sweating bullets. Actually, it's the largest coastline cliff in the world and has a view that will keep you mesmerized for hours.
Pedra da Gávea is a little further south than the Two Brothers. You have an incredible view of the previous hike from this peak!
While it's easy to take a taxi to the trailhead, it's also possible to take the metro to Jardim Oceânico and walk a little over a mile to the same location. You will pass a gate on a steep road and continue on from there. Shortly after you will find a hut where you write down your information, and then keep on moving up the road to start the hike!
The main reason this hike is rated as advanced is due to a section called the Carrasqueira. At this part of the trail, hikers have to scale 35 meters of rock. While it's not extremely difficult or technical, it does require climbing and is considered advanced. Many people opt to bring ropes and harnesses for extra safety, but it can be done without. Be smart, go with a group, and take it slow.
Corcovado Peak – Christ the Redeemer Statue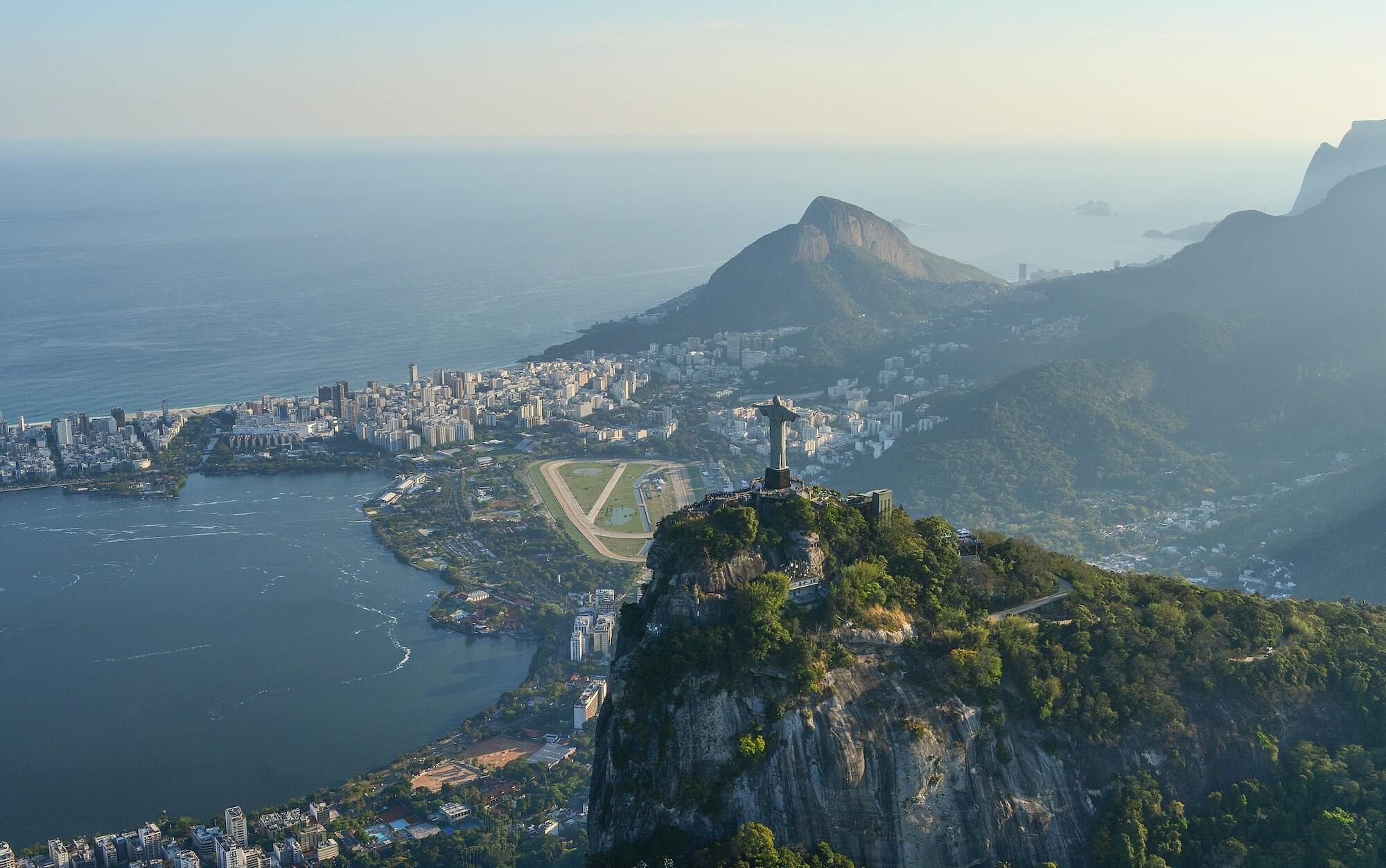 Peak elevation: 710 m (2,329 ft)
Elevation change: 696 m (2,283 ft)
Round-trip distance: 4.4 km (2.7 mi)
Round-trip time: 4 hours
Difficulty: Moderate
While there are vans and a train that take most of the visitors up to this statue (listed as one of the new Seven Wonders of the World), there is also a hiking trail that starts in the Botanical Gardens known as Parque Lake. Entrance into the park is free as it is part of the Tijuca National Forest, the world's largest urban forest that just so happens to be in Rio.
Amazing city, huh? Check out the diverse flowers, trees, and other plants before starting your hike. Ask anyone in the park where the trailhead starts if you have difficulty finding it. Once there you will sign in at another hut where you will be presented with a large warning sign about the constant armed robberies that have occurred on the trail. Maybe take that disposable camera you've been wanting to try with you for this hike and leave the expensive iPhone at home… too risky.
Once you reach the park (open from 8 AM to 5 PM), you will have to pay an entrance fee.
🌍 Ready to Jet-Set on a Budget? ✈️

Maximize your savings with these travel essentials:

✈️ Sky-high Savings: Book budget-friendly flights with Skyscanner.
🏨 Rest Easy: Find the perfect accommodation on Booking.com or Hostelworld.
🛄 Travel Light: Store your luggage securely with Bounce.
📱 Stay Connected: Grab affordable eSIMs from Airalo or SimOptions.
🌄 Unforgettable Adventures: Find tours and experiences with GetYourGuide.
🛡️ Travel Worry-Free: Stay protected with travel insurance from SafetyWing!