Last Updated: September 14, 2023
Queenstown has plenty of Japanese restaurants to choose from. There's something for everyone whether you're craving sushi, ramen, teppanyaki, or even shabu-shabu. From budget takeaways to upscale dining experiences, the Japanese food scene in Queenstown is as diverse as it is delicious.
In this entry of Budget Travel Plans, we bring you the best 10 Japanese restaurants in Queenstown, New Zealand.
Tanoshi
Address (Town): Cow Lane, Queenstown
Address (Five Mile): 20 Grant Road, Frankton, Queenstown
Social: @tanoshiqueenstown
Ask any Queenstown local where they get Japanese food, and 9 times out of 10, they'll tell you Tanoshi. Tucked away in Cow Lane (with a new location that's just opened in Five Mile), this sake bar serves up a smattering of Japanese tapas that's sure to satisfy any craving. Since everything's designed to share, a meal here means trying a little bit of everything.
Tried and true favourites include the rare ribeye tataki, fresh sashimi platter, grilled scallops, and the yaki udon. There's also a signature sake pairing to accompany your meal or a $25 tasting if you'd prefer something slightly more pared back. If you really feel like making a night out of it, you'll never go wrong with the Trust the Chef option. It's a selection of Tanoshi's most popular dishes for $45 per person.
Though be warned, Tanoshi is always packed, even on weeknights, so make a booking to secure your spot. Alternatively, skip the crowds and visit during a weekday lunch to slurp down ramen or dive into a donburi.
Tanoshi Iko
Address: Searle Lane, Queenstown
Social: @tanoshiqueenstown
Tanoshi's little sister, Iko, is also a top Japanese restaurant in Queenstown, with striking differences from the original location. Instead of small plates, Tanoshi Iko is focused on ramen, bento boxes, sushi bowls, and dumplings. That said, it stays true to the brand with the ultra intimate atmosphere.
You can't go wrong with the classic Shoyu pork belly ramen, or the Iko bento (salmon sashimi, beef tataki, Karaage chicken, salad, and rice). Both are a steal at $16.
If you're looking for spicy, the tan tan ramen is delectable. The tuna sushi bowl topped with wasabi mayo is also a true crowd-pleaser.
Tanoshi Iko is open from lunchtime until 8:30 pm. Its location is easy to miss as it's hidden away in Searle Lane.
Tatsumi Modern Japanese
Address: 9 Beach Street, Queenstown
Social: @tatsumidining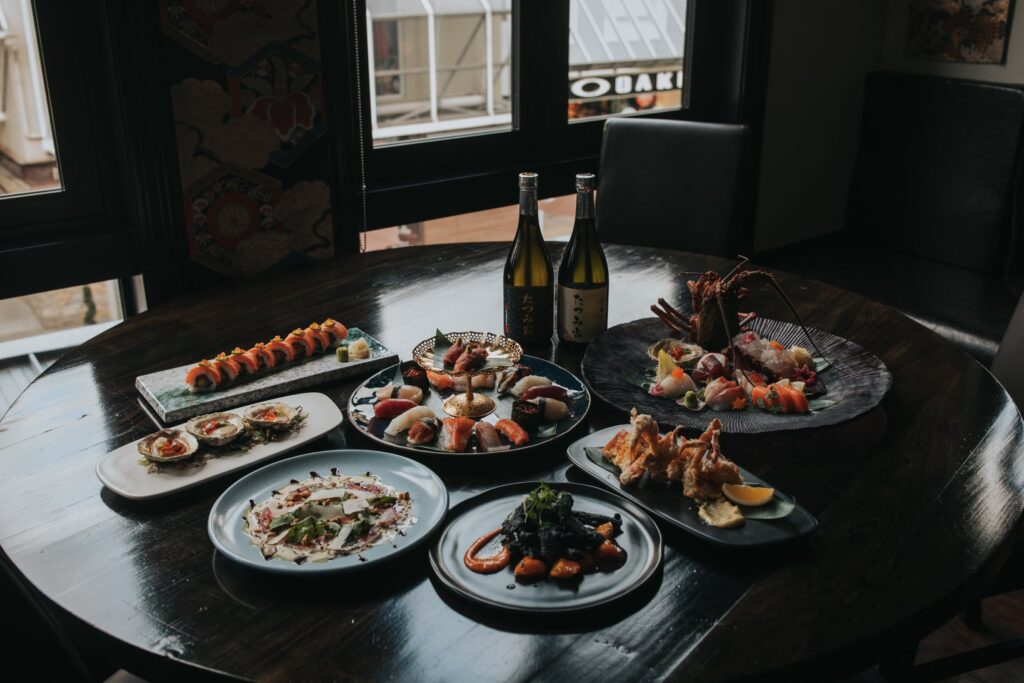 Certainly one of the pricier Japanese restaurants, Queenstown is lucky to have Tatsumi, all the same. This upscale, albeit low-key, Japanese eatery is located upstairs on Beach Street. Put simply, they knock out some of the finest cuisines in town.
With heaping plates of sashimi, delicate appetizers, and lavish entrees, anything you eat at Tatsumi will be good. So with this in mind, the best deal you can enjoy is the 12-course sharing banquet for $85 per person. It comes with king prawns, baked oysters, a sashimi platter, beef tataki, Karaage chicken, lamb chops, spareribs, and more. Come hungry for this one!
If you don't feel like breaking the bank for a nice dinner, book Tatsumi on First Table and eat for 50% off!
From the Staff

We have popular set menus for our customers. The first one is the degustation menu which is $120 per person, 7 courses by individual plates with beautiful presentation plates and special dishes. It can be a memorable dinner for a special day.

The second one is the banquet set menu which is $85 per person, sharing style set menu. It starts with entrees, sushi sashimi, mains, and finish with dessert. This banquet menu was designed with the most popular dishes from our a la carte menu and you are able to try lots of our beautiful dishes.

Those two set menus are our best-selling items and most of the customers were happy and satisfied with them.

– Team at Tatsumi
Goku Shabu Shabu
Address: 45 Beach Street, Queenstown
Social: @goku_shabu_shabu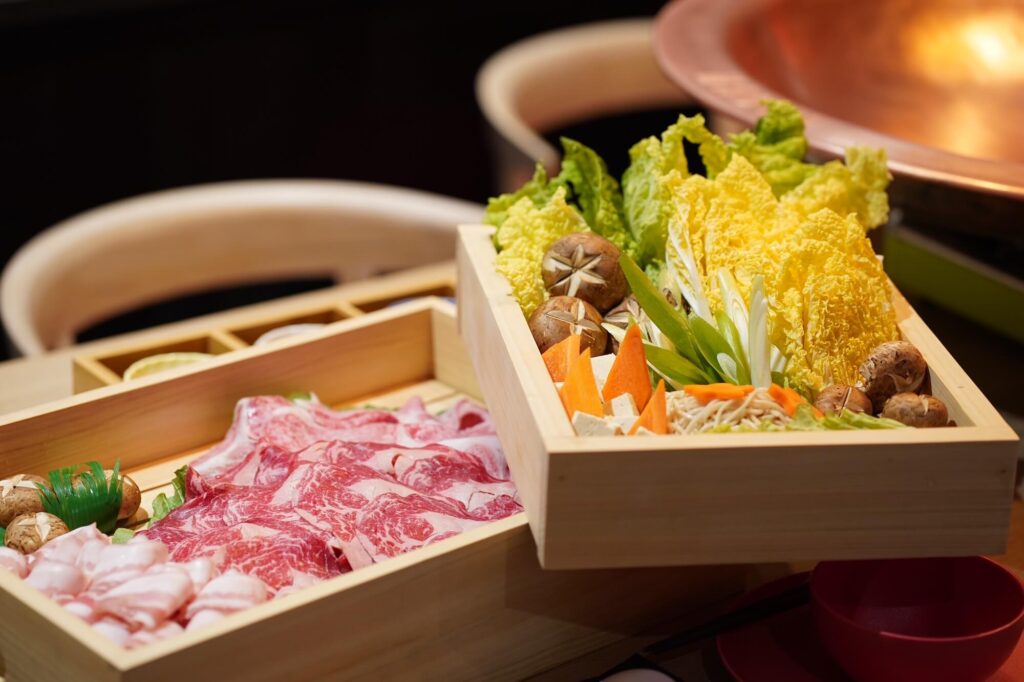 Goku is a Japanese restaurant of a different kind that you may not be used to. Rather than offering sushi, Goku serves up shabu-shabu and sukiyaki – the Japanese rendition of hot pot. With different soup bases, multiple meat and seafood options, and the signature 'cook it yourself' model, Goku makes for a super fun night out and an even better meal.
If you're a fan of sweet teriyaki flavours, opt for the sukiyaki. The sukiyaki is cooked in a cast-iron pot over low heat with a bit of wagyu beef fat, a boatload of veggies and fast cooking, thin-sliced meat. Choose from ribeye, lamb or Japanese wagyu. What's more, Goku makes all their sukiyaki sauces in-house.
If you'd rather drink some soup with your meal, go for the traditional shabu-shabu. It has a soup base that only improves as you continue cooking in it.
For the best deal, however, I'd recommend ordering the set menu. The set menu comes with a generous sashimi platter with fresh wasabi, a heaping basket of tempura, the shabu-shabu, or sukiyaki of your choosing, and a small dessert.
From the Staff

We are proud to be the first Shabu Shabu and Sukiyaki restaurant in Queentown. Guests love our unique signature items – Sashimi and Sukiyaki.

Our chef selects the most fresh seafood for our Sashimi each day, depending on the fish market on that day. We freshly grind our organic wasabi. We were the first to do so in Queenstown, and remain the only one.

Goku Shabu Shabu was also the first Sukiyaki in both Queenstown and New Zealand, nationwide.

– Tiger at Goku Shabu Shabu
Hikari Sushi Bar
Address (Town): Terminal Building Sir Henry Wigley Drive, Frankton, Queenstown
Address (Five Mile): 32 Grant Road, Frankton, Queenstown
Social: @nzhikari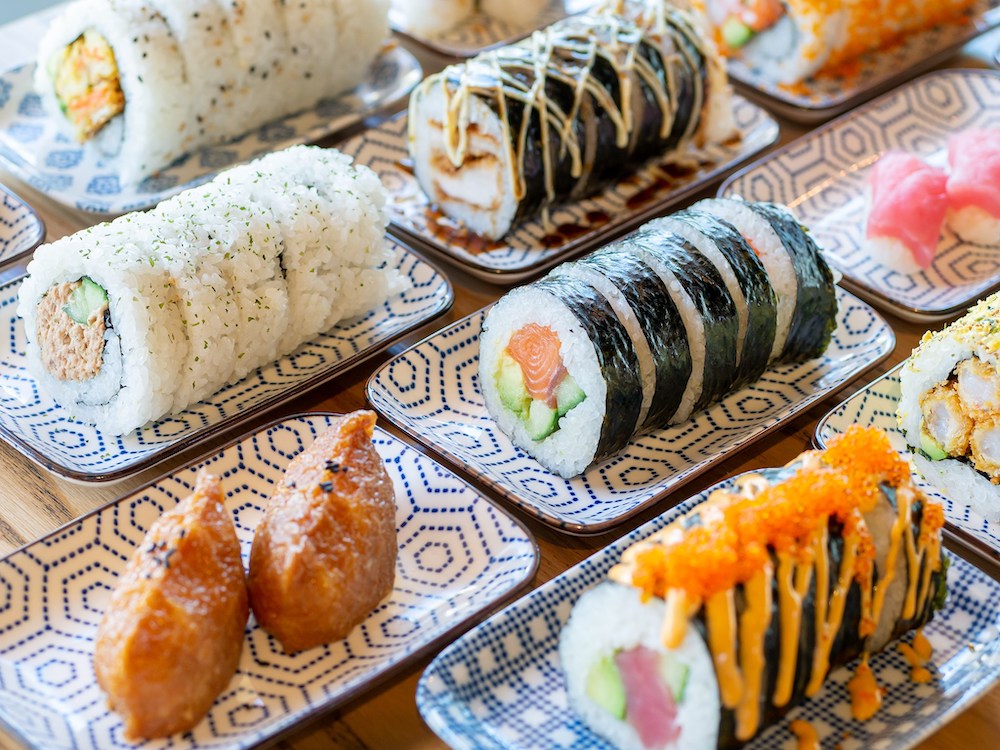 Hikari Sushi Bar is perfect for grab-and-go or a quick budget lunch. They have two locations in Queenstown – one at the airport and another in Five Mile. Hikari Sushi Bar is a local favourite thanks to its conveniences and price.
Both locations have a self-service sushi line, replenished with fresh rolls throughout the day. A roll will set you back roughly $2 a pop. Load up a plate, or fill a takeaway box for one of the easiest meals around. After something a little more hearty? Opt for a steaming bowl of udon, chicken katsu, or one of the seasonal specials.
I've eaten here quite frequently, with my favourite being the spot in Five Mile.
Hikari Teppanyaki
Address (Five Mile): 19 Grant Road, Frankton, Queenstown
Social: @hikarisushiteppanyaki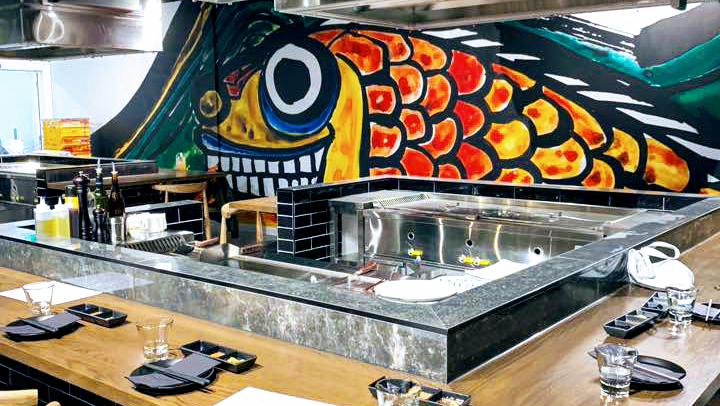 Hikari takes Queenstown Japanese food to the next level with their lively teppanyaki bar, Hikari Teppanyaki. It's definitely more expensive than Hikari Sushi Bar, but it's a completely different experience and well worth it. Sit with friends by a flaming hot table, an entertaining chef, and a great all-around ambience.
All teppanyaki dishes come with grilled veggies and miso soup, with two mains, and Hikari's famous flying rice. Choose from single portions of proteins or deluxe packages named after different surrounding areas. Go for the Shotover to have a bit of everything (seafood, tiger prawn, chicken, beef, and lamb). Or, keep things simple with the Wakatipu, with chicken and beef. No matter what you choose, you will not leave hungry. That's guaranteed!
Kappa
Address: 36 The Mall, Queenstown
Social: @KappaQueenstown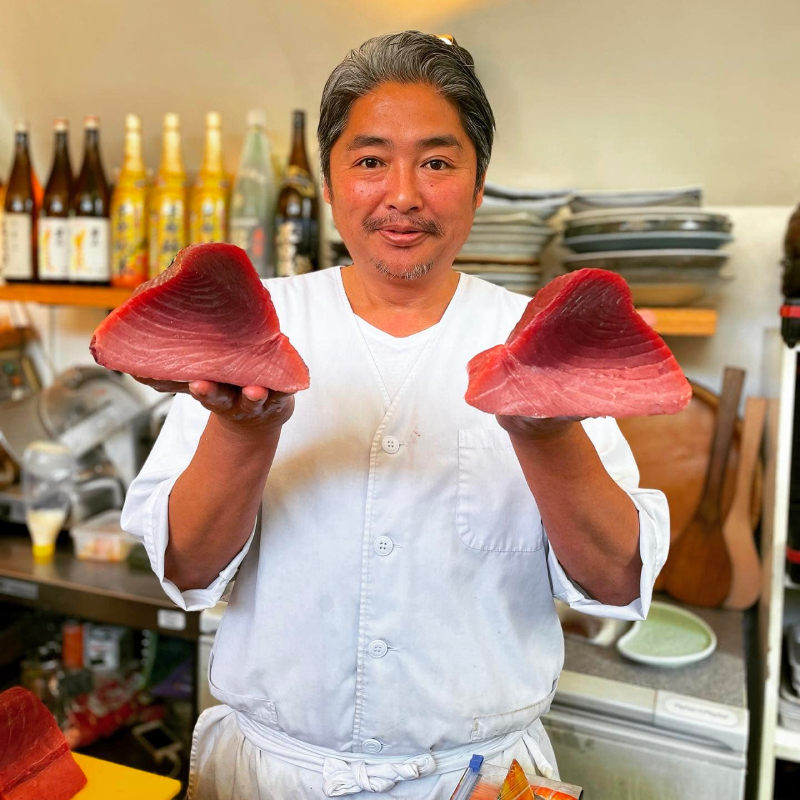 Kappa offers a variety of small dishes, sushi rolls and large plates of steaming teriyaki, Karaage chicken, and crispy tempura right in town. They offer daily sashimi specials and even lunch deals for a quick grab and go. Kappa is as fresh as it gets and never disappoints!
For a mid-day feed, try the Kappa lunch box with tempura, sashimi, teriyaki chicken, rice, and miso soup. Opt for the teriyaki chicken donburi or a warm bowl of soba noodles for something a bit lighter. Don't miss the tonkatsu (crispy fried pork cutlet) and the beef tataki at dinner.
Sitting comfortably at a mid-range price point, you're sure to enjoy an authentic Japanese meal at Kappa in Queenstown.
Kobe Cuisine Millbrook
Address: 1124 Malaghans Road, Arrowtown
Social: @millbrookresort
For the most decadent meal in Queenstown, head to Kobe Cuisine. It's located at the five-star Millbrook Resort in Arrowtown. As we are a budget travel blog, fair warning that a meal here can set you back a few. That said, it's one for the books.
Kobe Cusine has heaping plates of sushi and sashimi, steaming bowls of ramen, creative small plates, a massive selection of yakimono (grilled meat, fish and veggies), and more.
One of the biggest draws to this upscale Japanese restaurant is the unique dishes. A section of the menu is devoted to sushi tacos with everything from pulled pork to salmon ceviche to seared tuna with an assortment of accompaniments. Other noteworthy menu items include:
The braised wagyu short rib.
Teppan miso eggplant with halloumi.
The fresh Chirashi (sushi rice topped with fresh sashimi and other goodies).
Though this place may burn a hole in your wallet, it's all worth it for a killer meal.
Sushi Box
Address: 24 Beach Street, Queenstown
Social: N/A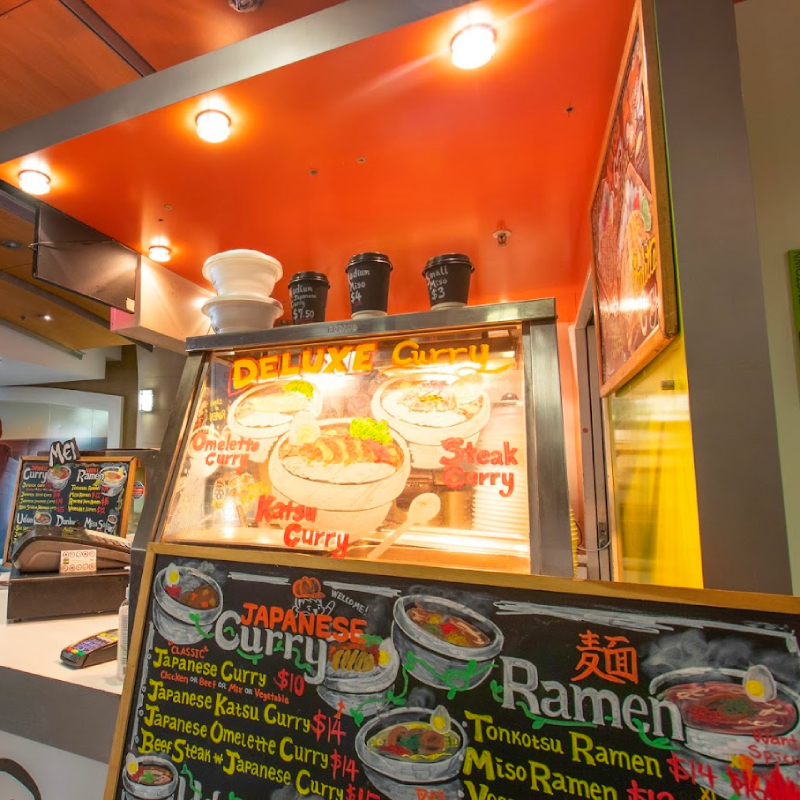 Concealed in the Beach Street mall behind Cotton On and under the casino, you'll find a charming sushi stand. This grab-and-go kiosk serves up a surprisingly delicious feed with premade sushi boxes. But the real draw to this hole in the wall is the Japanese curries and ramens made fresh every day. Choose from katsu, steak or an omelette curry dripping in sauce and served over rice. On colder days, the variety of traditional ramens will warm you up. Either enjoy at one of the small tables on-site or take it to go and chow down by the lake.
It's open from 10 am to 5 pm on weekdays and 11 am to 4 pm on Saturdays (closed on Sundays). Sushi Box is a dependable town staple. It's the perfect choice for a quick and inexpensive Japanese meal in Queenstown.
St Pierres Sushi
Address: 07, Queenstown, Central Shopping Centre Shop A/19 Grant Road, Frankton, Queenstown
Address: Building 8, Remarkables Park Town Centre Hawthorne Drive, Queenstown
Social: @stpierres_sushi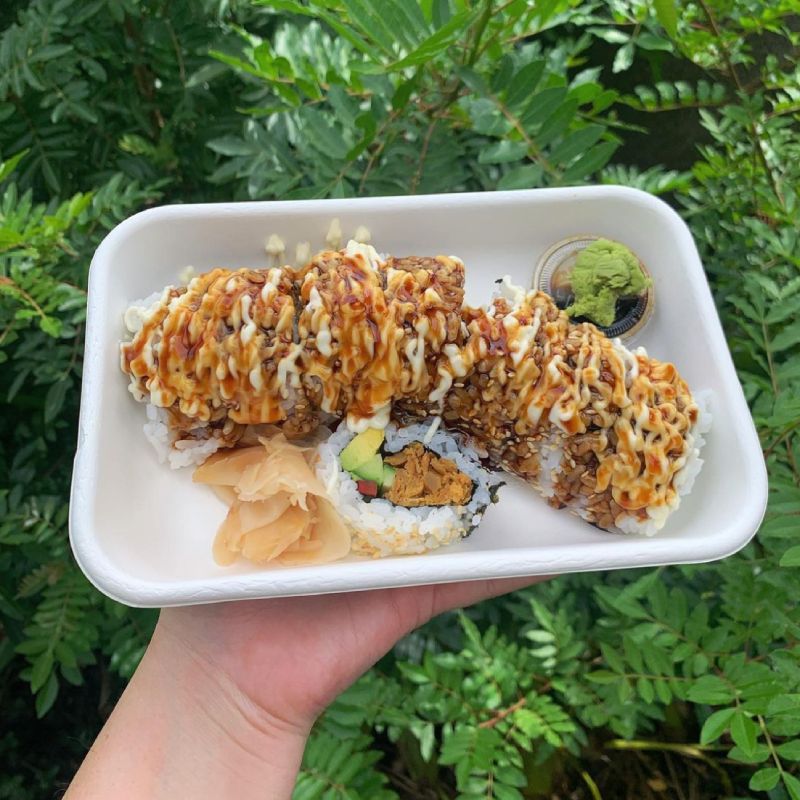 You'd be hard-pressed to find a city or town in New Zealand lacking a St Pierres Sushi. This widespread New Zealand Japanese restaurant chain has a wide assortment of sushi rolls and other Japanese goodies. It's definitely considered a fast food option, but that doesn't make it any less delicious. Load up on some pre-prepared boxes of salmon or veggie sushi and a miso soup, or opt for some noodles off the menu.
No matter what kind of Japanese food you're looking for, St Pierres will serve it up fast. They have two locations – one on Central and one in Remarkables Park near New World.
Further Reading
For more information on Queenstown and the surrounding area, check out the articles below:
🌍 Ready to Jet-Set on a Budget? ✈️

Maximize your savings with these travel essentials:

✈️ Sky-high Savings: Book budget-friendly flights with Skyscanner.
🏨 Rest Easy: Find the perfect accommodation on Booking.com or Hostelworld.
🛄 Travel Light: Store your luggage securely with Bounce.
📱 Stay Connected: Grab affordable eSIMs from Airalo or SimOptions.
🌄 Unforgettable Adventures: Find tours and experiences with GetYourGuide.
🛡️ Travel Worry-Free: Stay protected with travel insurance from SafetyWing!
Jane is a seasoned nomad who has been traveling full-time for 5+ years. She currently splits her time between Paris, New York City, and New Zealand, and is well known for always having a smile on her face.
You can keep up with her travels on Life in the Fast Jane.