Last Updated: September 14, 2023
Norwich is a city for all ages. It's a place that holds a diversity of opportunities that truly caters to every individual. And it's that diversity, in particular, that has led Norwich to be ranked as one of the top-five most family-friendly cities in the UK. Children – from infants looking to begin their adventures to adolescents moving further towards freedom – are spoilt for choice when it comes to having fun in Norfolk's county town.
Straight from the mouth of a big kid, here is the list of the best things to do in Norwich with children.
Norwich Street Art
Norwich is a city, like any other, that is largely defined by its past. And it's that past that has rightly seen Norwich be defined as a city that harbours culture and galvanises creativity. Through that artistic heritage, Norwich became The City of Stories.
Today, over a dozen murals don The City of Stories' walls to continue their artistic legacy. Nine large murals spread throughout the entire city, and 12 smaller artworks within the space of the Norwich Market. Each helps to tell part of Norwich's story. Take 'Snap', for example, the red dragon that looks over Norwich from its perch on Red Lion Street – a nod to Norwich's historical connection with dragons since the medieval period.
While exploring the city, keep note of the different artworks you stumble across and see if you can find them all.
Kayak, Paddleboard, or Canoe through the City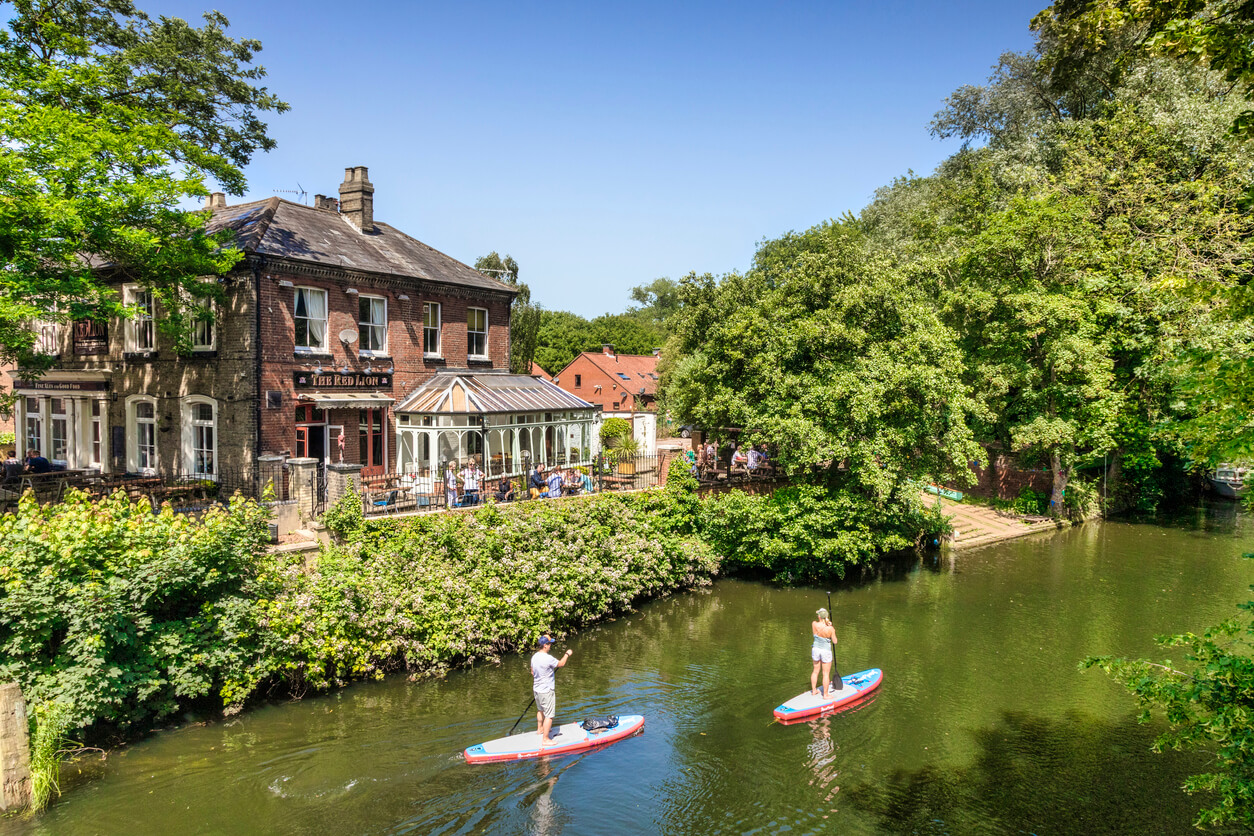 One of the best ways to see Norwich with kids in tow is to take advantage of the River Wensum and kayak or canoe through the city.
The River Wensum connects many of Norwich's landmarks, Cow Tower and Pull's Ferry being two of the most historic. Iconic sights aside, the banks of The Wensum continue to provide beautiful views of the city. The colourful period housing the lines of some of the banks will be sure to catch your eye.
Tell the kids to keep their eyes peeled for some of the Wensum's elusive, furry natives – water voles and otters being the headliners.
Head to Pub and Paddle near Elm Hill to hire a canoe for a few hours.
Eaton Park
An 18-hole mini-golf course. An 18-hole pitch and putt course. A footgolf course. A boating pond. A skate park. A miniature park. Tennis courts. Football pitches. Curated gardens. Playing fields. There's little that Norwich's Eaton Park doesn't offer the local community.
There's almost too much choice for what to do – I'd find myself on the pitch and putt course with university friends for the most part. But believe me when I say I'm no golfer. It always proved to be a laugh regardless. Younger kids who want to swing a golf club might find the crazy golf course more enjoyable – it's less walking, and there's less chance of your golf ball doing a disappearing act.
Overall message: if the sun is shining, heading to Eaton Park is the answer. Take a picnic to enjoy on the grass too – the park does have a café though if you'd rather travel light.
Hollywood Bowl
Though it might not be the most exotic activity on this list, it's hard to deny the fun of spending an hour on the bowling lanes.
Head down Prince of Wales Road and cross over into the Riverside area. There, you'll find Hollywood Bowl alongside a generous supporting cast of bars and restaurants.
Don't pass up a trip through the arcade after you've completed a few games on the alleys. I'm a self-professed wizard on the basketball game – I'll arrogantly assume that my high score still stands to be beaten. Let that be a challenge to all.
Simply put, though, Hollywood Bowl is a great place to spend some hours with the kids – especially if the Norfolk weather is looking a little sour.
Thetford Forest
If the sun is shining through, make Thetford Forest your destination for the day.
Drive 50-minutes west of Norwich, and you'll find yourself met with one of the UK's most beautiful forest landscapes – 19,000-hectares of lowland woodland, to be exact. It's a place for the outdoorsy amongst us. Walking trails, mountain biking circuits, outdoor play areas – Thetford champions the great outdoors and subsequently makes it easy for the public to take full advantage.
Take it from someone that grew up near Thetford – it's a great space to enjoy and deserves your attention. The purpose-built mountain bike routes were always a highlight for me.
Norwich Puppet Theatre
One of the city's notable residents is the Norwich Puppet Theatre, one of only three building-based puppet theatres in the country. And what a building it finds itself in, too – a converted medieval church.
With puppetry now verging on becoming a forgotten art form, the Norwich Puppet Theatre stands to champion its place in the world of theatre. Not only does the theatre put on renowned puppet shows for the public, but it also conducts workshops to help pass on the practice. Said shows and workshops aren't just for the younger generations either. The theatre offers plenty for adults looking to get involved with the world of puppetry, too – something to note for when the kids aren't about.
All performances and workshops need to be booked online beforehand – make sure to avoid disappointment.
Wroxham Barns
One of the best days out for adults and kids alike is at Wroxham Barns. The leisure complex hosts a whole range of facilities for all age groups – shops, restaurants, a fun fair, and best of all, a barn full of barnyard animals.
At Wroxham Barns' Junior Farm and Funpark, children will come face to face with the resident guinea pig village, goats, sheep, alpacas, chickens, ponies, pigs, ducks, turkeys, and donkeys.
And once all the fun has been had with the animals? That's when the mini-golf and go-karts come into play. Parents can enjoy some coffee and cake in the Courtyard Café whilst the kids tire themselves out.
The Norfolk Broads
If you've read my in-depth breakdown of the best things to do in Norwich, you'll be aware of my love for The Norfolk Broads. The essence of my stance: The Broads are one of Norfolk's greatest assets. Perhaps only surpassed by the county's coastline.
So, if there is one thing that you should do in and around Norwich with kids, make it this. Drive to Wroxham, hire out one of the many motorised dayboats, and take to the riverways – being a boat captain for the day will undoubtedly garner some excitement from the youngsters.
There's a bounty of wildlife to be seen along the rivers too. Make sure to keep a keen eye out for The Broads' most elusive residents – the otter.
Bottom line, there will be a few days out in Norwich that equal that of a day boating on The Broads.
BeWILDerwood
Tom Blofeld's BeWILDerwood book series living on a bookshelf at home? The BeWILDerwood Adventure Park has to be on your list of things to do in Norwich. If not, the park should still be on your Norwich itinerary.
The park is where both kids and their imaginations can run wild—an entire facility based on the beloved fantasy world that lives within Blofeld's children's books. Visit to take on the 'Slippery Slopes', get lost in the 'Sky Maze', and explore everything else in between.
The only thing to note when planning your visit: BeWILDerwood temporarily closes for the winter. Make sure to stop by the park's website to confirm opening times before making the journey.
Gravity Trampoline Park
Time for some indoor fun.
Suppose you've ever wanted to run an experiment to see just how much energy children have. In that case, the Gravity Trampoline Park might be the place to do it. When the kids aren't literally bouncing off the walls, playing dodgeball, or throwing down some trampoline-aided dunks, they'll be scaling Gravity's in-house rock climbing wall – it's activity overload.
Parents can sit back and watch the youngsters tire themselves out from within the onsite café.
Laser Tag
Laser tag – something that never gets old. Take that from me, a then-23-year-old, booking out the entirety of Norwich Quasar so my university friends and I could spend an hour chasing each other and being big kids.
Laser Tag is definitely something that will hold their attention for a few hours. Expect some tired legs afterwards, too.
Norwich Quasar is just outside the city centre on St. Stephens Road. Inside, they have an entire laser tag fort to host games of tag, capture the flag, and so on. As I said, I'd recommend this even to the adults.
Book in advance if you hope to have the place to yourself – the staff are more than accommodating if the day's schedule is clear.
Whitlingham Country Park
Whitlingham is commonly described as the gateway to The Norfolk Broads. So am I cheating by including both as separate entries? Trust me, Whitlingham deserves its own space on this list.
As you'd expect, the country park shares many things with The Broads as a whole. Hours upon hours of walking trails. Numerous cycle paths. Incredible bird watching opportunities. Access to the indigenous wildlife.
The park's standout attraction, though, is Whitlingham Adventure – a facility for both water and land-based adventure activities. Why not try your hand at some windsurfing? Or, for some more cooperative fun, take on one of the centre's raft building courses. The centre's bushcraft sessions are a popular choice if you'd rather stay on dry land.
There is no doubt that Whitlingham is a gateway to the great outdoors.
Highball Climbing Centre
Let's continue the run of the adventure activities on offer in Norwich.
Highball is a place that takes climbing seriously – it's the city's largest indoor climbing and bouldering facility. But don't fear, beginners are extremely welcome at the centre too.
Those wanting to enter into the world of rock climbing can book themselves in for one of Highball's introductory climbing courses. Previous experience is not needed, and staff will show them everything they need to know about the art.
Highball operate an incredibly safe space where young climbers are encouraged to enjoy themselves. The philosophy is centred on showing how much fun rock climbing can be, not enforcing a competitive atmosphere.
Do note that all visits to Highball need to be booked via their website.
Roarr! Dinosaur Adventure
As the name would suggest, Roarr! Dinosaur Adventure is for those that love dinosaurs. Younger me would be jumping up and down right about now.
Embark on Roarr! 's Dinosaur Trail to come face to face with all the park's ancient inhabitants. Encounter the resident T-Rex, though, and you'll have to take to the high ropes to escape – Roarr! hosts East Anglia's largest rope course and the world's first parallel sky rails.
Another East Anglian-best: the onsite waterpark – Dippy's Splash Zone – is also the largest of its kind in the area. Do note that Dippy's is closed off during the winter months. However, the plethora of other indoor attractions should be enough to soften that blow.
Norfolk Snowsports Club
How could I almost forget the prospect of summiting Norwich's Trowse Mountain to partake in some downhill snow sports?
Well, Trowse Mountain might not be a true snow-capped mountain. But it is the synthetic main slope of the Norfolk Snowsports Club. Devoid of arctic tundra, you'll still be able to enjoy skiing or snowboarding down the slopes. Launch from the top of Trowse Mountain in an inflatable tube, even.
Having previous experience isn't required to join in the fun. Trowse Mountain does have a nursery slope. And its on this nursery slope that the club runs beginners' lessons for those looking to learn how to ski or snowboard.
Book in for a taster if you're after a short introduction. Or go for a beginner lesson to embark on a 6-hour introductory course.
Final Thoughts
In Norwich, there is something for everyone. For all ages and all interests. Whether the great outdoors calls or some indoor fun is the way to go, Norwich will not come up short.
So, when you're in Norwich with kids in tow, use this list to build out your itinerary – it'll be your secret weapon to keeping the youngsters occupied.
You might even find some more ideas on my larger breakdown of things to do in Norwich.
Further Reading
Check out our other articles on Norwich below:
🌍 Ready to Jet-Set on a Budget? ✈️

Maximize your savings with these travel essentials:

✈️ Sky-high Savings: Book budget-friendly flights with Skyscanner.
🏨 Rest Easy: Find the perfect accommodation on Booking.com or Hostelworld.
🛄 Travel Light: Store your luggage securely with Bounce.
📱 Stay Connected: Grab affordable eSIMs from Airalo or SimOptions.
🌄 Unforgettable Adventures: Find tours and experiences with GetYourGuide.
🛡️ Travel Worry-Free: Stay protected with travel insurance from SafetyWing!