Last Updated: September 14, 2023
Norwich, renowned for its vibrant pub scene, is often rumored to have a pub for every day of the year. While this legend may no longer hold true, the city's pub prowess remains undeniably impressive.
With approximately 150 public houses still in operation, Norwich stands as one of the UK's most pub-dense cities.
Amidst this abundance of drinking establishments, a little guidance can be invaluable. Fortunately, I've got several years living in Norwich at my back, including my time as a university student, which led me to explore numerous bars and pubs.
But enough about me perpetuating student stereotypes. Without further ado, here is a curated list of the 14 best pubs and bars in Norwich.
The Fat Cat
Address: 49 W End St, Norwich NR2 4NA, United Kingdom
Social: @fatcatnorwich
The king of Norwich real ale pubs.
We are talking pub royalty here. Have you ever heard of The Good Pub Guide, a renowned brew house guide that awards an annual Beer Pub of the Year? Well, The Fat Cat in Norwich has won that particular award 11 times. Put simply, Colin and Marjie really know what they're doing.
The Fat Cat is the place to go for a stellar lineup of ales, stouts, bitters, and everything in between. You'll even be able to taste some of The Fat Cat's very own brews. I'm a pale ale kind of guy – you tell me if that's a good or bad thing. So, the Fat Cat's Cougar brew was the one for me.
As if the place didn't have enough awards, The Fat Cat also received the Best Pub 2021 award from the British Food Awards.
In short, The Fat Cat is an award-winning pub with award-winning ales and award-winning food. You can't go wrong.
Last Pub Standing
Address: 27-29 King St, Norwich NR1 1PD, United Kingdom
Social: @lastpubstanding
Last Pub Standing: named so for being, as the title suggests, the last pub standing on King Street. For context, before the Licensing Act of 1904, the Second World War, and various other events, King Street was home to 57 other public houses.
So, as they say, "Raise a glass then to the lost taverns, tap houses, and inns of King Street."
Expect more than just a pint if the weather is fine. Last Pub Standing puts on upbeat BBQs to make the most of their outdoor space during the summer months.
There's always something to enjoy: cold beer, outdoor seating, live music, trivia, televised sports, and more. Last Pub Standing also hosts a great in-house pop-up kitchen called Norwich Soul Kitchen. They serve Sunday roasts, burgers, BBQ pulled pork loaded roasties, and more. Last Pub Standing really is a community taphouse.
From the Staff

Our food comes from our in-house pop-up kitchen – Norwich Soul Kitchen. The absolutest favourite thing on the menu would be the Filthy Burger upgraded with a Chicken Stack! It's 2 x 4oz juicy beef patties with smoked bacon and dirty cheese sauce, topped with Caribbean Fried Chicken and with a side of jerk salt fries. It is a BEAST!

– Abbie at Last Pub Standing
BrewDog Norwich
Address: 1 Queen St, Norwich NR2 4SG, United Kingdom
Social: @brewdognorwich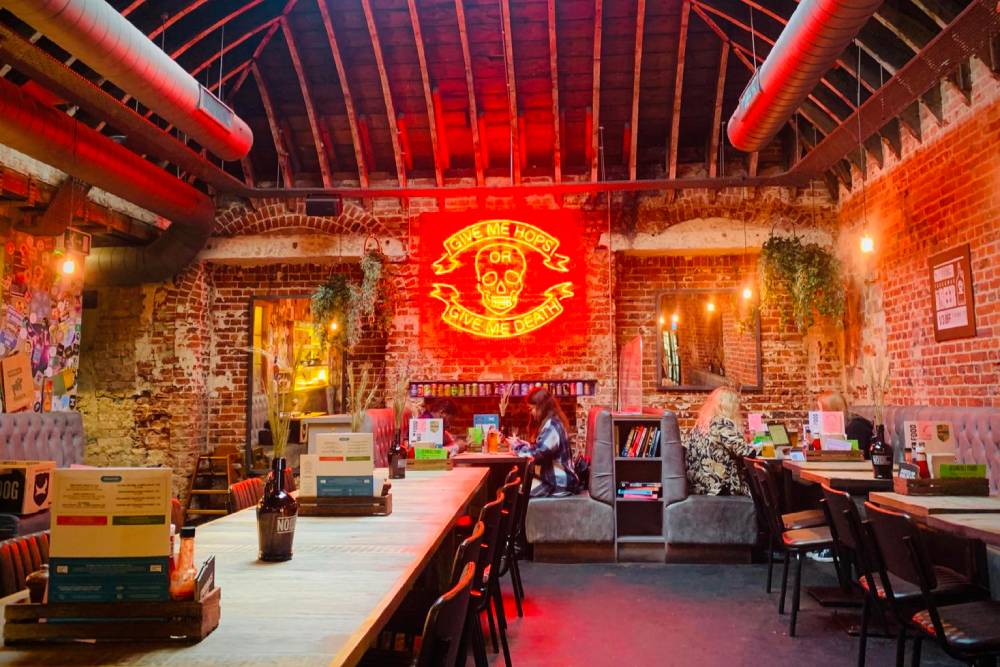 Whether you're in the area after seeing a film at Cinema City, or you just fancy a bite and a beer, get yourself into BrewDog.
BrewDog itself is a brand that needs little introduction these days. The creator of the now-famous Punk IPA has undoubtedly picked up steam in recent years. Even now being a chain establishment, BrewDog's Norwich location still deserves your attention.
Choose from a selection of 25 beers on tap and treat yourself to a generous serving of BBQ wings. Although Punk IPA is undeniably the main attraction, I personally recommend giving Elvis Juice a shot. This delightful brew is an American-style IPA with a refreshing touch of grapefruit infusion.
Bottom line, BrewDog's impressive growth is well-deserved. The Norwich location is a worthy spot to spend an evening.
St Andrews Brew House
Address: 41 St Andrews St, Norwich NR2 4TP, United Kingdom
Social: @standrewsbrewhouse
Here's a trivia nugget for your next pub quiz: St. Andrew's was my pub of choice for a post-university graduation beer (maybe one day, that might be a question).
St. Andrew's Brew House is another fantastic beer destination in Norwich, boasting its own assortment of brews. As someone who appreciates pale ales, I consistently found myself gravitating towards their noteworthy creation known as Grocer's Ghost. Whenever I visited, it was always my top choice.
In addition to being a fantastic place to sink a few pints, St. Andrew's Brew House is deeply dedicated to the art of brewing. For craft beer enthusiasts, they provide an incredible opportunity to delve into the brewing process of their beers firsthand. You'll also be able to take home a selection of your favourite house beers.
So, if you find yourself parched in and around Townland, consider popping into St. Andrew's Brew House for a refreshing tipple.
The Black Horse
Address: 50 Earlham Rd, Norwich NR2 3DE, United Kingdom
Social: @the_black_horse
Find yourself heading into the city via the busy Earlham Road, and you'll pass right by this beloved neighbourhood pub.
For over 300 years, The Black Horse has stood and served.
The large pub garden is its premier attraction – a space once used as a bowling green during the Victorian and Edwardian eras. You'll find plenty of benches decorated with festooned lights – the perfect atmosphere to nurse a local craft ale.
The Black Horse is a pub for all seasons. Sink into one of the indoor sofas during winter, or drink outside if the sun is shining. Whatever time of year, just make sure to look out for Colin, the resident pooch. He's the star of the show.
The Murderers (aka The Gardeners Arms)
Address: 2-8 Timber Hill, Norwich NR1 3LB, United Kingdom
Social: @murderersnorwich
The Murderers gives The Black Horse a run for its money. Think being over 300 years old is historic? Well, The Murderers dates back to 1530. That makes it one of the last family-owned free houses in the city.
The Murderers is a pub full of nooks and crannies, a real architectural relic from bygone centuries. Its rustic aesthetic only enhances the pub's distinctive character, creating an atmosphere steeped in history.
Still, The Murderers does have all the modern essentials to help it keep up with the times. If there's a major sporting event, it'll be shown on TV here.
When you stop by to grab a beer, make sure to ask why the place got its macabre nickname.
From the Staff

My food recommendations are locally sourced fish and chips with homemade tartare sauce, and the homemade burgers topped with homemade chili beef.

To drink – we stock a number of locally brewed cask ales – many of these ales are brewed in Norwich, made with malting barley grown in the fields of North Norfolk. They are recognised as some of the best malt in the world, and used across the world – making many of our beers from 'grain to glass' less than 30 miles!

Our house ale is a light and refreshing light ale, with fruity subtle flavours of blackcurrant – called Edith Cavell. It's named after the local heroine, who was executed during WW1, for reptriating injured servicemen – and celebrated with a statue in Central London.

– Philip at The Murderers
The Mischief
Address: 8 Fye Bridge St, Norwich NR3 1HZ, United Kingdom
Social: @themischiefnorwich
A pub that has witnessed many of my university bar crawls, The Mischief is a real student's pub. That said, locals do populate it too! The main reason I call it a student's pub is for the budget-friendly triple spirit and mixer they offer. That definitely sets off any pub crawl with a bang.
In all seriousness, though, The Mischief is one of Norwich's best cheap and cheerful pubs. The prices are very affordable, and the atmosphere is always lively. Pair a free-for-all jukebox with some cool in-house gimmicks (buy yourself a drink and then roll a die; if you get a 6, you'll get another on the house), and you have yourself a relatively upbeat atmosphere.
Venture here on a Friday night to see it in full swing.
Lamb Inn
Address: Lamb Yard, Orford Pl, Norwich NR1 3RU, United Kingdom
Social: @lambinn.norwich
On the other end of the spectrum to The Mischief, you have Lamb Inn. That's not to say that the Lamb is without atmosphere; calm is perhaps the right word.
The pub can be found in the heart of the city, tucked away in a courtyard surrounded by some of the city's busiest shops. Pass through the little alley that leads to the Lamb Inn, though, and you'll be forgiven for thinking you're not in the centre of the hustle and bustle anymore.
Taking a seat inside isn't the wrong choice – the tables by the open fire are a great spot for when the weather closes in. But don't pass on one of the courtyard tables so quickly. Plus, the heaters will keep it comfortable even if it is cold. So, grab yourself a group of mates, and pile onto one of the outdoor benches – this is one of the best pubs for a social brew.
The Belgian Monk
Address: 7 Pottergate, Norwich NR2 1DS, United Kingdom
Social: @thebelgianmonknorwich
If continental beers are your brew of choice, particularly Belgian ones, then this pub is the perfect place for you.
The Belgian Monk shows that life is best when kept simple. Indulge in exceptional beers, served in the traditional way at this pub. Each of the pub's Belgian brews are served in its own distinct glass, whether bottled or draught.
Including its Belgian offerings, The Monk has a rather impressive roster of around 45 beers, so patrons rarely find themselves lacking a choice of tipple. Pair that variety with a hearty menu of continental-based food, and you've got one heck of a place.
From the Staff

The Belgian Monk is famous for its cherry beer Ter Dolen Kriek but another one that is gaining popularity and is one of my favourites it Petrus nitro cherry chocolate it has been described by many as a black forest gateaux in a glass.

– Rebecca at The Belgian Monk
William & Florence
Address: 111 Unthank Rd, Norwich NR2 2PE, United Kingdom
Social: @williamandflorence
During my tenure in Norwich, an evening drink down the 'Will & Flo' became a common occurrence. No, I promise I didn't have a drinking problem – the William & Florence was just a really pleasant place to kick back with friends. Even on cold evenings, sitting on the streetside beer patio is thoroughly enjoyable.
The Will & Flo is a beautiful place – a sign that the management care very much for the experience of their customers. And that care is genuinely felt on the paying side of the bar.
Swing by any day of the week and you'll see groups of patrons all sharing good conversation over some good drinks – I'd even wager that most would be regulars, as the Will & Flo is definitely a spot to return to often.
Gonzo's Tea Room
Address: 68 London St, Norwich NR2 1JT, United Kingdom
Social: @gonzostearoom
Now, for a change of pace.
Gonzo's holds a special place in many people's hearts as one of the city's most laidback and hip watering holes. Picture an eclectic American log cabin interior adorned with antique red leather sofas. Relaxed wine drinking during the day turns to upbeat disco cocktails at night. I haven't even mentioned the rooftop terrace yet, either.
I've yet to meet someone that isn't a fan of Gonzo's.
Head over on a Friday evening to find the disco in full swing. Grab yourself a slush-tini whilst you're there.
Mr Postles' Apothecary
Address: 2 Upper King St, Norwich NR3 1HA, United Kingdom
Social: @mrpostlesofficial
In true apothecary fashion, you will be drinking potions here. Though rather than Disney's evil witch stirring the cauldron, one of Mr Postles' cocktail chemists will be doing the deed.
Mr Postles' is the place to go if you're after something a bit experimental – give their Fish Out of Water cocktail a go if you're a fan of Instagram-worthy dry ice flair. But, if you find yourself more of a fan of the classics, you'll easily be able to track down a mojito or Cuba libre. No matter which beverage you choose, you can be confident that it will be of the utmost quality. Cocktails are Mr Postles' speciality, ensuring a delightful experience with every sip.
Don't be afraid to head here for some food, too – the menu caters to all dietary requirements.
Rooftop Gardens
Address: The Union Building, 51-59 Rose Ln, Norwich NR1 1BY, United Kingdom
Social: @rooftopnorwich
Now, Rooftop Gardens does stray into the realms of more expensive drinking locations. But I thought it was at least worth a mention on this list. It's not like every pub or bar in Norwich has 360-degree views of the city.
Second caveat: Rooftop Gardens is, first and foremost, a restaurant. But – stay with me – you can most definitely book yourself a terrace spot to enjoy top-shelf drinks of an evening.
In keeping with the place's refinement, expect to be well taken care of by the staff. It's one of the few places I've been where I've had my jacket taken for me.
So yes, having some drinks here will cost a prettier penny than most other establishments. But for a one-off, I think it's worth it.
Bar SU
Address: University of East Anglia, Norwich NR4 7TJ, United Kingdom
Social: @ueasubars
I wanted to see how long I could hold off mentioning UEA's campus bar, but I just had to include it. It's definitely a place, being a university alum, where I have a lot of experience. But don't confuse my personal experience at the bar with favouritism. Bar SU stands up as a good, cheap place to grab a cold beer.
As a university bar, the drinks come cheaper than most of the city's independent pubs. And then you have the atmosphere. True, the campus atmosphere is not for everyone. But, for those that do like a lively location – few places in town are as busy on a daily basis.
Yes, you'll rarely find yourself out by UEA without reason. But if you do have reason to head towards the university campus – maybe there's a gig at the LCR that you have your eye on – stopping in at Bar SU for a drink is highly recommended.
Want to blend in? Order a snakebite – a mix of lager and cider, pumped with some blackcurrant cordial.
Final Thoughts
Norwich: it's a place that truly holds its drinking heritage dear. Although it may not boast the 600 pubs it once did, the brewing culture from that remarkable era still thrives.
No matter your drinking taste, Norwich has an abundance of options that will satisfy. Are you a devoted real ale connoisseur? The Fat Cat is an absolute must-visit, along with The Belgian Monk and St. Andrew's Brew House. Craving a well-crafted cocktail instead? Answer the call of Gonzo's or Mr Postles'. Looking to sink a pint in a historic taphouse? Norwich has options by the bucketload.
Whatever or wherever you drink, Norwich will always facilitate a good time.
Further Reading
Check out our other articles on Norwich below:
🌍 Ready to Jet-Set on a Budget? ✈️

Maximize your savings with these travel essentials:

✈️ Sky-high Savings: Book budget-friendly flights with Skyscanner.
🏨 Rest Easy: Find the perfect accommodation on Booking.com or Hostelworld.
🛄 Travel Light: Store your luggage securely with Bounce.
📱 Stay Connected: Grab affordable eSIMs from Airalo or SimOptions.
🌄 Unforgettable Adventures: Find tours and experiences with GetYourGuide.
🛡️ Travel Worry-Free: Stay protected with travel insurance from SafetyWing!