Last Updated: September 14, 2023
Craggy, barren and alluring, Skye is Scotland's most famous island.
It's also one of its best. I've spent loads of time in and around Skye, and I can't wait to journey back for more. Check out my 5-day itinerary and the best ways to get to the Isle of Skye.
Skye is the nation's second-biggest island, measuring around 640 square miles (or 1,660 square kilometres). Since that probably means nothing to you, that's around the same size as London—so there's plenty to explore.
You get charming villages, beautiful hikes, and some of the best landscapes you've probably ever seen.
In short, the Isle of Skye is famous, attractive, and brimming with adventures. Since a bridge connects to the mainland, you don't need a ferry to get there.
In this article, I've brought you the 12 best things to do in Skye. Pack your bags and bring some sandwiches, we're going on an adventure!
See a Strange Old Man
Well, not literally.
The Old Man of Storr is an icon on the Isle of Skye. It's a towering, jagged rock that looms high over the island's northern peninsula. The most significant rocky lump in a long ridge of rocky protrusions, it's home to the island's most famous hike—and the island's most famous viewpoint.
The two-hour hike in and around the Old Man of Storr is beautiful, brilliant and relatively accessible. From the 700-meter summit, you get views and vistas of craggy rock formations, tiny islands Rona and Raasay, and the narrow strip of water that separates the two from Skye.
Here's a great video guide on the hike to the Old Man of Storr:
Conquer the Quiraing
The Quiraing is weird.
Not quite a cliff, not quite a mountain; it's my favourite place in Skye. So much so that a picture I took of the Quiraing is even my phone background.
An otherworldly area of bright-green marshland, the area, was formed by a landslide, and I've never really seen anything else like it.
Just like the Old Man of Storr, the best way to explore the Quiraing is on foot. The entire walk is a three-hour adventure measuring in at around 4 miles (7km).
The Isle of Skye is famous for its landscapes. But if you only have time to explore one of them thoroughly, make it the Quiraing. It's stunning and unusual, and the views massively outweigh the effort required to get them.
Visit Portree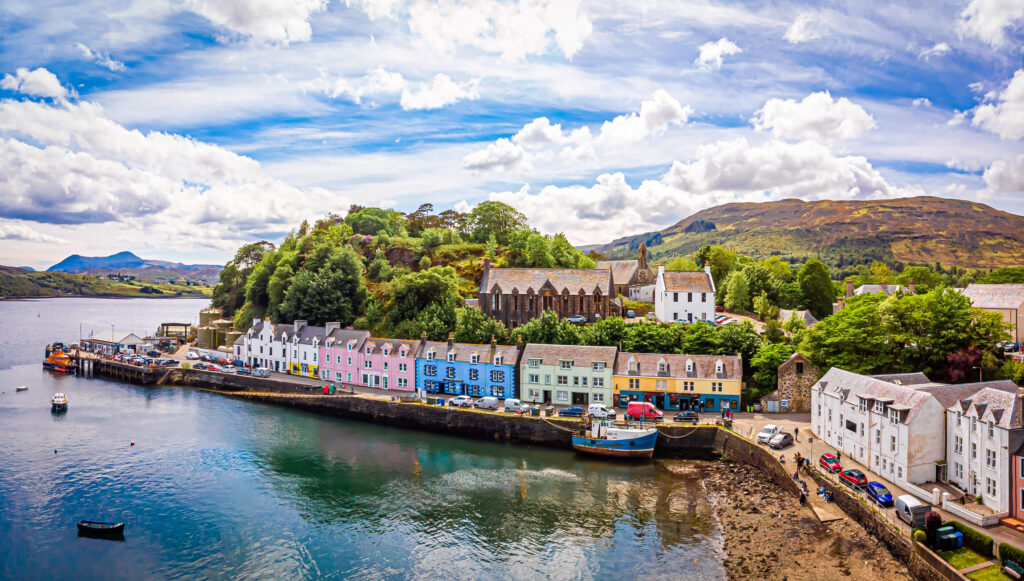 Honestly, Portree is a little overrated.
But it's the island's most significant settlement, so you can't visit Skye without seeing its colourful capital. Most famous for its pastel-hued homes, pretty little port and a relatively massive population of 2,500 people, it's a good base if you want lots of conveniences and a pretty central location.
That said, if you don't mind going without a few conveniences, there are way better and prettier places to use as a base. I recommend Elgol, but other good choices are Dunvegan, Broadford and Kyleakin.
Hit the Roads of Skye
Scotland is one of the world's best road-trip locations—and Skye, in particular, is packed with incredible on-road scenery.
You could spend days driving around the Isle of Skye without ever leaving the confines of your car and still have one of the best vacations of your life.
Make sure you hit the Trotternish loop, a 50-mile (80km) drive that runs around the perimeter of Skye's northernmost peninsula (the peninsula of Trotternish, in case you're wondering). The loop starts and ends in Portree and passes the Old Man of Storr, the Quiraing, and loads of other places I still haven't covered yet.
Aside from that one famous drive, the best way to enjoy Skye's roads is this: get a map, plot a route from place to place (the more remote, the better), and enjoy the drive. When the en-route views are this good, it hardly even matters where you're driving from and to.
Before we move on, here's my final road trip top tip: get around by hitchhiking. I know it's not for everyone, but it's the best way to see and explore Skye. Locals know the place better than anyone, so hitchhiking is the ultimate way to discover the best things to do. And on top of that, you get to save money and meet local people!
Visit the Fairy Pools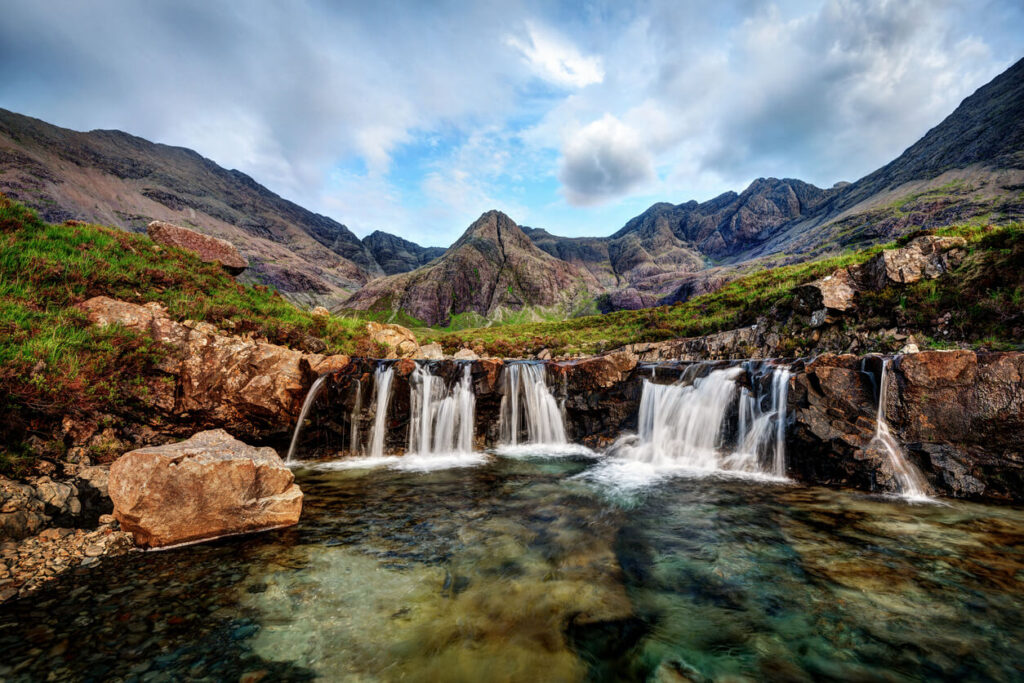 The Fairy Pools are one of the most famous things to do in Skye.
A varied series of plunge pools filled by the cascades of a lengthy waterfall, the area is one of the most diverse spots on the Isle of Skye. You get heathery moors, boggy marshes, rock pools, and brilliant views of the massive Cuillin Mountains (but more on them coming next).
The Fairy Pools are always really busy, and the number of people here can sometimes get annoying, but don't let that put you off.
(And if it does put you off, go early in the morning).
Clamber Around the Cuillins
The Cuillins are the Isle of Skye's most famous mountains.
The most challenging hikes here are some of the most challenging hikes in the UK. So only tackle the most technical routes if you're an experienced hiker, scrambler and navigator.
If you're not, there are still plenty of leisurely (but brilliant!) hikes to enjoy—there are endless routes in and around The Cuillins.
If you don't like hiking at all, there are lots more things you can do in the area. We've already covered the Fairy Pools. But another excellent option is to tackle a boat trip from Elgol to the nearby shores of secluded Loch Coruisk, a freshwater lake right in the middle of the mountains. Isolated, remote and peaceful, it's one of the best places in Scotland to spot dolphins, whales and sharks.
Point at Neist Point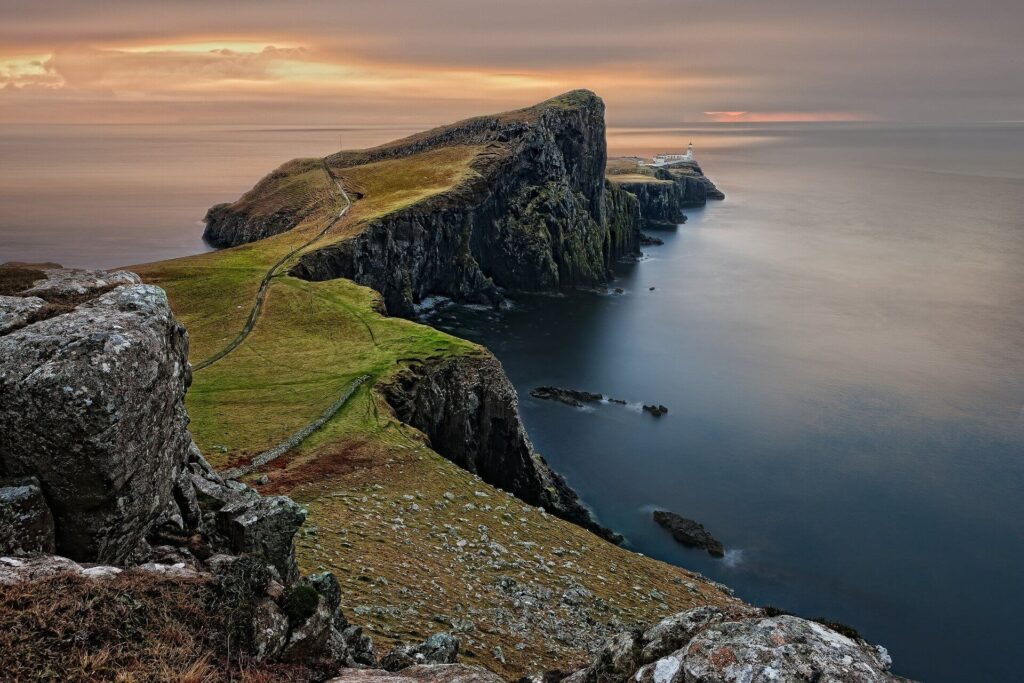 A legendary lighthouse located right at the end of a strange lumpy headland, I love Neist Point.
To enjoy it best, you should walk to and through the cliff-covered outcrop where the lighthouse lives. The two-way walk measures 1.75 miles (3km) and only takes a couple of hours.
Come here for sunset—it's incredible. Photographers visit from around the world to snap sunset shots here.
Watch Whales
You don't need to visit the Maldives or some other tropical island to gawp and gaze at whales.
As I've already mentioned, you can do it in little old Scotland—and it's, without doubt, one of the best things to do in Skye. You can spot whales, seals, otters, dolphins, porpoises, puffins, basking sharks, and more on and around the island.
Two of the best spots are the places I've just covered—Neist Point and Loch Coruisk. But there are plenty of other good options too.
If you want to spot marine life on the Isle of Skye, July through to September is the best time.
Explore Quiet Beaches
Because Skye is an island (and I'm sure you probably worked this out for yourself), it has a massive coastline. Depending on who you ask, the shoreline clocks in at around 330 miles (530km), so you get plenty of sands and seas to explore.
Most of Skye's beaches are remote, rural and ridiculously quiet. As a beach destination, Skye is hugely underrated.
Some of my favourite spots are Staffin Beach, Coral Beach, Torrin Beach and Talisker Beach. If you want remote seaside seclusion, Coral Beach will probably be your favourite of the four.
I wouldn't say I like beaches very much. But even I love Skye's beaches. So if they're enough to rouse some passion in a shore-cynic like me, they must be good.
Climb Cliffs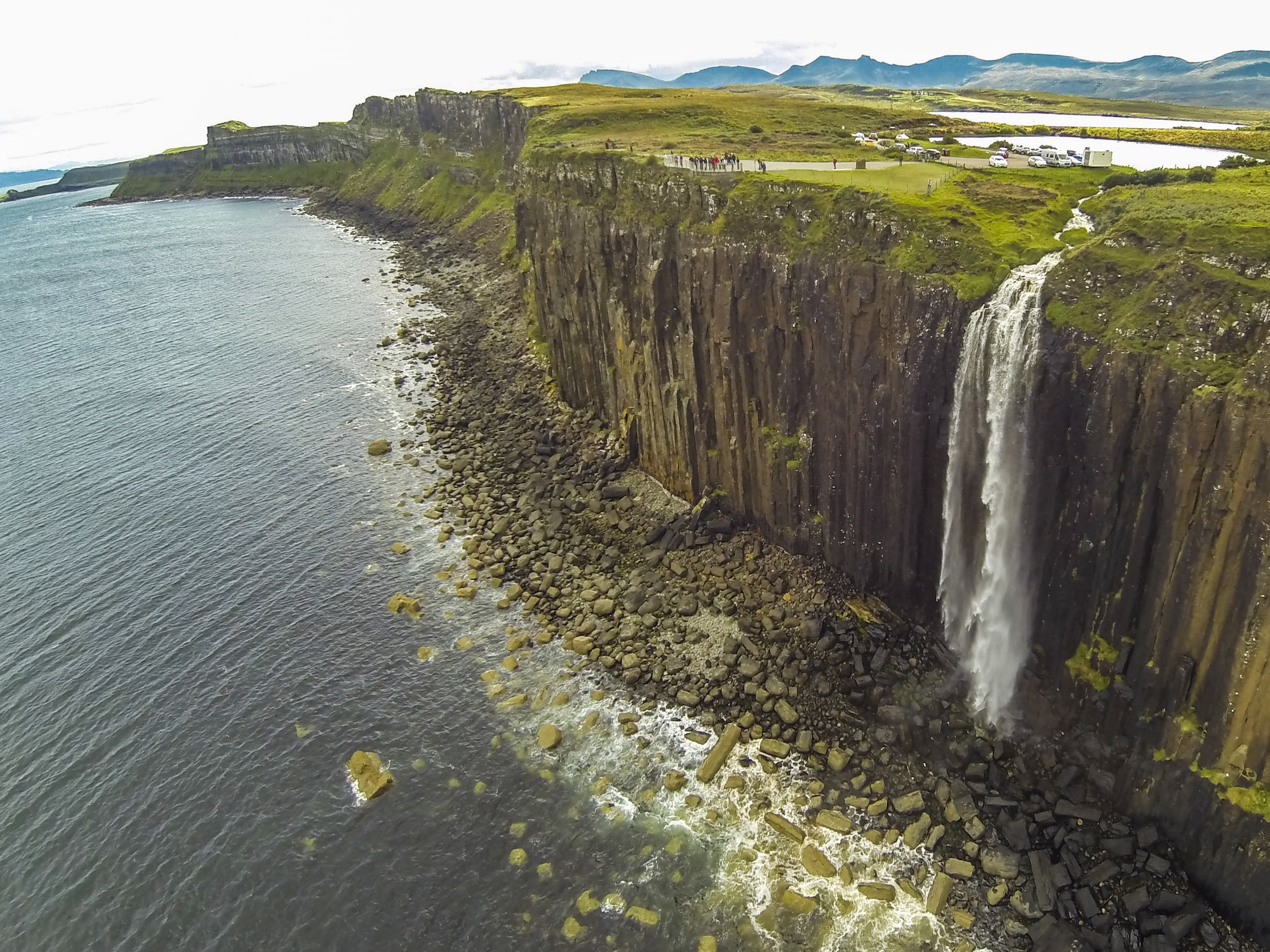 Alright, we've already covered beaches. But because Skye is an island, it also has lots of cliffs.
Here are some of my favourites:
Point of Sleat: Sleat is hugely underrated. One of the least-explored peninsulas on Skye, there are loads of great cliffs and coasts here. The vertiginous wander along to the Point of Sleat is my favourite.
Duntulm Castle: At Skye's very northern tip, Duntulm Castle is a little atmospheric ruin perched over the edge of some small crags.
Brother's Point: a lesser-known spot close to the Old Man of Storr, Brother's Point looks like Neist Point, but it's way less popular.
Kilt Rock: the island's most famous cliff is home to Mealt Waterfall, a massive 55-meter cascade that plunges down the length of Kilt Rock's face.
Tackle Some Trips
Close to Skye, there are many great places for day trips—the west coast of Scotland is one of my favourite places in the world.
One of my favourite day trip options is Plockton. Very close to Skye, Plockton is like someone took all the Scottish fishing village clichés, bundled them together, and dropped them into one place. I bet you ten dollars you can't visit Plockton without falling in love with its charm.
Another good option is the Five Sisters of Kintail. A lengthy and challenging ridge walk measuring around 9 miles (15km) offers Scotland's best views.
The Five Sisters are located right beside Loch Duich, one of my favourite lochs in Scotland. If you don't want to tackle the ridge walk, have a wander around Loch Duich's shores instead. You'll see people fishing, distant mountains, and rudimentary boats.
And at the northern end of the loch, you'll also find Eilean Donan Castle. A picturesque little fortress perched over the shores of Loch Duich, it's one of Scotland's most-photographed spots.
Go Remote
People don't spend enough time on Skye.
A speedy little two-day trip honestly isn't enough. Around five days is suitable, but even longer is better.
The main sights are incredible, and I mean that sincerely. But the best parts of Skye are the stuff you stumble upon:
The tiny fishing villages
The tucked-away coves
The isolated hikes
The sea-backed shores in the middle of nowhere
If you genuinely want to enjoy Skye, you should do all the famous stuff. But once you've done all that, give yourself lots of time to get lost, drive to remote places, and wander off-grid. Head west and head south, down single-track roads and tiny trails.
Don't lose the bigger picture in the swift pursuit of the sights.
Final Thoughts
Thanks for reading our guide to the best things to do in Skye!
But before you go off and start planning your trip, I want to add one last thing: all the stuff I've mentioned is just the beginning.
On the Isle of Skye, you also get museums, bird-spotting, vivid viewpoints, smiling locals, beautiful seafood, Highland cows, dinosaur footprints and plenty more. So no matter how long you're planning to stay on Skye, see if you can squeeze out a couple more days.
Yeah, the major sights are amazing. But Skye's natural beauty and charm lie beyond the stuff you've already heard or read. Take your time—you'll be glad you did.
For even more information on Skye, check out our other guides:
Thanks for reading!
🌍 Ready to Jet-Set on a Budget? ✈️

Maximize your savings with these travel essentials:

✈️ Sky-high Savings: Book budget-friendly flights with Skyscanner.
🏨 Rest Easy: Find the perfect accommodation on Booking.com or Hostelworld.
🛄 Travel Light: Store your luggage securely with Bounce.
📱 Stay Connected: Grab affordable eSIMs from Airalo or SimOptions.
🌄 Unforgettable Adventures: Find tours and experiences with GetYourGuide.
🛡️ Travel Worry-Free: Stay protected with travel insurance from SafetyWing!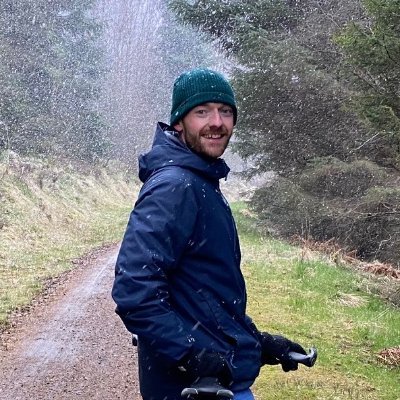 Paul McDougal is a handsome and hilarious travel writer originally from the UK. He likes hitchhiking, working remotely, and having absolutely no idea what's going on.