Last Updated: September 14, 2023
Obtaining a Thailand Visa on Arrival is simpler than you may think. This article outlines the visa process, the necessary documents, and the optimal time to visit Thailand. Whether you're a luxury or budget traveler, Thailand remains one of the most sought-after and pocket-friendly destinations, thanks to the hassle-free Visa on Arrival process.
Let's dive into getting a Thailand Visa on arrival.
What is a Thailand Visa on Arrival?
A Thailand Visa on Arrival (VoA) is a convenient travel document that allows foreign visitors to enter Thailand without needing a pre-approved visa. It's an excellent option for travelers looking for a hassle-free entry process. This type of visa is typically granted at immigration checkpoints upon arrival in Thailand and allows visitors to stay for a specific period, usually up to 15 to 30 days.
It's important to note that eligibility criteria and required documents may vary based on your nationality, so checking the specific requirements before planning your trip is recommended. With a Thailand Visa on Arrival, you can explore this captivating country's rich culture, stunning landscapes, and vibrant cities without the complexities of a traditional visa application.
How to Apply for a Thailand Visa on Arrival?
The process of obtaining a Thailand Visa on Arrival (VoA) is straightforward and efficient. Upon your arrival at any of Thailand's international airports or designated land border checkpoints, you'll need to present essential documents to the immigration authorities. These typically include a valid passport with at least six months validity, a confirmed return ticket, and proof of sufficient funds for your stay. Additionally, you may be asked to provide a passport-sized photograph. Once you've gathered these documents, proceed to the designated Visa on Arrival counter, where immigration officials will assist you in processing your entry.
How much is the tourist visa fee for Thailand?
The typical tourist visa fee for Thailand is approximately 2000 Thai Baht, equivalent to 60 USD or 4000 INR.
It's worth noting that visa fees may apply, which can vary based on your nationality and the intended duration of stay.
Thailand Visa on Arrival Form
You can download the Thailand visa on arrival form here.
Tip: Download and complete the form before arriving at Bangkok Airport.
Essential Documents for Obtaining a Thailand Visa on Arrival
To ensure a smooth process when applying for a Thailand Visa on Arrival (VoA), having the proper documents is crucial. Here's a checklist to help you prepare:
Valid Passport: Ensure your passport has at least six months of validity beyond your planned departure date from Thailand.
Confirmed Return Ticket within 15 Days: A confirmed return or onward ticket is essential to demonstrate your intention to leave Thailand within the 15-day allowable stay.
Sufficient Funds: Have proof of adequate funds for your stay in Thailand. This could be in cash, traveler's checks, or a recent bank statement. The recommended amount is at least 10,000 Baht per person or 20,000 Baht per family.
Passport-Sized Photograph: You may be required to provide a recent passport-sized photograph (4 × 6 cm). Keep in mind that this size differs from a standard passport photo.
Accommodation Details: It's advisable to have information about your accommodation in Thailand, such as hotel reservations or a host's invitation letter.
Completed Visa Application Form: Have the Thailand Visa on Arrival form filled out and ready. You can download and complete it before arrival for added convenience.
Can I Apply for a Thailand Visa On Arrival Online?
The Thai Government has introduced the e-VOA system, allowing eligible travelers to apply for a visa on arrival online. This streamlines the process, saving you from long queues and last-minute rushes to get the visa stamped. The e-visa application can be completed on the Thai Embassy's website, and the procedure is straightforward.
Upon registering your details and submitting the application, you'll receive a Transaction Reference Number (Trn). Upload the required documents, make the payment online, and you'll receive your e-visa within 24 hours. Remember to take a printout and get it stamped upon your arrival in Thailand.
Can I Apply for a Thailand Tourist Visa for More Than 15 Days?
Absolutely. You can obtain a tourist visa with a single entry that allows you to stay for up to 60 days. This visa remains valid for three months from the date of issue. Additionally, you can extend your stay by another 30 days by visiting the Thai Immigration Office and paying an extension fee of 1900 THB.
For the 30-day tourist visa, you can expect to spend around 4300 Indian Rupees.
When is the best time to visit Thailand?
Given the country's diverse climate, the best time to visit Thailand depends on the region you plan to explore. Thailand can be visited year-round, but if you're seeking a sun-soaked beach holiday, it's crucial to understand the climatic variations across its four main regions:
Central Thailand
Northern Thailand
South East Thailand
South West Thailand
For Central Thailand (including Bangkok and Ko Chang), Northern Thailand (Chiang Mai), and South West Thailand (Phuket & Krabi), the optimal time to visit is generally from November to April when the weather is most favorable.
However, it's worth noting that the climate on the southeast coast (Ko Samui) differs. November sees the highest rainfall, so the ideal time to visit this region is typically between January and February.
Planning a visit during the monsoon season can be a savvy choice for those seeking excellent deals and fewer crowds. During this period, you can save up to 80% on bookings as there are fewer tourists.
Festivals in Thailand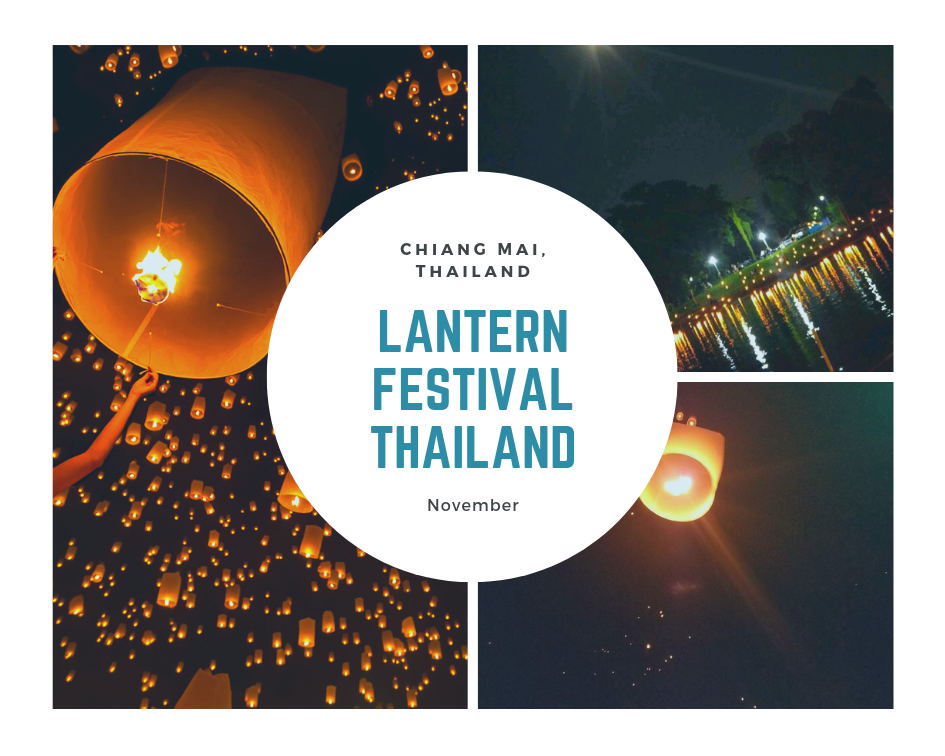 If you're in Thailand during these festive periods, don't miss out on these vibrant celebrations.
Yi Peng (Lantern Festival)

Description: The Thai Lantern Festival is where thousands of lanterns with written messages are released into the sky.
Location: Chiang Mai, Thailand
Month: Usually, on the twelfth lunar month full moon day every year.

Phi Ta Khon (Ghost Festival)

Description: Similar to Halloween, people dress up like ghosts.
Location: Dan Sai, Loei Province, Isan, Thailand.
Dates: June or July

Songkran (The Water Festival) – Thai New Year

Description: As the name suggests, people splash water on each other.
Dates: 13 April – 15 April

Boon Bang Fai (The Rocket Festival)

Location: Yasothon Province, North-east Thailand.
Dates: May 3 – May 7, 2019

Chinese New Year
Vegetarian Festival

Location: Phuket
Dates: October

Candle Festival

Location: Ubon Ratchathani
Dates: July
Things to Do in Thailand
From ancient temples to bustling markets and pristine beaches to lush jungles, there's an adventure for every type of explorer heading to Thailand. And when finding the best experiences, GetYourGuide is your go-to source.
GetYourGuide offers a carefully curated selection of tours and activities that ensure your Thai adventure is nothing short of extraordinary. Browse the options below and set off on a journey you'll cherish forever!
Final Thoughts
Embarking on your Thai adventure is now more accessible than ever, thanks to the simplified process of obtaining a Thailand Visa on Arrival. We hope this article has answered your questions on Thailand's visa application process, highlighting the necessary documents and the best time to plan your visit. Whether you're a luxury traveler or on a budget, Thailand caters to all with its hassle-free Visa on Arrival system.
Remember, with careful preparation and the correct documents, you'll breeze through the process and be ready to explore the wonders of Thailand. And if you're looking for extra convenience, consider the e-VOA system offered by the Thai Government. By applying online, you can avoid long queues and ensure a seamless start to your journey.
So, whether you're captivated by the ancient temples, enchanted by the bustling markets, or drawn to the allure of the pristine beaches, Thailand has something extraordinary in store for you. Dive in, create memories, and let your Thai adventure be an experience cherished for a lifetime. Safe travels!
🌍 Ready to Jet-Set on a Budget? ✈️

Maximize your savings with these travel essentials:

✈️ Sky-high Savings: Book budget-friendly flights with Skyscanner.
🏨 Rest Easy: Find the perfect accommodation on Booking.com or Hostelworld.
🛄 Travel Light: Store your luggage securely with Bounce.
📱 Stay Connected: Grab affordable eSIMs from Airalo or SimOptions.
🌄 Unforgettable Adventures: Find tours and experiences with GetYourGuide.
🛡️ Travel Worry-Free: Stay protected with travel insurance from SafetyWing!