Last Updated: September 14, 2023
Costa Rica is known for its diverse landscape and environment. It offers some of the best beaches for visitors to Central America. After you've spent a week or so exploring the popular inland areas of La Fortuna and Monteverde, you'll want to head to one of these best beaches in Costa Rica to relax. Today we're going to take a deeper look into the best beaches around the country. Whether you choose to travel to the country's Pacific or Caribbean coast we think you'll be spoiled with stunning beaches. So kick back and relax or take part in popular water sports and activities!
Playa Tortuguero
Playa Tortuguero in Tortuguero National Park is a protected sanctuary. Located on Costa Rica's Caribbean Coast, this beach isn't one that you are necessarily going to visit for sunbathing. Instead, the main attraction here is its turtle population. This is one of the best beaches in Costa Rica for families looking for a unique travel adventure. Visit between July and October to see hawksbill and green sea turtles. Or try between February and April to glimpse the rare leatherback turtle. It's important to note that you can only access this beach by plane or boat. So be sure to plan well in advance if you are hoping to see these magnificent creatures.
Playa Conchal
For one of the best beaches on the Costa Rica Pacific Coast, head to Playa Conchal. This is the ideal spot if you are looking to enjoy a beach vacation as a couple. It's a relaxed beach in the province of Guanacaste and is known for its pink sand and the shells that grace its shores. The area offers many luxury hotels and resorts, so you'll have no trouble finding somewhere to stay for a long weekend or the majority of your vacation. It's one of the best beaches in Costa Rica for swimming, thanks to its calm waters. If you are looking to snorkel or scuba dive, you'll enjoy exploring the reefs in this area which are teeming with marine life.
Playa Negra
As its name suggests, Playa Negra is best known for its black sand, and it's one of the best beaches in Costa Rica if you are looking for a unique area to explore. You'll find the town of Cahuita nearby, which is known for its snorkelling and hiking opportunities. Playa Negra is spread over six miles along the Caribbean Coast. We think it's an ideal location for swimming due to the calm waters. If you are looking to learn to surf, beginners will find it to be a good spot to take surf lessons.
Playa Manzanillo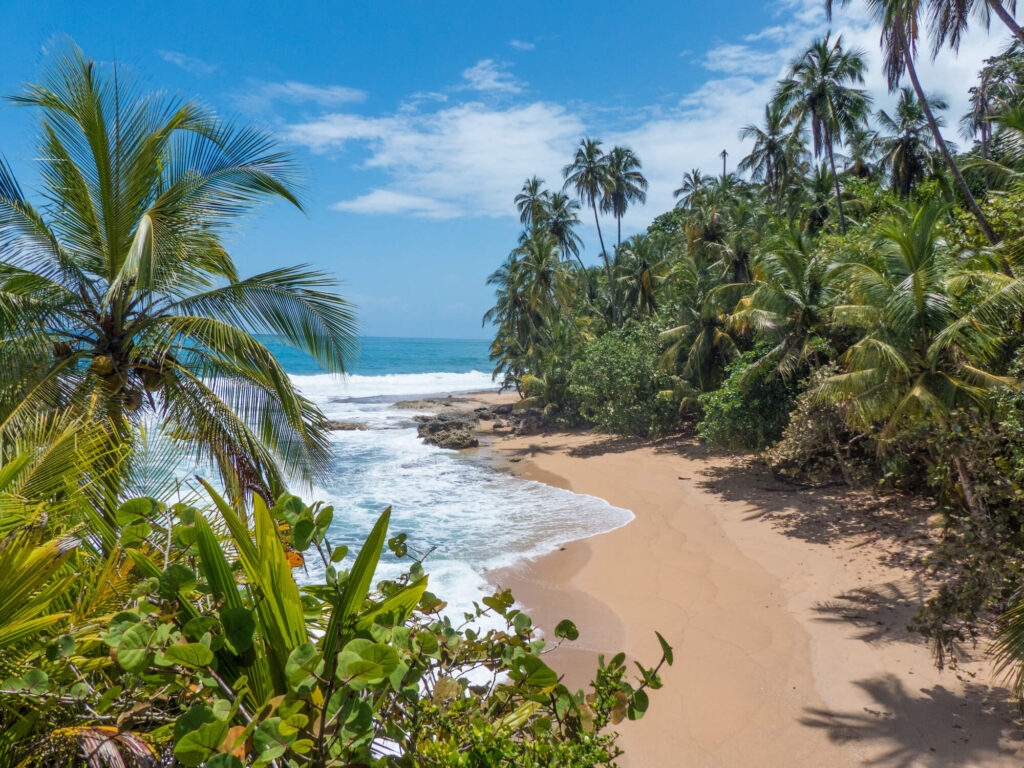 Not far from Panama, you'll find Playa Manzanillo, which is one of the best beaches on the Costa Rica Caribbean side. It has the white sands and turquoise waters you associate with the Caribbean, and you can enjoy sitting on the beach with the rainforest behind you. This is one of the country's quieter beach destinations, as it takes a little more effort to reach. That said, you'll be rewarded with excellent swimming, snorkelling, and kayaking opportunities.
Nosara
If you are looking for somewhere to spend an extended period of time on your Costa Rica trip, consider Nosara. Many backpackers and long-term travellers stay in this area, which is located on the Nicoya Peninsula. Surfers, yoga practitioners, and those looking to enjoy the healthy Costa Rican way of life will love the laid-back vibe of this area. Surfers and bodyboarders will enjoy the quieter surfing opportunities here, especially when compared to Tamarindo.
Playa Montezuma
Located on the tip of the Nicoya Peninsula, you'll find Playa Montezuma, which is one of the best beaches in Costa Rica for snorkelling and diving. There are three shipwrecks to explore under the water, so you'll never be short of new dive sites during a stay here. It's popular with backpackers and budget travellers, and as well as spending your days at the beach, you can enjoy hiking nearby in the jungle.
Tamarindo
When comparing the best beaches on Costa Rica's Pacific Coast, Tamarindo is one that's always at the top of the list. It's located on the north-west coast of the country. Tamarindo is an excellent area for surfing. It offers some of the best waves in the whole country, as well as a lovely beach for couples and backpackers to relax on. When the sun goes down, there's plenty to keep you entertained here, and you'll enjoy the beach bars, relaxed restaurants, and small boutiques in this area.
Manuel Antonio
A list of the best beaches in Costa Rica wouldn't be complete without mentioning Manuel Antonio. Found within the Manuel Antonio National Park, Manuel Antonio beach is located on the Pacific Coast. As well as being one of the most beautiful beaches you'll ever visit, you'll also enjoy seeing the local monkey residents. Thanks to the recent expansions to the local area and the addition of popular luxury hotels, it's one of the best beaches in Costa Rica for couples.
Whether you want to relax on the beach or by your hotel's pool, or you fancy exploring the local natural scenery, you'll find plenty to keep you entertained during a trip here. It will take you about half an hour to hike to the beach from the entrance of the national park. It's well worth the effort. If you are looking for a beach near San José, Manuel Antonio is about a three-hour drive away. It's easy to combine with your stay in the city!
Dominical Beach
If you are comparing the best beaches in Costa Rica's Pacific Coast but are looking for something a little more secluded, head to Dominical Beach. You'll find this beautiful beach on the south of the coast of the country. It's one of our top choices for surfers visiting Costa Rica. You can enjoy staying here throughout the year, and thanks to the lifeguards who are present all year round, we feel it's one of the best beaches in Costa Rica for families. After a day in the sun, enjoy dining at one of the local restaurants where you can enjoy fresh fish caught that day.
Costa Ballena
Known as the Whale's Tail, Costa Ballena is a small sandbar shaped just like the tail of this magnificent creature. What's more, you may also witness magnificent humpback whales if you time it right. For your best chance of seeing whales in their natural habitat, plan your trip between August and October or from December to April. This area doesn't just attract whales, and between May and November, sea turtles nest here.
Punta Uva
Families and couples will enjoy visiting Punta Uva, located on the Caribbean Coast. This beach is found in the Gandoca-Manzanillo Wildlife Refuge. This area is home to sloths, monkeys, and birds so keep your eyes peeled. Punta Uva is one of the best beaches in Costa Rica for snorkelling. The waters are also calm enough for nervous swimmers and kids to enjoy spending time in the ocean.
Santa Teresa
Another of the best beaches in Costa Rica for surfing is Santa Teresa, which is located near Montezuma. It's a two-mile-long stretch of white sand, which is ideal for surfing and sunbathing. When it's low tide, kids and teens will love seeing the tidal pools and their pretty fish. If you are staying here, make sure you head to the beach for sunset one night. It will be one of the highlights of your whole trip!
Playa Flamingo
Located north of Playa Conchal, you'll find Playa Flamingo. As its name suggests, at certain times of day, the white sand beach looks almost pink. You'll find the environment here to be quite different from other beaches in the country. The white sand is in contrast to the many others which have dark brown or black sand. It's a good spot for swimming, and the waves aren't too dangerous. The best thing about Playa Flamingo is that even during the peak travel season. This is primarily due to its lack of luxury hotels and resorts which have appeared in recent years elsewhere in the country. However, you'll still find some great accommodation options in the area. It's definitely an ideal spot for anyone on a budget.
Final Thoughts
When planning your next trip to Costa Rica, make sure you add one or two of these beaches to your list. All of the beaches mentioned offer different environments and benefits. Many backpackers enjoy spending their whole trip here hopping between these locations. The beaches of Costa Rica make a relaxing break after your time exploring the country's top attractions. We're sure they'll leave you feeling refreshed after just a few days relaxing in the sun.
🌍 Ready to Jet-Set on a Budget? ✈️

Maximize your savings with these travel essentials:

✈️ Sky-high Savings: Book budget-friendly flights with Skyscanner.
🏨 Rest Easy: Find the perfect accommodation on Booking.com or Hostelworld.
🛄 Travel Light: Store your luggage securely with Bounce.
📱 Stay Connected: Grab affordable eSIMs from Airalo or SimOptions.
🌄 Unforgettable Adventures: Find tours and experiences with GetYourGuide.
🛡️ Travel Worry-Free: Stay protected with travel insurance from SafetyWing!