Last Updated: September 14, 2023
Pinching pennies is becoming more and more the norm these days. Because of this, many of us are looking at budget-friendly travel destinations that are still interesting and fun to explore. Atlanta is one such place! Atlanta has several attractions and activities that are easy on your wallet. In this entry of Budget Travel Plans, we explore the best budget-friendly things to do in Atlanta. Let's dive in!
Atlanta on a Budget
There are many free or low-cost excursions for the whole family to enjoy while in Atlanta. Some museums and attractions offer special rates and reduced prices on certain days of the month.
Budget Travelling Tip: Invest in an Atlanta CityPASS for even more discounts when you are in the city, including five museums offering discounted tickets. You can purchase a CityPASS here.
And while exploring Atlanta on a budget, find a luggage storage service to store your shopping bags and backpacks as you make your way through this exciting city.
See Piedmont Park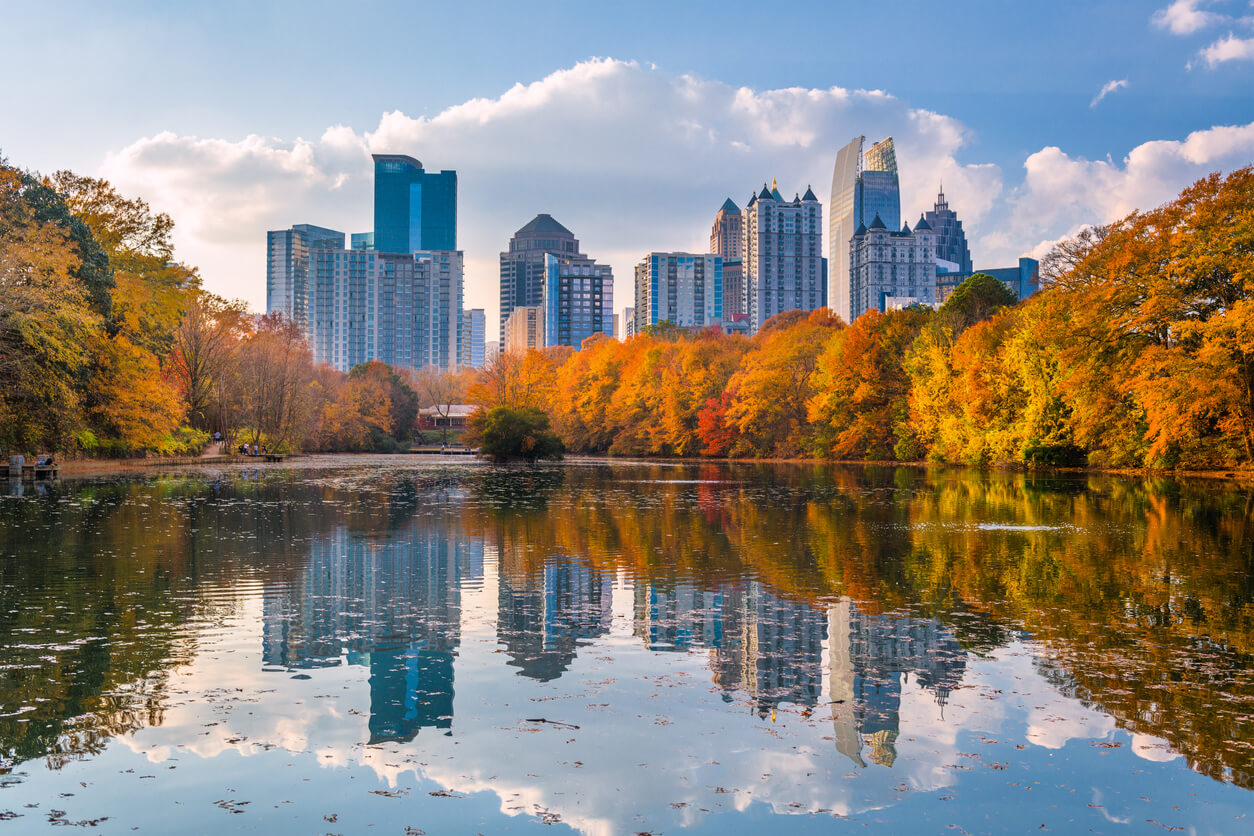 Piedmont Park is the place to be when a festival or carnival is going on. We highly recommend visiting during the weekend from March through November. There is almost always some sort of festival or activity, including a green market or farmers' market.
Check the schedule for Piedmont Park and find when free yoga and fitness classes are offered. These free classes are usually offered twice a month; there are other classes offered, but those do charge a fee.
Lace-up your walking shoes and stroll along the well-manicured paths, or rent a bike and see the park by bicycle. With over 200 acres, there is much to see here. You can even bring along a picnic and a good book for a quiet, relaxing afternoon in the shade.
Hit the Shops
Being on a budget does not mean you can't enjoy an afternoon of shopping in some of the best malls Atlanta offers. It just means you will be searching out the best sales or doing more window shopping than actual shopping.
Phipps Plaza and Lenox Square are great places to find the latest trends, electronics, and anything in between. Grab a cup of coffee and take a wander, checking out the different shops. Many will lure you in with can't-be-missed sales.
Stop by the food court in either mall for an international smorgasbord where you can find a little bit of everything from around the globe. Sit and watch your fellow shoppers as you enjoy a quick snack or a leisurely meal.
Enjoy Centennial Olympic Park
Centennial Olympic Park was created in 1996 for the Summer Olympic Games and is now a fantastic place to hang out with friends and family. It is free to visit the park, and the Fountain of Rings is a particularly favourite attraction.
The park is 22 acres of lush, pristine land right in the middle of downtown Atlanta and is within walking distance to the Georgia Aquarium, SkyView Ferris Wheel, World of Coca-Cola, and College Football Hall of Fame.
Spend a morning enjoying the peace and quiet of the park, or come in the afternoon or weekend when more people are out and about. Bring along a picnic and make a day of exploring all Centennial Olympic Park has to offer.
Explore Sweet Auburn
Sweet Auburn is located in downtown Atlanta. It is best known as the heart of the civil rights movement, where Dr. Martin Luther King, Jr. preached many sermons and fought for equal rights for all people. Sweet Auburn covers several blocks and has many attractions.
As you make your way through Sweet Auburn, you will see the Ebenezer Baptist Church. It is famous for being the home church for Dr. Martin Luther King Jr. and his father and grandfather.
Insider tip: Unexpected Atlanta offers a great walking tour in the Sweet Auburn area.
Visit the childhood home of Martin Luther King Jr. and then make your way to the MLK National Historical Park. Pay your respects at the tombs of King and his wife, Coretta Scott King.
Investigate the Delta Flight Museum
Many do not know, but Atlanta is the home city for Delta Airlines. The Delta Flight Museum is dedicated to all things related to this airline and is located just a short commute from the Hartsfield-Jackson International Airport.
Ticket prices are reasonable, and sometimes you can even find coupons. Discounts for military personnel and Delta employees are available. While at the museum, you will see rare aviation artifacts and retired airplanes.
Spend time in the interactive exhibits and the flight simulator where you can test your pilot skills. Kids of all ages love the flight simulator. Before leaving, check out the gift shop for fabulous souvenir ideas.
Shop in Little Five Points
Head to the Little Five Points neighbourhood, where trendy shops offer must-see deals. Peruse vintage clothing stores and counter-culture shops, or pop into inviting bistros and cafes.
Little Five Points also has two rather intriguing and utterly amazing record stores where you can find pretty much any record known to man. Spend some time browsing Wax' N' Facts and Criminal Records while in the neighbourhood.
Enjoy lunch on one of the patios and sit back for some people-watching. Dine on authentic Southern cuisine and sip ice-cold sweet tea. There is always something to see in the Little Five Points neighbourhood.
Have fun at the Center for Puppetry Arts
In today's world of fast-paced computer graphic imaging, the art of puppetry seems to be fading away. Check out the unique Center for Puppetry Arts, where you can either visit the museum or choose a more all-inclusive experience.
The museum is a treasure trove of puppet nostalgia, including the Jim Henson Collection. Learn more about the creation of the beloved Sesame Street characters and follow Henson's illustrious career.
If you choose the pricier all-inclusive ticket to the Center of Puppetry Arts, you will get to sit in on the Create-A-Puppet Workshop. Also included is the Family Series, where you can learn more about the history of puppets and their role in cultures around the world.
Signing up for a free walking tour is one of the best ways to see more of Atlanta on a budget. Many tours have themes, so you can find one that grabs your interest. Just remember to tip your tour guide when the tour is done.
You will experience much of Atlanta from the viewpoint of a local rather than a tourist when you check out many of the city's budget-wise or free attractions. There is so much to see and do, even when you are watching your wallet!
🌍 Ready to Jet-Set on a Budget? ✈️

Maximize your savings with these travel essentials:

✈️ Sky-high Savings: Book budget-friendly flights with Skyscanner.
🏨 Rest Easy: Find the perfect accommodation on Booking.com or Hostelworld.
🛄 Travel Light: Store your luggage securely with Bounce.
📱 Stay Connected: Grab affordable eSIMs from Airalo or SimOptions.
🌄 Unforgettable Adventures: Find tours and experiences with GetYourGuide.
🛡️ Travel Worry-Free: Stay protected with travel insurance from SafetyWing!