Last Updated: September 14, 2023
Buenos Aires was founded in 1580 by Juan de Garay. Originally known as the Ciudad de la Santisima Trinidad y Puerto de Nuestra Señora de Buen Ayre, residents soon decided this was a bit of a mouthful. They shortened its name to Buenos Aires which means "good airs", thanks to the sea breeze on this part of the Atlantic coast.
An aphorism often attributed as the nation's greatest writer, Jorge Luis Borges describes the typical porteño (person from the port)as "an Italian who speaks Spanish, thinks in French and wishes he were English." This potpourri of culture has gifted us ice cream and tango (Italian immigrants), wide boulevards and delicious baguette loaves (French) and football, rugby and polo (the British). The people are welcoming to visitors, and the city of roughly 12 million operates at a much gentler pace than metropolises like New York or London.
What's a Blue Dollar?
Visiting Argentina, you need to get your head around the raging inflation (36% year-on-year during 2020): and, most importantly for tourists, the blue dollar. The blue dollar is the real, streetside value of the US$. As I write, the official rate is just under 100 Argentina pesos to the dollar. On the street, however, you can get 180. Use your bank cards strictly for emergencies and take advantage of the "blue" or "free" dollar.
Quick tip: Bring US dollars or euros to change at the many casas de cambio (money exchange) near the Florida subway station: other currencies can be tricky. This website gives you up-to-the-minute rates.
Weather in Buenos Aires
Remember when planning your trip to Argentina that seasons are the flipside to the northern hemisphere.
Summer is December to February.
Autumn is March to May.
Winter is June to August.
Spring is September to November.
Buenos Aires is an all-year-round city. That said, if you're also visiting Patagonia in the south, the best time to visit Argentina is between November and February.
If you're going north to Salta and Jujuy in Argentina's Andean region and onto the Salares of Uyuni in Bolivia, try to avoid the rainy season months of January and February (March can sometimes be a bit wet too). If exploring the mountain plateau of the north-western Argentine Altiplano and crossing the Andes to Chile's Atacama desert, it's best to avoid the winter months of June, July and August, as snow can cut off the overland route.
Buenos Aires gets roughly 1,000mm (40ins) of rain a year. October to April is the wettest time, while the winter months of June and July are the driest. January is the hottest month in Buenos Aires with an average temperature of 25°C (77°F), and the coldest is June at 12°C (54°F)
If you can plan your trip in detail and concentrate on the capital city itself, we think the best time to visit Buenos Aires is during the Spring or Autumn. The weather is at its best, and it's not too crowded. You can also easily add day trips to Montevideo and Colonia in Uruguay.
Best time to visit Buenos Aires in Spring: September to November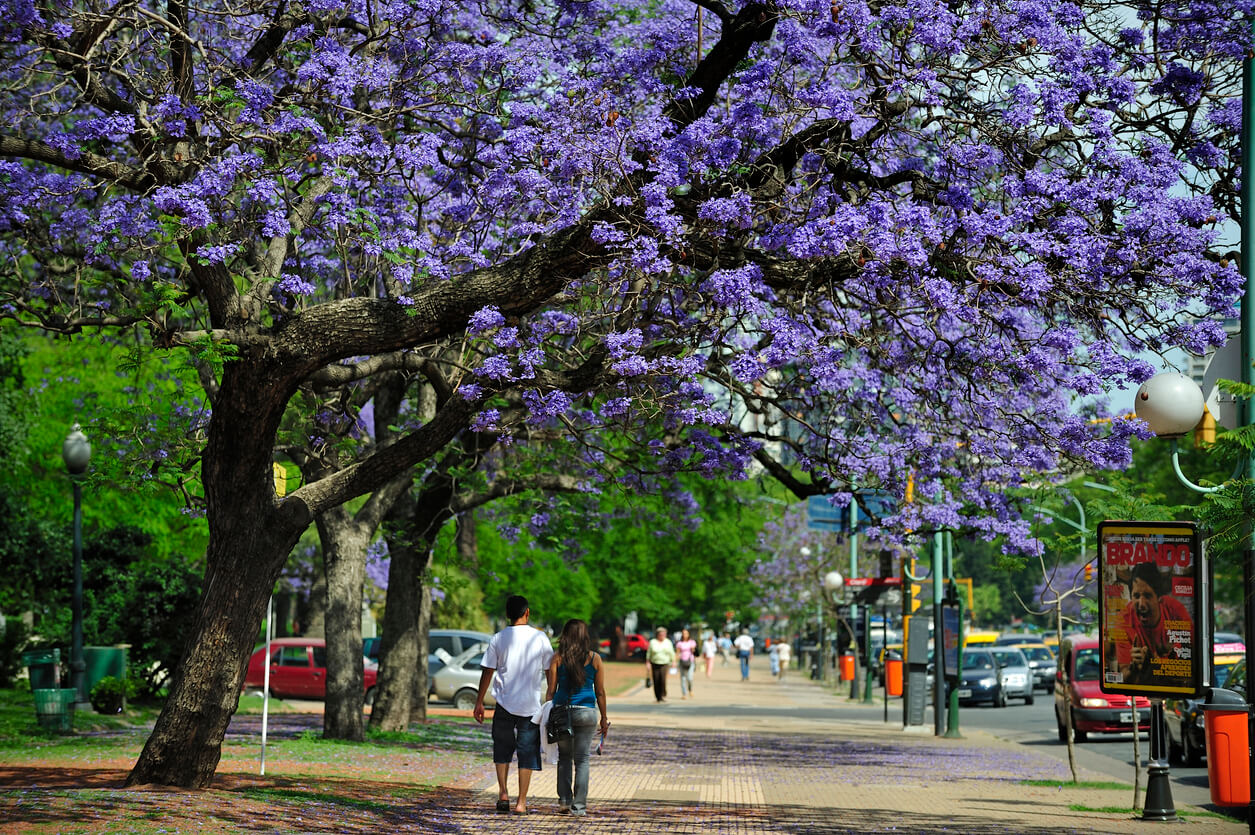 In September, the city streets become a riot of purple blossom as the jacaranda trees bloom. Temperatures reach a peak of 20C (67F). It's pretty comfortable, and there is very little chance of rain (roughly 50mm or 2ins of rain during the month). Rainfall increases in October and November. That said, it's usually over in short, sharp showers, so it shouldn't affect your sightseeing schedule too much. By the end of Spring, daytime temperatures are around 25C (77F) and there's still a pleasant breeze.
Quick tip: Buy a SUBE card for all bus, train and subway travel in Buenos Aires.
Important Spring Dates
Best time to visit Buenos Aires in Summer: December to February
January and February are summer holidays, and many porteños head down to the Atlantic coast beaches of Mar el Plata, cross to Punta del Este in Uruguay or hit the Brazilian coast (where the sea currents are much warmer). It's also high season because so many travellers from the northern hemisphere are fleeing the winter weather at home.
Temperatures can reach 30C (87F) in the summer, and it can be sticky and humid. At this time of year, many museums and other attractions shut down after Christmas to re-open in March. But if you visit Argentina in the summer, it's easy to hop on and hop off a local bus. You also won't have to do too much queueing for the attractions that are actually open.
Quick Tip: Try and avoid flights between mid-December and the end of January as they can be pricey.
Important Summer Dates
Matear Festival: La Rural Palermo, 3 to 5 December 2021: Originally drunk straight from hollowed-out seed pods by the guarani tribes in the border regions of northeast Argentina, Paraguay and southern Brazil, maté is a green tea drunk through a metal straw that has bonded Argentines for centuries. As dusk settles, porteños, young and old, meet in the park to pass the mate gourd from person to person in a South American version of afternoon tea. COVID-19 has sadly amended this culture: now maté drinkers tend to bring their own individual kits rather than straw-sharing, but if you visit this exhibition and buy one for yourself, you'll fit right in as you explore Buenos Aires.
There are street parades throughout the city during Carnival, which will be at the end of February 2022.
Chinese New Year in the Barrio Chino Chinatown area of Belgrano. It changes but is typically around the end of January/beginning of February.
Best time to visit Buenos Aires in Autumn: March to May
Along with Spring, we think Autumn is the best time to visit Buenos Aires. Though March can be pretty wet with roughly 150mm (6ins) of rain, April and May are much drier months. If you're visiting Buenos Aires and then going on to the wine regions of Mendoza and San Juan further west, this is a great time to come, as it's the Vendimia (wine harvest), so the vineyards are full of activity (and great smells).
Quick tip: Book ahead for Semana Santa (Holy Week in the run-up to Easter), as hotels get very busy. Low season begins straight after Easter (until September), so you can often get great flight and hotel deals.
Important Autumn Dates
Argentina is largely Roman Catholic, but in many parts of the country, you will find religious traditions mixed in with indigenous, pre-Hispanic beliefs, which make for a fascinating experience, whether you're a believer or not. At Easter, there are street parades all over the city during Semana Santa, culminating in the Via Crucis (Stations of the Cross) on Good Friday.
There is also now a Papal bus tour narrating the life story of the Argentine Pope Francis, driving through the areas where he grew up, which is a great way to visit a less touristy part of the city like the barrio of Flores.
Buenos Aires Independent Film Festival is in March.
Buenos Aires Fashion Week is in April.
The Feria del Libro International Book Fair is in April/May 2022.
Best time to visit Buenos Aires in Winter: June to August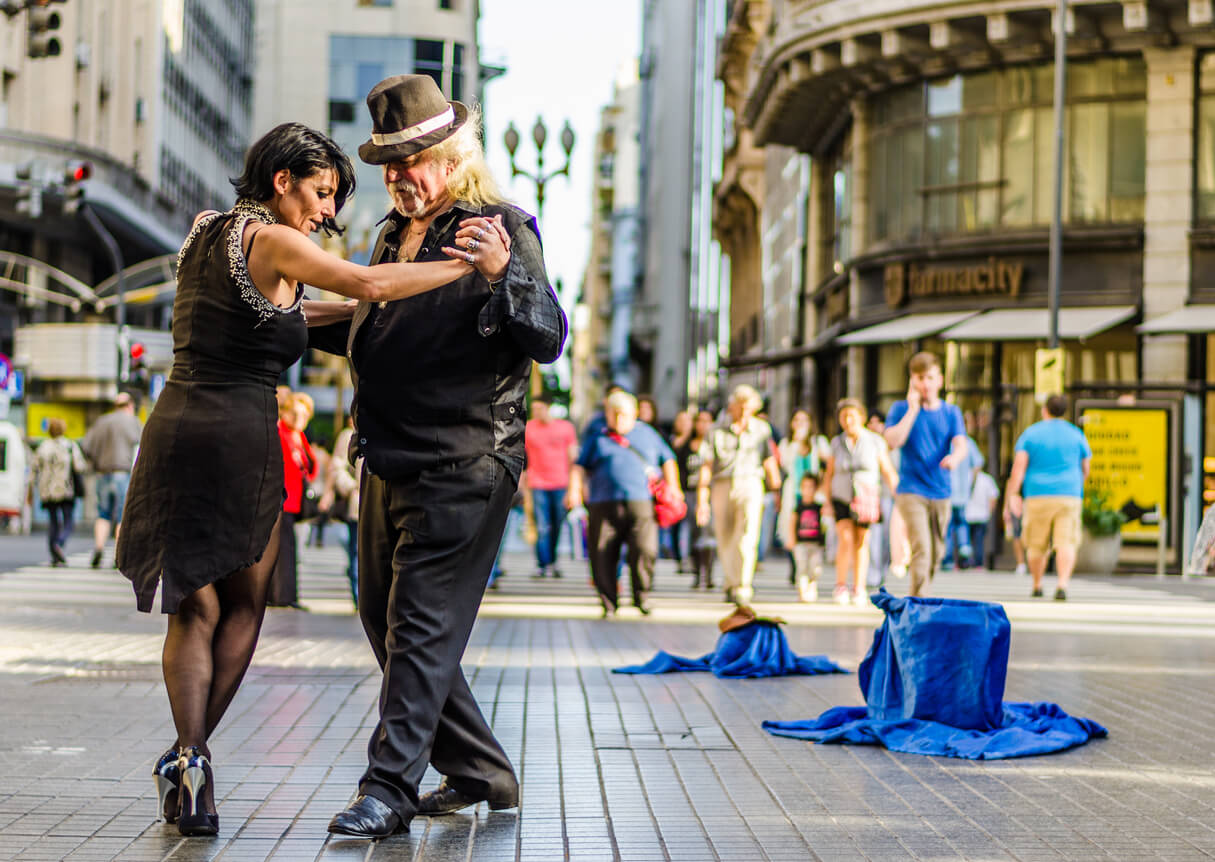 The advantage of coming in June or August is that this is low season, so you can get some seriously good deals: but avoid the winter holiday month of July, when prices spike and hotels and attractions get busy. June to August is the driest time of year, but temperatures can be as low as 7C (45F). Winter is, obviously, the best time to visit if you are going skiing in Argentina. The ski region in the Andes starts at Mendoza and goes south as far as Tierra del Fuego.
Important Winter Dates
Suppose you're travelling with kids during the July holidays (usually the second two weeks of the month). In that case, loads of things are going on all over the city to keep the children entertained. Be sure to check the Buenos Aires city website for day-to-day information.
9 July is Argentina's Independence Day, so there will be a street parade wherever you are. Today it's traditional to eat locro, a warming winter stew with lentils, beans, sweetcorn, salami, and beef.
Argentina's biggest agricultural fair La Rural takes place from 20 to 31 July, 2022.
Be sure to check out our other articles about Buenos Aires:
🌍 Ready to Jet-Set on a Budget? ✈️

Maximize your savings with these travel essentials:

✈️ Sky-high Savings: Book budget-friendly flights with Skyscanner.
🏨 Rest Easy: Find the perfect accommodation on Booking.com or Hostelworld.
🛄 Travel Light: Store your luggage securely with Bounce.
📱 Stay Connected: Grab affordable eSIMs from Airalo or SimOptions.
🌄 Unforgettable Adventures: Find tours and experiences with GetYourGuide.
🛡️ Travel Worry-Free: Stay protected with travel insurance from SafetyWing!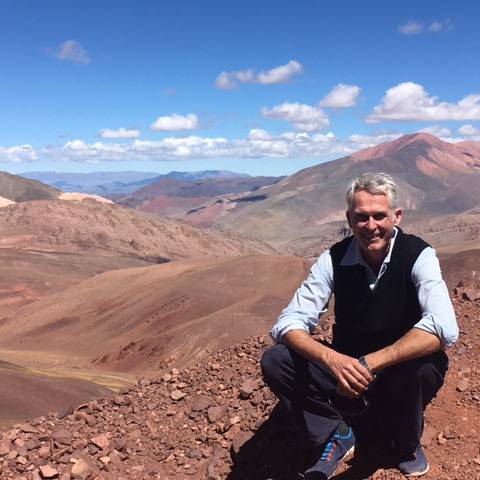 Nick Evans is co-owner of Poncho Tours. Since 2008, Poncho Tours has specialized in hiking, wine, and bespoke tours throughout Argentina, Bolivia, and Chile. He is currently based in Salta, Argentina.