Last Updated: September 14, 2023
If you're planning to visit South America, Chile's Atacama desert is one of the most impressive attractions there is. It's simply unmissable. But when should you go? In this entry of Budget Travel Plans, we'll help guide you to picking the best time to visit the Atacama Desert.
And with our guide for planning your trip to Chile and getting to the Atacama, we'll help you avoid the busy times and see the highlights of Atacama in the best possible way.
San Pedro de Atacama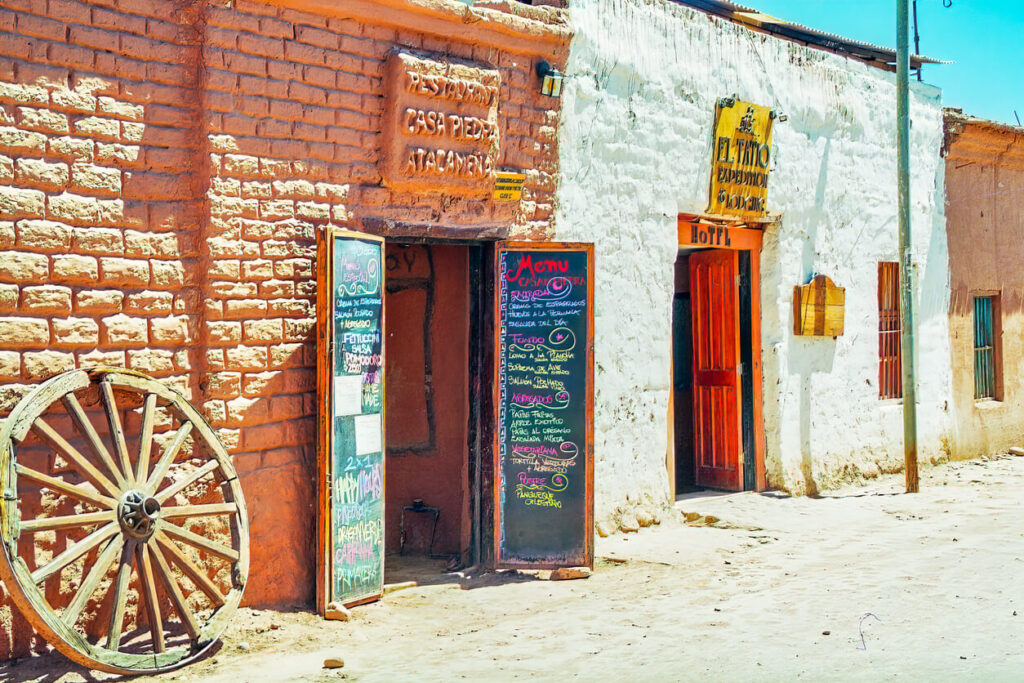 Overlooked by the imposing volcano of Licancabur, the town of San Pedro de Atacama is a tiny jewel set in the stunning desert landscape of northern Chile. It's home to only 4,000 people and sits at an altitude of around 2,500m or 10,582ft.
San Pedro de Atacama is the gateway to the immense salt flat of Atacama. At 3,000 square km (1,200 sq miles), the salt flat of Atacama is the second largest in the world.
The Atacama desert is also an excellent jumping-off spot for visits to the largest salt flat in the world, the Salar de Uyuni across the border in Bolivia.
See our guide to the Best Time to Visit Salar de Uyuni if you're thinking of visiting Bolivia.
Nestling on the edge of the desert, San Pedro de Atacama has become something of a tourist hub. Both backpackers and high-end tourists fill the town at busy times of the year.
But walking its dusty streets at siesta time when all the tourists are out on trips, you will feel like you are starring in your own cowboy movie in a frontier town.
Best time to visit Chile
When planning your trip to the Atacama Desert, the first thing to remember is that Chilean seasons are the opposite of the northern hemisphere.
Summer is December to February
Autumn is March to May
Winter is June to August
Spring is September to November
The best time to travel to Chile for trips to Patagonia is from December to February during the summer, as night-time temperatures can drop well below freezing in winter. Summer is also the recommended season for whale watching. But of course, this means it's peak visitor time.
If you travel either side of summer in October/November or March/April, you will find it much less busy. October and November are the best months to see the Patagonian steppe studded with wildflowers in bloom. That said, March is still a great month for spotting migrating blue, grey and humpback whales, as well as the ubiquitous penguins and sea lions.
March/April is also perfect for visiting the wine region (mainly in the central valleys of Chile) as it's the vendimia harvest time.
The Atacama itself is really an all-year-round destination, as it has so little rain, and temperatures are fairly consistent, but here's a more detailed guide to the best time to visit the Atacama.
Time to Avoid Visiting the Atacama Desert
Perhaps the best way of planning your trip to Atacama is by trying to coincide with less busy periods when you'll find hotel prices can rocket. Before diving into each month, let's discuss some general times to avoid.
Times to avoid
Many Chileans head to the Atacama desert during the holiday seasons. Here are some dates I'd generally avoid in order to keep away from the crowds:
January and February: these months are summer holidays in Chile. As such, many locals will be on the move.
July: winter holidays
Around September 18th: this week can get busy as it's Independence Day
Best time to visit the Atacama Desert
Now that we know when to avoid the crowds let's narrow in on each season. Aside from crowds, there isn't really a bad time of year to visit San Pedro de Atacama weather-wise. You're on the edge of a desert, so the weather is pretty consistent: dry and hot.
Summer (December to February)
Summer is high season, but in the weeks before Christmas, you'll find San Pedro de Atacama isn't so busy. As such, you can often find good deals for accommodation or tours.
Daily temperatures range from 16C to 30C (61 to 86F). Summer is also technically the rainy season in northern Chile. However, as we're talking about the driest desert in the world with only 35mm (1.5 inches!) of rain a year, that's relative.
As mentioned earlier, the summer holidays follow Christmas in Chile and can get very busy. If you find yourself here then, it's still an excellent opportunity to rub shoulders with the locals instead of hundreds of "gringoes"!
As summer is the rainy season, there can be heavy cloud cover, so you might have to be patient for stargazing. One of our recommendations for visiting San Pedro de Atacama during summer is to book the astronomical tour as the first thing you do. It can often get postponed from day to day. So by booking it early in your visit, you can play the weather by ear. Just try not to time it the night before your early morning visit to El Tatio geysers!
Autumn (March to May)
May, in particular, is a great month to visit as it's cooler. May and June are the low seasons, typically with good deals. Autumn is also perfect if you're trying to combine a trip to Atacama with wine tours in Chile's vineyards, as this is wine harvest time. Trips don't tend to vary hugely in price. Still, the advantage of coming in low season is you can pay a reasonable price for a shared trip, and you may be on the bus with only a handful of people. As you might expect in low season, the classic spots which require you to visit at a certain time of day are a lot less busy. You should feel a little less crowded watching the sunset in Valle de la Luna or during early mornings at Tatio geysers.
Winter (June to August)
Temperatures can be as low as 4C (39F) at night. However, daytime temperatures can still reach 22C (72F), so you still need sunscreen for those trips into the wide-open spaces of the Atacama. It may be nippy at night, but the clear winter skies make this arguably the perfect time for stargazing in the Atacama. But try to come in June or August, as July is the winter holiday in Chile, so many locals are on the move.
In winter, snowfall can occasionally block the Andean crossings to Bolivia and Argentina. Sometimes snowfall can restrict even local trips, particularly to the geysers of Tatio, the Salar de Tala and Piedras Rojas (because these are further afield and at higher altitudes).
While snow in the Andes mountains is expected (and welcome, as it provides essential run-off to fill the rivers), snow rarely settles in San Pedro de Atacama itself. In August 2013, the snow stopped me from taking my guests back across the Andes in my 4×4. So, I had to organise a flight from Calama routing through Santiago back to Argentina for my French guests to continue their holidays.
While I was tackling my logistical nightmare, the locals in San Pedro were dancing in the streets, celebrating the first snow they'd seen in town for 30 years. National TV channels even sent reporters to cover the rare event!
Spring (September to November)
Book ahead if you're planning to visit Chile in mid-September, as September 18th is national Independence Day, and many Chileans like to get away to Atacama. October, November and December are the windiest months in San Pedro. Still, it won't be a cold wind, as summer is just around the corner. And this is an excellent time to come if you're combining Atacama with a trip to Patagonia at the opposite end of the country, more than 4,000km (2,485 miles) away.
Things to do in the Atacama Desert
From sandboarding in the Valle de la Muerte to mountain biking through the ochre-coloured Moon Valley, there is a wide range of activities for those searching for an adrenalin rush. The Atacama desert has a burgeoning wine industry and hot air balloon tours for the more sedentary visitor. The town is packed with excellent restaurants where you can eat seafood ceviche in the middle of the desert. There's also a hum of activity 24 hours a day, with tours from stargazing under a vast desert sky almost unpolluted by artificial light to visiting the geysers of El Tatio just as dawn breaks.
What's my Budget for the Atacama Desert?
The Atacama desert is one of the most popular tourist destinations in South America. So, San Pedro de Atacama is not cheap compared to the rest of the continent or even the rest of Chile.
Hotel-wise, if money is no object, Awasi and Cumbres are our picks for luxury options. Cumbres has single rooms from US$278, doubles from US$300. Awasi offers an all-inclusive price with all food, drink and tailor-made itineraries: currently starting at US$2,700 per person for a three-night stay.
At the other extreme, if you're on a backpacker's budget, you can find a bed in a shared dorm in a hostel from around 16,000 Chilean pesos (US$20).
For 18,000 pesos, you can get your own single room with a shared bathroom, and doubles with shared bathrooms start around 23,000.
For mid-range hotels with private bathrooms, expect to pay from 40,000 for a single and 52,000 for a double. That said, it's always worth checking online for late deals.
When I'm in San Pedro de Atacama, I always stay at the mid-range Hostal Elim: just a few blocks from the main street of Caracoles: comfortable private room and bathroom, shady outside area, lounge and decent breakfasts, currently 53,000 the double.
Suppose you're on a really tight budget but have time to travel back and forth. In that case, Tocopilla (south of San Pedro, on the edge of the Salar de Atacama) has some seriously budget accommodation: family homes, none of which have websites. Ask for details at San Pedro Atacama tourist information on the main square at Toconao 405.
Atacama Desert Tours
As far as tours in the Atacama are concerned, everything is in a state of flux with COVID-19. Many agencies closed completely for 2021, and are only recently re-opening.
But these are rough prices for the most popular excursions, valid in 2019. Chile doesn't have raging inflation like neighbours Argentina, so you can expect these to be a pretty accurate guide, with a maximum 10% increase, if you're planning your trip for 2022. All prices are per person for group tours: but remember these vary hugely from agency to agency. Some take large parties on minibuses while others are known for operating with smaller groups. Be sure to ask your operator specific questions about their tours when you're booking (and, of course, read their reviews online).
Half-Day Trips
El Tatio geyser 24,000 Chilean pesos
Valle de la Luna 18,000
Puritama hot springs 15,000
Stargazing 18,000
Full-Day Excursions
Salar de Atacama 25,000
High altitude lagoons of Miscanti and Miniques 35,000
Salara de Tara (with Monjes of Pekana) 60,000
Valle de Arcoiris (Rainbow valley) 25,000
Entrance Fees
The prices below are from 2019. All per person, in Chilean pesos
Hot springs of Puritama: 15,000
Tatio geyser: 10,000
Valle de la Luna: 3,000
Miscanti and Miniques: 3,000
Valle Arcoiris: 3,000
🌍 Ready to Jet-Set on a Budget? ✈️

Maximize your savings with these travel essentials:

✈️ Sky-high Savings: Book budget-friendly flights with Skyscanner.
🏨 Rest Easy: Find the perfect accommodation on Booking.com or Hostelworld.
🛄 Travel Light: Store your luggage securely with Bounce.
📱 Stay Connected: Grab affordable eSIMs from Airalo or SimOptions.
🌄 Unforgettable Adventures: Find tours and experiences with GetYourGuide.
🛡️ Travel Worry-Free: Stay protected with travel insurance from SafetyWing!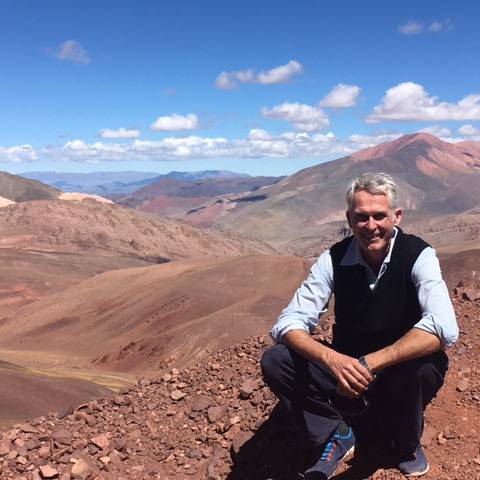 Nick Evans is co-owner of Poncho Tours. Since 2008, Poncho Tours has specialized in hiking, wine, and bespoke tours throughout Argentina, Bolivia, and Chile. He is currently based in Salta, Argentina.