Last Updated: September 14, 2023
In a time when superlatives are bandied around so freely- like "wonders of the world", "must-see before you die", and "bucket list destinations"- the Bolivia salt flats of the Salares of Uyuni do live up to the hype. Read on to find out the best time to visit Salar de Uyuni, directions, and things to do!
Standing in the middle of the Salar de Uyuni, waiting for the sun to rise, with only the shimmering white surface of the saltpan as far as you can see in every direction, is an experience that will live with me for the rest of my days.
It's 18 years since I first visited the Bolivia salt flats. I don't even need photos to remind me of an experience seared into my memory. There are now many more tour options since I went on elementary tours in spartan conditions. Some even come with hot showers, private and heated rooms, and edible food, including vegetarian options! Compared to other highlights of travel in South America, like Easter Island or the Galapagos, the Salares of Uyuni is reasonably accessible and still relatively cheap.
The Amazing Salar de Uyuni
The Bolivia salt flats are a place of natural beauty. The immensity of the landscape plays tricks with your senses.
The Salares of Uyuni is the most extensive salt flats globally, more than 10,500 square km (4,050 sq miles). That's the size of Jamaica! They're so large they're visible from space. The salt layers reach a depth of 120m (394ft) and are the remnants of a vast salt lake which dried up more than 11,000 years ago.
The whole bowl of the Altiplano mountain plateau stretches from southern Bolivia down into the Atacama desert of northern Chile and the Puna of Argentina. The tectonic movement formed the salt flats, which created the Andes between 12 and 14 million years ago.
How to get to Salar de Uyuni
There are three ways of visiting the Salar de Uyuni:
From the nearest town, Uyuni
From Tupiza to the southeast
From San Pedro de Atacama across the border in Chile
Uyuni to Salar de Uyuni
The small town of Uyuni (pop 30,000, alt 3,675m, 12,054ft) is the main jumping-off point for tours to the Bolivia salt flats. It's a nondescript town that has inevitably turned into a bit of a tourist trap. It doesn't merit more than one night to acclimatise for your Bolivia salt flats adventure.
Most excursions are round trips that return to Uyuni around lunchtime on the final day. You can easily hightail it out of there and still have the rest of your day for other activities.
There are bus connections to La Paz (12 hrs), Potosi (7 hrs), and Oruro (9 hrs). A small airport is also there for local flights. There is also a train, but it only runs four days a week. Tickets Bolivia is a good website in English for general travel info.
Tupiza to Salar de Uyuni
The advantage of starting from Tupiza (pop 45,000, alt 2,950m, 9,676ft) is you're on a different route away from all the 4x4s setting out in convoy from Uyuni. It's easily reached from Villazon on the Argentine border. If you want to spend a few days acclimatising in Tupiza, there are incredible canyons where you can horse-ride or mountain bike. The real Butch Cassidy and the Sundance Kid met their end near here: you can visit the place where they carried out their last hold-up.
San Pedro de Atacama to Salar de Uyuni
San Pedro de Atacama: (pop 4,000, alt 2,500m, 10,582ft) This is the most touristy town in Chile, and it's not cheap! But it's a great place to spend a few days, with many attractions nearby, in the Atacama desert. On the final day of the tour, as with departures from Tupiza, you arrive in the immensity of the Salar de Uyuni itself. This is unlike trips from Uyuni, where you would visit the salt flats on the first day.
Word of warning: From June to August, snow can block roads in the Andes in extreme circumstances. Blocked roads make it impossible to travel to the Bolivian salt flats from San Pedro de Atacama. So plan accordingly!
Tours to Salar de Uyuni
You can't visit the Bolivian salt flats independently because the territory is vast, there's no public transport, and the climate is harsh, with temperatures dropping below freezing even in the summer. So it's all-important to choose the right tour operator.
We recommend you do some research online before you travel. Ideally, do your research at home before leaving Bolivia, as internet service can be pretty patchy. Then turn up in Uyuni, Tupiza or San Pedro de Atacama (Chile) and drop into the agency offices.
Some offer English-speaking guides, which is an excellent option if you don't speak Spanish, though not essential as the fantastic landscape doesn't need translating. See if you can meet them and have a chat to see if their language skills are up to scratch!
For most of the tour, you're sitting in a 4×4 pick-up, so see if you can look at their vehicles. Be sure to find out what their maximum capacity is. Many tourists have paid up for a shared trip for four, only to find a fifth backpacker crowbarred onto the journey on the morning of departure. OK, it won't ruin your experience of the Salar de Uyuni, but it's a bit annoying and makes for a cramped journey.
Some agencies run trips for six people, but it's worth paying a bit extra to ensure you have a maximum of four in your group. Remember the driver, cook, and sometimes an additional guide will also pile aboard!
What's my Budget for Salar de Uyuni?
When planning your trip to South America, the critical thing to bear in mind is that Bolivia is cheap, especially compared with immediate neighbours Argentina and Chile.
Technically you can make a one-day trip to the Salares of Uyuni, but please don't. You might be ticking off a place on your bucket list, but you'd be missing out on the whole experience.
Ideally, from Uyuni, I'd opt for at least three days to do the Classic circuit. The four-day trips tend to cover the same course, just a bit more slowly. From Tupiza and San Pedro, agencies mostly run four-day trips as there's a bit more ground to cover.
Here's a rough guide to prices, with basic accommodation, based on a group of four:
Three-day round trip from Uyuni tour: from 1,250 bolivianos per person
Four-day round trip from Tupiza: from 1,400 bolivianos pp
Four-day round trip from San Pedro de Atacama: from 1,575 bolivianos
If your budget can stand it, there are more luxurious hotels in the salt flats, which start from 1,365 BOB for a double room.
No tour operator include the following extras, which you will need to pay in cash (and local currency):
Entrance fee: Eduardo Avaroa national park: 150 bolivianos
Entrance Incahuasi island: 30 BOB
Hot springs of Sol de Mañana: 6 BOB
Border crossing to/from Chile: ranges from 15 to 50 BOB
There's no set price for an English-speaking guide, so it's best to get a few quotes from agency to agency.
Ten highlights of the Salar de Uyuni
Quick Tip: Every three-day trip includes the first eight in the list below.
Catch the sunrise or sunset in the Salar de Uyuni itself: don't ask me to decide which one's best. They're both incredible, almost out-of-body experiences.
The coloured lagoons: Lagunas Colorado, Verde and Blanca (red, green and white) take their colour from the minerals.
Flamingoes: tens of thousands flock here for the breeding season during the summer. Like the lagoons, flamingos range from white to crimson based on the algae in their drinking water.
Nearly 7m tall (22ft), the Arbol de Piedra is a "tree" of rock eroded by the wind which stands majestically in the Siloli desert (also known as the Salvador Dali desert).
Geysers of Sol de Mañana: hot volcanic springs best visited very early in the morning.
Incahuasi island: an oasis of spectacular candelabra cacti on the edge of the Bolivia salt flats. Incahuasi means "Home of the Inca" in the indigenous language of Quechua. Some locals took refuge here when the Spanish invaded in the 16th century.
Wild Vicuña, high altitude members of the llama family whose fine fur is perfectly adapted to trap hot air during the day to keep them warm at night.
Stars in the Bolivia salt flats at night: the rich reward for being miles from civilisation, far away from light pollution.
Uyuni train cemetery: explore the old train yard containing engines that used to run from the nearby silver mines to the Pacific coast.
With an extra day, intrepid explorers can climb one of the volcanoes: Tunupa (5,432m: 17,817ft altitude), Licancabur (5,914m: 19,398ft) or Uturuncu (6,008m: 19,706ft).
Best time to visit Salar de Uyuni
Summer: December to March
The Salar de Uyuni is generally dry, with only 125mm (5 inches!) of rain per year. HALF that rainfall comes during January: then the wettest months are February, December and March in that order, as the rainy season is during summer in the southern hemisphere.
Daytime temperatures will be a pleasant 15 to 20C (60 to 68F) but can still drop below freezing at night.
The summer rain can limit access to Incahuasi Island and Isla del Pescado. Still, if there is any surface water, it creates the extraordinary salt flats mirror effect you will see on those amazing Instagram photos.
Winter: June to August
Winter is the high season when the polygonal patterns of the salt flats are at their best. It will still be 10 to 15C (50 to 60F) with bright blue skies during the day. At night temperatures can drop to -15C (5F).
Low Season: April and May
There are fewer visitors, and it's not too cold at night. I'd go in April when there are the most flamingos after the rainy season if you can time it perfectly. You might also still see the mirror effect if there's some surface water left.
September to November
Quieter than the winter season, and not too cold. There's not a wrong time to go!
Avoid Christmas and New Year
If you can help it, don't visit the Salar de Uyuni over Christmas and New Year. Many people get completely drunk, and even if your driver is sober, you can't be sure of the others.
Salar de Uyuni: Altitude
On the three-day tour, which is the most popular trip to the Bolivian salt flats, you reach an altitude of nearly 5,000m (16,400ft) at the geysers of Sol de Mañana and sleep overnight at over 4,000m (13,120ft).
You might feel a bit light-headed, dizzy, tired, at worst nauseous, but here are the best ways to avoid altitude sickness (or soroche as it's called locally):
Drink lots of water and the local coca tea (you can also chew the leaves)
Don't drink alcohol.
Don't overeat heavy food (pick a tour company that's offering fresh vegetables and pasta and not just meat and rice).
Don't run! Ever! Though most of this area is flat, as it's one colossal saltpan, there are some areas like Incahuasi where you can do some uphill trekking. Just take everything at half pace, two steps for your normal one.
Don't rush your trip. Spend at least a day acclimatising before you go. You can do this in Uyuni, Tupiza or San Pedro de Atacama.
It shouldn't be too bad if it does hit you: you feel a bit listless for 24 hours. After a good night's sleep, you should feel okay again. In extreme cases of nausea and vomiting, your guide will provide you with oxygen and medicine.
If you suffer from heart or respiratory problems, check with a doctor before you travel. You won't miss out: you could always do the one-day tour from Uyuni, which stays below 4,000m (13,120ft) altitude.
🌍 Ready to Jet-Set on a Budget? ✈️

Maximize your savings with these travel essentials:

✈️ Sky-high Savings: Book budget-friendly flights with Skyscanner.
🏨 Rest Easy: Find the perfect accommodation on Booking.com or Hostelworld.
🛄 Travel Light: Store your luggage securely with Bounce.
📱 Stay Connected: Grab affordable eSIMs from Airalo or SimOptions.
🌄 Unforgettable Adventures: Find tours and experiences with GetYourGuide.
🛡️ Travel Worry-Free: Stay protected with travel insurance from SafetyWing!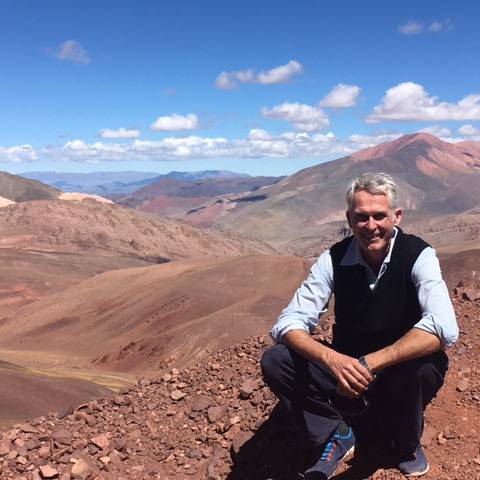 Nick Evans is co-owner of Poncho Tours. Since 2008, Poncho Tours has specialized in hiking, wine, and bespoke tours throughout Argentina, Bolivia, and Chile. He is currently based in Salta, Argentina.