Last Updated: September 14, 2023
Probably the most famous attraction on the Isle of Skye, the Fairy Pools are iconic.
If you're heading to Skye, you should definitely visit them—they're worth the hype, and they're one of my favourite parts of the entire island.
But what exactly are they? Why do they have such a weird name? How do you reach them? And will all of the sentences in this guide end with a question mark?
Coming up, we've covered it all, with lots of facts, top tips and practical information. In this bumper guide, we've brought you everything you need to know about the Fairy Pools on Skye.
Pack some sandwiches, lace up those hiking boots, and join the fun!
What Are Skye's Fairy Pools?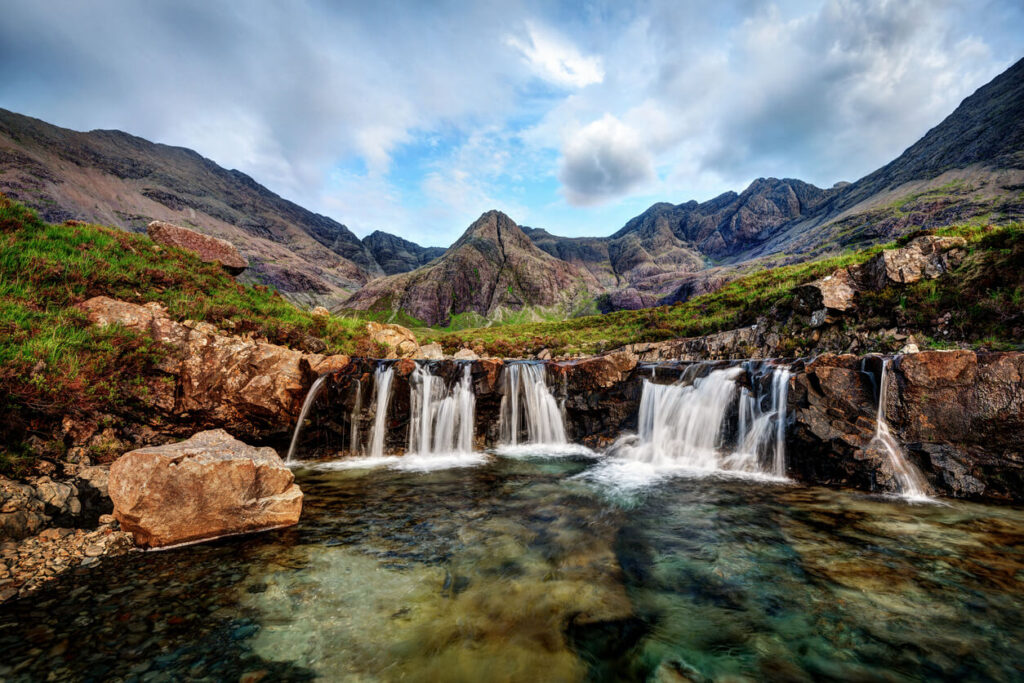 They have a pretty weird name, but they're not as strange and mysterious as they sound.
Skye's Fairy Pools are a series of waterfalls with a bunch of rugged rock pools separating them. But they're ridiculously beautiful and surrounded by some of Britain's best mountains (the Cuillins, in case you're interested). The water at the Fairy Pools is some of the clearest I've ever seen in my life.
All of the water comes from a massive corrie (that's basically a big mountainside hollow) on one of the area's Cuillins. These mountains dominate this part of Skye, looming over the Fairy Pools and everything else in the area.
So, as you've probably worked out for yourself, the Fairy Pools are a perfect place for activities. You can hike, swim, take photographs, munch on picnics, and get brilliant views of mountains.
Why Are Skye's Fairy Pools Called the Fairy Pools?
As far as I can tell, no one really seems to know for sure.
Maybe it's because they look magical. Perhaps it's because the entire island of Skye has an enigmatic and ethereal atmosphere. Or maybe it's because of the strange folk tale that a member of the MacLeod clan once fell in love with a fairy princess (which might explain why Skye is also home to a place named the Fairy Glen).
Can I Hike around Skye's Fairy Pools?
Yep, you can. And you should! It's definitely the best way to explore them.
There's a clear path from the car park that takes you on a steady and relatively steep ascent. It follows the waterfalls upstream, so it's an easy way to see the best bits of the Fairy Pools.
Some people prefer to go on an aimless wander, roving around the area until they're tired and want to turn back.
But if you're a pedantic completionist like me, I recommend this walk. On it, you'll see all the highlights, you'll stop by the best swimming spots, and you'll (eventually) shed most of the crowds. I reckon it's the best hike in the area.
Can I Go Wild Swimming in the Fairy Pools on Skye?
Yes, absolutely! One of Scotland's most famous wild swimming destinations, the Fairy Pools are a perfect spot for having a plunge.
I'm not much of a wild swimmer, so I haven't taken a dip in the Fairy Pools (I've only put my legs in).
That said, I know many people who have—and whenever you visit, you'll always see people splashing around. The mini lagoons formed by the waterfalls are clear and pristine. So even if you're not usually into wild swimming, they're super alluring.
The water is ridiculously cold no matter what time of year you visit, so it's probably best to take a wetsuit. But if you don't have one, a full suit of brazen bravery will probably be enough.
Top tip for swimming in the Fairy Pools on Skye: take some goggles. As I keep saying, the water is super clear, so you'll be able to see basically everything under the water.
Will I See Any Wildlife at the Fairy Pools?
Yes, lots of wildlife hang around in the area (and across the entirety of Skye).
At the Fairy Pools, there's a good chance you'll see lots of rabbits and sheep and possibly some wild red deer. Bring those binoculars and look out for plovers, herons, curlews, pipits, and plenty more if you're into birds.
How to Get To the Fairy Pools on the Isle of Skye
As is the case throughout most of Scotland, it's best to have access to your own car.
If you're driving, you first want to head to the tiny village of Carbost. From here, head south along the winding (and beautiful!) single-track road leading from Carbost to Glenbrittle. Keep following the signposts to the Fairy Pools. When you reach the big parking lot, you know you're there. The parking lot is right at the foot of the falls.
This parking lot was recently modernized (I think in 2019 or 2020), and it now has way more space than before. That said, you should still try to get there early to get a spot, especially during peak season. It's £5 per car, and there's a modern and convenient toilet block.
If you'd rather use public transport, you don't really have any feasible options. The nearest bus stop that I know of is in Carbost (connected to both Portree and Sligachan). It's around 7 miles (11km) from the Fairy Pools. Very few people are travelling south out of Carbost with any regularity, so there's little demand for bus service.
If you don't have access to your own car, I recommend hitchhiking to the Fairy Pools. In Scotland, hitchhiking is super easy to do, especially in the more remote parts of the country. Here's a fun fact for you: I've never reached Skye's Fairy Pools without hitchhiking.
Insider Tip: Here's a great day-trip tour from Portree. It takes to the Fairy Pools, Talisker Distillery, Dunvegan Castle, and more.
Best Time to Visit the Fairy Pools on Skye
If you want the best weather, visit between April and August, when you have a better chance of warm temperatures and a lower chance of rain. During those months, you also have way more hours of sunshine, so you can enjoy a full day of splashing, wandering and exploring.
For the very best combo of long days, low rain, and pleasant temperatures, May and June are your best options.
That said because Skye's Fairy Pools are in a mountainous area, a trip can be pretty cold and wet no matter what time of year you visit. I've never experienced a fully-dry day at the Fairy Pools.
So no matter when you're visiting, make sure you take a waterproof coat and some nice warm clothes.
If you want to avoid crowds, it's best to visit outside of the peak summer season I've just outlined. The area around the Fairy Pools is a really magical place. Still, it's way less magical when endless droves of snap-happy coach-trippers surround you.
No matter what time of year you visit, try to get there very early in the morning, to miss all the crowds. Even in the off-season, this can be a pretty busy place.
Here's much more information on the best time to visit the Isle of Skye.
What Else Can I Do Near Skye's Fairy Pools?
The Fairy Pools are located in one of my favourite parts of Skye, and there's loads of stuff to do in the nearby area. Some of the highlights include:
Sligachan Bridge: never before has such a little bridge been such a national icon. The bridge is nothing hugely special, but it's very photogenic, it's one of the island's must-see destinations, and incredible mountains surround it.
Talisker Beach: one of the best beaches on Skye, this place is great. It's home to a famous waterfall, some lofty cliffs, and one of the island's best sunsets. I massively recommend it.
Talisker Distillery: possibly the most famous distillery in Scotland. Talisker Distillery is a perfect place to sip and slurp on local whiskey. It's in the village of Carbost, which is next on the list. This day-trip tour from Portree takes you to the Fairy Pools and Talisker Distillery.
Carbost: the closest village to the Fairy Pools, this diminutive little place comprises little more than a handful of houses. Make sure you visit The Oyster Shed (a rudimentary little cabin, it's one of the best places to eat on Skye). You should also check out the independent artisans of Caora Dhubh Coffee Company. Here's a great 3-day tour from Edinburgh, which takes you to the Fairy Pools, Carbost, and other sites on the Isle of Skye.
The Cuillins: some of the most dramatic and atmospheric mountains in the whole of Scotland, the Cuillins are incredible. There are almost endless hikes you can enjoy in and around them. The hardest of the Cuillin hikes are some of the most difficult the UK has to offer.
Are Skye's Fairy Pools Suitable for Kids?
Yes, kids absolutely love the Fairy Pools.
At the Fairy Pools, you get swimming, waterfalls, strange rock formations, endless space to run around, and a natural wonder named after a bunch of mythical creatures. What are kids not going to like about that?
So, yeah, Skye's Fairy Pools are perfectly suitable for kids. Just make sure they're careful on the rocks.
Top Tips for Visiting the Fairy Pools on Skye
On your way to the Fairy Pools, you'll drive along some single-track roads. If you're not experienced on roads like these, they can be a bit tricky. Traffic is allowed to drive in both directions. Still, the roads only have enough space for one car—so go slowly, be brave, make use of the designated passing places, and don't park on any parts of these roads.
If you're visiting the Fairy Pools between May and September, make sure you wear midge repellent. Skye's pesky little midges love the Fairy Pools almost as much as tourists do, and they're horrendously annoying.
Make sure you wear some good waterproof hiking boots. The Fairy Pools' landscape is a precariously troublesome combo of boggy mud, slippy rocks, and several wet stepping stones. Combine all of that with lots of water, and you've got a recipe for disaster. The last time I was there, I fell over and split my pants. But at least it wasn't my head.
It's best to take a picnic, so you can explore leisurely and fully, without having to worry about where to eat and drink. That said, if you're looking for food and drinks, I recommend heading to Glenbrittle Campsite and Cafe. They serve some lovely sweet and savoury food, along with hyper-local (and hyper-excellent!) Cuillin Coffee.
I know I've said this already, but try to visit during a quiet period, when there's little chance of crowds. There's a huge difference between visiting Skye's Fairy Pools when they're quiet and visiting Skye's Fairy Pools when they're busy. It's worth making an effort.
Goodbye and Fairy-Well
Thanks for reading!
Hopefully, we've brought you everything you need to know about the Fairy Pools on the Isle of Skye! It's a really beautiful place (and much more special than the pictures make it look), so make sure you visit.
If you have any questions, throw them in the box below, and we'll do our best to help you out.
And if you want to know anything else about exploring the Isle of Skye, we have many more fact-packed guides on our site. Check out our other articles:
See you next time, you lovely adventurous stranger!
🌍 Ready to Jet-Set on a Budget? ✈️

Maximize your savings with these travel essentials:

✈️ Sky-high Savings: Book budget-friendly flights with Skyscanner.
🏨 Rest Easy: Find the perfect accommodation on Booking.com or Hostelworld.
🛄 Travel Light: Store your luggage securely with Bounce.
📱 Stay Connected: Grab affordable eSIMs from Airalo or SimOptions.
🌄 Unforgettable Adventures: Find tours and experiences with GetYourGuide.
🛡️ Travel Worry-Free: Stay protected with travel insurance from SafetyWing!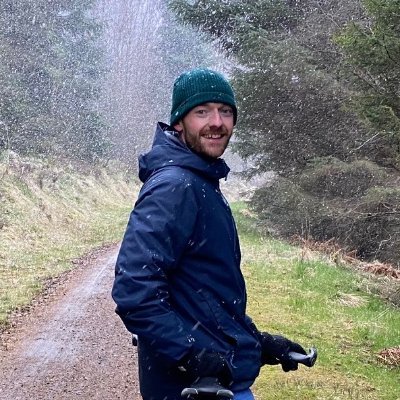 Paul McDougal is a handsome and hilarious travel writer originally from the UK. He likes hitchhiking, working remotely, and having absolutely no idea what's going on.