Last Updated: September 14, 2023
How to spend a week in Iceland
The trick with planning your first trip to Iceland is to accept that it won't be your last. I've been visiting this Nordic island nation since 2004 and can't get enough of the place – and judging by my social media feeds, I'm not alone. Once you figure out that you'll be back, the pressure to plan a perfect 7-day Iceland itinerary is off.
Of course, in theory, it is possible to loop the ring road if you only have a week. The actual driving time is around 16 hours, so long as you don't stop. But that's just it: you will stop often, and the more you see, the less you'll want to rush. Instead of cramming everything in, concentrate on a smaller area and explore at a more leisurely pace.
Here is my suggestion for an Iceland itinerary that's achievable in a week and won't leave you so exhausted you'll need another holiday to recover.
Iceland Itinerary: 7 days
Day 1: Reykjanes and Reykjavík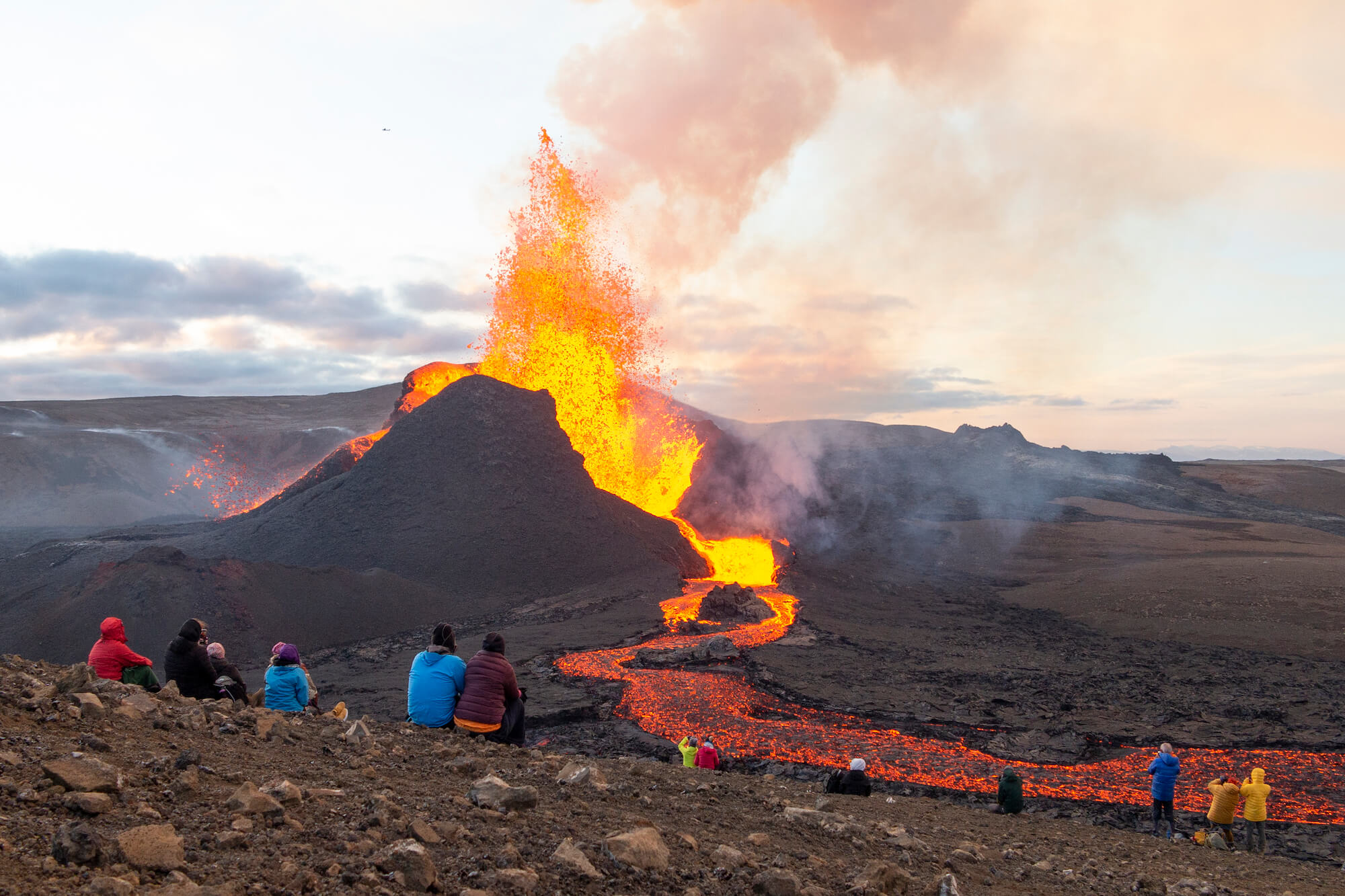 International flights land at Keflavik, about 45 minutes from the capital. Don't rush off: there's plenty to keep you occupied on the Reykjanes peninsula. Most famous is the Blue Lagoon, an upscale spa that sits in the middle of a lava field and gets its water from the geothermal power station next door. It isn't cheap, but it is unique, and you won't want to miss it, especially when you feel how soft your skin is after applying the white silica face mask they give you.
Not far away is one of Iceland's newest attractions. Fagradalsfjall volcano started erupting in March 2021, and lava has been flowing into the surrounding valleys pretty much ever since. To reach the viewing points, it's a challenging hike on uneven ground and loose gravel, but if you're physically able to do it, you can see the eruption for free. If you can't, Mýflug's six-seater sightseeing planes will fly you over the crater for half the price of a helicopter flight.
Over in Reykjavik, get your bearings by taking the lift to the top of Hallgrímskirkja, the capital's magnificent cathedral, or on the observation deck at Perlan over on Öskjuhlíð hill. Back at street level, check out the characterful harbour from which whale watching tours depart in calm weather. Before you leave, grab a selfie beside the iconic Sun Voyager statue and queue up for a hot dog from Bæjarins Beztu Pylsur just as Bill Clinton, the Kardashians and Charlie Sheen have done.
Day 2: Vík í Mýrdal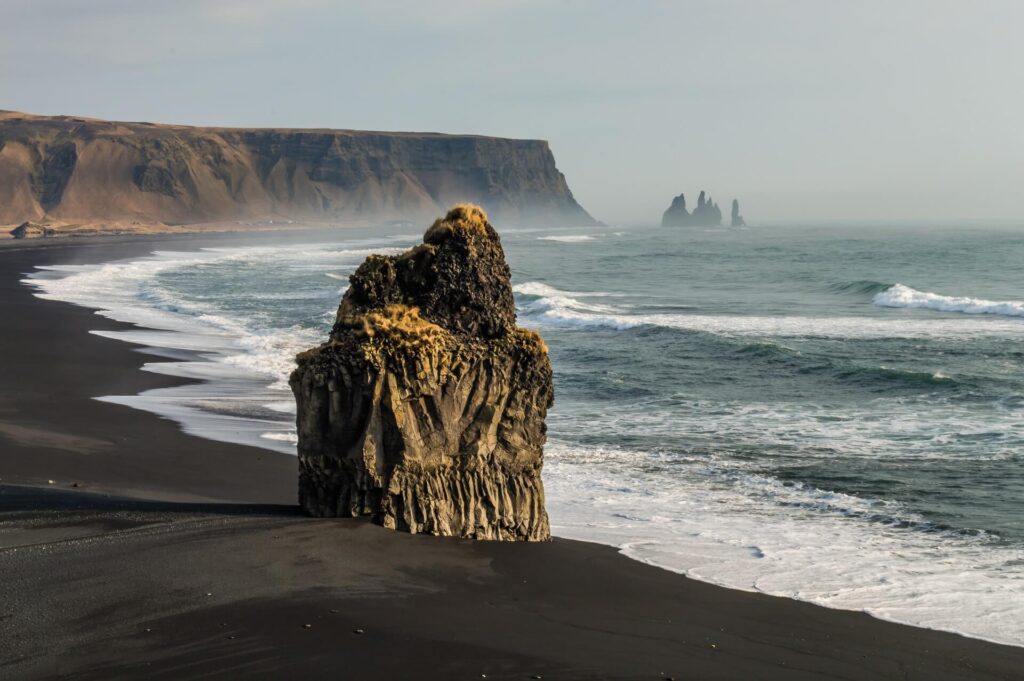 A couple of hours east of Reykjavik is Iceland's most southerly village, Vik. Drop in at Dyrhólaey on your way in; in summer, you'll see nesting seabirds at this coastal nature reserve. Another must-see is Reynisfjara, a fantastic beach that's notorious for its sneaker waves. These powerful and dangerous waves have taken visiting tourists by surprise, sometimes with devastating consequences. Heed the warning signs, pick a calm day to explore the basalt caves and never, ever, turn your back on the sea.
The road into Vik drops dramatically down over the Fimmvörðuháls pass beside Mýrdalsjökull. On a clear day, the view's remarkable and its famous cluster of sea stacks is easy to pick out. One of Iceland's largest and most active volcanoes, Katla, lies hidden under the ice nearby. It last erupted violently in 1918. Even in summer, it's possible to step inside one of the glacier's accessible ice caves though you'll need a local expert to fix you up a rope and keep you safe. I used Katlatrack, whose guide adroitly drove our super jeep off-road to the edge of the glacier. Kitted out with crampons and helmets, our group hiked across a dramatic, monochrome landscape and into the ice.
Day 3: Svartifoss
Iceland has so many waterfalls it's hard to choose a favourite, but this one's mine. The name Svartifoss translates as "black falls", and it comes from the basalt columns that flank the waterfall. It's also easy to see the resemblance to Reykjavik's Hallgrímskirkja, whose architect took his inspiration from the rock formations. You'll find Svartifoss in Skaftafell, part of Vatnajökull National Park; it's a mile-long, reasonably steep hike on a good path. There's a small viewing platform in front of the falls where you can sit and take in the jaw-dropping view. I'd recommend looping back via Magnúsarfoss, Hundafoss and Þjófafoss, three smaller but very pretty waterfalls. You'll also pass the turf houses of Selið farm, which were built in 1912.
If you have time, this part of South Iceland is a lovely area to ride horses, and beginners are welcome. I learnt to tölt on a gentle mare called Fluga at Glacier Horses, against a backdrop of Öræfajökull glacier. This fifth gait is unique to Icelandic horses. Locals call it flying pace, but I liken it to "armchair mode" as you pick up speed without the bouncing motion associated with trotting.
Another option, if you're visiting in summer, is to book a tour to Ingólfshöfði. This remote headland can't be visited independently, and you'll quickly see why when the tractor pulling your haycart sets out over a partially flooded causeway. A steep climb up a dune is tough on the legs, but the reward is the chance of a close encounter with nesting seabirds such as puffins and great skuas.
Day 4: Jökulsárlón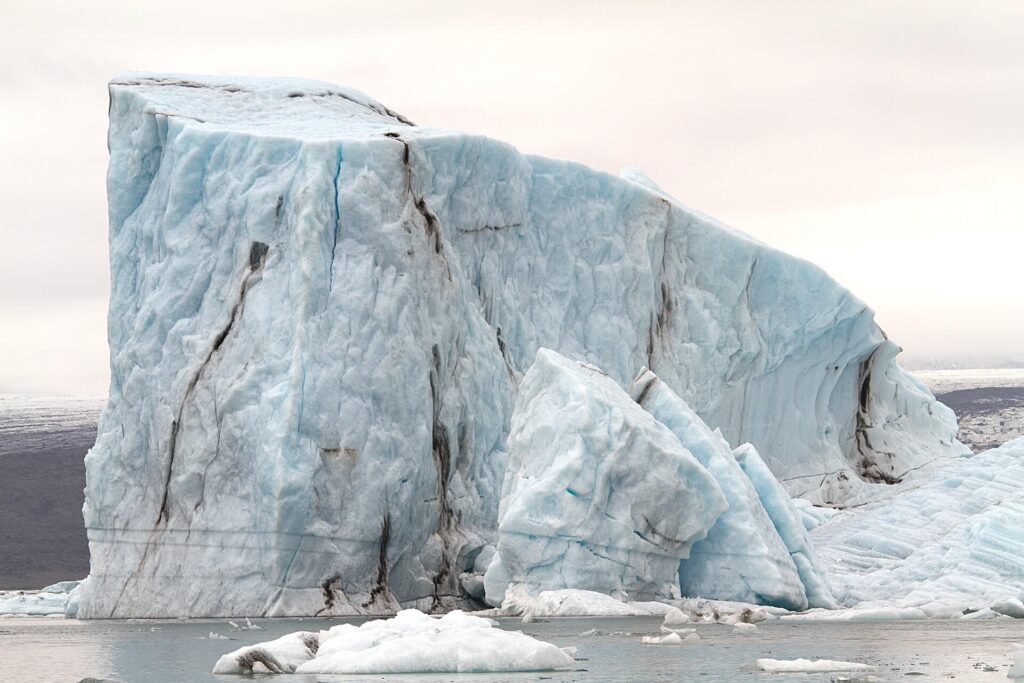 To truly appreciate those majestic glaciers, you should continue to Jökulsárlón. This glacial lagoon is about a five-hour drive east of Reykjavik, but it's a beauty. Icebergs calve from Breiðamerkurjökull, an outlet glacier of mighty Vatnajökull. From the lagoon, they drift slowly out to sea. Seabirds swoop and dive for fish. Here and there, you'll see harbour seals as they glide effortlessly through the water or haul themselves onto more giant icebergs. There are tours in amphibious boats and Zodiacs; the latter gets you closer to the glacier.
But if you're on a budget, you'll get a close-up view of the icebergs simply by standing on the shore of the lagoon, and it will cost you nothing. Some are opaque, some crystal clear; on others, charcoal grey ash stripes the turquoise and white ice. When the icebergs float out to sea, waves wash them back onto Diamond Beach. I've stood for hours watching as the breakers crash over vast chunks of ice, transforming them into glittering sculptures that sparkle in the sunshine against the black sand.
Day 5: Skógafoss and Seljalandsfoss
It's hard to imagine that Skógafoss was once beside the sea. You'll often see a rainbow across this breathtaking 60-metre high waterfall. Climb the steps beside it to admire it from above; continue your hike inland along the river if you have time. If you're camping, this is a great place to spend the night. If you're not, don't visit too early, or the smell of breakfast bacon will make you wish you had.
I have a particular affection for nearby Seljalandsfoss, as I visited on my wedding day. However, unless you're planning a "trash the dress" photoshoot, a waterproof jacket is far more appropriate attire, particularly seeing as it's possible to walk behind the curtain of water. Meanwhile, at neighbouring Gljúfrabúi, you'll need wellies too if you are to appreciate this cascade of water hidden from sight within a cleft in the cliff face.
Day 6: Golden Circle
The Golden Circle is one of Iceland's most famous attractions, comprising Gullfoss waterfall, the geyser field at Haukadalur and Þingvellir, once the site of the Icelandic parliament. Start with Gullfoss, where the River Hvítá plunges into a narrow gorge. Prepare to get soaked from the spray. Watching Strokkur erupt is even more of a spectacle. It's Iceland's largest geyser. Every few minutes, superheated water explodes upwards, creating a column of steam and water droplets 20 metres high.
Take a break in the Fontana thermal baths, which overlook Laugarvatn. The lake's popular with paddleboarders and swimmers. Time your visit to watch pots of rye bread being lifted from the geothermally heated earth. Served with smoked trout from the lake and smeared thickly with butter, this steaming treat is delicious.
Completing the trio is Þingvellir, a rift valley where the North American and Eurasian plate boundaries diverge. The Alþingi, or parliament, met here for over 800 years until 1798. A short hike takes you to pretty Öxarárfoss, but for most, it's the rock rather than the water that's the star of the show. Divers would beg to differ: the clear waters of Silfra lava fissure make this the most incredible underwater experience in the country.
Interested in more geothermal activity? Check out our list of Iceland's best hot springs!
Day 7: Snæfellsnes
Looping the Snæfellsnes peninsula is easily achievable in a day. Harbour towns like Ólafsvík and Stykkisholmur are charming, but even so, it's the beaches, sea stacks and rural scenery that will stick in mind. One of the area's most famous sights is Kirkjufell. This cone-shaped mountain rises behind twin waterfalls and is exceptionally photogenic. It's popular with Northern Lights hunters, but you'll require dark, clear skies and high levels of auroral activity to be lucky enough to spot them.
Before you leave Snæfellsnes, try hákarl at the Shark Museum in Bjarnarhöfn. You'll need a strong stomach because these cubes of rotted shark flesh reek of ammonia. However, the smell's far worse than the taste. If you manage to keep it down, congratulate yourself that you did better than celebrity chef Gordon Ramsey who spat his out.
Good to Know
To get the best out of a week in Iceland, hire a car. Buses are infrequent and organised tours can be expensive. A small compact will do – you won't need a pricy 4×4 for this itinerary as you won't be tackling gravel roads. To save on accommodation costs, you could rent a camper van instead.
🌍 Ready to Jet-Set on a Budget? ✈️

Maximize your savings with these travel essentials:

✈️ Sky-high Savings: Book budget-friendly flights with Skyscanner.
🏨 Rest Easy: Find the perfect accommodation on Booking.com or Hostelworld.
🛄 Travel Light: Store your luggage securely with Bounce.
📱 Stay Connected: Grab affordable eSIMs from Airalo or SimOptions.
🌄 Unforgettable Adventures: Find tours and experiences with GetYourGuide.
🛡️ Travel Worry-Free: Stay protected with travel insurance from SafetyWing!