Last Updated: September 14, 2023
Complex and charmingly messy, Tbilisi's Old Town is one of the world's most charming city centres. If you want to hop on all the local lingo, Tbilisi's Old Town is also known as Dzveli Tbilisi.
I've been living in Georgia's capital for a few months, so I've recently spent lots of time wandering through the neighbourhood's meandering lanes and cobbled streets. I'm writing this from Tbilisi right now—I'll tell it you said hello.
You'll undoubtedly love Tbilisi, with its maze-like mish-mash of ancient homes, vertiginous roads, and unusual architecture from various places and periods.
And because you and I are best friends, I'd like to help you do it.
So in this expert guide, I've brought you lots of information on Old Town Tbilisi, along with hints, tips, places to hang out, and the 16 best things to do there.
Where Is the Old Town in Tbilisi?
I don't really know where Tbilisi's Old Town begins and ends. In truth, probably no one really knows. Old Town is the very central sprawl of the city, and I think it's the most interesting part of Tbilisi.
The majority of the Old Town is on the western side of the Mtkvari River which stretches into some of the city's verdant hills. But some small parts of Old Town are also on the eastern side of the river.
Broadly speaking, Old Town comprises a few different neighbourhoods, lots of homes, hills, religious buildings, quirky hangouts, friendly people, and plenty of activities.
What's So Good About Tbilisi's Old Town?
The place oozes appeal out of every crumbling crevice. And believe me, Old Town has lots of crumbling crevices. Most of the buildings are in an endearing state of disrepair, which all adds to the charm.
But it's so great because it's so diverse.
Tbilisi is one of the world's oldest cities, and it's often been at a historical, geographical and literal crossroads. Because of that, it's a kooky concoction of various styles and influences—one of the most architecturally-eclectic cities I've ever visited. It's crammed with lots of varied stuff.
Because it looks so unique and unusual (and because there's so much to do), it's a great place to visit.
But there are also lots more reasons to get yourself to Tbilisi.
First up, it's a VERY affordable place. You can get a good meal for $5USD. A beer for $1.50. A coffee for a pretty similar price. A public transport ride for $0.30. A taxi ride across town for $2. Your money goes very far in Tbilisi, and you'll struggle to outstrip your budget.
But best of all, Georgia has one of the most liberal immigration policies I've ever known. Most nationalities can stay for one year without even applying for a visa. Show up at the border, get a 1-year stamp in your passport, and you're free to roam for an absurdly long time.
16 Best Things to Do and See in Old Town Tbilisi
Get Lost
There are many great things to do in Old Town Tbilisi, and I promise to be a little more specific later in this list.
But an aimless wander is the best way to get a proper feel for the place. Yeah, there are many attractions, must-see sites, and things you need to experience. But most of the appeal lies in the inane and the innocuous: the hidden homes, the smiling locals, and the stumbled-upon surprises.
Make sure you see all the things I've featured later in this list. But also give yourself plenty of time to get lost in Tbilisi's Old Town.
Narikala Fortress
Originally established in the 4th century, Narikala Fortress is one of Tbilisi's most impressive sights, and it's probably the most famous destination in the city.
It sits right on top of the central part of Old Town Tbilisi—and from its crumbling walls, you get some great views of the area.
For the best view of the fortress, head over the river to Metekhi St. Virgin Church—this is probably Tbilisi's most famous panorama, and it's worth seeking it out. Here's a great walking tour of Old Town, which stops at Narikala Fortress along other spots on this list.
The best way to explore Narikala Fortress is by climbing the steep cobbled lanes that lead to its top. But if you're a lazy layabout, you have an alternative option…
Narikala Cable Car
If you don't want to walk, this popular cable car can take you to the heights of Narikala Fortress.
A short but fun ride, you get excellent city views up to the ruins and remains. Then once you reach the top, you can explore the complex without tackling many annoying ascents.
The cable car runs to Narikala from Rike Park, a popular local hangout. It's nothing spectacular, but it's worth exploring for a little while (especially in summer, when it's super sunny).
The cable car is ridiculously affordable, clocking in at less than $1USD (and, no, that's not a typo).
Insider Tip: If you're looking for someone else to plan your day, here's a great wine and walking tour combo that also takes you on the cable car.
Mother Georgia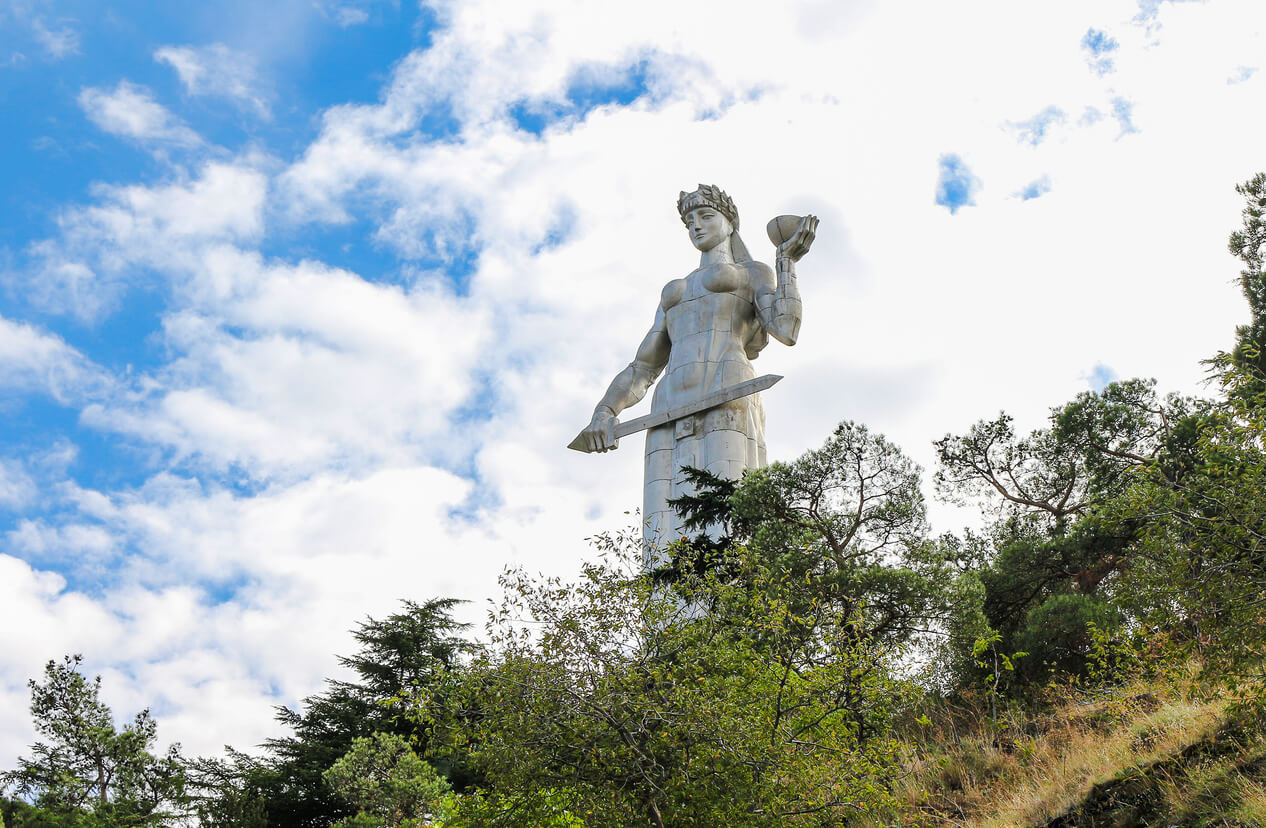 Part of Narikala, but not really part of Narikala, you have Mother Georgia, a massive monument dominating this part of the city's skyline.
Also known as Kartlis Deda, the monument measures 20 meters (65 feet). Erected in 1958, Mother Georgia is an imposing aluminum icon that allegedly symbolizes the character of Georgia and its people. She was built to celebrate the 1500th anniversary of the city's existence.
The crowned queen holds some wine in one hand; in the other, a sword. Talk about mixed messages.
Because she's so grand, she's visible from almost anywhere in the city. Still, you get the best views of the looming lady from Tbilisi's Old Town. And you get some pretty good views of Tbilisi's Old Town from the platform on which she stands.
Insider Tip: This top-rated walking tour of Tbilisi highlights Mother Georgia and other sites on this list.
Xeme Restaurant at The Biltmore
The Biltmore is one of Tbilisi's most exclusive hotels. Inside, it's all classy, elegant and upmarket, and the likes of me definitely don't belong there.
Usually, I'm not the sort of guy who recommends fancy places. But perched on the hotel's top floor, you have Xeme Restaurant. It's a glass-fronted eatery with the best possible views you can get of the city.
It's surprisingly inexpensive for such a high-end place—a glass of wine is around $5, beer is a little less, and a cheap meal is around $12. And considering how upmarket the venue is, it's pretty laid-back and friendly, and the staff are warm and welcoming.
Suppose you get a clear-skied day in Tbilisi. In that case, I recommend heading to Xeme, even if it's only for a quick drink and a few sneaky additions to your Instagram story.
Peace Bridge
Though most of Tbilisi's architecture is made up of ancient facades and precarious wooden buildings, the city also has some glaringly-modern oddities, including this iconic bridge.
Built in 2010, tourists love the Peace Bridge. You can never cross the bridge without getting caught in dozens of their selfies. Here's a great walking tour of Tbilisi if you want to visit the Peace Bridge along with popular spots.
The peculiar Peace Bridge feels strangely out of place in such an old-school neighbourhood. Still, it's definitely worth a quick visit. One of the most famous landmarks in the city, you can't visit Tbilisi without ticking this one-off.
Freedom Square
Dominated by a lofty gold-and-white pillar, Freedom Square (or Liberty Square, as some people prefer to call it) is arguably the very heart of the city.
Made up of the massive monument and a traffic-packed roundabout, Freedom Square is worth a quick glance. That said, I don't find it particularly interesting or aesthetic.
But here's why you need to visit – for any drinking tour around the city, Freedom Square is a perfect starting point.
Surrounded by countless bars, there are loads of varied drinking dens here. Some of my favourites are Makulatura, World's End, Warsawa, Ambavi, 9 MTA, Tsota Tsota, and Black Dog Bar, but you'll find loads more. Old Town Tbilisi genuinely has some of the best nightlife on the planet.
Insider Tip: If you're looking for a tour to take you to Freedom Square and other Tbilisi highlights, try this half-day walking tour.
Gabriadze Clock Tower
Looking like something from a Disney movie, this wonky wonder is one of the weirdest buildings in Tbilisi (and trust me, it has some pretty stiff competition).
Built in 2011, the Gabriadze Clock Tower is attached to the city's puppet theatre, and a thick steel beam props it up. I think this steel beam is only supposed to look like it's holding the clock tower in place. But this being Tbilisi, there's a good chance it's actually holding the building in place. Who knows.
Preposterously playful, the Gabriadze Clock Tower is a cute and kooky attraction. An angel-shaped mannequin emerges from the clock and delicately strikes its little bell every hour.
Situated right next to Shardeni Street, this pedestrianized zone is one of the most tourist-heavy parts of the city. This walking tour, in particular, stops at the clock tower. Most of the cafes and restaurants here are overpriced and inauthentic, so I recommend eating and drinking outside of this area (although most online resources will suggest the opposite, the little liars).
Next to the clock tower, you have Anchiskhati Basilica, one of the city's oldest and most impressive churches.
Mtatsminda Park
On all sides, Tbilisi is surrounded by hills, mountains, and many remote and rural green spaces.
But while most of them lie on the outskirts, Mtatsminda Park is right in the heart of the city.
Translating to 'Holy Mountain,' it's home to a surprisingly large amount of stuff. It's most famous for its massive TV tower and its almost-as-massive Ferris Wheel, both of which are visible from miles around.
But on top of all that, the park also serves up a rollercoaster, some kids' rides, family attractions, decent hiking trails, excellent viewpoints of the city (especially at night), a lovely walk to Turtle Lake, a celeb-stuffed cemetery, and plenty more.
The walk from the park to the city is a pleasant wander. But if you can't be bothered by all that exercise, you can instead take the train-style funicular, which drops you right in the middle of the park.
Make sure you visit the restaurant at the top of the funicular for the best hot chocolate in the city. It's thick, gooey and super chocolatey. Usually, I'm not too fond of hot chocolate—but even I like this stuff.
Holy Trinity Cathedral
The Holy Trinity Cathedral was built between 1995 and 2004. It sits on the top of a hill on the eastern side of the Mtkvari River. It is one of the most significant Orthodox churches in Georgia. If you're looking for a local guide, here's a tour that stops at the cathedral.
Perched high over the city, the cathedral is visible from most of Tbilisi's Old Town. During the night, it's brightly illuminated. Super beautiful, it's a photographer's dream, crammed with symmetry, intricate oddities, and loads of lovely details.
The inside is still being decorated (and probably will be for endless years to come, in true Orthodox style). Because of that, the exterior is the most impressive part, but you should still pop inside.
Meander Around Marjanishvili
Is Marjanishvili an official part of Old Town Tbilisi?
I don't really know, but Google Maps seems to think it is—and because it's one of the prettiest parts of the city, it's worth exploring no matter what you want to call it.
Unlike Tbilisi's other neighbourhoods, Marjanishvili is made up of laconic streets, low-rise buildings, and many Middle Eastern hangouts. If you want Turkish coffee, shisha pipes, or Lebanese cuisine, make sure you visit. Here's a great tour that goes off the beaten path and explores Marjanishvili.
Davit Agmashenebeli Avenue, the district's main street, is stuffed with places to eat, drink and people-watch. If you head to the south side of the street, it's all pedestrianized and crammed with cafes. Yeah, it's a little touristy, but I really enjoy this part of town.
This part of the avenue is pretty laid-back during the day, but it comes alive at night. Whatever time you visit, expect menu-touting staff attempting to lure you into their joints.
Botanical Garden
Sitting underneath the western side of Narikala Fortress, Tbilisi's Botanical Garden is a lovely place for a wander.
The almost 400 acre Botanical Garden is home to a waterfall, lots of lovely walking trails, and over 4,000 species of plants and trees. Because a gaping valley somewhat obscures it, the Botanical Garden is bigger than most people expect. If you like fawning over flora, it's one of the best things to do in Old Town Tbilisi.
However, the signage is poor, so you don't get much context of what you're looking at. So expect a nice walk, but don't expect to learn much.
Sulfur Baths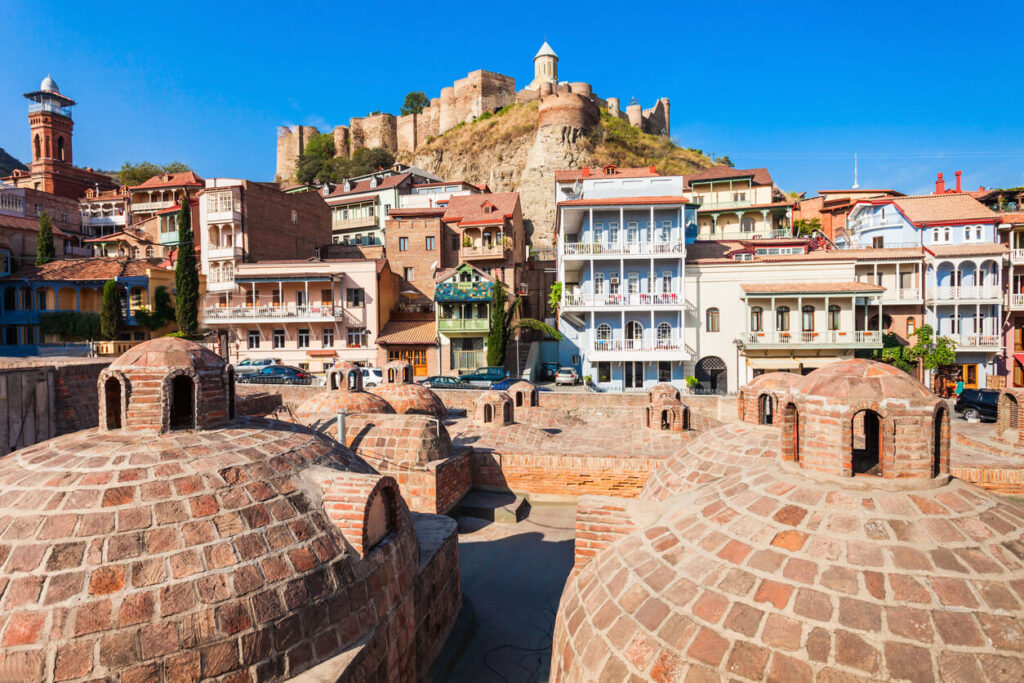 Smelly and sulfuric, these dome-roofed baths are a perfect place to relax. They're a national treasure, popular with both locals and tourists, and you can't visit Tbilisi without a little dip.
Chreli Abano Baths are the most famous in the city, and they're pretty cheap given their lofty reputation. They offer various treatments, private baths, public baths, and even a bizarre snow room.
They're in the charming mini-neighbourhood of Abanotubani, where you'll also find most of the city's other baths. This small area is also an excellent place for a wander. This walking tour, in particular, takes you through the district. Aside from the baths, it's also home to meandering streets, a mini river, a small gorge, and even a city-centre waterfall.
Fun fact: oddly, the city is somewhat named after these baths. 'Tbilisi' translates to 'warm spring.'
Taste Some Wine
Controversial, I know. But I reckon Georgian wine is probably the best wine on the planet. You might not agree (yet)—but once you've tasted the stuff, we'll have a hard time arguing.
You'll get the best wine by buying some plastic-bottled homemade moonshine from the ancient babushkas who peddle their wares on the street (or from right outside their homes). But if you prefer a more formal affair, head on over to 8,000 Vintages, the most famous wine-tasting venue in the city. There are plenty of wine-tasting tours in Tbilisi from which to choose.
If wine isn't your thing, there's lots more to sip and slurp on in Tbilisi. Local spirit chacha is another good choice. Consistently strong and often homemade, you'll find it all over the city.
Whatever you drink, expect to drink a lot of it. You'll likely wake up with a pounding hangover the next day. Georgians love to drink! And they love encouraging visitors to drink just as much as them.
Chew and Chomp
Georgian food is excellent, and there's (obviously) lots of it in the Old Town.
For a restaurant-style meal with authentic eats, try Tiflis or Shavi Lomi. But for a canteen-style experience packed with lunching locals, you instead want to go to Mapshalia.
No matter where you go, make sure you eat some khinkali, knot-topped dumpling-like treats filled with cheese, meat, mushrooms, potatoes, or whatever else you might fancy. If you need guidance, here's a great walking, eating, and drinking tour of Tbilisi.
Dotted around various parts of the Old Town, you'll also find lots of bakeries selling heavy, hearty and massive bread-based snacks (which, in truth, are actually more like meals). Try khachapuri (a cheese-based bread dish with lots of regional versions) and lobiani (a similar delight, but with beans instead of cheese).
Aside from Georgian stuff, you also get much more diverse fayre from around the globe, including lots of authentic Indian food (thanks to Tbilisi's large population of Indian students).
Take a Walking Tour
A walking tour is probably a good option if you want to learn some facts about Georgia's history, heritage, and people on a speedy two-hour jaunt. There are lots on offer throughout the city, including Tbilisi Free Walking Tours. It's labelled free, but you tip the guide at the end of the tour based on what you think the tour value was worth.
There are also plenty of paid tours if you want to know exactly what you're getting before you visit.
Many hotels and hostels offer these walks, and there are countless tour operators dotted around the city (and the internet). I can't recommend any particular providers, but make sure you book one with a good reputation.
Old Town Tbilisi: Final Thoughts and Further Reading
There you have it—everything you need to know about Old Town Tbilisi!
As you've probably worked out by now, I totally recommend visiting the place.
You'll fall in love with it, want to stay forever, and wonder why the city isn't much more popular. That said, it's rapidly emerging as one of the planet's most exciting destinations, so make sure you visit before everyone else does.
If you want to know anything else about one of my favourite cities on the planet, check out our other handy guides:
Thanks for reading, you intrepid explorer, and we'll see you next time!
🌍 Ready to Jet-Set on a Budget? ✈️

Maximize your savings with these travel essentials:

✈️ Sky-high Savings: Book budget-friendly flights with Skyscanner.
🏨 Rest Easy: Find the perfect accommodation on Booking.com or Hostelworld.
🛄 Travel Light: Store your luggage securely with Bounce.
📱 Stay Connected: Grab affordable eSIMs from Airalo or SimOptions.
🌄 Unforgettable Adventures: Find tours and experiences with GetYourGuide.
🛡️ Travel Worry-Free: Stay protected with travel insurance from SafetyWing!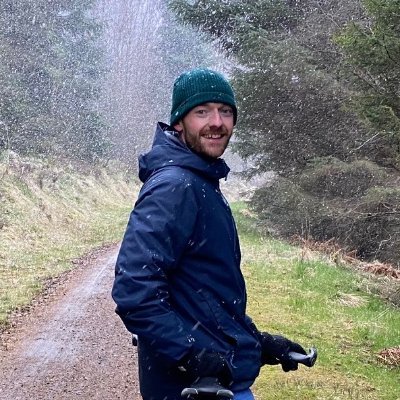 Paul McDougal is a handsome and hilarious travel writer originally from the UK. He likes hitchhiking, working remotely, and having absolutely no idea what's going on.