Last Updated: September 14, 2023
Masasa Beach is located in Tingloy, which is a small province in Batangas, Philippines. The beauty of Masasa Beach was relatively unknown to tourists for years. Now, with its popularity rising amongst backpackers and digital nomads, this beautiful beach is gaining visitors.
Masasa Beach is famous for its colourful coral reefs, fascinating marine creatures, clear blue water, and white sandy beach. If you're visiting the Philippines, Masasa Beach is the perfect place to spend your weekend to relax! In this entry of Budget Travel Plans, we'll uncover getting to Masasa Beach, itineraries, where to stay, and more!
How to Get to Masasa Beach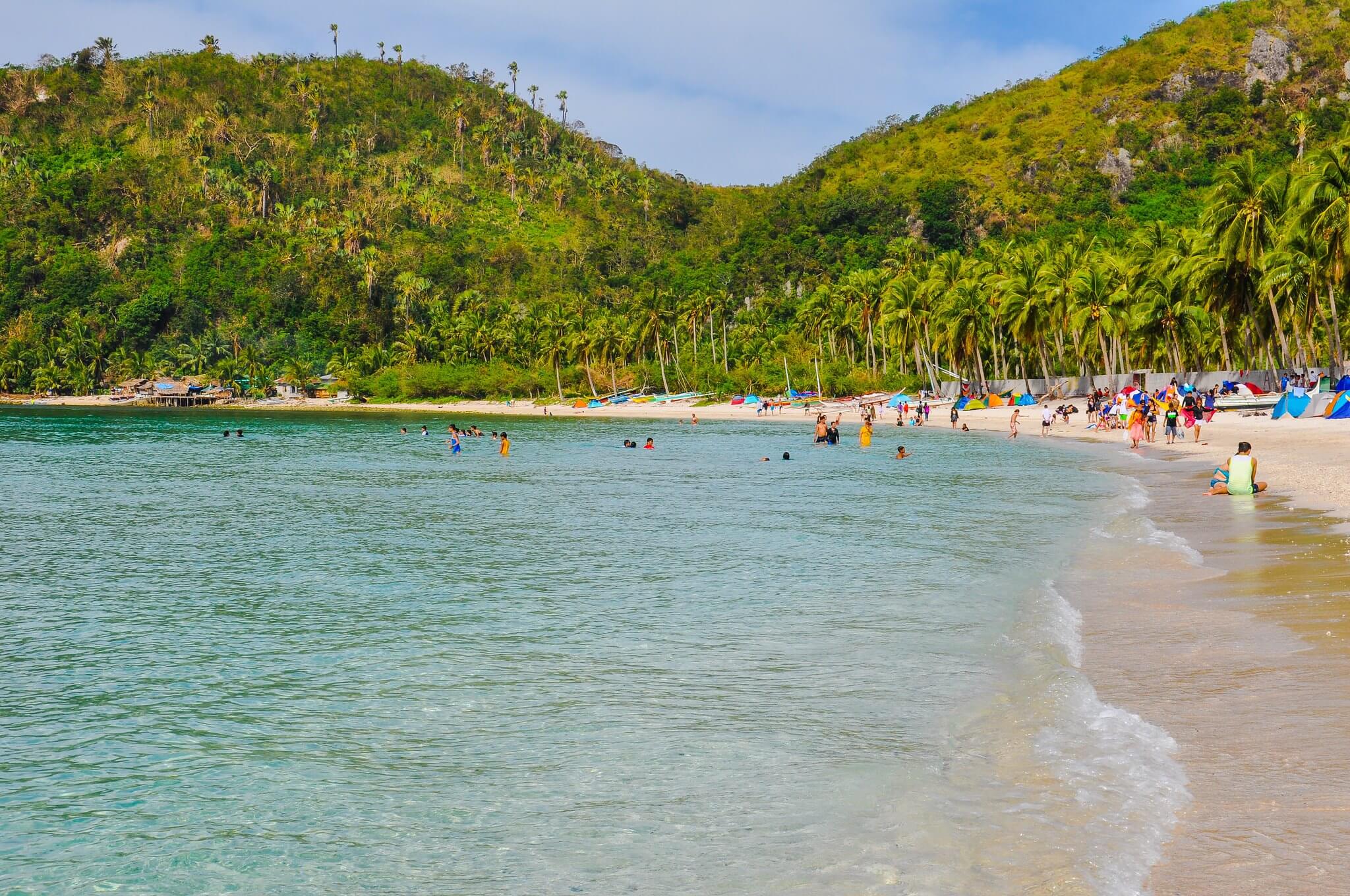 Masasa Beach is only a few hours away from Manila – the capital of the Philippines. From Manila, board a bus heading to Batangas and get off at Batangas Grand Terminal. The bus fare will be around 180 Philippine pesos (P) per person and the travel time is roughly three hours.
From Batangas Grand Terminal, hop on a Jeepney heading to Anilao Port or Talaga Port. A Jeepney is a shared Jeep service that is an easy way of getting around the Philippines. Depending on the season, boats to Tingloy port start from either Anilao port or Talaga port. It was the former in our case, so we asked the driver to stop at Anilao port. This Jeep ride cost us around 40P per person. Note, you will likely have to pay an Environmental Fee of 30P. For those counting, we're currently at 250P in travel costs from Manila to Anilao Port.
From Anilao Port, you have to board a boat to reach Tingloy Port. The ticket cost is around 80P per person and the approximate travel time is 60 minutes.
When we went, the departure schedule from Anilao port started at 10:30 am, followed by 12:00 pm and 2:30 pm. The final departure for the day was around 4:30pm. That said, be sure to be early for your departing boat. During our visit, we noticed the boat would leave once full rather than wait for the departing time.
We found that some people planned to get here by evening and rest up at their accommodation before and exploring the beach the next day. If this is your plan, then definitely arrive early before the 4:30pm departure boat.
When arriving at Tingloy Port, you can get to Masasa Beach by tricycle or Tuk-tuk. This should cost you around 60P. We managed to bargain with the driver. Initially, he asked for 100P but was happy with 60P. Excluding accommodation, this brought our total travel cost from Manila to Masasa Beach to only 390P.
Once the driver drops you off, Masasa Beach is only a few minute's walk away. Once you reach the beach, you will find a lot of night stay houses and transient homes. Pick one and pay for it if you plan to stay overnight.
Note: You can find night stay (transient house) options in Anilao Port as well!
I recommend going to Masasa Beach on a weekday. The port is far more crowded on the weekends and you may have to wait a while to board the boat.
How Long to Stay
At the very minimum, one day is enough to explore the scenic beauty of this place. But if you are coming here to enjoy your weekend in a peaceful and relaxing way, I recommend you to plan for at least one night's stay here.
Staying overnight is a truly unique experience. Without a good mobile network, it's the perfect opportunity to kick back and relax free from the outside world!
The Ocean
The beach water is crystal clear, and you can see the white sand through the water. We were also able to see colourful coral from the beach.
Staying at Masasa Beach
As mentioned earlier, you will find lots of transient homes as you enter the beach. There are, however, no hotels on Masasa Beach. Be selective when choosing a home to stay at and we recommend picking one as close to the beach as possible.
Something to be mindful of is the power schedule for the beach. Each day from midnight to noon there is a planned power cut on Masasa Beach. Occasionally, they will cut the power as early as 10:30pm. There are, however, some houses with solar power in them and a few others have a generator. So be sure to ask the transient house providers about the facilities they offer and choose wisely if power is important to you.
As far as we saw, all of the transient homeowners are welcoming. People greeted us with a smile and provided excellent hospitality. As far as food is concerned, make sure to bring your food and snacks as you don't find any restaurants in this area. You can cook your own food or ask the home you're staying with to cook for you
The approximate cost for a transient house is around 400P per person.
We stayed in Nanay Rosie's transient house on the beach and loved it.
Note: Unlike hotels, they won't provide towels in the transient house. We forgot to bring the towels. So, make sure to bring one when going to Masasa Beach.
What to do in Masasa Beach
There are tons of activities at Masasa Beach and you can either pay individually or purchase for multiple in a package. Note, your hosts may also provide activities so be sure to ask them as well!
Snorkelling
Snorkelling is one of the must-do activities in Masasa Beach! Costs are about 100P per person, which is relatively cheap. Seeing colourful corals was a highlight for us as well as seeing lots of fish and marine animals. We were also fortunate to see a sea turtle.
The snorkelling company will take you by boat and provide you with a life jacket along with snorkelling equipment. The only downside was encountering plastic waste floating in the water in some areas.
Island Hopping
Island hopping is a 3- to 4-hour activity by boat. If you take a five-person-sized boat, it will cost you around 1,000P. You will be taken to different places including Lagoon, Sepoc Beach, and Sombrero Island.
Something to keep in mind is that you have to pay an additional fee of 200P when you get off at Sombrero Island. If you'd rather not spend the extra money, you can stay on the boat and still take beautiful pictures.
After Sombrero Island, you will be taken to small caves on Sepoc beach to see bats and monkeys. This place looks similar to Monkey Beach if you've been to Thailand. The boat ride to Sepoc beach was terrific. We were taken on a full-speed boat ride where water splashed all over us. Don't put your feet on the corals as they are very sharp and you may cut your feet.
Hiking
There are also hiking trails available around the beach to explore Mt. Mag-Asawang Bato. Unfortunately, we didn't have time. If you don't want to hike unguided, you can hire a town guide for around 100 Piso and reach the hiking point. You can reach the viewpoint after about 45 to 60 minutes.
Other activities
Other activities like fishing, kayaking, and banana boat rides are available on Masasa Beach. We had a good experience with the banana boat, as the waves were pretty fun. Overall, it was one of the best experiences we had on the beach. The banana boat ride will cost you 200P per person.
Quick Tips to Consider when visiting Masasa Beach
Pack your snacks as you won't find shops. Also, bring prepared food.
Bring a tent or umbrella. If you are coming here on a sunny day, you won't find a place to hide from the sun. So, bring a tent setup or bring a large-sized umbrella, so that you can relax on the beach.
If you are bringing your tent, you won't be allowed to stay in the tent after 7pm. You have to stay at a transient house available on the beach.
Bring power banks. As mentioned earlier, there will be planned (and sometimes unplanned) power cuts on Masasa Beach. So, make sure to charge your gadgets when there is power.
Bring mosquito repellents or small-sized mosquito nets if you are staying here for a night. Mosquito problems are aplenty after power cuts and when there is no fan running in your accommodation. So, plan for it!
Make sure to close your mouth while doing swimming and snorkelling! If you are doing snorkelling for the first time, you may accidentally swallow ocean water.
Do not throw trash on the shore or in the water. We saw a lot of plastic litter which was unfortunate. As a tourist, bring a trash bag for your waste and deposit them in a proper place.
The internet and phone service is very weak on Masasa Beach. You will feel distant from the outside world for two days. So, be prepared.
Take a waterproof bag to keep your gadgets safe from water during island hopping. You can get waterproof guards for mobiles and cameras so that you can take underwater pictures.
Keep an eye on your belongings!
What we didn't like about Masasa Beach
The main this we didn't like about Masasa Beach was the litter and trash from fellow tourists along the shoreline. If you visit on a sunny day, there is a high chance you'll leave with sunburn as there are few places of shade on the beach. I suggest you bring a sunshade or umbrella when heading to the beach.
Returning to Manila from Masasa Beach
The last trip time to Anilao Port from Masasa Beach is subject to change so we recommend checking with the locals. From Anilao Port, catch a Jeepney back to Batangas Grand Terminal. From Batangas Grand Terminal, you can hop a bus back to Manila.
Overall Expenses
Of course, the total expense depends on your activities. But we think it's easy to keep overall costs, including food, accommodation, and activities within 200 USD or 1000P per person. Be sure to use your bargain skills whenever possible to save even more money.
Who is Masasa Beach ideal for?
Most of the visitors are local people. In the last few years, however, foreigners started to visit in higher numbers. Masasa Beach is ideal for people who want to step back from the day-to-day hectic life and stay connected with nature. If you are a tourist from a foreign nation and have some spare time while in Manila, definitely check out Masasa Beach!
For Foreigners: What is the cost of Philippines visa?
If you are coming from countries such as India or the USA, you can enter the country for free of cost. There are no visa charges for 30 days. Be sure to check the Philippines' official immigration website for additional information regarding tourist visas.
Philippines currency value
As of March 2021, the currency value of 1 USD is roughly equal to 50 Philippine Peso. If you are arriving from a foreign nation, make sure to hold enough currency to last your entire trip as there aren't any ATMs on Masasa Beach.
Conclusion
The Philippines is one of the cheapest places in the world to travel to and a favourite among budget travellers in South East Asia. As Manila is the capital city of the Philippines, it's quite likely you will visit. If you are coming to Manila, I strongly recommend you to visit Masasa beach!
🌍 Ready to Jet-Set on a Budget? ✈️

Maximize your savings with these travel essentials:

✈️ Sky-high Savings: Book budget-friendly flights with Skyscanner.
🏨 Rest Easy: Find the perfect accommodation on Booking.com or Hostelworld.
🛄 Travel Light: Store your luggage securely with Bounce.
📱 Stay Connected: Grab affordable eSIMs from Airalo or SimOptions.
🌄 Unforgettable Adventures: Find tours and experiences with GetYourGuide.
🛡️ Travel Worry-Free: Stay protected with travel insurance from SafetyWing!