Last Updated: September 14, 2023
Places to Visit in Dubai incorporates fascinating attractions like Miracle Garden, Global Village, Burj Khalifa, The Dubai Frame, and many more. We have listed the top 20 places and attractions that every tourist must visit in Dubai!
1. The Miracle Garden :
The Miracle Garden is located in the district of Dubailand, and it is one of the most extensive flower gardens in the world. It holds the Guinness world record for An Airbus flower structure and also for a 35 tonnes Micky mouse flower structure. This is one of the best places to visit in Dubai, and you must visit this heavenly place. The best time to visit the Miracle Garden would be the morning hours when it is less crowded. The Miracle Garden is open between 9:00 AM to 9:00 PM and 9:00 AM to 11:00 PM during weekends.
"Note: The Miracle Garden is operational from November to April every year."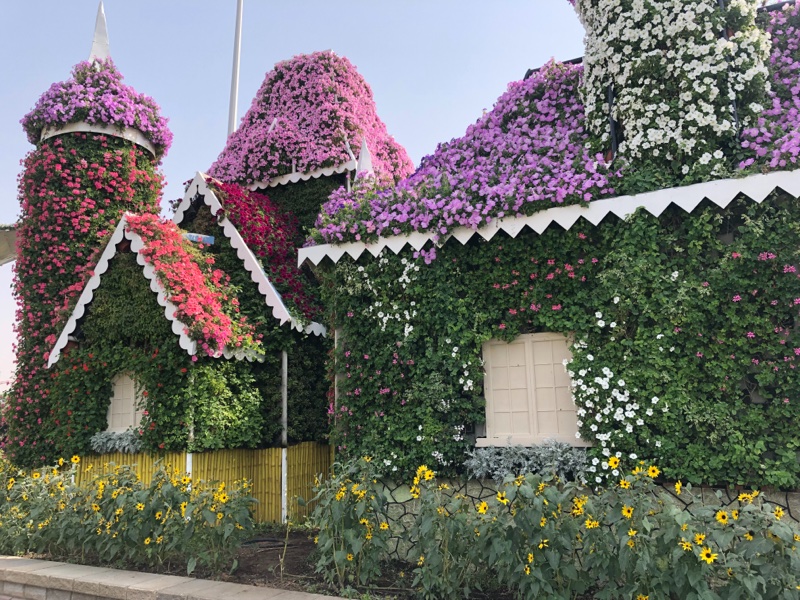 How much is the cost of Entry ticket to the Miracle Garden Dubai?
The entry ticket costs 50 AED for Adults and 40 AED for kids. You can get the tickets at the counter, and also you try for any deals online and grab it if you see anything available under 50 AED.
How do I get to Dubai Miracle Garden?
You can take the Metro red line and get down at the Mall of Emirates, and from there you can take direct bus 105 to Miracle Garden.
2. The Butterfly Garden
Located adjacent to Miracle Garden, the butterfly garden is a fabulous place with more 15000 beautifully colored butterflies. You will have a pleasant feeling when the butterfly sits on you. You can visually understand how this beautiful creature evolved from a small worm. Kids will enjoy this place for sure and it is one of the beautiful places to visit in Dubai. Additionally, you have the butterfly museum and the butterfly flower park to explore inside. The butterfly garden is open between 9:00 AM to 6:00 PM throughout the year.
How much is the entrance fee for Butterfly Garden?
The entry ticket cost is 50 AED per adult. You can reach the butterfly garden from miracle garden by walk, as these two are very close to each other.
3. The Global Village
The Global Village Dubai is located in Dubailand District on Sheik Mohammed Bin Zayed Road. The Global Village brings together the cultures of 90 countries across the world, in one place. It is the country's first cultural destination for shopping. The Global Village is usually operational every year between November and March. The gateway to the Global Village opens at 16:00 each day.
Some of the best things to do in Global village includes the Abra ride, Unlimited local cuisines(Don't miss the Turkish ice cream, Yeman Honey, Dynamite Chicken, Kubbah and cheese wheel pasta), The sky coaster and get a Caricature of yourself. The Global Village is a highly recommended place to spend your evening in Dubai, and it should be there in your Dubai itinerary. The elegance of this place will fascinate you for sure!
"Tip: You can plan Miracle Garden, Butterfly garden and the Global Village in a single day as these three are close to each other."
How to reach Global Village?
You can get the metro red line and get down at the Mall of Emirates, and from there you can get RTA bus 106 to reach the Global Village. You can also get a direct bus from the Al Ghubaiba station to the Global Village if you stay in the vicinity of Bur Dubai.
How much is the cost of the entry fee for Global Village?
The entrance ticket costs 15 AED per adult. You can check online for deals where you can get it for little lesser price. The next season will be open from October 29, 2019, to April 4, 2020
4. Burj Khalifa
As everyone knows, Burj Khalifa is the world's tallest building with an astounding altitude of 2722 ft and has 163 floors in total. This is a must visit sight seeing in Dubai and never miss to add it to your Dubai Itinerary. There is an obeservation deck "At the top" at 124th floor and "At the Top Sky" observaton deck is located in 148th floor and is currently the highest observation deck in the world. The 163rd floor is not accessible to the public.
How much it cost to visit Burj Khalifa?
The ticket costs vary from 180 AED to 500 AED per person, depends on which floor you are entering and what time you are visiting. You can check the prices directly at Burj Khalifa's official website. Also, you can check for online sources such as Groupon and Cobone where you can often get some good deals.
"If you are traveling Dubai in a limited budget, and don't want to spend much amount on seeing the view from the top, you can still come and enjoy the Burj Khalifa from outside for free of cost along with the Dubai Fountain show."
How to go to Burj Khalifa?
You can take the Metro red line and get down at Burj Khalifa / Dubai Mall metro station.
Dubai Fountain Show
The Dubai Fountain show is the world's largest fountain show located on the Burj Khalifa Lake. You can enjoy the music-based water dance which is lit by more than 6000 lights and laser projectors. The fountain show starts at 6 p.m. and continues every 30 minutes until 10 p.m. If you are visiting Burj Khalifa, you shouldn't miss this beautiful fountain show!
5. The Dubai Mall
The Dubai Mall is the world's second largest shopping mall with over 1200 shops. It has many must-see attractions such as Dubai Aquarium and underwater zoo, Kidzania (interactive children's theme park), Dubai Dino, Hysteria, Reel Cinemas and much more.
Dubai Aquarium has over 140 varieties of marine species and is one of the world's largest indoor aquariums. You get to walk through the 48-meter tunnel where you see the giant sharks and stingrays swimming just above you. The underwater zoo gives you a fantastic experience with animals like penguins, crocodile feeding, nocturnal birds, and much more. We recommend underwater zoo over the aquarium as the tunnel is too short and the aquarium from outside gives you a great view of the fishes for free!
How can you reach Dubai Mall?
You can reach Dubai Mall by taking Dubai Metro red line and stop at Dubai Mall / Burj Khalifa station.
How much it cost?
Entering the mall is free. However, tickets must be purchased separately for each attraction. For example, underwater aquarium tickets cost you between 65 AED and 200 AED depending on the package you select. Check online deals where you can get better prices and offers for each attraction compared to buying in the counter. This is absolutely a must-see destination in Dubai.
"Tip: Make sure you visit the Dubai Mall, the Burj Khalifa, and the Dubai Fountain on the same day. "
6. Dubai Garden Glow
The Dubai Garden Glow is Located in Zabeel Park, and moreover, this is the combination of four parks – Glow park, Dinosaur Park, Ice Park, and Art Park. The real beauty of the Garden Glow starts in the evening as trees and all elements in the Garden were lit. Children will enjoy the Dinosaur Park for sure, and they can see different variety of Dinosaurs. You have to pay an additional charge for visiting Ice park, where you can see beautiful statues made of ice. The Garden Glow opens from 4:00 pm until 11.00 pm.
"Tip: The best time to visit Dinosaur Park is around 4 pm, and you can plan the Glow park around 7 PM when the lights are on."
How to get to Dubai Garden Glow?
You can get down at Al Jafiliya Metro Station (red line) and then you can take a cab to Zabeel Park Gate number 6 and 7.
How much is the cost of Entry ticket to Dubai Garden Glow?
It costs 65 AED per adult for Glow park, Dinosaur Park and Art Park. For Ice park, you need to buy a separate ticket at the counter for 40 AED.
7. Desert Safari
Desert safari is a must-visit destination in Dubai. You can make the most of your evening with fun activities like Dune bashing, camel ride, barbecue dinner, belly dancing, and many more in the Arabian desert. At the camp, you'll be greeted with local snacks and given a seat at a table where you'll be able to watch the dancing, fire eaters, etc. Food is a buffet affair but good. Soft drinks are complimentary too. The view of the sun setting on the horizon is spectacular.
How much does it cost for the Dubai Desert Safari?
There are a vast number of desert safari operators in Dubai. You can check the cost on the web and the cost shifts according to the service you are selecting, i.e., VIP service or regular service, hotel pickup or centralized pick, etc. On average, a centralized pickup option costs around 50 AED, and VIP option will be about 100 AED per person.
What do you wear for desert safari?
Even though there are no restrictions for dress code in the desert, we recommend you to wear loose clothes and don't forget to take your jerkins to protect yourself from cold.
Remember, the desert will be frigid and windy in the night!
8. Mall of the Emirates
The Emirates Mall is one of the UAE's biggest shopping malls. It's got more than 600 restaurants and shops!
Best things to do in Mall of Emirates:
Ski Dubai – This is the world's largest indoor Ski park. Ample indoor skiing space where you can enjoy skiboarding, skiing lessons, play with penguins, and also ziplining. You can buy tickets online at their official site. You can also look for online deal sites for a discounted price.
VOX Cinemas – Its a cinema complex with 24 screens, where you can relax your day with a movie.
Magic Planet – It's a kids' play area which has several award-winning rides and games, a 4D theater, RoboCoaster and much more.
You can even spend a full day in the mall as it has so many offers. If you can't spend an entire day, I recommend visiting this mall on the day you're visiting Miracle Garden.
9. Al Seef
Al Seef is an attempt to depict the ancient Dubai architecture with its old-world charm. This place has got a great view of the creek, and it is a lovely place to take photographs. This is a beautiful sight-seeing place in Dubai. There are many restaurants and cafes inside, and they are operational from 10 am to midnight. Don't forget to try Belgium Waffle, Shawarma from Shwarmae, Arabic food at Al Mannah, famous Arabic sweet Kunafi at Nabulus and the delicious grill and sheesha at Kona Grills.
You can also take a short ferry ride to Deira Side at just 2 AED.
Where is Al Seef located?
Al Seef is located very close to Al Fahidi Fort in the Dubai creek. The nearest metro station is Al Fahidi and Al Ghubaiba metro station, and there is no direct metro available. So, you can get a taxi from Al Ghubaiba to reach Al Seef.
Recommendation: You can spend an hour or so in this epic place.
10. La Mer
La Mer is one of the best beach spots in Dubai with beautiful walkway. You can dine, shop or just relax on the shore by renting a sun bed or umbrella. La Mer comes to life at night, with sparkling lights, music, restaurants, coffee shops, and stalls. This place is vibrant & buzzing.
Attractions other than the beach:
Hawa Hawa – Dune shaped playground for kids and adults for jumping. Costs around 25 AED for 15 minutes and 40 AED for 30 minute.
Laguna Waterpark – The entrance fees for the La Mer water theme park costs 99 AED.
Roxy cinema – Leisure your day with a movie.
How to reach La Mer?
Direct metro option is not available, but RTA buses 9 and 88 are available.
La Mer is undoubtedly one of the must-visit places in Dubai.
11. Etihad Museum
Inaugrated in late December 2016, it is one of Dubai's best museums. It highlights Dubai's cultural and social evolution. "United Arab Emirates"- This museum explains how the union came about and the history of how the seven original Sheikhs formed The United Arab Emirates. There are also short films about the history and displays as well as a hall with photos of the Sheikh's that was impressive. The museum has eight pavilions, and each portrays different events.
How much does the ticket cost to the Etihad Museum?
The Etihad Museum is open between 10:00 am to 8:00 pm. Th costs 25 AED per adult, and it is worth the money for this well maintained Museum.
12. Dubai Museum
While this is one of Dubai's oldest existing structures, the museum's maintenance needs to be commended. This museum showcases the lifestyle of ancient Arab people and how Dubai has evolved after the discovery of oil. Dubai Museum is not a usual boring museum, and I recommend to visit this museum without fail.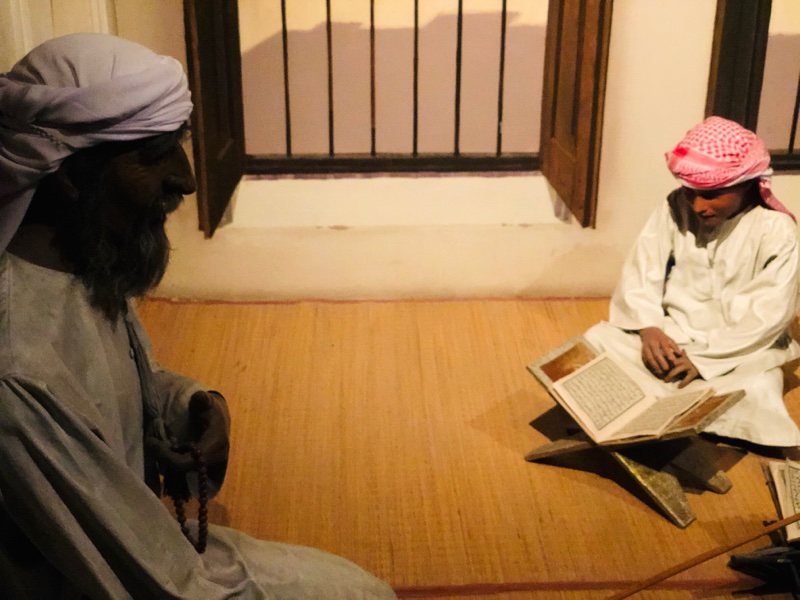 How to reach Dubai Museum and how much the entry ticket cost?
You can reach Dubai Museum Al Ghubaiba or Al Fahidi metro/bus station. It is located close to these bus stops. The entry ticket costs 3 AED per adult.
13. The Dubai Frame
The Dubai Frame is the most massive photographic frame on earth with a height of 492 ft, located in Zabeel Park and this is a new attraction that was recently built. The structure has an elevator inside, where you can see the old Dubai on the one hand and the new Dubai on the other side with all the Skyscrapers.
How to go to Dubai Frame?
You can take the metro red line and reach Al jafiliya, and from there you can walk to Zabeel Park Gate number 4 to reach Dubai Frame.
How much does the entry ticket to Dubai Frame cost?
It cost 65 AED per adult to enter Dubai Frame.
14. Jumeirah Mosque
Built in the late 1970s, it is one of Dubai's famous mosques where non-Muslims can enter! Another famous Dubai mosque called the ' Great Mosque ' where only Muslims are allowed to get inside.
What is the entrance fee for Jumeirah Mosque?
You can enter Jumeirah Mosque for free of cost.
What is the dress code for Jumeirah Mosque?
Shirt or t-shirt ( except sleeveless) and pants (up to ankle height) are recommended. For women, they will provide a veil to cover the face.
How to get to Jumeirah Mosque?
Al Jafiliya is the closest metro station to get to Jumeirah Mosque, and from there you can take a taxi to reach Jumeirah Mosque.
15. Burj Al Arab
Burj Al Arab is the fifth highest luxury hotel in the world, located on an artificial island on Jumeirah beach. It is claimed to be the world's only seven-star hotel, but not officially though. If you're coming to Dubai with a great budget, try living here for a couple of days.
"Tip: If your budget is not big enough for you to stay, try reserving a table for an evening tea at any of the restaurants inside the hotel and get the great experience! "
You can book a table using this link with a minimum bill amount of 200 AED.
How to reach the Burj Al Arab Hotel?
You can reach Burj Al Arab using the buses 8, X25 from Bur Dubai.
16. Wild Wadi Water Park
Located adjacent to Burj Al Arab, the wild wadi water park offers more than 30 rides. It is a must do attraction in Dubai if you like water games. If you stay in any of the Jumeirah hotels, you will get free access to Wild Wadi. Also, you will get a great view of Burj Al Arab from the inside, where you can click great photos.
Note: For some rides, there is some height restriction for children below 1.1 meters.
Tip:
Better reach here early to avoid long queue.
Carry a waterproof cover for the smartphone to take pictures.
Better bring enough water bottles as you feel more thirsty while playing the waters and water bottles are costly inside.
How much is the cost of entry ticket to Wild Wadi?
For non-UAE residents, the cost of a ticket is 336 AED at the counter, and you will get it for 284 AED. For UAE residents, the cost of the ticket is around 150 AED.
"Tip: Plan it on Sunday, you will get a special price of 99 AED if you book it via visa card online."
How to reach Wild Wadi WaterPark?
As mentioned, Wild Wadi is just in front of Burj Al Arab. You can reach Wild Wadi using the buses 8, X25 from Bur Dubai.
17. Atlantis the Palm
Atlantis is one of the most luxurious resorts on Dubai's man-made island, The Palm. There are multiple options available for rooms such as Palm Room, Ocean Room, and Suites such as Underwater Suite, Royal Bridge Suite and more. The underwater suite room cost you around 650 AED, where you will get the breathtaking underwater view and its variety of aquatic animals. You will get blown away by the ambiance of this place and its worth every money. I recommend that you stay here if your budget allows.
Attractions on Atlantis:
This is one of the famous attractions in the Atlantis. You have the chance to interact with the Dolphins, and even you have a package option to swim with the dolphins. The minimum ticket cost around AED 325 for Dolphin bay observer and swim with the dolphin's package varies from 800 to 1350 AED (Dolphin Scuba Dive).
It is One of the largest water theme parks in Dubai which has more than 30 water slides. The cost is around 350 AED per person. You can choose one of the Packages listed on their online website to combine two to three attractions for a lesser price.
Lost Chambers of Aquarium:
This is one of the UAE's largest aquariums with over 60,000 Aquatic animals. The entry ticket will cost you around 110 AED per adult.
Palm Island – Monorail Experience
Palm Island – Palm Jumeirah is a man-made island that looks like a palm tree when seen from above.
To get the better view of Palm Island, you can take a ride on the monorail, where you can get a sharp look-out to the Palm Jumeirah.
How do I get to Palm Jumeirah Monorail?
You can take the Dubai Metro red line and get down at Damac Properties station, and from there take a short walk and get to Tram and get down at Palm Jumeirah tram station.
And from there you take a quick walk and get to the Palm Gateway Monorail station.
How much does the ticket to Palm Jumeirah Monorail cost?
It costs 30 AED per adult for a return ticket.
18. Gold Souk, Meena Bazaar
I'm sure you're never going to return from Dubai before visiting Dubai Gold Souk! A very large collection & design you'll most likely never get anywhere in the world. Dubai is famous for its gold purity and reasonable rates. You buy or not, even for window shopping & shooting pictures; it will be an unforgettable experience. Naturally, the area is full of locals and tourists. Herbs, spices, textiles, gold, and souvenirs are available here. Don't forget to see the Big Gold Ring, which is a world record, on display! Your night will glitter with the bright gold.
If you are looking to buy anything in the gold shops, then haggle…haggle and haggle but make sure that you check your receipt and re-calculate the gold price yourself.
Meena Bazaar
Meena Bazaar is a mini India. You should visit this busy hustle and bustle place with lots of different shop types usually run by Indians and Pakistanis. It feels like wandering in some typical Indian market's narrow streets with people asking you to buy perfumes, gold, chocolates, etc. Most of the items on sale here are first copies, with few 1 to 10 dirham stores and some of the best Indian cuisine restaurants.
TIP:
Take your passport since you can re-claim duty at the airport, make sure you have your name and passport number on the receipt from the shop keeper.
Bargain as much as you can; you can break prices up to 30-50% here and buy things.
You can also visit the nearby Dubai Museum. You can go to the Iranian restaurant Al-Ustadi for a meal.
Meena Bazaar Timings:
Meena Bazaar is functional from 9 am to 1.30pm and 4 pm to 10.30 pm on weekdays and
4 pm to 11 pm on Fridays.
How to reach Meena Bazaar and Gold Souk?
Nearby Metro station: Al fahidi metro station is the nearest to Meena Bazaar, and Al Ras Metro Station is closest to Gold Souk.
Nearby bus stop: Khalid bin Walid road bus stop
By boat: Al Gubaiba ferry station. The taxi boat from Bur Dubai costs only one dirham each. Don't miss this water ferry ride of you come Meena Bazaar or Gold Souk.
19. Bollywood park
The Bollywood Park is located on Sheikh Zayed Road, Opposite to Palm Jebel Ali. After 16:00, is the best time to visit Bollywood Park. Even without the 3D glasses, the 360 Krish ride would be great. All in all, it will be a pleasant experience with SRK and Amitabh look alike! The main attraction starts in the evening with live dance performances. But its also disappointing that, despite buying an expensive ticket, there is still an entry fee for several exhibitions.
Each hall is designed for various Bollywood films and gives another experience. The best I could experience was the 7D experiences in Krish hall, Dabang and Zindagi Na Milegi Dobara. At least one whole day is necessary for you to experience all of the attractions in Bollywood theme parks.
How much does it cost to visit Bollywood Park?
The entry ticket starts from 175 AED. There are a few rides for which you have to buy the tickets inside the park.
How to reach Dubai Bollywood Park?
Take the Dubai metro red line and get off at Jebel Ali station. You can take a taxi from Jebel Ali station to reach Dubai Bollywood Park.
Additional Places to Explore Outside Dubai
Take one day trip to Abu Dhabi, where you should visit Abu Grand Mosque, the beautiful ever mosque built in the world. And also, consider visiting 'Last Exit,' a truck-based theme restaurant, located on Jebel Ali.
Take a day trip to the beautiful Musandam Island, near Oman.
Conclusion
Dubai has everything to offer for all kind of tourists. It is a place for both luxury lovers and budget travelers. I will make a trip to Dubai next year, and I will update this post. If you like this article, please write a comment.
🌍 Ready to Jet-Set on a Budget? ✈️

Maximize your savings with these travel essentials:

✈️ Sky-high Savings: Book budget-friendly flights with Skyscanner.
🏨 Rest Easy: Find the perfect accommodation on Booking.com or Hostelworld.
🛄 Travel Light: Store your luggage securely with Bounce.
📱 Stay Connected: Grab affordable eSIMs from Airalo or SimOptions.
🌄 Unforgettable Adventures: Find tours and experiences with GetYourGuide.
🛡️ Travel Worry-Free: Stay protected with travel insurance from SafetyWing!