Last Updated: September 14, 2023
There's nothing like taking a scenic drive out of Queenstown to visit the best Arrowtown cafes. Though only a 20-minute drive from downtown QT, Arrowtown is a breath of fresh air and a blast from the past. With a charming main street lined with historic storefronts and endless trails to explore, Arrowtown is the top destination if you're looking to escape the hustle and unwind a bit.
Before setting out on the River Trail, Tobin's Tack or Sawpit Gully, settle into an Arrowtown cafe for a filling breakfast and warm coffee. If you're looking for a quick fix, most of these places have plenty of cabinet food to choose from to make sure you say fueled up on the go. Simply looking for a place to enjoy a chill brunch in the sunshine? You'll be able to find it here.
Read on to discover the 13 best Arrowtown cafes!
The Chop Shop Food Merchants
Address: 7 Arrow Lane, Arrowtown 9302, New Zealand
The Chop Shop Food Merchants serves up creative breakfast in a cozy atmosphere. It's easy to miss this tucked away restaurant, but hard to forget once you've enjoyed a delicious meal there. Climb the flight of stairs to this hidden gem and be greeted by the vintage decor, the fresh smell of coffee, and an inevitable line of people waiting for their table if you're visiting on a weekend morning.
When it comes to the food side of things, you'll find classics like free-range eggs and avocado toast. The real draw, however, is their creative spins like sweet kumara waffles, Turkish eggs, or venison rendang. Dishes like Nasi Goreng are also gaining popularity among the locals.
New Orleans Hotel
Address: 27 Buckingham Street, Arrowtown 9302, New Zealand
Like most places in Arrowtown, the New Orleans Hotel is old. It was founded in 1866! Luckily, the building was renovated in 2019, giving us the present-day New Orleans Hotel and one of the best Arrowtown cafes for a filling breakfast.
While this spot is actually a hotel, the ground floor is a large restaurant with enough room for all the guests and then some. Breakfast is served until noon every day, with budget prices catering to travellers. For something quick, go for the bacon buttie, but tuck into a stack of pancakes loaded with bacon, berries, and syrup if you have more time. Later in the afternoon and into the evening, this Arrowtown cafe turns into a pub with hearty roasts and share plates, and of course, free-flowing beer.
From the Staff

My favourite is the Pork Belly! I also highly recommend you try the Kiwi Burger or Chowder.

– Kerry at New Orleans Hotel
Provisions of Arrowtown
Address: 65 Buckingham Street, Arrowtown 9302, New Zealand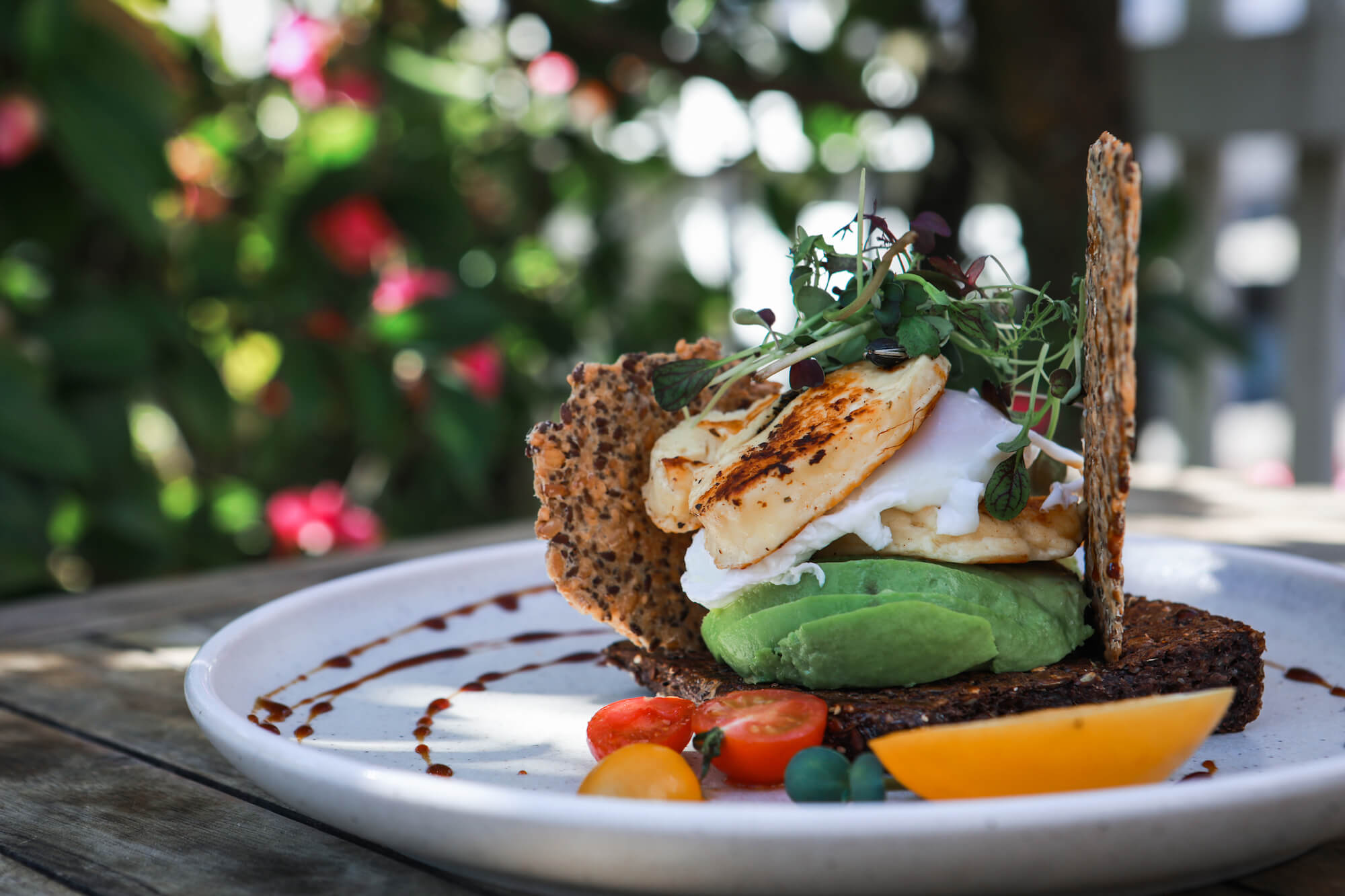 Consistently busy and always delicious, Provisions is one of the most popular Arrowtown Cafes, with good reason. Set in a historic miner's cottage dating back to the 1870s, this spot is only a couple of minutes away from the bustle of downtown on Centennial Ave. Provisions offer a peaceful setting to enjoy coffee and a good meal. They also have a small selection of cabinet food, in addition to fresh bread to take home. There's a glorious garden with outdoor seating but arrive early as these tables go quickly.
Well known for their sticky buns and fresh coffee, there's something for everyone at this Arrowtown cafe. Choose from sweet treats like miso caramel french toast or sticky black rice ginger pudding. Or, stay classic with a bacon and egg butty or a Provisions benedict.
If you're visiting past brunch time, opt for a refreshing lunch which is served until 3 pm. Avocado and asparagus bruschetta or their Bombay bowl filled with dahl, blackened cauliflower, and pineapple salsa are all delicious.
From the Staff

My favourite dish on the menu would have to be our summery fresh "Rainbow salad". This dish gets tweaked seasonally but the galangal ginger dressing, peanut sauce and kimchi ingredients remain constant flavour bombs to this delicious salad and we recommend adding crispy tofu or grilled halloumi. Enjoy with a glass of crisp Central Otago chardonnay.

– Jane from Provisions of Arrowtown
The Dishery Restaurant
Address: 4 Buckingham Street, Arrowtown 9302, New Zealand
The Dishery is another famed Arrowtown cafe. It's adjacent to the giant Arrowtown parking lot in front of all the walking trails. With a sprawling patio and dog-friendly atmosphere, The Dishery is a favourite among locals and visitors. If you sit outside, be sure to cover yourself in sandfly spray.
The Dishery is more of a sit-down than grab and go cafe. That said, there's a selection of muffins and savoury scones if you're looking for a quick bite before hitting the River Trail.
If you have more time to sit under the sun, enjoy a full breakie or my personal favourite, the brisket with huge slabs of cornbread and pickles and a spicy bloody mary.
Goldie Cafe
Address: 50 Buckingham Street, Arrowtown 9302, New Zealand
Aptly named after the history of this mining town, Goldie has everything one could dream of for brunch and beyond. With a warm, inviting, minimalist atmosphere, they stay true to their motto of "dope coffee & rad food". Goldie has plenty of outdoor seating and a complete glass storefront to offer views of the surrounding mountains.
Serving fan favourites with a twist, expect dishes like eggs benedict with house-cured bacon served on hashbrowns or a classic smoked salmon bagel with pickled onions and fried capers. There's also a selection of freshly baked pastries, along with Wolf Coffee, locally roasted in Arrowtown.
Terra Mia Traditional Italian Cafe
Address: 28 Buckingham Street, Arrowtown 9302, New Zealand
Ahh, Terra Mia. One of my favourite Arrowtown cafes to kick back with a coffee. Located right on downtown's main drag, snag a table by the window for some of the best people-watching around. Terra Mia is the place to hit when you don't have enough energy to fight the brunch crowds. They serve a simple breakfast, with a small selection of Italian pastries and delicious coffee, which is really all you need first thing in the morning.
This Arrowtown cafe offers a delicious dinner service with weekly pizza and pasta specials from Thursday through Sunday. There's also a tantalizing array of sauces, pastas, and Italian ceramics lining the wall for sale. For an authentic taste of Italy right here in Arrowtown, Terra Mia never fails.
Postmasters Cottage Cafe
Address: 54 Buckingham Street, Arrowtown 9302, New Zealand
Historic Arrowtown loves converting cottages into cafes, and Postmasters is no different. Stunningly serene, this Arrowtown cafe offers al fresco dining on the verandah and in the garden and will transport you to a different time with the old school interior inspired by the settler days.
Once home to the local postmaster (surprise, surprise), this building was actually reconstructed in 1907 after a fire the previous year and turned into a restaurant in the late 1990s/early 2000s. Today, it's a local favourite and a picture-perfect place to tuck into a meal.
With plenty of sweet and savoury options to choose from (french toast, fry ups, and even mince on toast), you're sure to satisfy any craving (and maybe hangover, too). Postmasters has a selection of fresh juices, and their bloody marys are second to none – aside from The Dishery's, which are the best in town.
Arrowtown Bakery and Cafe
Address: 14 Buckingham Street, Arrowtown 9302, New Zealand
It doesn't get more Kiwi than the Arrowtown Bakery and Cafe. This hole in the wall has all the classics – pies, sausage rolls, lolly cakes, and even freshly baked scones with jam and cream. It's the kind of place that exists in just about every tiny New Zealand town. But with this in mind, you'll also find seasonal specials like whitebait patty sandwiches and Thai curry pies, easily washed down with fresh coffee or fruity iced tea.
It is undoubtedly a great cafe for budgeters. Grab a couple of treats and enjoy them on the terrace. Or, pack them to take on one of the many walks in the area.
Miles from Nowhere
Address: 4/14 Buckingham Street, Arrowtown 9302, New Zealand
Miles from Nowhere is one of the newer players on the Arrowtown cafe scene. It took over Unwind Cafe and is a charming place to enjoy breakfast or coffee. There's lots of room in the outdoor courtyard, and on chillier days, there are heat lamps (and mulled wine) to keep you toasty.
For brunch, go for the eggs benedict and Allpress coffee, and for lunch or dinner, opt for a burger, creamy seafood chowder, or a fresh Ceasar salad. Recently, Miles from Nowhere has been running a local fish and chips Friday with flaky, battered seafood and crispy fries you won't want to miss.
Patagonia Chocolates
Address: 31 Ramshaw Lane, Arrowtown 9302, New Zealand
If all else fails, you can never go wrong with Patagonia Chocolates. This Queenstown cafe also has a location in Arrowtown and is perfect for anyone with a sweet tooth. The Arrowtown storefront has plenty of outdoor seating to enjoy your cafe spoils in the sunshine and the same tempting ice cream display common at these shops.
Feel like more than just ice cream and a coffee? There's a small selection of cabinet food like brownies, banana bread, carrot cake, and cookies. For something more substantial, have an order of muesli and yogurt, fruit salad, or a croissant breakfast served with butter, cream cheese, jam, and dulce de leche.
Slow Cuts
Address: 46-50 Buckingham Street, Arrowtown 9302, New Zealand
While Slow Cuts isn't necessarily a cafe, in my humble opinion, it's the best place to eat in Arrowtown and has to make the list if you're craving something aside from eggs and coffee.
Slow Cuts is the prime destination for all things meat. The burgers are beyond compare. There are steaks, ribs, rotisserie chickens, and the best fried chicken burger on the South Island (feel free to quote me on that). While you're at it, load up on the sides, with mac and cheese gratin, fried smashed potatoes, and frickles – yes, fried pickles. Finish it off with a coffee and a fudge brownie. Man on man, that's one delicious Arrowtown meal.
Hole in One Café
Address: Millbrook Resort 1124 Malaghans Road, Arrowtown 9371, New Zealand
Tucked away on the Millbrook Golf Course, you'll find Hole in One. Enjoy a world-class meal in converted farm stables or al fresco on the ivy lined terrace. It's certainly one of the pricier opinions in the area, but the menu is quite hard to pass up.
For brunch, enjoy a just-baked muffin or pastry over a fresh cup of coffee, or opt for eggs benedict if you're after something more substantial. The cafe also does lunch and dinner, with a smattering of burgers, pizzas, salads, and grilled meats.
Akarua Wines & Kitchen
Address: 265 Arrowtown-Lake Hayes Road, Lake Hayes Estate, Queenstown 9371, New Zealand
If you're not on a strict budget or are celebrating a special occasion, grab breakfast at Akarua, a winery and an Arrowtown cafe that can't be missed. It's certainly more upscale than any other place on this list but well worth it for the unforgettable ambience and unmatched local ingredients.
Expect a full breakfast with apple cider sausages, bacon, eggs, rostis, and more for brunch. Or go the sweet route with an intricate french toast or plate of waffles. Vegetarians will love the seared halloumi and eggs, while health-conscious eaters flock to the smoothie bowl. Though the menu is minimal, Akarua caters to everyone. And if it's too early for a glass of wine, there's a coffee and tea selection, along with brunch cocktails.
Further Reading
Looking for more things to do in the area? Check out our articles below:
🌍 Ready to Jet-Set on a Budget? ✈️

Maximize your savings with these travel essentials:

✈️ Sky-high Savings: Book budget-friendly flights with Skyscanner.
🏨 Rest Easy: Find the perfect accommodation on Booking.com or Hostelworld.
🛄 Travel Light: Store your luggage securely with Bounce.
📱 Stay Connected: Grab affordable eSIMs from Airalo or SimOptions.
🌄 Unforgettable Adventures: Find tours and experiences with GetYourGuide.
🛡️ Travel Worry-Free: Stay protected with travel insurance from SafetyWing!
Jane is a seasoned nomad who has been traveling full-time for 5+ years. She currently splits her time between Paris, New York City, and New Zealand, and is well known for always having a smile on her face.
You can keep up with her travels on Life in the Fast Jane.