Last Updated: September 14, 2023
Exploring Thailand is a journey through captivating sites like Railay Beach, Phi Phi Island, the resplendent Grand Palace of Bangkok, and the ethereal Sanctuary of Truth, among many other treasures. In this guide, we've curated a definitive list of the best places to visit in Thailand.
Thailand is a destination of unparalleled beauty. The entire nation is a haven for tourists, adorned with tropical beaches, royal palaces, archaeological wonders, and temples showcasing the figures of Buddha. In this article, we'll take you on a virtual tour of the most extraordinary attractions in Bangkok, Pattaya, Krabi, and Phuket.
Before we delve into these enchanting places, let's take a moment to understand Thailand's geographical makeup. The country is divided into 76 provinces, organized into six regions: Central Thailand, where you'll find the bustling Thai capital of Bangkok; Eastern Thailand; Northern Thailand; Northeast (Isan); Southern Thailand; and Western Thailand.
Best Places to Visit in Thailand
Krabi
Location: Southern Thailand, Krabi Province
Distance from Bangkok: Approximately 800 km
Recommended Travel Method: Flight (frequent flights available)
Places to visit in Krabi
1. Four Island Tour: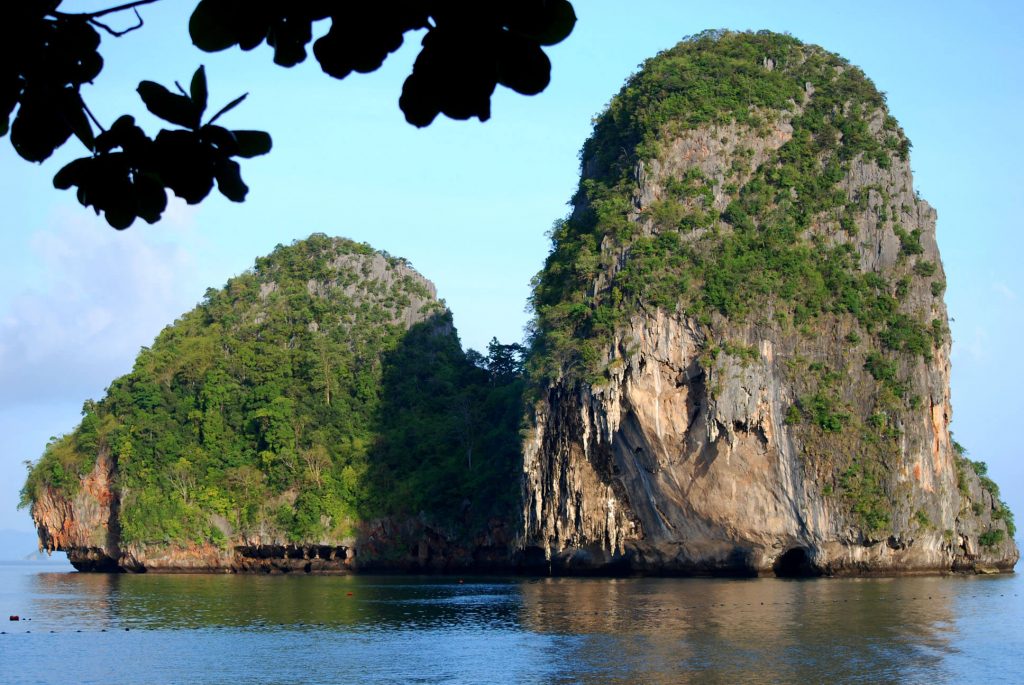 Description: Explore four stunning islands – Pranang Beach, Tup Island, Chicken Island, and Poda Island. Best experienced on a full-day tour via speed boat.

Pranang Beach / Pranang Cave: A beautiful beach with clear turquoise water and powdery white sand. Enjoy activities like kayaking, rock climbing, swimming, and snorkeling.
Tup Island: Known for its crystal clear waters and a unique sandbar that connects it to Chicken Island. Great for snorkeling.
Chicken Island: Named for its chicken-shaped rock formation, it offers opportunities for snorkeling and photos.
Poda Island: A picturesque sandy beach with crystal-clear water, perfect for photography.
2. Railay Beach:
Description: Accessible only by boat, Railay Beach is a combination of four beaches – Railay West, Phra Nang Beach, Tonsai Beach, and Railay East. Activities include kayaking and rock climbing. There are also many bars and vendors on the beach.

How to reach Railay Beach: Long tail boat from Ao Nang (approximately 200 THB round trip per person).
3. Emerald Pool:
Description: Located in Khlong Thom District, Krabi, the Emerald Pool is a breathtaking natural pool with clear, emerald-green water. Combine it with a visit to the Hot Springs and Tiger Cave.

Tip: Visit early in the morning to avoid crowds.
4. Phi Phi Island Tour:
Description: Phi Phi Islands boast stunning white sandy beaches and crystal-clear turquoise waters. A day tour includes snorkeling, visiting lagoons, and exploring Maya Bay.

Cost: Approximately 1000 to 1200 THB, plus a National Park entrance fee of 400 THB per adult / 200 THB per child.
Check out speed boat tours from GetYourGuide below:
5. Krabi Night Market:
Description: Open every Friday to Sunday evening, this market in Krabi Town offers a wide variety of street food, local crafts, clothing, and more.

Must-try food: Coconut ice cream, Tomyum soup with seafood and noodles, fried quail eggs on skewers, and more.
How to reach: 20-30 minutes from Ao Nang; take a public Songthaew for 50 THB or hire a motorcycle for about 200 baht per day.
6. River Rafting, Zipline & Elephant Ride:
Description: Thrilling adventures include ziplining with breathtaking views, white water rafting, ATV rides, and elephant trekking.

Cost: Packages start at 1200 THB. Compare and bargain for better deals.
Remember to check with local operators for the most up-to-date prices and availability.
Bangkok
Location: Central Thailand, Krung Thep Maha Nakhon Province
Recommended Travel Method: Flight (frequent flights available)
Places to Visit in Bangkok
1. Grand Palace
Location: Phra Nakhon, Bangkok, Thailand
Size: 24.4 hectares
Opening Hours: Daily 8:30 AM to 3:30 PM
Entrance Ticket: Approximately 500 baht
The Grand Palace, spanning 2.35 million square feet, is the heart of Bangkok. It's considered the city's birthplace and boasts meticulously maintained grounds, stunning architecture, and gleaming rooftops. Exploring the palace and learning about the Thai royal family from a tour guide is a captivating experience.
Note: Proper attire is required (long pants and sleeved shirts, no see-through clothes, no bare feet). Renting appropriate clothing is available at the entrance.
Tip: Consider a combined half-day tour with nearby temples like the Emerald Buddha and the Temple of the Reclining Buddha.
2. Chatuchak Market:
Location: Bangkok, Thailand
Size: 35 acres
Opening Hours: Saturdays, Sundays: 09:00 AM – 06:00 PM; Fridays: 06:00 PM – 12:00 AM
The Chatuchak Market sprawls over 35 acres with more than 8,000 stalls. On weekends, over 200,000 visitors flock here for exceptional deals. The market is divided into 26 sections, each dedicated to categories like Clothing & Accessories, Handicrafts, Ceramics, and more. Don't miss out on the famous Thai Mango with sticky rice, coconut ice cream, and Pad Thai Noodles.
Here's a half-day tour that combines the Floating Market with the Chatuchak Market.
How to Get to Chatuchak: Take the Skytrain (BTS) to Mo Chit station, exit no. 1, or use the subway (MRT) to Chatuchak Park station, exit no. 1.
Tip: Bargaining is essential, and staying hydrated is crucial due to the heat.
3. Chao Phraya River:
Description: Chao Phraya River offers an excellent way to explore many of Bangkok's key attractions, including the Grand Palace, Wat Phra Kaew, Wat Pho, and Wat Arun. The river divides Bangkok and provides spectacular views of the temples on both sides.
Dinner Cruises: Options available with live music and authentic Thai cuisine. Early morning or sunset cruises offer the best views and temperatures.
How to Reach Chao Phraya River: Take the BTS Skytrain to the Silom line, heading for Saphan Taskin. The river is within walking distance from there. Alternatively, local transportation, like cabs or tuk-tuks, can take you to the Sathorn Bridge pier.
4. Temples of Bangkok:
Wat Pho
Location: Adjacent to the Grand Palace, Bangkok, Thailand
Entrance Fee: 100 Thai Baht
Opening Hours: 8:00 AM – 6:30 PM daily (closed for lunch from 12:00 PM – 1:00 PM)
Wat Pho, also known as the Reclining Buddha Temple, is one of Bangkok's oldest attractions. It's renowned for its gold-plated reclining Buddha, which stands 46 meters long and 15 meters high. The temple houses over 1,000 Buddha images, more than any other Wat in Thailand.
How to Reach Wat Pho: Take a metered taxi or a Chao Phraya express boat. It's just a 10-minute walk from the Grand Palace.
Wat Arun
Location: Across the Chao Phraya River from Wat Pho, Bangkok, Thailand
Entrance Fee: 50 Thai Baht
Opening Hours: 8:00 AM – 5:30 PM daily
Wat Arun, also known as "The Temple of Dawn," is famed for its towering prang, standing over 80 meters high. The best view of Wat Arun is from a Chao Phraya river cruise, particularly during an evening dinner cruise when the prang is beautifully illuminated.
How to Reach Wat Arun: Combine your trip with a visit to the Grand Palace & Wat Pho. Take the Orange Flag Express boat from Saphan Taksin pier, then alight at Pier 8.
Wat Traimit (Golden Buddha)
Location: Chinatown, Bangkok, Thailand
Entrance Fee: 40 Baht (additional 100 Baht for two museums)
Opening Hours: 9:00 AM – 5:00 PM daily
Wat Traimit, also known as the Temple of Golden Buddha, houses the world's largest solid-gold Buddha image. Weighing over 5 tons and standing over 3 meters tall, it's a remarkable sight with an intriguing history.
5. Floating Market:
Description: Experience a unique shopping adventure at the floating market. Indulge in various food, fruits, flowers, and handmade conical hats. Don't miss the boat-prepared noodles and coconut pancakes. Taste local fruits like mangosteen, lychee, mangoes, and grapes. You can also feed the fish. Try the authentic Thai Papaya salad for 35 THB.
Tip: Souvenirs and art items can be pricy; consider visiting the Chatuchak Market for better deals.
Best Floating Market in Thailand
Taling Chan Floating Market, located 12 km from Bangkok, is a convenient choice for those looking for a nearby option.
Cost: Enjoy a longtail boat ride around the canals for 100 baht. You can also get a foot massage under the trees for 200 baht.
6. Chinatown:
Description: Explore China Town and visit the China Gate and Wat Mangkol Kamalawat. Yaowarat Road, the high street of Bangkok's Chinatown, transforms into a fantastic street food destination at night. You'll find a rich mix of street food and restaurants offering both local and Chinese cuisines.
Must-Try Dishes in Chinatown:

Grilled lobster with melted cheese
Shark fin soup and bird nest soup
Various Chinese dishes like noodles, fried rice, dumplings, dim sum, and fishball noodles
Braised pork leg rice (Khao Kha moo)

How to Reach Chinatown, Bangkok: Take the BTS or MRT (underground train) to Hualamphong station.
Pattaya
Location: Eastern Gulf Coast, Chonburi Province
Distance from Bangkok: Approximately 150 km
Recommended Travel Method: Bus or Private Transportation (about 2-3 hours by road)
Places to visit in Pattaya
1. Sanctuary of Truth:
Description: This 105m-tall wooden structure offers a spectacular view. Under construction for over 30 years, it's still ongoing. Helmets are provided due to ongoing construction. Enjoy Thai dances, martial arts, and sword fights performed by locals twice a day (11:30 am and 3:30 pm).
Entrance Fee: 500 Baht (Tickets available at the main entrance)
Dress Code: Modest attire is required. Vests, see-through clothes, or short skirts are not allowed. Full skirts can be rented for 200 THB at the entrance.
How to Reach: About 8 km from central Pattaya, reachable in 20 minutes by taxi or tuk-tuks.
2. Alcazar and Tiffany Cabaret Dance Show:
These elegant, gripping, family-friendly dance shows are known for beautiful costumes, stunning performances, and exceptional sound and lighting. Both Alcazar and Tiffany offer about 17 performances showcasing a blend of classic and modern acts. The cabaret show lasts around 70 minutes.
Show Timings: Alcazar – 17:00, 18:30, 20:00 & 21:30; Tiffany – Daily, 18:00, 19:30, and 21:00.
Ticket Prices:

Alcazar: Normal – 500 Baht, VIP – 800 Baht
Tiffany: Normal – 550 Baht, VIP – 950 Baht
3. Pattaya Walking Street:
The Walking Street is the heart of Pattaya's nightlife. Lit with neon lights and bustling with activity, it's a vibrant area. Shops, street food stalls, magicians, and more line the streets. Be cautious of ping-pong show promoters, a common scam.
How to Reach: About 2 km from Central Pattaya. Walk along the beach or take a shared open-air tuk-tuk (songthaew).
Timings: Street is closed to vehicles from 7:00 pm – 3:00 am. The action picks up around midnight.
4. Nong Nooch Botanical Garden:
One of Southeast Asia's largest botanical gardens sprawling over 600 acres. Themed gardens offer a wide variety of sights. Allocate at least four hours for a thorough visit. Cultural and elephant shows are available at specific timings.
How to Reach: Contact a tour operator, book a taxi, or take a tuk-tuk from Pattaya's main city.
Timings: 09:00 – 17:00
Entrance Fees: 500 THB for foreigners, 150 THB for locals.
5. Underwater World Pattaya:
A top-notch aquarium showcasing a diverse array of marine life. The highlight is a 105-meter-long acrylic glass tunnel providing a surreal experience of walking on the ocean floor.
How to Reach: Located on Sukhumvit road, about 7 km from the center of Pattaya. Accessible by taxi or songthaew.
Timings: 9 am – 6 pm daily (last admission at 5:30 pm)
Entrance Fees: 500 THB for adults, 300 THB for children.
6. Coral Island (Koh Larn):
A paradise ringed by beautiful beaches and turquoise seas. Activities range from lazing on the soft, white sand to engaging in water sports like parasailing, undersea walks, and snorkeling.
How to Reach: Located 7.5 km west of Pattaya Beach, a quick ferryboat ride from Walking Street. Best accessed through a guided half-day tour.
7. Pattaya Water Parks (Cartoon Network & Ramayana Theme Park):
Ramayana Water Park: One of Asia's largest and Thailand's biggest water park. Features high-speed slides, impressive rides, and other attractions.

Cost: Varies based on height. Combo packages with Thai Buffet are also available.

Cartoon Network Amazone Water Park: Themed around Cartoon Network characters, offering exciting water slides and rides for kids and adults.

How to Reach: About 20 km from Pattaya town, accessible by taxi or songthaew.
Opening Hours: 10 am – 6 pm daily
Entrance Fees: 1,290 THB for adults, 990 THB for children.
8. Art in Paradise Pattaya:
A 3D art museum where visitors can have fun posing for photos. The museum features various 3D art on walls and floors, with recommended spots for photography.
How to Reach: Located about 100 meters from Central Center Pattaya Mall on Pattaya 2nd road. Easily accessible by taxi or songthaew.
Opening Hours: 9 am – 10 pm daily (ticket counter closes by 9 pm)
Entrance Fees: 400 THB for adults, 200 THB for children.
Phuket
Location: Southern Thailand, Phuket Province
Distance from Bangkok: Approximately 870 km
Recommended Travel Method: Flight (multiple daily flights available)
Places to visit in Phuket
1. Similan Islands:
Description: Located 84 km northwest of Phuket, Koh Similan is a stunning island group in the Andaman Sea. It comprises 11 islands known for their exotic bays, crystal-clear waters, and white sandy beaches. Excellent snorkeling and diving opportunities abound, showcasing vibrant marine life.
Open for Tourists: Closed from May to October for nature reserve protection.
Tour Cost: Approximately 2,500 baht per person.
Getting There: Most day trips include transfers from hotels to the pier. It takes around 90 minutes by speedboat to reach the Similan Islands.
2. Phuket Fantasea Show:
Description: A Las Vegas-style Thai cultural show with cutting-edge technology. It features nine shows with elements of Thai culture, illusion, acrobatics, animal performances, pyrotechnics, and more. The complex includes a carnival village, games, shopping, and a grand buffet.
Ticket Cost: Around 1,800 Baht
Getting There: Located on Kamala Beach, approximately 10 km north of Patong Beach. Easily accessible by taxi, tuk-tuk, or arranged transport.
3. Phuket Temples:
Wat Chalong
Description: Prominent temple built around 1837, known for stunning architecture and housing holy Buddhist relics. Visitors can spend time praying and exploring the grounds.
Dress Code: Modest attire is required.
Getting There: Located about 8 km south of Phuket City. Taxis or Songthaews from Phuket town are available.
Admission Fees and Hours: Wat Chalong is open from 7 am until 5 pm daily, with free admission.
Big Buddha
Description: Iconic 45-meter-tall statue located atop Nakkerd Hills, offering breathtaking views. Visitors can write prayers and wishes on marble tiles used in the ongoing construction.
Dress Code: Conservative attire required.
Getting There: Off Chao Fa Road East near Chalong. Accessible by taxi or local tuk-tuk.
Admission Fees and Hours: The Big Buddha is open from 8 am until 7:30 pm daily, with free admission. If you want to catch the sunset from one of Thailand's best spots, try to be there before 6:30 pm.
4. James Bond Island
Description: Famous landmark in Phang Nga Bay, featured in a James Bond movie. Known for vertical limestone cliffs and emerald-green waters.
Getting There: Accessible from Krabi and Phuket. Canoeing through limestone caves is a highlight of the day trip.
Trip Cost: Starts from 1,000 THB.
5. Phuket Tiger Kingdom
Description: Offers a chance to interact with tigers of various ages and sizes that have been raised in captivity. Options to play with cubs, small, medium, and large tigers.
Age Restriction: No age restriction for viewing cubs.
Ticket Cost: Starts from 900 THB.
Getting There: Located near the Go-Kart track in Kathu, at the foot of Patong Hill.
What is the Best Time to Visit Thailand?
The best time to visit Thailand depends on the region you plan to visit. Generally, the period between November and April stands out as the prime time to explore key destinations:
Central Thailand (including Bangkok and Ko Chang)
Northern Thailand (especially Chiang Mai, renowned for its cooler climate)
Southwest Thailand (Embracing the allure of Phuket & Krabi)
However, it's important to note that the climate differs along the southeast coast, particularly on Ko Samui. November typically experiences the highest rainfall, making January and February ideal for a visit.
How Much Does the Flight and Visa Cost?
For travelers from India, a round-trip flight to Bangkok typically amounts to around 10,000 INR. As for visa expenses, the on-arrival visa fee usually costs about 2000 THB. Check out this article for detailed information on the complete Thailand visa process.
Is Thailand Safe for Families?
Absolutely! Thailand is a safe destination for families and children alike. The country sees a growing number of tourists each year, and many families, including ours, have explored its wonders with complete peace of mind. Thailand prioritizes the safety and well-being of its visitors, making it an excellent choice for a family vacation.
Final Thoughts
Beyond the remarkable destinations highlighted above, Thailand is a true jewel of Southeast Asia, offering a wealth of exploration. Here are some final tips from my own experiences:
Haggle for the best prices whenever possible – it's a reliable way to stretch your budget. Don't hesitate to negotiate for rates significantly lower than the initial asking price.
Opt for tuk-tuks and cabs when feasible for convenient and reliable transportation.
Keep in mind that locals often enjoy discounted entrance fees compared to tourists. Consider offering a gratuity to tuk-tuk drivers and ask them to purchase tickets on your behalf, a trick that served us well during our journey.
🌍 Ready to Jet-Set on a Budget? ✈️

Maximize your savings with these travel essentials:

✈️ Sky-high Savings: Book budget-friendly flights with Skyscanner.
🏨 Rest Easy: Find the perfect accommodation on Booking.com or Hostelworld.
🛄 Travel Light: Store your luggage securely with Bounce.
📱 Stay Connected: Grab affordable eSIMs from Airalo or SimOptions.
🌄 Unforgettable Adventures: Find tours and experiences with GetYourGuide.
🛡️ Travel Worry-Free: Stay protected with travel insurance from SafetyWing!