Last Updated: September 14, 2023
When COVID-19 reached South America in March 2020, my friend Buzz was delighted to find himself stranded in Buenos Aires with no flight home to the US. He and his wife Yvonne are passionate enthusiasts of all things porteño and regular visitors to Argentina.
My instinct in a new place is to walk a circuit of ever-increasing blocks from wherever I am staying. Buzz and Yvonne, however, like to walk as far as they can in different directions. They only jump into a black and yellow city cab when they get tired. Do make a note of your address in case the driver doesn't understand your gringo accent!
If you don't want to be quite so adventurous, here's our three-day Buenos Aires itinerary. It's full of the best sites in Buenos Aires, which will give you a great introduction to the city. We concentrate on the centre and the historic barrios of San Telmo and Palermo because they're so rich and varied, but if you have more than three days here, or are on a second visit, see our list of twelve things to do in Buenos Aires and ten days trips from the city for more ideas. You can do most of this itinerary easily on foot.
Walking Tours
There are free walking tours throughout Buenos Aires daily, but check Buenos Aires Free Walks in advance for availability. There is a similar concept in major cities all over the country. Of course, it's custom to contribute a generous tip rather than just melting away as the tour ends. Quality can be variable depending on the guide, but it's a great introduction to the city.
Graffitimundo does walking tours specialising in street art, covering Palermo, Boca and San Telmo, and venturing further afield into less touristy barrios like Colegiales, Villa Crespo and Barrancas.
And for personalised city tours of Buenos Aires, contact my friend Sol, an expert on tango.
Where to Stay in Buenos Aires
Recoleta and Palermo are perfect locations close to all the attractions, museums and nightlife. It's far enough, however, from the micro-centre to be relaxed. San Telmo is more central but more touristy and busier over 24 hours. San Telmo is also the oldest part of Buenos Aires.
Looking to save some money? Try staying outside the main spots. I'd recommend Colegiales to the northwest and Almagro and Caballito to the south of the centre.
Day 1: Plaza de Mayo & Puerto Madero
Pink Palace: Casa Rosada
The Plaza de Mayo is the main square in Buenos Aires. It features the Casa Rosada (Pink Palace), which is the official residence of the Argentine President. The President also has a weekend home in the leafy suburb of Olivos.
There are different legends about how the Palace became pink. My favourite is that President Sarmiento, coming to power in 1868 towards the end of a long and bloody civil war, mixed the colours of the winning Federales (red and white) with that of the losing Unitarios (pale blue and white), creating a soothing shade of pink. I wish I could say this was true. It's been impossible to verify from official sources, and all witnesses are now dead. A more common explanation is that the pink colour comes from adding cow's blood to the mix of white to protect the paint from the elements.
The Casa Rosada contains a small museum with the remains of the fort of Buenos Aires. The remains are from the end of the 16th century.
The Cathedral: Catedral Metropolitana
From here, walk anti-clockwise around the Plaza de Mayo to the city's Cathedral called Catedral Metropolitana. The Cathedral was once home to masses from the Argentine Pope Francis. It's also the final resting place for the Independence hero San Martin. Although San Martin died in France, his tomb is here. If you linger for more than five minutes, you will quickly realise this is not just a beautiful 17th-century building. It's also busy with worshippers nipping in for prayer between errands.
Town Hall: Cabildo de Buenos Aires
Continuing anti-clockwise, at the far end of Plaza de Mayo, you'll find the 18th-century cabildo (town hall), which hosts the Museo Nacional on the city's history.
Beat the rush with an early lunch at Café Tortoni, three blocks east of the Plaza at Av de Mayo 825. Tortoni has had famous regular customers over the years, including the writer Jorge Luis Borges and tango singer Carlos Gardel. This porteño institution was founded in 1858 and has been on its present site since 1893.
Lunchtime at Manzana de las Lucas
After lunch, complete your history tour with a stroll around the Manzana de las Luces. Head to the blocks of streets south of Plaza de Mayo between Alsina, Moreno, Bolívar y Perú. Manzana de las Luces features some of the best-preserved buildings constructed by the Jesuits during colonial times. The oldest church in the city, San Ignacio de Loyola, dating from 1664 is here.
City Museum: Museo de la Ciudad
Here, you will also find the Museo de la Ciudad (city museum) at the junction of Defensa/Alsina, which tells the city's story through everyday objects belonging to the locals.
Puerto Madero
For a complete contrast, now head riverside to Puerto Madero, where you'll see the younger locals lounging in the parks drinking maté in the late afternoon sunlight. Puerto Madero is the old port area renovated during the 1990s. It now provides a mix of expensive apartment buildings, office blocks and excellent restaurants. Try Siga la Vaca steakhouse at Av Alicia Moreau de Justo 1714, or Marcelo for Italian and seafood six blocks further down at no. 1140.
Day 2: San Telmo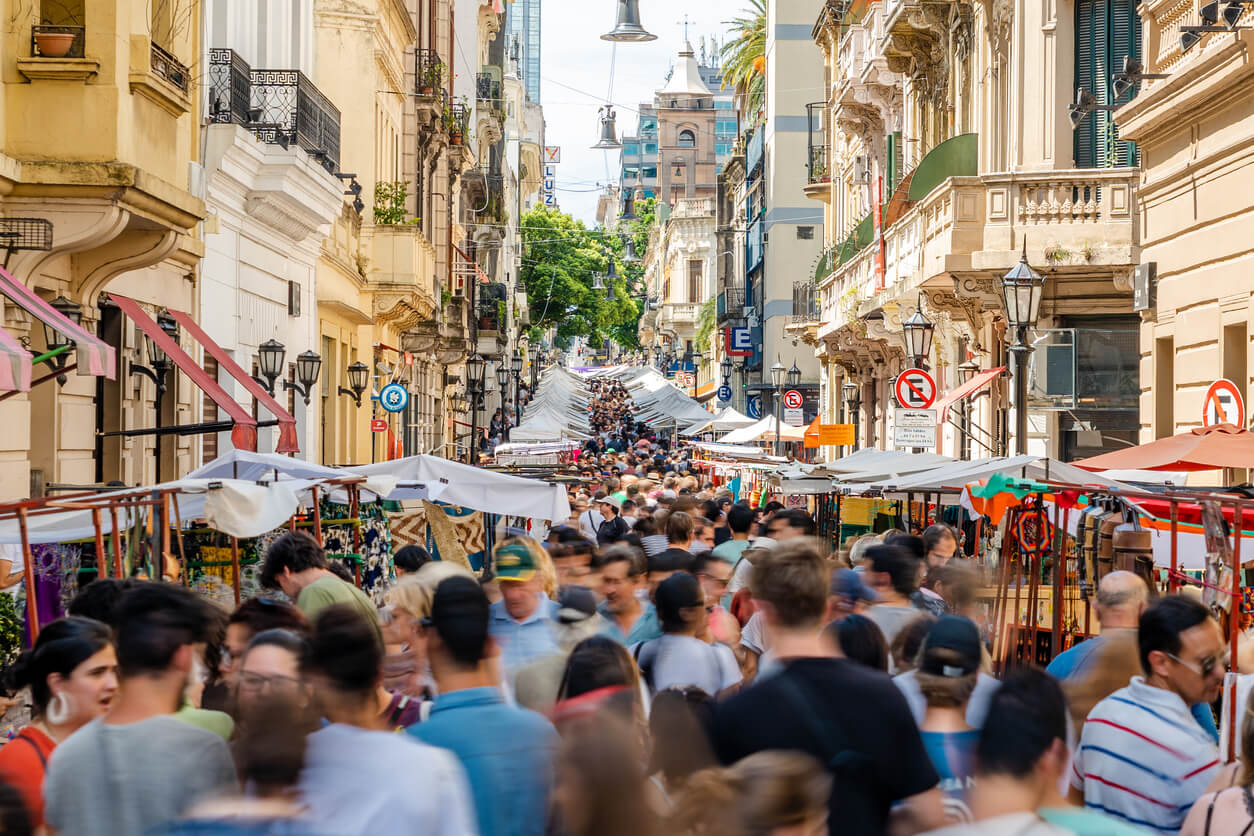 The first attempted settlement in 1536 of what is now Buenos Aires was defeated by indigenous resistance. When Buenos Aires was subsequently established in 1580 by Juan de Garay, San Telmo was the original city centre. A yellow fever outbreak in 1870-71 meant that those original residents who had enough cash fled north to Palermo and Recoleta. Many of the old buildings in San Telmo fell into decay or were divided into flats. Now, the area is well-preserved and relatively affluent again. With its antique market and grungy atmosphere, this is one of the vibrant hubs of porteño life.
Defensa Street
Start in Defensa street and look for number 372: Casa de la Defensa. From this house, the locals repelled the British invasion of Buenos Aires in 1806-7 by throwing boiling oil and water from the balcony! As the Spanish royal representative Rafael de Sobremonte fled to the safety of Cordoba (the Virrey who ran away, as I like to remember him), Argentines wondered what exactly they needed the Spanish for if they couldn't even protect them from a small force of British "pirates". And so, a few years later, the War of Independence began.
Defensa 755 is home to the fascinating underground caves of El Zanjon de Granaderos, discovered during an excavation of the site in the 1980s. Dating from the 1700s and considered the most important archaeological remains in the city, the El Zanjon complex also includes Casa Minima. Casa Minima is the narrowest house in the city, only 2.3m (7ft 5ins) wide!
Lunch at San Telmo Market or Plaza Dorrego
For lunch, try Bar Dorrego in the plaza of the same name. It's a great spot to drink a beer or hot chocolate and watch tango dancers in the street. Another good lunch venue is Nuestra Parrilla at Bolivar 950 in San Telmo market, voted best choripan (sausage sandwich) in the world by Tasteatlas.
Books and Museums
Walrus Books at Estados Unidos 617 has titles in English, and San Telmo is rich in museums. The Museo Moderno, dedicated to modern art, is in a moody old tobacco warehouse at San Juan 350. At the same time, the anthropological Museo Etnografico Juan B Ambrosetti focuses on the indigenous tribes who populated the Americas before the arrival of the Europeans. One of the more quirky museums is in the impressive 19th-century building of Palacio de las Aguas Corrientes at Riobamba 750: it's a toilet museum!
Steak Dinner: Parrillada
For a full steak parrillada dinner, La Brigada restaurant at Estados Unidos 465 is excellent. It's the favourite eating spot of many Argentine footballers, and the décor reflects some of their famous clients. Buzz's favourite steak parrillada place is El Desnivel at Defensa 855.
Quick tip: Check out this is a handy guide to San Telmo.
Day 3: Palermo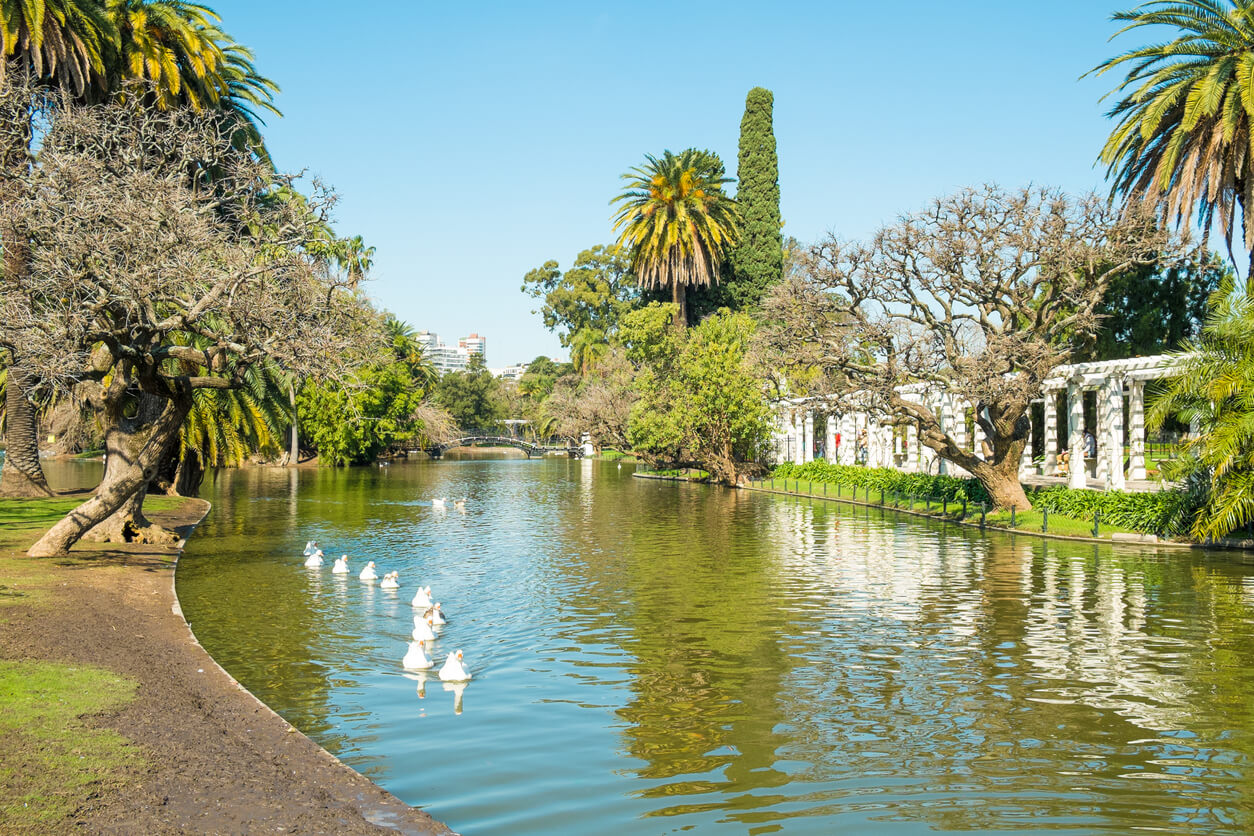 Palermo was named after the Sicilian capital, and many of its early residents were Italian immigrants who made good. But its architecture is decidedly French, thanks to Parisian architect Carlos Thays. Thays arrived in Buenos Aires in 1889 and set about re-modelling it in the style of his home city.
High-end Shopping: Plaza Serrano
Palermo has become the barrio par excellence for high-end fashion: head for Plaza Serrano. We recommend Teran at Thames 1855 and Ferroni at Armenia 1685 for handmade shoes among the designer shops here. Velas de la Ballina is a quirky place for decoration/gifts, while Humawaca at El Salvador 4692 has excellent bags and purses.
Lunch: Cafes and Siestas
Cafe Latente at Thames 1891 is an excellent coffee shop, while for lunch, Nare Sushi Bar at Echevarria 1524 and Burger Joint at Borges 1766 are recommended by my ever-hungry friend Lucho.
When you're shopped out, head for the Bosques (woods) at siesta time. The Parque 3 de Febrero, as it's also known, is the largest green space in the city. It is at its best in April, when it's filled with autumn red, orange and yellow. Here you will find the Japanese gardens and Rosedal rose garden walk, the Planetarium and the Sivori Museum, containing more than 4,000 contemporary works of art and sculpture, mostly by Argentine artists.
Palermo Zoo and Botanic Gardens
While the controversial Lujan zoo, famous for up-close animal encounters with lions and tigers, has been shut down, Palermo zoo has now been rebranded as an Eco Park. It promises a more genuine and animal-friendly experience. Open Wednesday to Sunday: entrance at Plaza Italia.
A short stroll south towards the Botanic Gardens designed by Thays is the Evita museum, at Lafinur 2988, dedicated to that famous and controversial figure from recent Argentine history.
Dinner and Nightlife
Don Julio at Guatemala/Gurruchaga is the most celebrated of the Palermo steak houses for dinner, and I've eaten excellently at La Cabrera (Cabrera 5127). At the same time, La Palomina at Soler 6093 is an excellent new kid on the block. When you tire of the meat, try the Peruvian cuisine of La Mar Cebicheria at Arévalo 2024 or the vegetarian Lado V at Honduras 4969.
Palermo is one of the liveliest areas for nightlife, with bars like Frank's at Arevalo 1445 and The Hole, which has a prison theme (no, really) at Armenia 1743. Niceto is good for live music and late-night clubbing.
Quick food tip: Check out the Tasteatlas guide to all things Argentine and tasty.
Be sure to check out our other articles about Buenos Aires:
🌍 Ready to Jet-Set on a Budget? ✈️

Maximize your savings with these travel essentials:

✈️ Sky-high Savings: Book budget-friendly flights with Skyscanner.
🏨 Rest Easy: Find the perfect accommodation on Booking.com or Hostelworld.
🛄 Travel Light: Store your luggage securely with Bounce.
📱 Stay Connected: Grab affordable eSIMs from Airalo or SimOptions.
🌄 Unforgettable Adventures: Find tours and experiences with GetYourGuide.
🛡️ Travel Worry-Free: Stay protected with travel insurance from SafetyWing!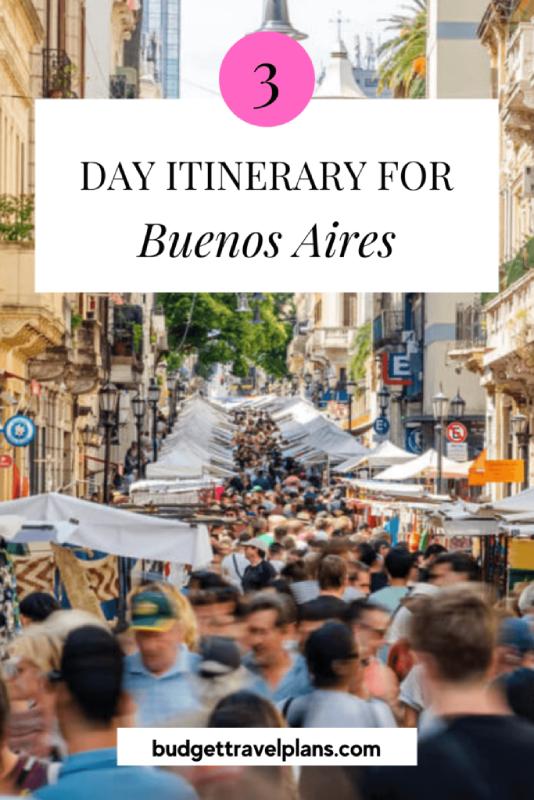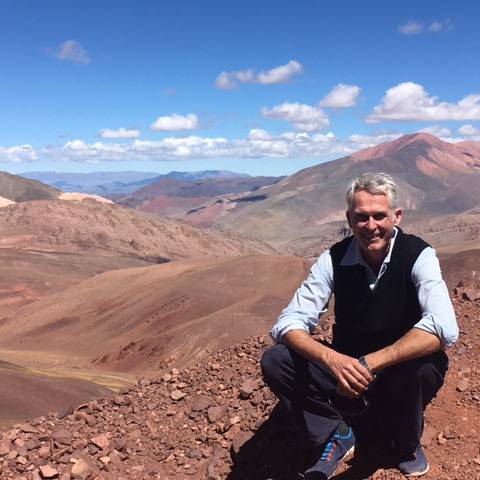 Nick Evans is co-owner of Poncho Tours. Since 2008, Poncho Tours has specialized in hiking, wine, and bespoke tours throughout Argentina, Bolivia, and Chile. He is currently based in Salta, Argentina.