Last Updated: September 14, 2023
Are you looking for the best cafes Rotorua has on offer while visiting this thermal wonderland? Fortunately, Rotorua is full of equally warm and inviting cafes as the area's famous hot springs. You'll find an abundance of delicious places to grab breakfast, coffee, or some quick cabinet food in the area. What's more, most cafes in Rotorua have sunny patios for dining al fresco and plenty of sweet treats to satisfy any craving.
In this entry of Budget Travel Plans, we round up the best cafes in Rotorua. Let's dive in!
Baked Rotorua
Address: Tryon Street, Whakarewarewa, Rotorua 3010, New Zealand
Sweet lovers flock to Baked, a cafe in Rotorua specializing in doughnuts, cheesecake, coffee, and more! The doughnuts are the real draw to Baked, with dozens of filled flavours dripping with Nutella, salted caramel, fruity frostings, and lots and lots of sprinkles.
It's definitely the place to hit if you're after teeth-tingling sweets, so fill up a box and take them to the Redwoods next door for a picnic. If you feel like dining in, there are a handful of outdoor tables to enjoy a doughnut and coffee on site. But be warned: a sugar overload is imminent!
Le Cafe De Paris
Address: 1206 Hinemoa Street, Rotorua 3010, New Zealand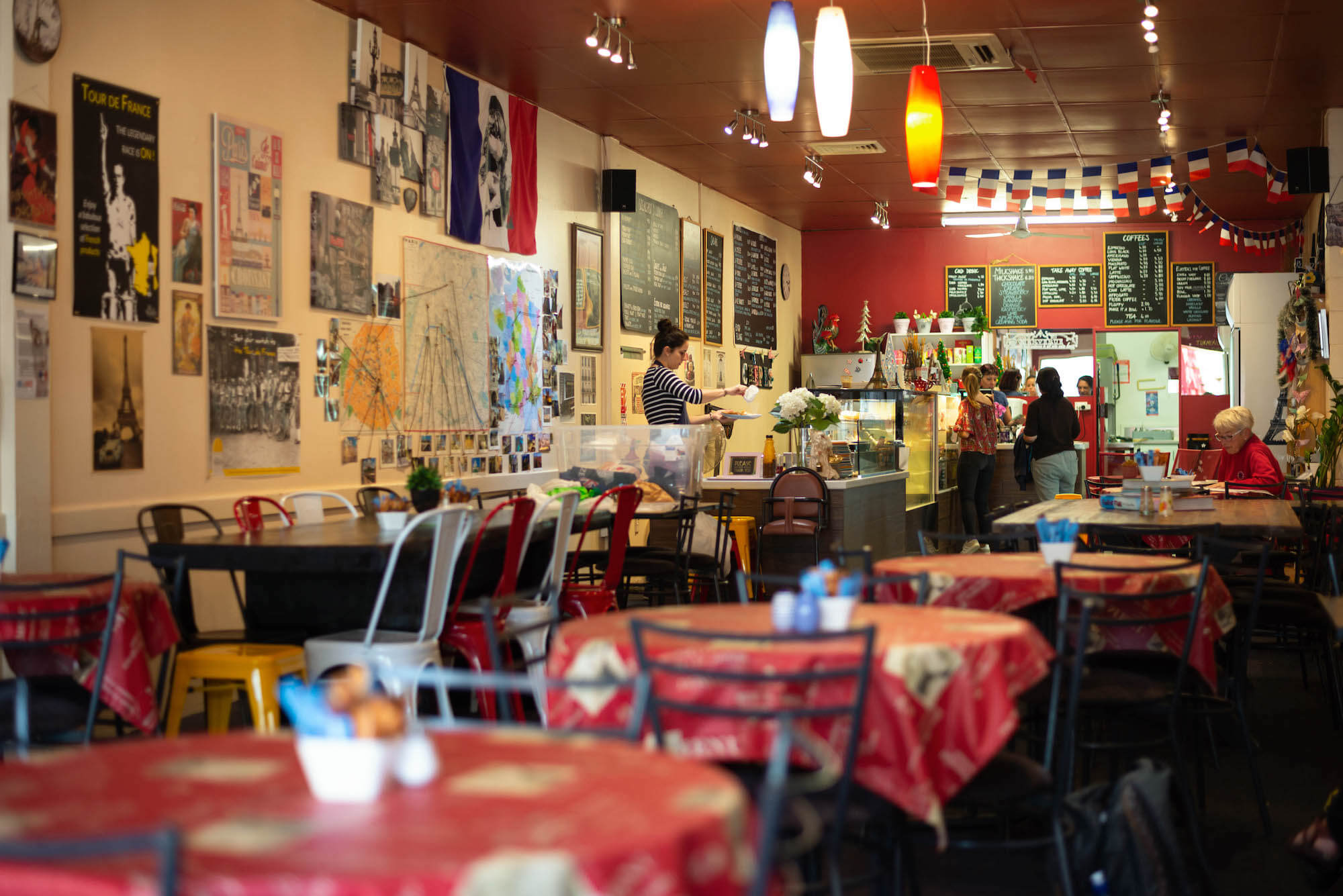 If you've always dreamed of a trip to Paris, this cafe in Rotorua will transport you there, no plane ticket required. A classic French cafe, this chic spot is right in the CBD, serving up crepes, baguette sandwiches, and full breakfasts. There's so much to choose from your head will spin, between sweet and savoury crepes, dishes like Croque madame, and french onion soup, along with all of the tantalizing pastries lining the cabinet.
Le Cafe De Paris is open from 7:30 am to 3:00 pm from Tuesday to Friday, and 8:00 am to 3:00 pm on Saturday. And there's so much to love about this sweet cafe. The lively interior with posters lining the walls always gives you somewhere to look for starters. Additionally, the coffee art at Le Cafe De Paris is next level with intricate designs and even names sometimes! And finally, the outdoor seating gives you a place in the sun if you genuinely want to feel like you're eating out on a Parisian terrace. What could be better?
Abracadabra
Address: 1263 Amohia Street, Rotorua 3010, New Zealand
Abracadabra is a vibrant spot for a good feed. There's delicious food, strong coffee, a tantalizing cabinet, and, most importantly, plenty of outdoor seating. It's located right in town, only three blocks from the Polynesian Spa and kitty-corner Kuirau Park, putting it in perfect walking distance from anything in the city centre.
Abracadabra serves a banging breakfast with unique offerings like a Moroccan dukkah scramble, their 'sweet as' french toast made from cinnamon brioche, and even a California burrito. For lunch, you can expect all kinds of sandwiches and salads, along with a few tapas selections to enjoy over a drink before diving back into the thermal wonderland.
From the Staff

At Abracadabra we are known for "good food and good vibes only!" The favourites among customers are definitely the Californian Burrito or the Calamari Salad that is just bursting with flavour. Coupled with a good Latte or the cheeky cocktail of the week, it's always a winner!

– Alina at Abracadabra Cafe & Bar
Artisan Cafe
Address: 1149 Tutanekai Street, Rotorua 3010, New Zealand
Artisan Cafe is a mere block away from War Memorial Park and a quick walk to the Rotorua lakefront boardwalk. They're a great place to fuel up before a day of exploring thermal wonderlands. With friendly staff, lots of food options, and reasonable prices, you can't go wrong with this Rotorua cafe.
Breakfast at Artisan Cafe is simply stunning with something for everyone. One of the best options on the menu is the Little Miss Bene for anyone with a smaller appetite who may not want the entire classic dish. There's also pain perdu, the French version of brioche french toast, chorizo and potato hash, lots of vegan options, and plenty to choose from in the cabinet. Before taking off, be sure to look at the specialty goods lining the walls. You may find your next coffee tumbler or jar of local honey here!
Arts Village Cafe
Address: 1240 Hinemaru Street, The Cottage, Rotorua 3010, New Zealand
This sweet Rotorua cafe lives up to its name with an artsy interior and village-like atmosphere. Arts Village Cafe is a trendy stop in the Government Gardens, located in The Cottage off of Hinemoa Street. Open from 8:30 am until 2 pm most days, there's lots of space to spread out at this cafe, whether you'd like to sip on a coffee inside or enjoy a meal on the terrace surrounded by sprawling lawns.
The cafe menu has lots of fun treats like croissant french toast, Belgian waffles, and a roast veg bene. If you're visiting for lunch, you can't go wrong with the cranberry chicken burger or Moroccan chicken open sammie. In a hurry? Opt for something delicious from the cabinet and grab a coffee to go to enjoy while exploring the Gardens.
Fat Dog Cafe & Bar
Address: 1161 Arawa Street, Rotorua 3015, New Zealand
Fat Dog is a Rotorua institution and shouldn't be missed if you're looking for a cafe in the city. It's bright and funky, with a welcoming atmosphere, technicolour walls, and a warm wooden interior. There's lots of space to grab a seat inside and plenty of outdoor seating, as well as mismatched chairs and long, colourful tables, offering plenty of curb appeal.
Fat Dog Cafe consistently delivers huge portions, serving breakfast and lunch and a selection of cabinet food. First thing in the morning, there's nothing better than the pulled brisket on toast served with eggs, the granola goodness bowl with house toasted granola, seeds, and yoghurt, or the smashed avo with crumbled feta and cherry tomatoes. Paired with a decadent iced coffee (served the New Zealand way with a scoop of ice cream), you'll certainly jump-start your day on the right foot.
From the Staff

Our fav dish (and our customers fav) is probably our Eggs Benie or any of our gourmet burgers! Fav drink would be the R.F.T 'Rock N Fruity Thang' which is a dairy free smoothie that we've been serving since 1995.

– Anna at Fat Dog Cafe
Okere Falls Store
Address: 757A State Highway 33, Okere Falls 3074, New Zealand
Sitting about 20 minutes outside of Rotorua, Okere Falls Store is the ideal place to stop on your way into the city or on a visit to the famous Okere Falls – home to the world's highest-rated white water rafting waterfall. It's right on the banks of the Okere Inlet and has lots of local goodies to peruse at the store and a delicious menu if you feel like making an entire meal out of it.
Breakfast is served until 2 pm with all the classics: eggs your way, granola bowls, banana bread, the signature benny, a big breakfast, and some unique offerings as well. If you feel like switching things up, try out the chilli scramble, the green bowl brimming with fresh veggies, or the vegan big boy with a cheesy kimchi tofu scramble.
They also serve lunch from 11 am featuring Okere's take on pub grub with sausages, toasties, nachos and sandwiches to enjoy in the beer garden or front patio.
From the Staff

Our favourite dish on the brunch menu is Pimp My Banana Bread: toasted banana, date + walnut loaf, rum butter, berry compote, maple syrup, peanut butter + coconut yogurt whip, cacao oat crumble.

Best of all, it's vegan! Pairs nicely with our house roasted coffee.

– Rach at Okere Falls Store
Capers Epicurean
Address: 1181 Eruera Street, Rotorua 3010, New Zealand
Open from 7 am to 7 pm seven days a week, Capers is an epic place to settle in for a meal or a coffee. Cafe Epicurean is three blocks from the Polynesian Spa, so it's pretty much in the centre of all the action. It's possibly the best place to score some cabinet food as the selection is fresh and diverse. Choose from lots of salads, sandwiches, and slices. There are also plenty of vegetarian and gluten-free options, so it's an excellent stop for anyone with dietary restrictions.
The menu is equally impressive, with lots of sweet and savoury options. Some fan favourites include the banana toasted cinnamon bagel with fresh fruit, lemon curd, and seeds, the housemade bircher comprised of soaked rolled oats, fruits, and yoghurt, and the loaded pork belly fries dripping in gravy, cheese, and aioli.
Lime Cafe
Address: 1096 Whakaue Street, Rotorua 3010, New Zealand
Sitting by the lakefront right next to War Memorial Park, this Rotorua cafe is the perfect place to fuel up before a day of exploring. Breakfast is served from 7:30 am to 3 pm every day. Try the muesli or toast and jam if you're after something quick and straightforward. If you'd rather have something more elaborate, then try the marsala mushroom or a sweetcorn fritter stack. In any case, you'll be able to find it all here.
While the menu food is delicious, the real draw to Lime Cafe is the cabinet sweets which are certainly some of the best in the area. From filled tarts to spiced slices to pieces of cake and more, Lime is any sweet lover's dream thanks to the sheer amount of offerings to enjoy inside the restaurant or on the sunny terrace outside over a hot coffee.
From the Staff

Our most popular dishes on the menu would be Mince on Toast and Sorento Risotto.

– Management at Lime Cafe
Zippy Central Cafe
Address: 1153 Pukuatua Street, Rotorua 3010, New Zealand
It's hard to walk past Zippy's bright green facade sitting in the centre of Rotorua, enticing passersby to stop in for a coffee or full breakfast. The overflowing cabinet is flooded with wraps, muffins, salads, and sandwiches. The coffee is fresh and hot, perfect for a quick stop in the morning or a fast takeaway.
Open from 7 am to 7 pm every day, Zippy serves a good lunch and an even better breakfast with heaps of outdoor seating and a super cozy interior. The portions are generous, and you're sure to find something that tempts you on the menu, whether it's a big breakie piled high or one of Zippy's many bagel creations.
Urbano Bistro
Address: 289 Fenton Street, Glenholme, Rotorua 3010, New Zealand
Urbano Bistro has been a Rotorua staple for more than 15 years. This cafe has a rustic feel that makes it feel like your own neighbourhood haunt, sharing meals among good company in a warm atmosphere. Open from 9 am until 9 pm six days a week (and closing at 3 pm on Sundays), you can count on Urbano for a hearty brunch of premium dinner.
In the morning, you can't go wrong with the breakfast burrito, french toast, or Urbano Hobo made up of fried potatoes, mushrooms, chorizo, onion jam, and poached eggs. The lunch options are equally tempting with salads, sandwiches, and nourishing bowls. For dinner, expect large cuts of meat, bold New Zealand flavours, and plenty of dessert options to finish on a sweet note.
From the Staff

Café by day restaurant by night.

– Julie at Urbano Bistro
Third Place Cafe
Address: 35 Lake Road, Ohinemutu, Rotorua 3010, New Zealand
Situated close to the water along Lake Road, Third Place is a prime stop if you're looking for the best cafes in Rotorua. The name may sound funny, but the idea behind it is cute as can be: "the first place is your home. The second place is your work. The third place is where you choose to relax, connect and enjoy." They've created a spot that embodies this idea fully, with sprawling views of the lake, comfy seating options, and plenty of room to enjoy the vistas.
If you're after something quick, the cabinet is brimming with slices and pastries of all sorts. For a more laid back morning or afternoon meal, the menu boasts an all-day breakfast with options like muesli and fresh fruit, creamy mushrooms on toast, roasted kumara hash, pancakes and more. Are you visiting a little later in the day? Tuck into fresh fish, steak sandwiches, burgers and beyond.
Ciabatta Cafe and Bakery
Address: 38 White Street, Fenton Park, Rotorua 3015, New Zealand
Ciabatta is one of the many cafes Rotorua is privileged to have and among the best. Located right on the fringe of Puarenga and Arawa Parks, this cafe is surrounded by green space and only a hop and a skip from the main city centre. The cafe's interior is super funky, a surprise as you enter the front doors. This place has serious style with lots of unique shapes, booths hidden behind wall cutouts, and wavy wooden tables and benches.
The food is definitely different from the rest of the cafe fare in the area, but absolutely delicious; all served on freshly made bread. There are a variety of sandwiches to choose from, and the famous Longdog: a continental Frankfurter on ciabatta that will likely take two people (or one very hungry person) to finish. If you'd instead stick to something classic, the cabinet has many pastries. And if you know what's good for you, you'll grab a loaf of bread to go.
Picnic Cafe
Address: 1174 Whakaue Street, Ohinemutu, Rotorua 3010, New Zealand
One of the best-kept secrets in town, Picnic Cafe Rotorua is among the most charming places to settle in for a meal or a coffee. The bright atmosphere makes it easy to plop down in a seat, and there a plenty of tables outside to make the most of the nice weather.
The coffee is exceptional, the staff are some of the friendliest around, and the cabinet is lined with housemade pastries. The menu caters to those on a budget for a more leisurely meal as everything for breakfast is under $20. Choose from pickings like omelettes, eggs on toast, croque monsieur, or a big brekkie. If you'd like something hotel-style instead, go for the Parisian breakfast that comes with a croissant with butter, jam, yoghurt with muesli, and a tall glass of orange juice.
Revolver Espresso
Address: 1131 Amohau Street, Rotorua 3010, New Zealand
Everyone and their mother know to visit Vetro, a specialty shop in Rotorua for all things Mediterranean. However, few know there's a posh espresso bar attached, ideal for a strong coffee and an irresistible pastry.
There's a large communal table to enjoy your spoils or kick back in the outdoor seating to sip a latte under the sun. Whatever you do, be sure to order an almond croissant! Don't forget to grab a bag of house-roasted coffee beans to go!
Further Reading
Looking for more cafes in New Zealand? Check out our other favourite spots including:
🌍 Ready to Jet-Set on a Budget? ✈️

Maximize your savings with these travel essentials:

✈️ Sky-high Savings: Book budget-friendly flights with Skyscanner.
🏨 Rest Easy: Find the perfect accommodation on Booking.com or Hostelworld.
🛄 Travel Light: Store your luggage securely with Bounce.
📱 Stay Connected: Grab affordable eSIMs from Airalo or SimOptions.
🌄 Unforgettable Adventures: Find tours and experiences with GetYourGuide.
🛡️ Travel Worry-Free: Stay protected with travel insurance from SafetyWing!
Jane is a seasoned nomad who has been traveling full-time for 5+ years. She currently splits her time between Paris, New York City, and New Zealand, and is well known for always having a smile on her face.
You can keep up with her travels on Life in the Fast Jane.