Last Updated: September 14, 2023
Because the Isle of Skye is an island, you don't need to be an absolute genius to figure out that it has lots of sands, shore and seas.
In this guide, I've brought you the nine best beaches on the Isle of Skye (or, at least, my nine favourite beaches on the Isle of Skye).
I've covered all parts of the island, and I've brought you craggy cliffs, sandy shores, cavernous coves, boat-based day trips, and even dinosaur footprints.
Grab your goggles, squeeze into your Speedos, and bring your bucket and spade. Today, Budget Travel Plans are off to the nine best beaches on the Isle of Skye. And you're coming with us!
Coral Beach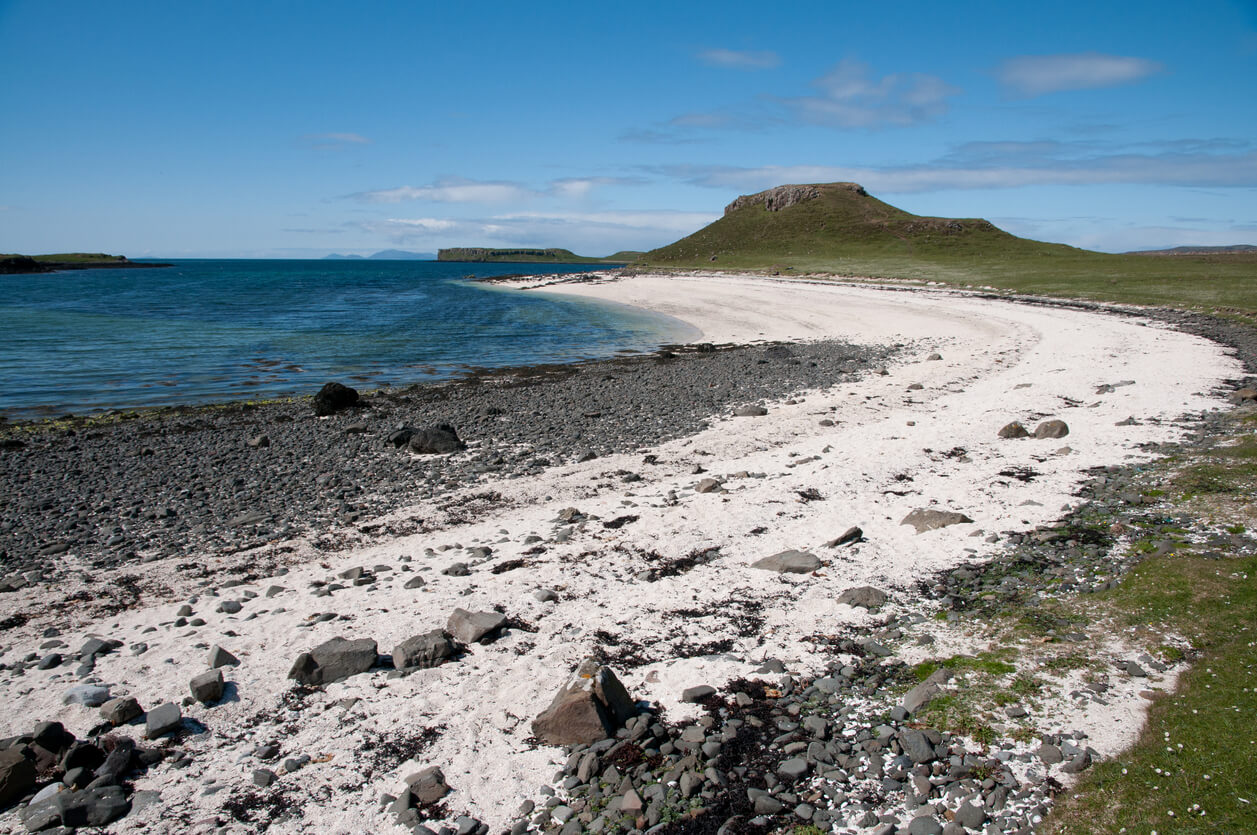 Best for: Causeway wanders, weird sand, and Skye's most famous shore
Probably the most famous beach on the Isle of Skye, Coral Beach is great. At the northern end of Coral Beach, there's a lumpy little hill, great for pictures and panoramas.
You'll find Coral Beach just north of Dunvegan, the second-most popular settlement on Skye. It's known as 'coral beach' because of the tiny algae that look like coral and make up its shores.
To access the beach, it's a 25-minute walk north from the nearby car park. But the best hike is from Dunvegan Castle, around 4 miles (7km) away. Even if you don't tackle the walk, make sure you visit Dunvegan Castle—it's one of the best castles in Scotland.
If you visit Coral Beach when the tide is out, you can walk over to the small island of Lampay, around 150 meters from the mainland. Make sure you wander back in time, however, to avoid getting stuck by the high tide.
Talisker Bay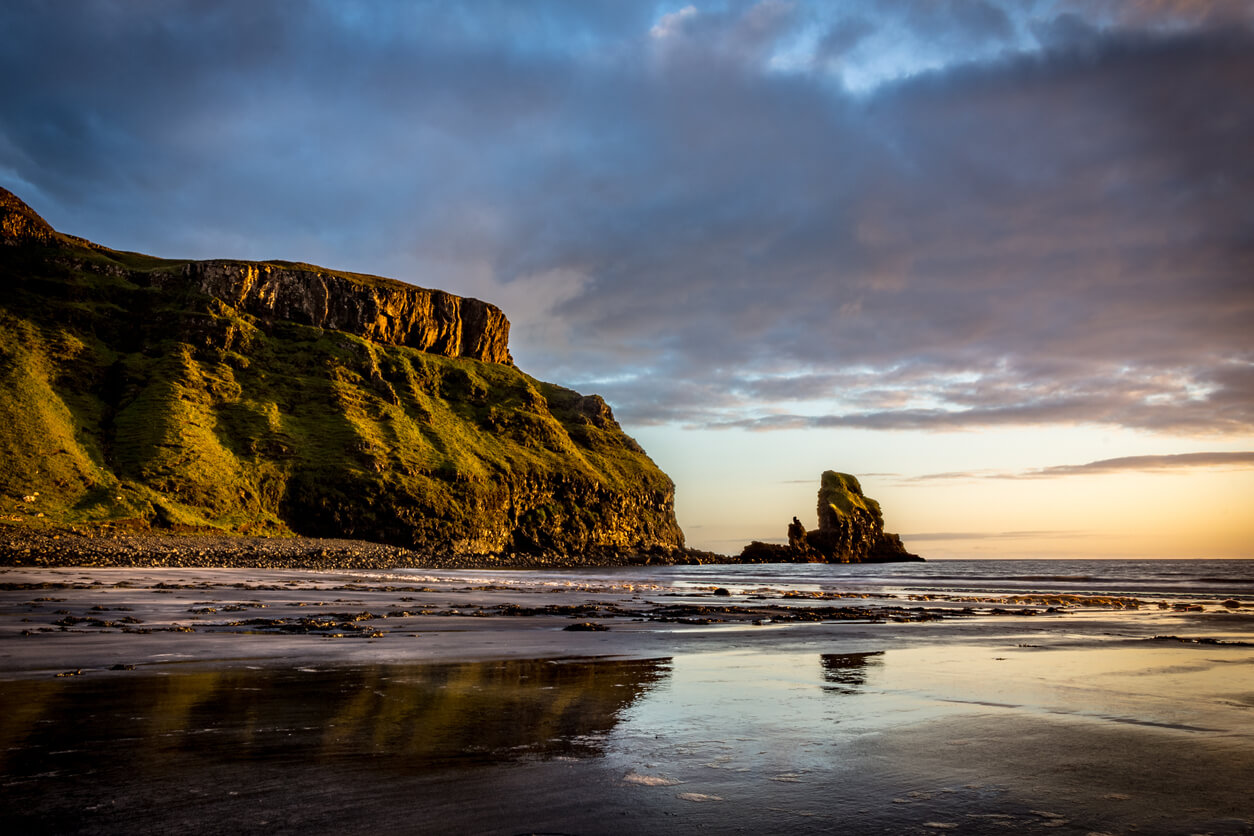 Best for: Drinking some whiskey, having a swim, and an iconic on-beach waterfall
After Coral Beach, Talisker Bay is the next most famous beach on the Isle of Skye.
Talisker Bay is most well-known for the big waterfall on its northern side. But there's plenty more to enjoy—you also get slab-like cliffs, a dramatic sea stack, and one of the best sunsets on Skye. It's a pretty busy place, is family-friendly, and is also a good spot for a swim.
Talisker Bay is closely associated with the nearby distillery in Carbost. The two go by the same name, and they're pretty close to each other. You can combine a visit to them both for a bumper afternoon of fun.
The 20-minute walk to Talisker Bay from the nearby car park takes you through farmland and past a couple of alluring peaks. It's one of my favourite short walks on Skye.
Aird of Sleat Beach (or Camas Daraich or Rubha Shlèite)
Best for: Going remote, having a rewarding wander, and enjoying Skye's most beautiful beach
Located right at the end of Aird of Sleat, people can't seem to decide whether this place is called Camas Daraich or Rubha Shlèite. But whatever you want to call it, I reckon it is the most beautiful beach on Skye.
Rubha Shlèite is not an expansive beach like most of the others we've featured. Instead, it's set in a narrow cove, surrounded by white sands and lumpy rocks. You need to park around 1.5 miles (2km) away and reach the bay on foot to get here. It's rarely busy, and it's a nice place to enjoy some peace and quiet.
People like coming here for swimming and snorkelling, and families often wander by for rock-pooling.
Wander over to the Point of Sleat after checking out Rubha Shlèite. Another 30-minute walk away, it's the most southerly point of the Isle of Skye. The views are lovely, and you can sometimes see otters and dolphins.
Staffin Beach (An Corran Beach)
Best for: Nearby waterfalls, dinosaur footprints, and visiting one of my favourite Skye beaches
Staffin Beach is on Skye's east coast, and it's really popular with families. It's sandy, sprawling and beautiful, and it's easy to access (unlike lots of the other beaches we've featured). You can easily park up at Staffin Harbour (which is also a great place to explore), and wander over to the beach.
While you're at Staffin Beach, make sure you check out the dinosaur footprints. Right on the beach, they're thought to be around 160 million years old, and they're the biggest of their kind in Scotland.
And when you're done, head over to Kilt Rock, the precipitous home of Mealt Falls, Skye's most famous waterfall. The place is just 3 miles (5km) south of Staffin Beach.
Glenbrittle Beach
Best for: Seaside walks, a scenic drive, and desolate landscapes
Another remote gem, Glenbrittle Beach is a little more bleak and desolate than most other beaches we've featured. But if you're into those sorts of landscapes (I am), you'll love it here. Dark volcanic sand makes up the shore, and the atmospheric Cuillins loom right over the coast. The place is mainly popular with kayakers, cliff-jumpers and hikers.
From Glenbrittle Beach, you can wander along on lots of brilliant walks. For your best two options, you can either head south along the eastern shore of Loch Brittle, or east towards (and into) the Cuillins. Both walks are beautiful and dramatic.
The drive to the beach is also incredible. It takes you along a barren single-track road past farms, fields and distant mountains.
If you want to make the most of the beach and its walks, consider staying at Glenbrittle Campsite, which is basically right on the shores of the beach. It's one of the best campsites in Skye. Despite its rural location, it has brilliant facilities and artisan coffee, food and snacks.
Sleat Peninsula
Best for: Endless unnamed shores, spending time alone, and enjoying the allure of Skye's most underrated area
Okay, this isn't a single specific beach. But Sleat peninsula (the bottom 'finger' of Skye) is hugely underrated, and it has lots of great beaches running along its length.
Armadale Bay Beach and Aird of Sleat Beach (the second of which we've already covered) are the two most famous—but the peninsula has plenty more unnamed shores and sands. So have a drive or a wander, get lost, and stumble upon some lovely spots.
Some parts are cliffy, some features are sandy, and some are somewhere in the middle. But they're all stunning.
Elgol Beach
Best for: Cuillin views, nearby boat trips, and a picturesque drive
Elgol is my favourite settlement on Skye. And Elgol Beach is one of the best beaches on Skye.
For me, the best thing about Elgol Beach is the drive leading up to its sands, which takes you on a winding road over a tiny pass. When you reach the peak, the shore and its surroundings stretch out in front of you. You get views of distant Cuillins, faraway islands, and other parts of Skye from both the peak and the beach.
The beach itself is rocky rather than sandy, but it's absolutely beautiful. You could spend hours clambering and climbing on the rocks here (and lots of people do).
If you have more time in Elgol, you should tackle a boat trip to remote Loch Coruisk. On these adventures, you reach one of Skye's most unexplored areas—and if you visit during the right season, you might see whales, dolphins and sharks. The boat trips leave from right beside the beach.
Portree Bay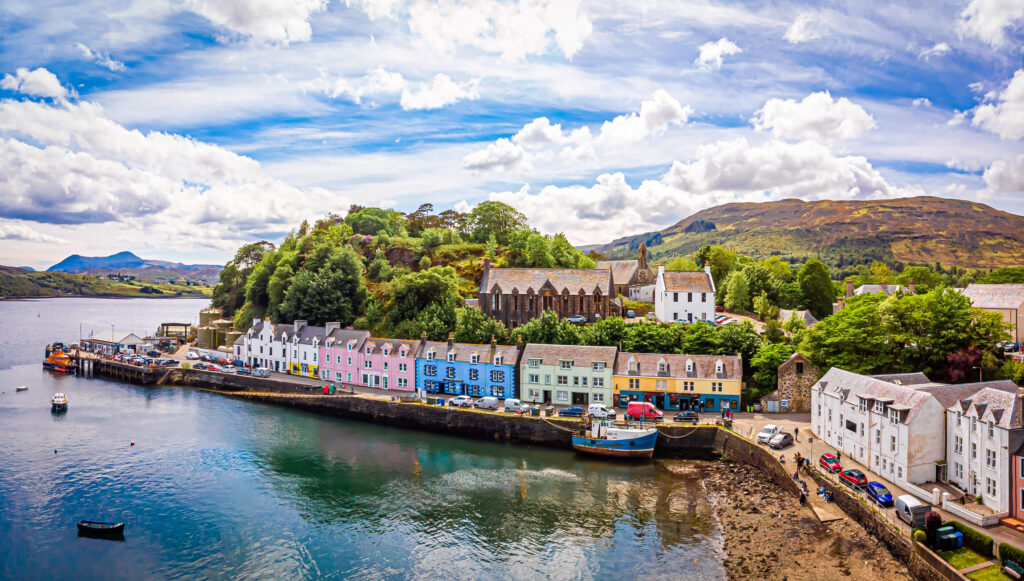 Best for: An easy-to-access beach, colourful houses, and exciting adventures right beside Portree
Okay, this isn't technically a beach. But, if you only have a short amount of time on Skye, it's a lovely place to visit. It's neither sandy nor a great place to swim, but you get beautiful views, and there's a nice tree-lined walk through the headland.
The bay is close to two of Portree's most famous sites—its colourful houses and charming little harbour. From the bay, you can see them both, along with Raasay, a remote island off the east coast of Skye.
Inver Bay
Best for: Silence, serenity, visiting an island from an island, and exploring the most remote beach on our list
Inver Bay isn't technically part of Skye (or maybe it is, depending on who you ask).
Instead, it's on the Isle of Raasay, a remote and rural island off the east coast of Skye. Few people visit the island, and even fewer make an effort to visit Inver Bay, which is massively isolated and secluded.
From the nearest car park, it's a 30-minute walk to the beach. Along the way, you pass forests, hillsides, farmland and the occasional house—and when you reach the quiet beach, you get great views of Portree Bay. If you're lucky, you might even see dolphins, whales and porpoises.
If you like exploring rural, quiet places, I 100% recommend Inver Bay.
And when you're on Raasay, make sure you visit Raasay Distillery—it's the only distillery in Scotland with an on-site hotel.
Final Thoughts
There they are—the nine best beaches on the Isle of Skye. Thanks for reading!
For even more information on Skye, check out our other guides:
Whatever you do, make sure you book a trip to the island—it's one of the most beautiful places on the planet. See you next time!
🌍 Ready to Jet-Set on a Budget? ✈️

Maximize your savings with these travel essentials:

✈️ Sky-high Savings: Book budget-friendly flights with Skyscanner.
🏨 Rest Easy: Find the perfect accommodation on Booking.com or Hostelworld.
🛄 Travel Light: Store your luggage securely with Bounce.
📱 Stay Connected: Grab affordable eSIMs from Airalo or SimOptions.
🌄 Unforgettable Adventures: Find tours and experiences with GetYourGuide.
🛡️ Travel Worry-Free: Stay protected with travel insurance from SafetyWing!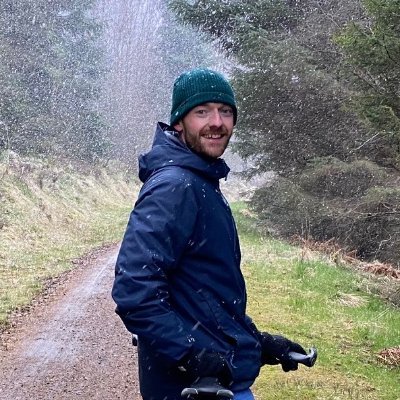 Paul McDougal is a handsome and hilarious travel writer originally from the UK. He likes hitchhiking, working remotely, and having absolutely no idea what's going on.