Last Updated: September 14, 2023
If you're on the hunt for the best waterfalls Tauranga has on display, you're in the right place. I'll spare you the TLC reference, but after living in the Tauranga area for more than a year, I've become an avid waterfall hunter and made it my mission to visit as many as possible while there.
Here's a complete list of the best waterfalls in Tauranga and the surrounding areas. All waterfalls on this list are less than a two-hour drive from the city centre. Whether you're looking for a quick afternoon hike or a full-fledged day trip, these are the waterfalls worth adding to your list.
Looking for more information on Tauranga? Read our other articles on cheap accommodation, things to do, and the best cafes in Tauranga.
McLaren Falls
Lower Kaimai
Only a quick 10-minute drive from downtown, you'll find McLaren Falls, one of the best waterfalls Tauranga has to offer. It's tucked away in the 190 hectare McLaren Falls Park. It's the perfect place to explore and enjoy a picnic on a sunny afternoon. Even better in the fall when the leaves begin to change colour.
You can see McLaren Falls from the main entrance car park, but it's worth hopping out for a look from the bridge. On days when the hydroelectric power station releases the flow, it's awe-inspiring.
If you're up for a short walk, follow the main path from the entrance to a second waterfall. Glow-worm caves are also near and are worth the visit when the sun goes down. It's an easy, flat walk that takes about 45 minutes. Feel like staying for a while? There are even campsites in the park, along with a cafe, a vast lake and plenty of walking trails.
Wairere Falls
Matamata
Fancy a bit of a challenge? Take on one of the waterfalls Tauranga is famous for and the highest waterfall on the North Island. Wairere Falls is a whopping 153-meter cascade 10 minutes outside of Matamata and 40 minutes from Tauranga.
You'll get your first glimpse of the gushing beast as you pull into the car park and again at the viewing platform after a 45-minute uphill walk. The trail is well marked; follow the frequently posted signs. For thrill-seekers, trek an additional 30 minutes to take in the sweeping views from the top of the falls. Trust me, it's worth it. Just be sure to pack a raincoat or risk getting soaked by the spray (learn from my mistake!).
Both times I visited Wairere Falls, it was packed with locals and people visiting the area. To have a calmer track and less crowded views, try to start as early in the day as possible and avoid weekends.
Okere Falls
Okere Falls
While not technically one of Tauranga's waterfalls on offer, Okere Falls is a quick 45-minute drive from the city centre and 30 minutes from Papamoa. It's situated just off SH 33 across from Lake Rotoiti and minutes before Lake Rotorua.
The 30-minute walk (one way) through the Okere Falls Scenic Reserve takes you along the river to four different waterfalls. It's an easy walk through native bush, with different viewing platforms to enjoy the falls and various attractions along the trail like a historic power station and small caves.
However, the real claim to fame is the last waterfall, which is the highest commercially rafted fall in the world, so keep your eyes peeled for paddlers in bright helmets. Continue to the end of the track, and you'll find the Trout Pool Swimming Hole, which is a local hot spot for a quick dip in the summer.
Okere Falls has been one of my favourite day trips while living in Tauranga because it's so close, yet it's an epic change of scenery. After exploring the falls, drive into Rotorua for a meal and a stroll through the Redwoods. Or, combine your visit with another attraction in the area like Hells Gate or Hobbiton.
Insider Tip: If you're feeling particularly adventurous, you can even zipline over Okere Falls.
Kaiate Falls
Waitao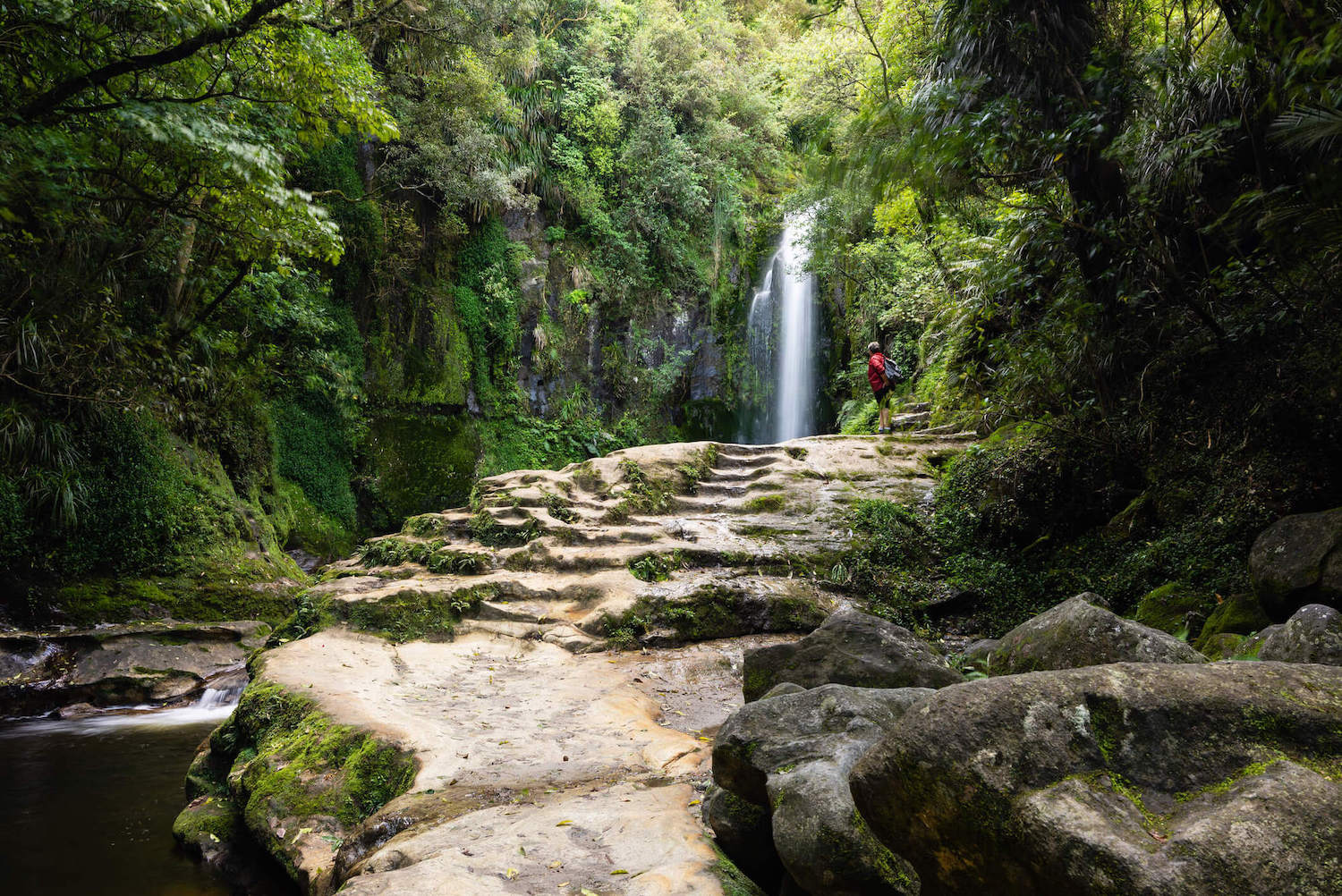 Enjoy a scenic bushwalk to get to these woodland waterfalls. Kaiate Falls is surrounded by lush greenery and topped off with plenty of swimming spots. It's a local favourite because it's dog-friendly and only a 10 to 15-minute drive from Papamoa.
Since it's a short track, a quick half-mile loop, Kaiate Falls easily fits in between surfing and hiking the Mount. But you won't be disappointed as this trail is a double whammy, with a pair of stunning waterfalls offering different features.
The first fall on the upper section of the walk is three tiers. The second is a dramatic 15-meter plunge waterfall into a pool. In addition to the waterfalls, Tauranga can be seen in the distance along with majestic Mount Maunganui. The trail starts from the main car park and follows a figure-8 loop. It's relatively steep in some places, has lots of stairs, and might be slippery. It's best to do this one in sneakers.
All in all, my visit here was about 45 minutes with plenty of stops for photos. It's worth the trip, especially in summer when it's warm enough to swim.
Whataroa Falls
Oropi
Explore some of the best waterfalls Tauranga and the Bay of Plenty have to boast along the Rimu Loop in Otanewainuku Scenic Reserve. Situated between Tauranga and Rotorua (only about 20 minutes from Te Puke), this is a great way to explore the surrounding nature without making an entire day out of it.
The start of the Whataroa Falls Track is 8 kilometres down a gravel road. Once you get there, the loop is a relaxed 10km with gentle climbs through Rimu trees and ancient forest. Whataroa Falls will meet you at the end of the trail.
Bring along a hoodie as the track is shaded the entire way and a towel if you plan on swimming. The whole loop takes just under two hours with minimal stops. On a hot day, you may want to plan for a bit longer to splash around in the (freezing) water.
Raparapahoe Falls
Te Puke
Located a quick 30 minutes from Tauranga and 10 minutes from the centre of Te Puke, Raparapahoe Falls is one of the best to visit in the area.
It takes about 20 minutes to reach the base of the falls, down a very steep track with plenty of stairs. Do take care as the trail is quite slippery when wet, in my experience. To reach the falls, turn right at the end of the descent and follow the river. If you were to turn left, you'd end up at a swimming hole instead.
After about 5 minutes, you'll reach the 3-meter high waterfall, plunging into a large waterhole in the valley, surrounded by steep sides and covered in native bush. The walk back up takes slightly longer as there are very steep uphill portions. But all in all, the total walking time shouldn't exceed one hour.
While Raparapahoe Falls isn't the tallest, it's great for a quick afternoon outing if you're hoping to explore Te Puke or are living nearby for kiwi picking.
Owharoa Falls
Karangahake Gorge
Owaharoa Falls in Karangahake Gorge is a small slice of heaven if you feel like getting out of town a bit. These falls are about an hour north of Tauranga, inland from Waihi, surrounded by lots of biking trails and mining attractions if you want to make a day trip of it.
There's a car park for the falls through the Gorge off of SH 2 on Waitatwhea Road. The easy track to Owaharoa starts here and is only a 5-minute walk one way, but note that there are some stairs. If you'd like to get the blood pumping, there's a scenic bike ride through Karangahake Gorge to Owaharoa Falls that's worth it if you have the time.
In the summer, you'll see locals (and tourists) jumping from the tiered falls and swimming in the pools below, but if you plan on hopping in, take care as currents can be intense. There are other falls in the area, but you know what they say about chasing waterfalls… (okay fine, I caved and made the TLC reference).
Omanawa Falls
Omanawa
Note: Omanawa Falls is currently closed and unsafe to visit due to the risk of injury or death. However, there are long-term plans to allow people to visit the falls safely. Always follow posted signage.
One of the closest waterfalls Tauranga has is Omanawa Falls, a towering 35-meter high waterfall with some epic lookouts and a giant swimming hole at the bottom.
The track has been closed for many years. As a result, it hasn't been maintained and is dangerous to visit. There are gates at the entrance and well-posted signs asking visitors to keep out for their safety. Even as a thrill-seeker, I'd say it's best to skip this one.
Tarawera Falls
Rotoiti Forest
If you aren't afraid of some unsealed roads, grab a permit (this is a must as it's a private forestry road) and head over to Tarawera Falls, which is about 45 minutes down some gravel. I recommend 4WD, but a regular car can make it so long as there hasn't been rain recently.
Tarawera Falls is only a 20-minute walk one way from the car park and leads to a breathtaking 65-meter waterfall cascading from a massive cliff-face. According to the DOC website, this cliff was created by an ancient lava flow from Mt Tarawera's eruption 11,000 years ago, producing these impressive cliff formations.
The track leads upstream from the car park, and once you reach the falls, you can either continue for another two hours to Tarawera Outlet, where there's a large lake (Lake Tarawera), walking trails and a campsite, or turn back and return the way you came.
Though this waterfall is a little further out from Tauranga – roughly an hour and a half – it's just 50 minutes from Whakatane and 80 minutes from Rotorua.
Kerosene Creek
Rotorua
Another easy day trip to see waterfalls from Tauranga, Kerosene Creek is among the most famous hot springs on the North Island… mostly because it's free. It's past Lake Rotorua and about an hour and change from Tauranga, but it is certainly worth the drive if you feel like soaking under a steaming waterfall.
From the car park, cut into the bush and follow the muddy track to the right. It's slippery, so watch your step on the way down to the hot springs. If you're visiting when it's cold, you may be tempted to hop right in, but walk for a minute or two, and you'll come to a small cascade. Walk a bit further, and you'll locate the larger Kerosene Creek waterfall.
This spot is usually packed and well-known for car break-ins, so it's best to visit during daylight and bring your valuables with you (or leave them at home).
Homunga Bay Beach Waterfall
Waihi
While there's not a ton to do, Waihi was one of my favourite places to visit when I needed to get away from the hustle and bustle of things for a minute. It's a chilled-out beach town an hour north of the Mount with an incredible waterfall on the Honunga Bay Beach, which can only be reached by foot.
Full disclaimer, the track is tiresome and not as well maintained as most DOC trails, but if you're up for a long beach walk, this is the one to do. It starts in farmland on the northern end of Orokawa Bay and weaves towards the coast, offering spectacular views until you hit the cascade pouring down from a cliff in Homunga Bay.
Alternatively, you can walk down to the coast from Ngatitiangata Road via Orokawa Bay and make your way to Waihi Beach; however, this path is extremely steep and takes about 3 hours. No matter which way you plan to take, count on getting wet as the last 40 minutes or so is a slog through a river. And pack a picnic because you're going to need it.
Though you're looking at quite the long, challenging walk here, it's well worth the trek if you'd like to see a waterfall on a beach!
Tutumangaeo Falls
Te Aroha
Tucked away in Te Aroha, an hour's drive from Tauranga, you'll find a sweet local treasure: Tutumangaeo Falls. Tutumangeo is a fun stop if you're driving to the Coromandel or if you're headed to Tauranga from Auckland.
Located in Te Aroha Domain, the falls are pretty much directly in town. The track starts from the car park and follows the Tui-Domain trail uphill for the first 10 minutes. Then, you'll come to a path off to the side with a sign noting 'Big Waterfall'. Follow this track down to the base of the falls. Take care as it will likely be muddy and slippery.
After admiring the falls, you can either backtrack or cross the stream and trek up to Noels Lookout for sprawling valley views and a vantage point on this waterfall. If you choose to make it a loop (roughly an hour's walk), you'll encounter two more falls on your way.
Tip: If you want to see Tutumangaeo Falls in all her glory, visit after rain or in winter months when the flow is heavier and more impressive.
Waiatiu Falls
Whirinaki Forest Park
While slightly further out, you should not miss Waiatiu Falls near Tauranga on the North Island. It makes a great day trip from Tauranga. Waiatiu Falls is nestled in the incredible Whirinaki Conservation Park. It's about 2 hours south of the city centre and an hour and 15 minutes from Rotorua.
The track is well maintained, and the walk is about an hour and 30 minutes return, without being too strenuous. It starts from the car park and weaves through a dense podocarp forest which dates back possibly 200 million years. The trail puts New Zealand's native plants on full display.
Aside from the breathtaking beauty of this unique forest, it's also a fun trail. It crosses frequent bridges and streams, has plenty of ancient trees on show, and makes for great rare wildlife spottings. While visiting, I became captivated by the special bird appearances along the track.
The waterfall is truly remarkable, with two tiers and gushing water falling into the pool below. The trail takes you to a viewing platform. You can also hop down to the base of the falls if you want to get a little closer.
Final Thoughts and Further Reading
As you can see, the Bay of Plenty is littered with waterfalls a short drive from Tauranga. So whether you're looking for a nice swimming hole for summer or the most stunning photo ops, these Tauranga waterfalls should be your first port of call.
For more information on things to do in Tauranga, read our other articles:
🌍 Ready to Jet-Set on a Budget? ✈️

Maximize your savings with these travel essentials:

✈️ Sky-high Savings: Book budget-friendly flights with Skyscanner.
🏨 Rest Easy: Find the perfect accommodation on Booking.com or Hostelworld.
🛄 Travel Light: Store your luggage securely with Bounce.
📱 Stay Connected: Grab affordable eSIMs from Airalo or SimOptions.
🌄 Unforgettable Adventures: Find tours and experiences with GetYourGuide.
🛡️ Travel Worry-Free: Stay protected with travel insurance from SafetyWing!
Jane is a seasoned nomad who has been traveling full-time for 5+ years. She currently splits her time between Paris, New York City, and New Zealand, and is well known for always having a smile on her face.
You can keep up with her travels on Life in the Fast Jane.