Last Updated: September 14, 2023
As the largest city in the Bay of Plenty, Tauranga is fast becoming one of the most populated places in New Zealand. It is located close to Auckland, Totorua, and Hamilton, making it highly accessible, yet it is still only 15 minutes drive away from the famous beach town of Mount Maunganui. It's no surprise that people are starting to flock to this beautiful city, so that's why we've narrowed down the top things to do in Tauranga.
Waiotapu Thermal Wonderland
Rightfully listed as "One of the 20 Most Surreal Places in the World" by TripAdvisor, the Waiotapu Thermal Wonderland is one of the most colourful geothermal attractions in New Zealand. With a mixture of bubbling mud, expansive vistas, massive volcanic craters, and coloured springs, it's no surprise it has found a place as one of the top things to do in Tauranga. When visiting, you can choose to take any of the three walks through the natural bush to explore everything on offer, including the Lady Knox Geyser, which erupts daily at 10:15 am at the height of up to 20 meters. There is also a visitor centre and café to stop and enjoy a spot for lunch.
Dolphin Spotting on the Bay Explorer
Experience true kiwi nature onboard the Bay Explorer. Get up close and personal with the marine life in the waters surrounding the Bay of Plenty – including dolphins, penguins, whales, seals, school fish, sharks, sunfish, turtles and orcas. Bay Explorer's boats provide 360-degree views alongside commentary from its expert crew. If you want some more adventure, grab a kayak or paddleboard from the deck and head out in a peaceful bay. Or you can also relax onboard and enjoy a drink from their licensed bar, while your BBQ lunch cooks.
Prices start at $170 for adults and $65 for children. We recommend pre-booking your tickets to avoid disappointment.
Moturiki Island
A day at Moturiki Island is a must if you're visiting Tauranga. Connected to Mount Maunganui beach by an artificial land bridgehead and take in the view looking back across the ocean at Mount Maunganui. Walking across just 500 meters long, it is a fantastic tiny island to spend an afternoon exploring. It was initially inhabited by early Maori settlers who built on the island before becoming a quarry and being home to an aquarium. Nowadays, the island, which covers almost 2.5 hectares, is back to its natural state, with popular walking tracks taking you to a blowhole that shoots water to the sky during high tide and large ocean swells.
Beach day at Mount Maunganui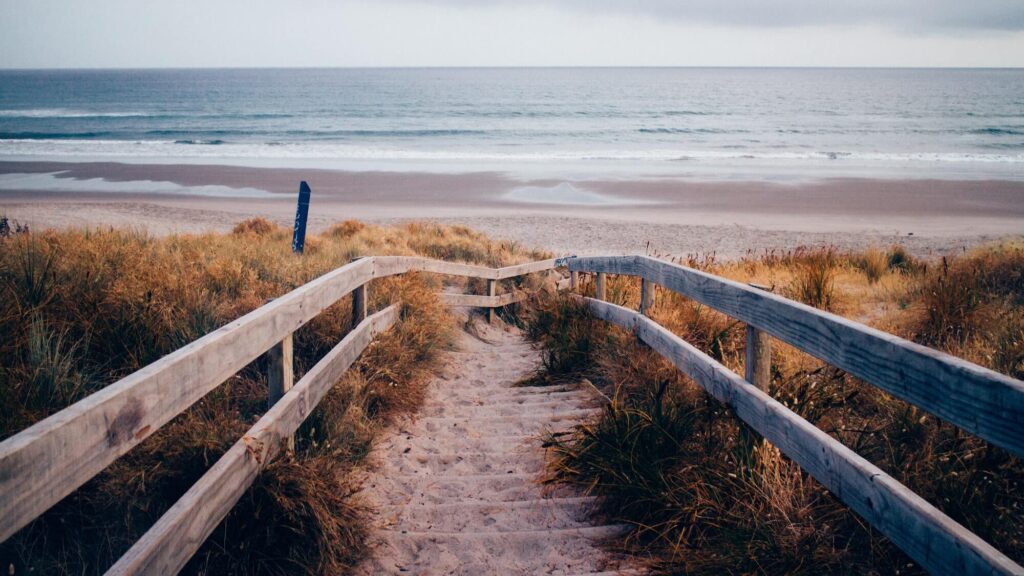 Tauranga is home to several stunning beaches along the coastline, which turn the Bay into one Sandy playground. The feeling of sand under your feet is one of the most popular activities for those visiting Tauranga, not only for spending the day relaxing in the sun. The beaches also provide the opportunity to take part in a water sport such as surfing, paddle boarding, kayaking, or even about the trip. Top beaches in the area include Mount Manganui beach, Waihi Beach, Anzac Bay, and many more. All of these popular spots provide the opportunity to swim in the calm waters and take in the views.
Waimarino Water & Adventure Park
Situated on the banks of the Wairoa River, the Waimarino adventure park is a must do when visiting Tauranga. Located just 10 minutes from the city centre it is the perfect day out for the whole family. Offering glow worm kayak tours, inflatable water activities including a trampoline, slip and slide, pedallos and much more. You can even make a whole day out of it and bring along some barbeque supplies to cook up on the banks of the river. Just don't forget your swimming stuff. For those not keen on the water take on the challenge of the rock wall or the low ropes course.
McLaren Falls Park
McLaren Falls Park provides visitors with around 190 hectares of parkland to explore, with a backdrop of Lake McLaren. There are plenty of activities available at the park including trout fishing and disc golf, however, it is most popular for its several walkways that allow you the opportunity to discover New Zealand's nature up close. The highlight of your visit to the park is likely to be the stroll along the track to the waterfall, where if you visit after dusk your path will be lit by glow worms. You can even spend a night under canvas in McLaren Falls Park and truly be at one with nature.
Kaiate Falls
Also referred to by its Maori name "Te Rerekawau", Kaiate Falls is one of the most impressive sights in Tauranga. With the main section consisting of a series of falls followed by a great plunging fall, Kaiate Falls has a cumulative height of around 25 metres. Take a walk through the forest to reveal the series of cascades with the chance to swim at the base, providing the perfect spot to cool down on a hot summer's day. Tracks through the forest are all well signposted and suitable for people of all ages.
Tauranga Art Gallery
Discover Tauranga Art Gallery to view an eclectic mix of artwork from leading artists – local, national and international. This public gallery in the Bay of Plenty is constantly updating its collection to provide an exceptional art experience. With various events on throughout the year – you will be sure to find something to suit your interests during your stay in Tauranga. It's retail area also provides the perfect opportunity to purchase souvenirs to remember your trip. Entry to the Art Gallery for international visitors is $7.
The Historic Village
Take a step back into the history of Tauranga, with a visit to this incredible collection of both replica and original buildings dating back to early Tauranga. As one of Tauranga's best-kept secrets, you can spend the afternoon strolling the streets, browsing in the shops or taking in the perfectly maintained gardens and a natural bush that surround the site. The Historic Village provides the opportunity to attend workshops, get a haircut, buy art, visit boutique shops and even see a movie. Entry is free and the Historic Village is open seven days a week.
Classic Flyers Aviation Museum
Located at Tauranga Airport, the Classic Flyers Aviation Museum is a collection of classic aircraft that is run by plane enthusiasts and volunteers who really do know their stuff. A huge open hangar provides the perfect backdrop to explore these antique planes that can even still take to the skies today! Not only do they have aircraft, but there is also a selection of vintage aviation memorabilia, models and training items. Entrance to the museum starts at $15 for an adult and $7.50 for a child. The site is also home to the opportunity to get airborne and experience an open cockpit in a Boeing Stearman or Grumman Ag-Cat.
Marshalls Animal Park
Situated in McLaren Falls Park, Marshalls Animal Park is a true gem to visit. With 35 acres providing a home to lots of friendly animals, both domestic and exotic, there is plenty for the whole family to enjoy. Get your hands dirty and feed and play with a wide host of farmyard animals including sheep, goats, pigs, horses and even ostriches. Picnic tables are conveniently set throughout the part meaning you can really make a day out of your visit. Head up to the top of the hill for panoramic views over the valley below. Prices start at just $14 per adult and $8 per child however there are family passes available.
Minden Lookout
Located just 13km easts of the city centre of Tauranga, the Minden Lookout is something everyone should visit. This wooden viewing platform provides breath-taking panoramic views across almost the entire Bay of Plenty. If you time your visit for a clear day you may even spot White Island, an active stratovolcano off the coast of northern New Zealand, steaming away in the far distance. There is no cost to visit the lookout, you just need to drive out to Minden Road.
Skydive
Are you an adrenaline junkie? This is the activity for you. Begin your adventure with a scenic flight showcasing the North Island in its full beauty, lasting around twenty to twenty-five minutes you will have plenty of time to take it all in. With expanses of golden beaches, and views of Mount Maunganui that will take your breath away. Not only this, but you may also be able to see further afield including the White Island, Mount Raupehu and the Rotorua Lakes. Then your adventure truly begins. Freefall towards Tauranga at 200km/h on your tandem skydive. Thrill-seekers will be beside themselves with excitement. Prices start at $375.
Oropi Mountain Bike Park
Consisting of 18 well-established mountain biking trails, the Oropi Grove Park is a great day out. Covering a total of 10 kilometres you will find yourself weaving through the forest and bushes of Tauranga. The trails range in difficulty, with the more advanced trails offering obstacles such as jumps and bumps as well as downhill stretches. After a tiring day, stop off on the way home at the Oropi Hot Pools & Café, where you can soak your muscles and enjoy the surrounding scenery.
Explore on a Kayak Adventure
Tauranga has the best of both worlds when it comes to exploring on the water. With inland freshwater lakes and a stunning coastline there is plenty to discover. Perhaps one of the best adventures is actually a well-kept secret – a waterway of McLaren Lake. Jump into a kayak and paddle us to an incredible glow worm cave, only accessible by water. Tucked amongst the flat waters you'll be in awe at the thousands of glow worms doing their thing amongst the shrubbery. Head out with the expert guides who can let you know everything you need to about these incredible creatures and the local area.
Head out with Kewpie Cruises
The Kewpie Cruise is an iconic part of the waterways surrounding Tauranga. This native Kauri hull was built in 1953 and was originally designed to fulfil the increasing demand from the famous Bay of Islands "Cream Run". Daily it would depart and visit the outer islands to pick up milk cans, ferry passengers and mail to the mainland. It soon became one of New Zealand's top tourist attractions. Nowadays it runs a variety of cruises around Tauranga, including out to Matakana Island, four hours to Omokoroa Peninsula, and private events. Prices vary depending on which cruise you choose; however, prices start around $30 NZD.
Visit Adenalin Forest to take on the highwires
Located around 30 minutes drive from Tauranga, the Adrenalin Forest is the perfect fun-filled day out for the whole family, especially those who like to get their adrenaline pumping. With a large high-wire course, zip line and flying fox there is plenty to do, all surrounded by natural forests of Tauranga. There are six courses available to suit visitors of all levels, however, with a gentle push from the team as you climb higher, you'll find yourself at the top in no time! Get that blood pumping in no time. Prices start at $45 for adults and $30 per child for three hours of entry to the whole course.
Waikareao Estuary
If you're looking for a slow-paced activity that still allows you to explore what Tauranga has to offer. After spending a few hours at Tauranga's shopping centre, you can join the walkway and enter a different world. With a mixture of boardwalk, gravel and footpath walkways it is easily accessible to all. Stroll around the 10-kilometre loop and take in the abundance of wildlife that calls this area home. In particular, the estuary attracts an eclectic mix of birdlife for you to watch and listen to. After a relaxing walk, you can stop by one of the cafes for a drink in the sun.
Taste Tauranga's Delights
As the region's largest city, it is no surprise that there is plenty on offer in terms of high-quality restaurants and cafes. Many are located along the recently redeveloped 'The Strand,' which follows the waterfront. Lined with pubs, restaurants, and cafes there is something for everybody's tastebuds to delight at. If you don't mind venturing out a little bit – visit some of the top wineries to sample their offerings. These include the Mills Reef Winery, Hillsdene Wine Cellars or the Volcanic Hills Wine Company. Not only do you get to taste some high-quality wine, but you can also take in the stunning views of the countryside surrounding Tauranga on your way.
Papamoa Hills Regional Park
With over 135 hectares to explore, it's no wonder that thousands of visitor's head to the Papamoa Hills Regional Park every month. If you're looking for panoramic views of the coastline of the Bay of Plenty, this is for you. The summit reaches 224 metres above sea level, and there are a few different tracks throughout the park offering various breath-taking views and the opportunity to get up close to its many archaeological features. Walks will take your through pine forests, native bushes and open grassland until you reach the summit.
Take to the waves with a surf lesson
As the capital of surfing in the region, surfing is a common pastime for the majority of locals. Maunganui provides the perfect conditions for people to come out and show off their skills. There is big surf on offer most days. However, if it's your first time, it is recommended to head to the beach at Pilot Bay. There are many surf schools, who are there to give you the skills to take to the waves for yourself. Where better to learn than in the beautiful scenery of Mount Maunganui?
Final Thoughts
There is plenty of fun things to do in Tauranga, New Zealand, to suit everyone's interests. Tauranga can get your blood pumping on a kayaking adventure or relax you with one of the area's many waterfalls. You can even spend the day relaxing on the beach. Not only this, but this area also has a rich culture that is waiting for you to discover.
For more information on things to do in Tauranga, read our other articles:
If you're looking for another action-packed adventure spot in New Zealand, be sure to check out our articles on Queenstown below:
🌍 Ready to Jet-Set on a Budget? ✈️

Maximize your savings with these travel essentials:

✈️ Sky-high Savings: Book budget-friendly flights with Skyscanner.
🏨 Rest Easy: Find the perfect accommodation on Booking.com or Hostelworld.
🛄 Travel Light: Store your luggage securely with Bounce.
📱 Stay Connected: Grab affordable eSIMs from Airalo or SimOptions.
🌄 Unforgettable Adventures: Find tours and experiences with GetYourGuide.
🛡️ Travel Worry-Free: Stay protected with travel insurance from SafetyWing!