Last Updated: September 14, 2023
Bodrum is a famous resort town on the southern Aegean Coast of Turkey. In recent years, the growth of the port city and smaller places on the Peninsula has been quite astonishing. Milas Bodrum Airport has international flights direct from regional airports throughout Europe and the Middle East. In addition, regular year-round connections with Istanbul make Bodrum very accessible.
Bodrum is on the site of the ancient city of Halicarnassus. It is home to the Mausoleum, one of the Seven Ancient Wonders of the World. The Dorians founded the city in 484 BC. Some things to do in Bodrum revolve around Bodrum's history, while other Bodrum attractions relate to the great climate and the lovely setting. If you want to know what to do in Bodrum, read on.
Castle of St. Peter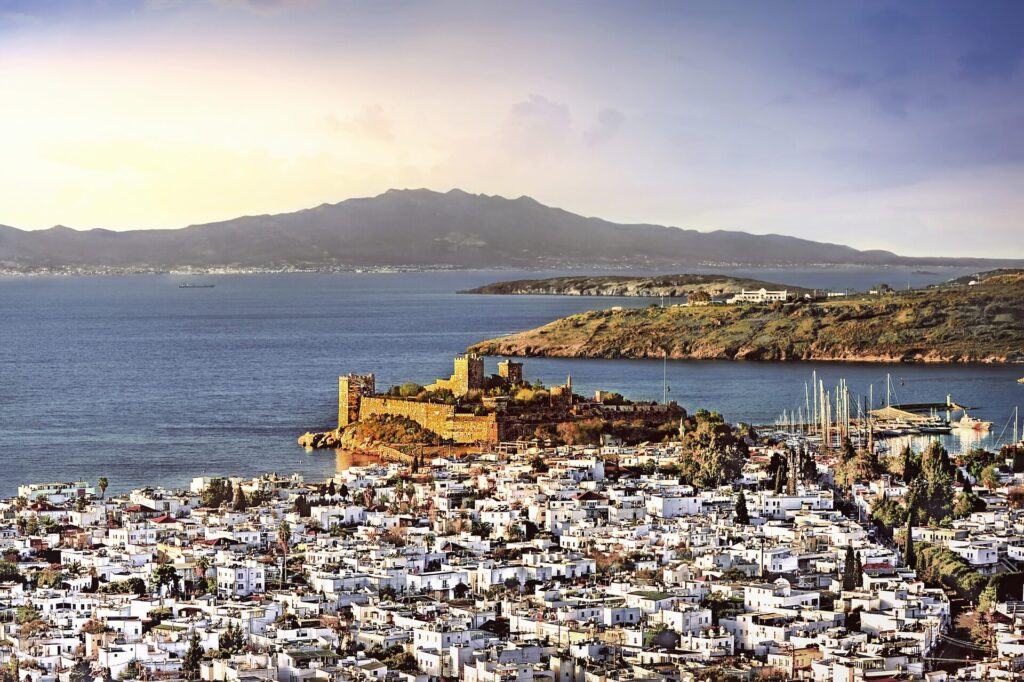 The Knights Hospitaller built the Castle of St. Peter in 1402. They used stones from the Mausoleum, which was by then ruins. It is also known as Bodrum Castle and Halikarnassus Castle. It is the most prominent of Bodrum attractions. Today it is a museum and has many well-preserved exhibits.
Heinrich Schlegelholt, a german architect, used the latest designs when developing the castle. Four towers represent the countries involved in its construction, England, France, Germany, and Italy. The Ottomans captured it in 1523, with the chapel becoming a mosque. After World War I, it became empty and remained so until becoming a museum.
Insider Tip: Enjoy this walking tour of Bodrum, which starts at the Castle of St. Peter.
Museum of Underwater Archaeology
This museum is within the castle and opened in 1961. Its exhibits include finds that have been found underwater along the Turkish coastline. The collection has gradually increased ever since. The earliest shipwreck excavated was the Gelidonya from the 12th Century BC and was discovered just before the museum opened.
Subsequently, the Yassiada from the 8th Century was found locally. Arguably, the highlight found in Kas is the Uluburum shipwreck, which had priceless things on board, including Egyptian seals, Mycenean pottery, metal nuggets and jewellery. There is a great deal to enjoy in this Bodrum attraction.
Insider Tip: This 5-hour private tour of Bodrum includes a stop at the Underwater Museum of Archeology.
Mausoleum of Mausolus
This Mausoleum is primarily ruined, with some of the remnants in the British Museum, statues, and reliefs. Artemisia II, the king's sister, and wife built the Mausoleum of Mausolus in 355 BC. The Mausoleum was a pyramid featuring 21 steps and was 46 metres high. It featured a horse that symbolised victory, and there were 36 columns in total.
Pythius and Satyros, the Greek architects, designed the Mausoleum with four different artists given one side to decorate. It was approximately square and 125 metres to walk right around. Unfortunately, an earthquake destroyed it.
Myndos Gate
The old city gates were the scene of a great battle, the siege of Halicarnassus, where the locals tried to resist the attacks of Alexander the Great. The city was loyal to the Persians until it was defeated in 333 BC by Alexander during the battle. There was a deep trench in front of the gate, hence Alexander's difficulty in taking the city.
It is the only gate that survives in the 7 kilometres of ruined city walls. Entrance is free, adding to its appeal as one of the places to visit in Bodrum.
Insider Tip: This sightseeing tour of Bodrum makes a stop at Myndos Gate.
Bodrum Amphitheatre
King Mausolus began this ancient arena, although he did not finish it. It was the Romans that completed the task. It is one of the important places to visit in Bodrum and is on the road to Gumbet.
There were 10,000 seats in the theatre back in the day, and today's visitors have the added attraction of being able to photograph a stunning sunset there any day. It was excavated almost 50 years ago and made of three parts: the seating, the orchestra stalls, and the stage. If you look up from the amphitheatre, you will see rock tombs dating back to the Greeks and Romans.
Bodrum Maritime Museum
The maritime history of this part of Turkey is on display in this two-storey building. You can read about the construction of different boats, everything from small crafts to larger ones. The ships were for several tasks, from gathering sponges to fishing and transportation. The seashell collection is impressive, and there are also interesting historical documents.
Old Town
Bodrum has expanded enormously in recent years, but its beginnings are still there to see in Old Town. The Old Town is a pedestrianised district between the castle and the beach. Shops and stalls selling all kinds of things, from artisan work to clothing and souvenirs, fill Old Town. Old Town gives a glimpse of a traditional Turkish bazaar. You may even want to stay here away from the tourist crowds and hotels.
Insider Tip: Here's a great, affordable village tour of Old Town and Bodrum, where you can sample some great food.
Zeki Muren Arts Museum
This small museum in the Kumbahce neighbourhood was formerly the home of a famous entertainer, Zeki Muren. You will find it in a street that bears his name. He died in 1996 at the age of 65, and Turkey mourned the death of someone regarded as the nation's "Elvis Presley."
He starred in many films, and his music was trendy. Muren moved to Bodrum in the 80s to enjoy a quieter lifestyle, somewhat ironic given how busy Bodrum is today. The house is not ostentatious and looks no different from many other whitewashed buildings here.
Explore the Peninsula's Coast
Bodrum Peninsula is undoubtedly worth exploring. How you do it is up to you. If you hire a vehicle and get a map, you can set out around the coastline and stop as you wish. You may want a quiet stretch of beach, or maybe sit in a small village and take in the surroundings.
If you do not want to drive, then check on the tours around the Peninsula, look at the possible bus routes, or even hire a taxi for the day, asking the cost before you start, of course.
The significant towns and resorts on the Peninsula include Gumbet, a short distance west, Turgutreis and Gumusluk, which face due west, and Yalikavak up in the northwest corner.
Bodrum Windmills
If you associate windmills with the Netherlands, you will have to add Bodrum Peninsula to your list. They are stone structures built in the 18th Century and ground flour for two more centuries. Seven windmills stand on the hill between Bodrum and Gumbet, while others are near Yalikavak and Turgutreis. No longer in use, the windmills have been restored and become a tourist attraction.
Insider Tip: Check out this 5-hour tour of Bodrum, which makes stops at the Bodrum Windmills along the harbour and other sites on this list.
Karakaya
This village is 300 years old and is close to modern-day Gumusluk. Some of the town was restored to its original form. Karakaya is also home to windmills. Old Greek stone houses, some two storeys, others three levels, 35 in all, are a feature of the village. Remember, this was Greek land before the formation of the Republic of Turkey in 1923.
Karakaya sits in a prominent position at an altitude of 350 metres. As a result, there are some beautiful views from the village, and the sunset is awe-inspiring.
Kara Ada
Kara Ada ("Black Island" in Turkish) is a tiny island at the entrance to Bodrum Harbour. It is popular with yachts, and tourists can get a boat to go out for a visit. It was mentioned during the siege of Halicarnassus and again in the Middle Ages when the Knights Hospitaller took it.
The Ottomans followed centuries later before the Italians took control after World War I. It became Turkish territory in 1932 after the convention between Italy and Turkey. It is an excellent place for diving, with boats regularly stopping to let passengers see the underwater caves.
Insider Tip: Check out this beautiful and affordable boat tour which takes you around Black Island, Camel Beach, and Aquarium Bay.
Kos
Kos is a famous Greek tourist island, just a short ferry ride due west from Bodrum. Decisions at the state level suspend ferries from time to time. Unfortunately, this means visiting Greece for a day trip isn't guaranteed.
If you can, you will find an impressive harbour in Kos Town, and several points of interest, including the Old Town and ancient ruins. The Greeks, Romans, Byzantines, Venetians, the Crusaders, Ottomans, and Italians occupied Kos throughout history before finally becoming Greek. It has an international airport and significant foreign tourism.
Markets
Most tourists in Bodrum do not need to buy fruit and vegetables as the locals do. However, you will be missing something if you do not visit a local market to see the local produce's colours. There will be an open-air market every day of the week somewhere on the Peninsula, including Bodrum Town.
Thursday and Friday are the days for fresh produce in the town, and you will also find honey, local herbs and spices, cheeses, and village eggs.
Insider Tip: Join this market tour led by an expert chef, followed by a cooking class and lunch overlooking the Aegean Sea.
Bodrum Marinas
Bodrum and the whole Peninsula are closely associated with yachting, craft sailing the Aegean, the Greek Islands, and the Mediterranean. The Yacht Club and Milta Marina are well-equipped facilities with plenty of activities. There is everything a boat might need for maintenance and repairs. In addition, there are cafes, bars, restaurants, and shops. Even if you are not a sailor yourself, you will enjoy the activity and seeing some expensive craft berthed there.
Cruising the Aegean
There are plenty of boats for hire, some for private groups if you wish, that will take you out to enjoy a day at sea. A combination of the sun and the sea breezes will all but guarantee suntan. You should ensure you have protection from the sun's rays. If you hire your boat, you can choose your itinerary. If you are joining a larger boat, check where their ship is travelling for the day with the crew. You will get the chance to swim, and refreshments will be available onboard.
Insider Tip: Join this boat tour on the Aegean, where you can sail, swim, and snorkel in the Mediterranean.
Bodrum Beaches
One of the top things to do in Bodrum is to enjoy its beaches. There are plenty of them, some crowded and others more remote, and therefore quieter. Bars and cafes are close to most beaches aside from the most secluded ones. From time to time, you can cool off in the beautiful clear waters.
Water sports are available at some of the beaches, with windsurfing popular. You may paraglide or surf; the choice is yours.
Scuba Diving
Clear, warm water is excellent for scuba diving, and there are plenty of companies hiring all the equipment you need and taking you out to the best diving spots. Safety is important. You can expect suitably accredited companies.
You can learn to dive if you wish, and there are some sites suitable for beginners. Others are strictly for experienced divers. The alternative of just snorkelling is available as well, and all you need to do is swim.
Insider Tip: Book scuba diving through Tourmania here.
Fishing
When you sit down and look at a typical Bodrum menu, you will see fish. It will be fresh, caught that day in the waters off Bodrum. You can book a fishing trip to try your luck. The waters are full of marine life, and experienced boats taking fishers out know the best places to find fish. They may not be huge, but that is rarely the point. It's all about fun.
Final Thoughts
Bodrum, Turkey has many attractions for overseas visitors and Turks themselves. Many Turks have second homes on the Peninsula, visiting as regularly as they can from Istanbul or Ankara. A significant ex-pat population lives here all year round while overseas tourists flock in large numbers from springtime onwards.
The climate here ensures that visitors will enjoy a fantastic holiday in Bodrum. Bodrum attractions are numerous, and there is something for everyone, the rich and those on a budget, couples, and family groups.
🌍 Ready to Jet-Set on a Budget? ✈️

Maximize your savings with these travel essentials:

✈️ Sky-high Savings: Book budget-friendly flights with Skyscanner.
🏨 Rest Easy: Find the perfect accommodation on Booking.com or Hostelworld.
🛄 Travel Light: Store your luggage securely with Bounce.
📱 Stay Connected: Grab affordable eSIMs from Airalo or SimOptions.
🌄 Unforgettable Adventures: Find tours and experiences with GetYourGuide.
🛡️ Travel Worry-Free: Stay protected with travel insurance from SafetyWing!