Last Updated: September 14, 2023
I absolutely love the Isle of Skye. One of Scotland's most popular vacation destinations, it's packed with brilliant hikes, charming villages, diverse landscapes, and some of Scotland's most famous beauty spots. If you're thinking about visiting, you absolutely should! Finding the best time to visit the Isle of Skye can be a little more complicated, though.
Your experience can massively differ depending on when you go. So in this speedy guide, we've unpacked everything you need to know about the best time to visit the Isle of Skye.
We've considered how to find the best weather, when you'll get the longest days, how to avoid the crowdy-heavy months, and plenty more. Whatever you want to know, we've covered it.
When's the Best Time to Visit the Isle of Skye for Good Weather?
That depends on what good weather means to you.
If you want the highest temperatures, the summer months are your best option. In and around summer, you'll get average temperatures of:
April: 7°C / 45°F
May: 9°C / 48°F
June: 12°C / 54°F
July: 13°C / 55°F
August: 13°C / 55°F
September: 12°C / 54°F
Yeah, I know those temperatures don't look very high. But those figures aren't typos—Scotland isn't a very warm place. If you're lucky, the highs will be much higher, but you're not going to experience the type of summer you get in other parts of Europe.
If you want to avoid rain, the best months are February through July. The average per-month rainfall during these months sits at around:
February: 100mm
March: 82mm
April: 86mm
May: 73mm
June: 85mm
July: 97mm
To put the above stats into context, Skye's rainiest month, October, has an average of 152mm rainfall per month.
But be warned: on the Isle of Skye, it rains a lot. So even if you visit in May or some other allegedly dry month, you'll probably still get rained on. So pack a raincoat!
In short, if you want an enticing combo of warm temperatures and relatively little rain, visit Skye in April, May or June.
Here are way more month-to-month stats and details on Skye's weather.
When's the Best Time to Visit the Isle of Skye if I Want the Longest Days?
Good question! For me, this is the most important consideration.
Skye has absolutely tons to do, and most people don't visit for long enough. But you can maximise whatever time you have by visiting during the longest-day months. You can squeeze much more action and adventure into an 18-hour day than a 6-hour one.
The best month for long days is June, which offers between 17 and 18 hours of sunlight per day. In May, you get between 15.5 and 17.5 hours per day, while July provides between 16 and 18 hours of sunlight per day.
In the height of winter (that's towards the end of December), you only get a little over 6 hours of sunlight per day. January's days have between 6 and 8 hours of daylight, while November's have between 7 and 9.
So for longer days and shorter nights, visit Skye in or around the summer.
Here's more information on sunrise and sunset times on Skye.
When's the Best Time to Visit the Isle of Skye if I Want to Avoid Crowds?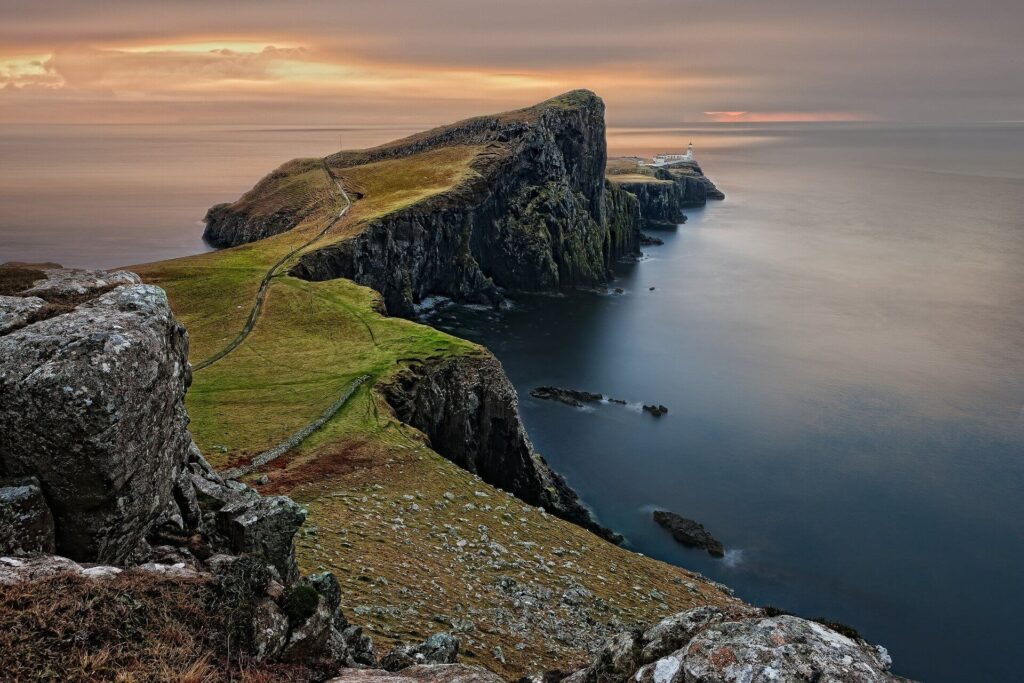 I love the Isle of Skye. But during peak season, its huge crowds are annoying.
Early September and late June are often pretty busy, but July and August are by far the most jam-packed months. In July and August, UK schools break for summer holidays—and because most people in the UK have kids, they vacation when their kids are on vacation.
During this period, attractions are crowded, accommodations are full, car parks overflow, queues grow, and you can't do anything without being surrounded by loads of other people. I much prefer visiting Skye during quieter months.
Yeah, I know tourists have no right to complain about other tourists. But no one wants to be surrounded by ten million tour groups on a hike up the Old Man of Storr.
One of the best things about the Isle of Skye is how peaceful, serene and quiet it can be. But if you visit during peak season, that's not what you'll get (especially in and around the Trotternish Loop).
For avoiding crowds, any time outside of July and August is good. But November through to March is the best time because people don't like short days and cold weather.
When's the Best Time to Visit the Isle of Skye if I Want Cheaper Prices?
If you want low prices, visit outside of the peak season. So if you're a bargain hunter, you should visit between November and March.
When's the Best Time to Visit the Isle of Skye if I Want to Avoid Midges?
If there were a competition for 'most seemingly innocuous but profoundly irritating creature on the planet,' midges would win.
If you've never been to the Isle of Skye or Scotland, you're probably wondering what the big deal is.
'Hey Paul, I think you're exaggerating. Midges are tiny, and anyway, you can buy some insect repellant you dingus!'
If that's what you're thinking, you're wrong.
Lots of people from the UK actively visit the midge-heavy parts of Scotland outside of midge season. They literally base their plans and vacations around the life cycle of these tiny little insects. That's how annoying they are.
The midge season usually runs from late May until September. But the worst months by far are July and August. So if you want to avoid midges, avoid those months.
When's the Best Time to Visit the Isle of Skye if I Want to See Wildlife?
One of the biggest and best wildlife-spotting destinations in the UK, Skye is home to sharks, dolphins, puffins, eagles and plenty more beasts and birds. But you'll only see them if you visit at the right time. Depending on what you want to see, those correct times are:
Puffins: March to May
Gannets: July and August are best, but April through to October is generally okay
Otters: All year
Basking sharks: June to August
Dolphins: May to September, but June and July are best
Whales: May to October, but June and July are best
Deer: All year, but winter is best as they roam more freely
Otters: All year
Sea eagles (or white-tailed eagles, whatever you prefer to call them): All year
Golden eagles: Year-round, but you'll be lucky to see one
Whatever animals you're planning to see, timing is essential. But so is the location, so make sure you visit the right places. Some creatures and critters are best spotted on particular beaches, others are found on cliffs, and some are only visible on boat trips to remote parts of the island. So do your research before you set off!
When's the Best Time to Visit the Isle of Skye if I Want to Swim?
The Isle of Skye isn't a tropical island, so the water will never be warm.
But if you want to swim on the beach, in the Fairy Pools, or have a splash around in some waterfalls, summer is, of course, the best time. The water won't be much warmer, but at least you'll dry off quicker.
What Should I Wear When I Visit the Isle of Skye?
No matter when you visit Skye, you should always pack cold-weather clothes. Even in the warmest months, Skye can still get cold, especially during the night. If you're visiting outside of summer, make sure you pack gloves and a hat.
And carry some waterproofs. Yeah, some months have less rain than others, but it'll probably rain when you're in Skye. At the very least, carry a waterproof coat and some good waterproof hiking boots.
If you visit during midge season, make sure you wear midge-repelling clothes and products. Wear long-sleeved clothes, choose light colours, and get some good midge-repellent spray or lotion. Oh, and buy one of those stupid over-the-head midge nets people wear. When you first arrive in Scotland, you'll be laughing at the people wearing them. But within hours, you'll be clambering to buy your own.
Can I Visit the Isle of Skye in Winter?
Yeah, you absolutely can; the weather won't be too disruptive.
British seasons aren't as varied as the ones you find in most other European countries, so the winters aren't too cold. If you pack right, you'll be absolutely fine. Average winter temperatures in Skye are around:
December: 6°C / 43°F
January: 4°C / 39°F
February: 4°C / 39°F
That said, the winter months are pretty rainy. Because the Isle of Skye is an island, and it has so many mountains, it's a pretty humid place. In winter, you're much more likely to get rain than snow, so you haven't got much chance of a magical white Christmas.
The only real problem with visiting Skye in winter is that you'll get shorter days, which means less time to explore. So if you're visiting Skye in winter, make sure you plan for at least five days or so. Any less, and you'll be wasting your time.
It's also good to remember that some businesses might be closed in winter. The island will not completely shut down as 10,000 people still live there, but some smaller tourist attractions might close. So if there are any bars, pubs, restaurants or attractions you want to see on Skye, make sure they'll be open before you start planning a winter trip.
If you're mainly visiting Skye for outdoor adventures, you don't have to worry about closures—no one's going to build a fence around the Quiraing.
Final Thoughts
To sum up, my favourite time to visit Skye (and in my opinion the best time to visit Skye!) is from April to May. During these months, you get less rain, fewer crowds, longer days, relatively high temperatures, and less chance of midges. So it's a perfect little Skye-shaped concoction!
One of Scotland's most beautiful places, make sure you visit Skye. But more importantly, make sure you visit at the right time. Think about what you want to do and what you want from your trip, and plan accordingly. Then get prepared for one of the best trips of your life.
For even more information on Skye, check out our other guides:
Thanks for reading!
🌍 Ready to Jet-Set on a Budget? ✈️

Maximize your savings with these travel essentials:

✈️ Sky-high Savings: Book budget-friendly flights with Skyscanner.
🏨 Rest Easy: Find the perfect accommodation on Booking.com or Hostelworld.
🛄 Travel Light: Store your luggage securely with Bounce.
📱 Stay Connected: Grab affordable eSIMs from Airalo or SimOptions.
🌄 Unforgettable Adventures: Find tours and experiences with GetYourGuide.
🛡️ Travel Worry-Free: Stay protected with travel insurance from SafetyWing!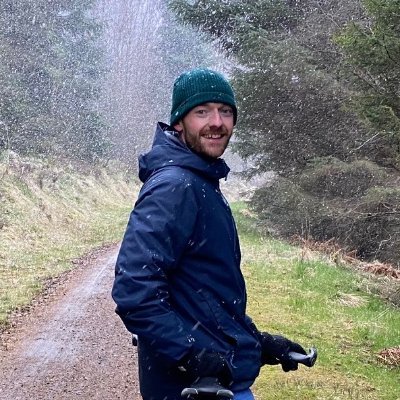 Paul McDougal is a handsome and hilarious travel writer originally from the UK. He likes hitchhiking, working remotely, and having absolutely no idea what's going on.