Last Updated: September 14, 2023
As I'm writing this compelling and incredible blog post, I'm living in Tbilisi, one of my favourite cities on the planet. The next big up-and-comer on many must-visit hit lists, Tbilisi is a great place to spend some time.
And like most low-cost remote-working hipster-haven hubs, the city is packed with excellent and appealing cafes. You get plenty of places to slurp, sip, chew, chomp, and laze around with a book or a laptop.
So in this guide, I've brought you the 23 best cafes in Tbilisi.
Looking for great coffee, tasty food, and some unique and unusual hangouts? Slip on those specs and wrap your eyes around this because we've covered them all!
Coffee Lab
Address: 27 Alexander Kazbegi Ave, Tbilisi, Georgia
Best for: Sitting in the sun and slurping and sipping on the tastiest coffee in Tbilisi
Website: https://coffeelab.ge/
If you're a pretentious coffee snob like me, you'll struggle to find good stuff in Tbilisi.
Most coffee, you'll find too weak, too foamy, too tasteless, or just not as effortlessly cool and interesting as you.
But here's some good news: you can end your hunt at Coffee Lab. They do standard stuff (like cappuccinos and flat whites) and more unusual offerings such as Aeropress, French press, siphon coffee, and more.
Sitting in a glass-fronted building inside a small park, it's quality but cozy. Though it has a (completely accurate!) reputation for churning out the best coffee in the city, it's not a flashy place and instead feels super welcoming and homely.
They also cook excellent food (anything with eggs is particularly good). Coffee Labs have a large outdoor seating area, perfect in sunny weather.
Lokal
Address: 42 Vasil Petriashvili Street, Tbilisi, Georgia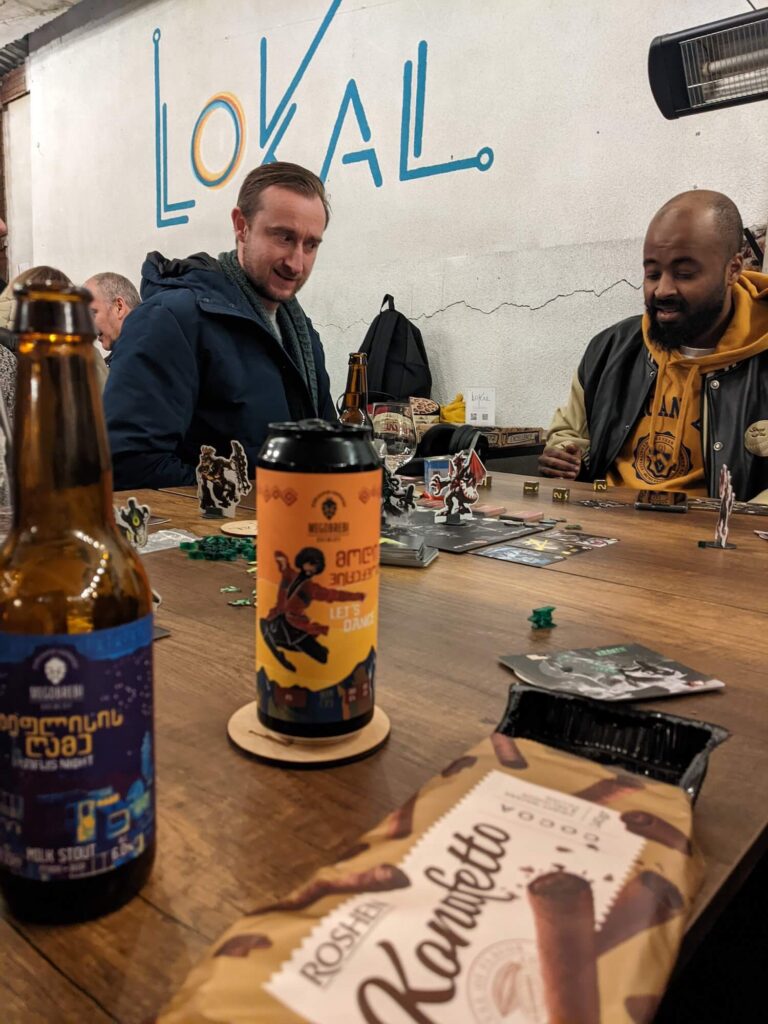 What is Lokal exactly?
Is it a coworking space? A co-living space? A cafe? One of the best events venues in the entire city? One of my favourite places to spend time in Tbilisi?
In truth, it's sort of all those things—but whatever you want to call Lokal, it's one of the city's top venues.
I've made lots of my Tbilisi friends from attending the weekly Wednesday board game nights here, but they also host crypto nights, language meetups, digital nomad hangouts, improv sessions, quiz events, book swaps and anything else they fancy conjuring up. Lokal is much more than just a normal ol' cafe.
They also serve up big fat jugs of the best tea I've had in the city, served in massive pots with loads of herbs and other healthy stuff.
Candy, who owns the place, is one of the friendliest hosts in Tbilisi—so make sure you pop along and say hello.
From the Staff

My favourite is a regular black Americano coffee! In the summer I like the Iced Lokal Special Coffee!!

– Management at Lokal
Erti Kava
Address: 8 Mitropan Laghidze St, Tbilisi, Georgia and 81 Irakli Abashidze Street, Tbilisi 0162, Georgia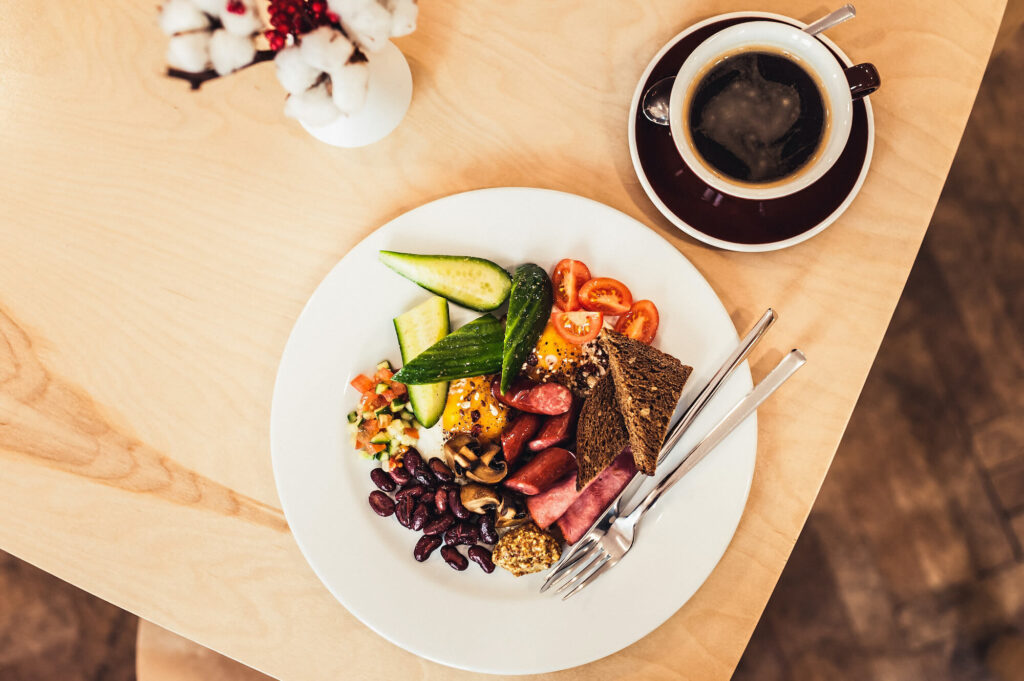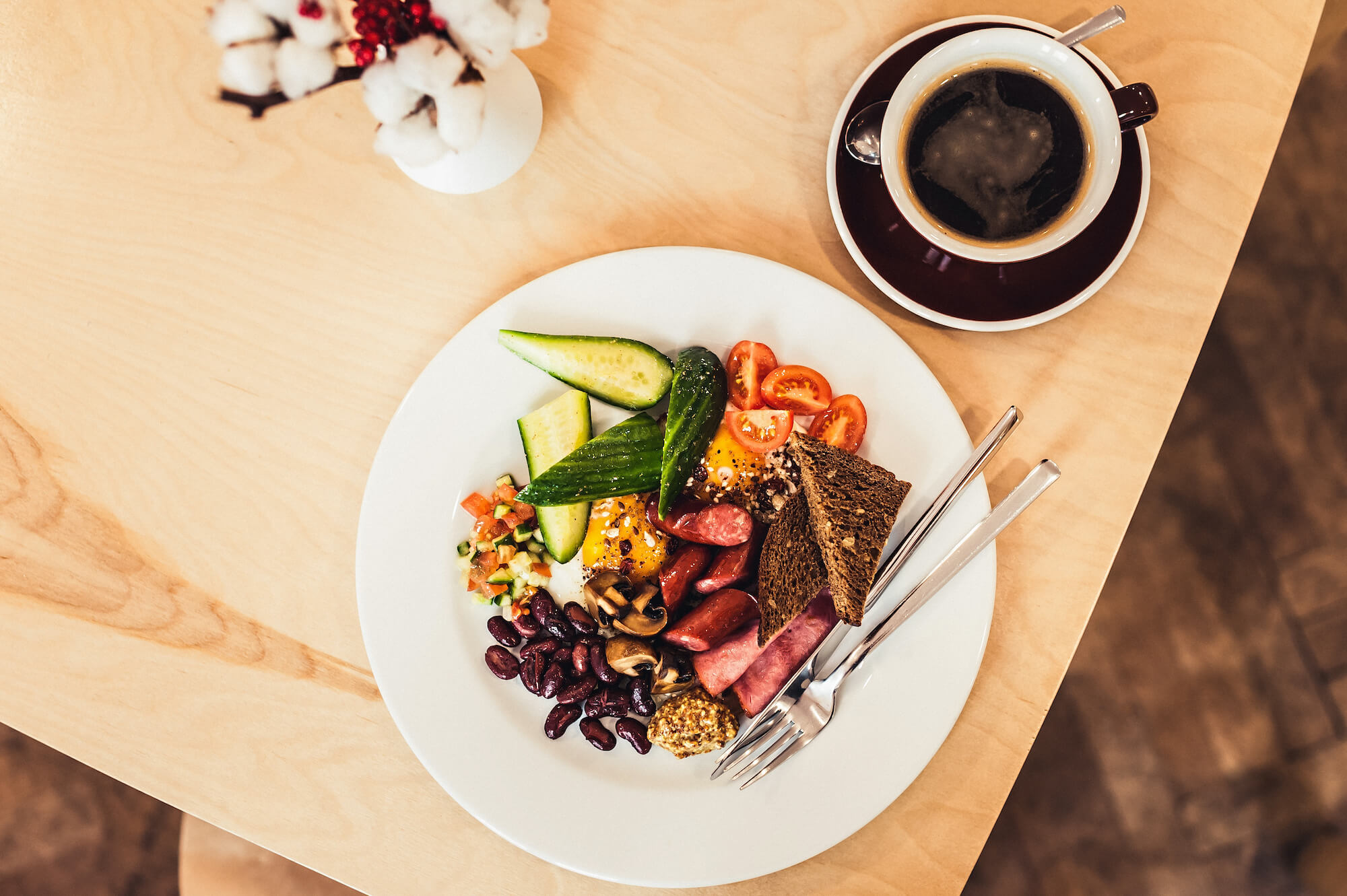 Best for: A laid-back coffee in the centre of the city and hanging with your kids or dog
This place translates from Georgian into English as 'one coffee'.
But when you have a little taste of the stuff, you'll probably want much more than that (nice pun Paul).
It's a good option if you're on the hunt for casual and laid-back: people always bring their dogs and kids here, and the staff are some of the friendliest people in the city.
The food and cakes are good (the pistachio cake is my favourite). The location is also great as it's just off the main avenue in Rustaveli.
Inside, they have some cool and quirky swing-style seats. I prefer just sitting at a normal table, but maybe you prefer to rock back and forth.
From the Staff

Lots of dishes are favourites! We have healthy and delicious breakfasts and a very large selection of coffee.

– Management at Erti Kava Coffee Room
Kvarts Coffee
Address: 26 Shota Rustaveli Ave, Tbilisi 0108, Georgia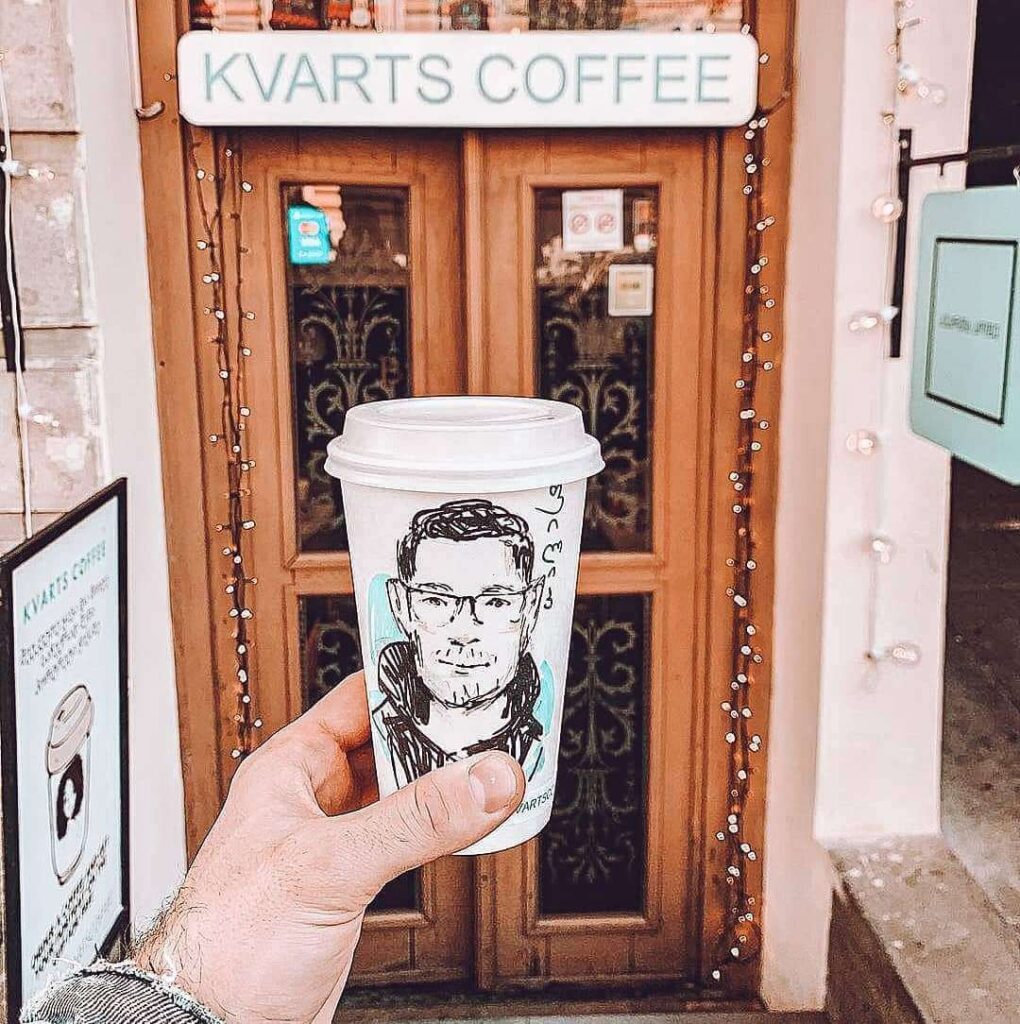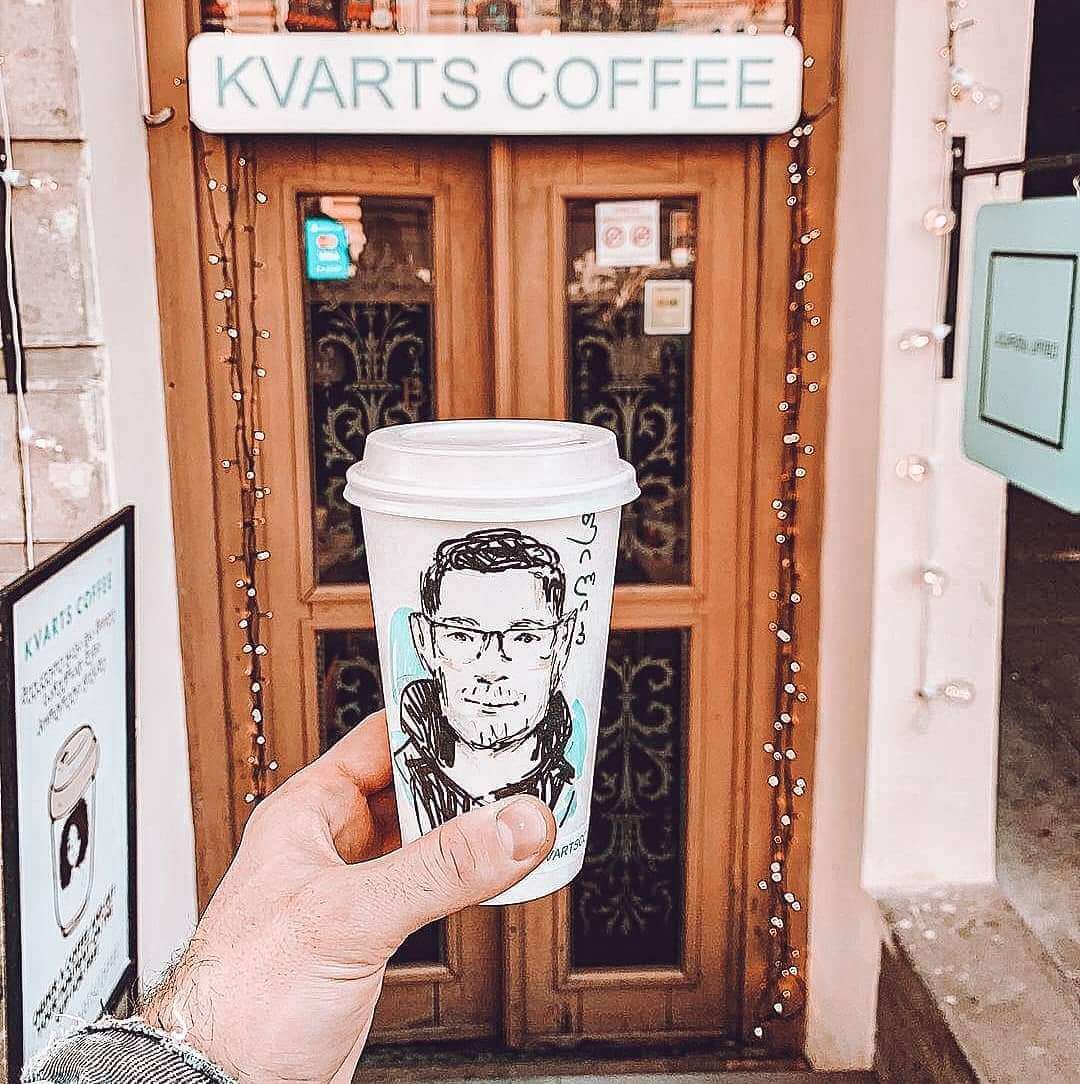 Best for: Good coffee, an infectious atmosphere, and seeing your face scribbled onto a coffee cup
Ever wanted to see your own face drawn onto a coffee cup?
Maybe yes, maybe no—but come here, and that's exactly what you'll get! As you're waiting for your coffee at Kvarts, one of the on-site artists will sketch your beautiful face onto your cup (or your bottle of wine, if that's what you've ordered instead).
In Rome, or Paris, or some other touristy city, this quirk would probably cost you about ten million euros. But here, it's totally free of charge, and the coffees aren't even expensive.
The coffee and music are pretty good, the staff are super-friendly, and this place is a must-visit, especially if you like silly gimmicks. If you're looking for something different, this is one of the best cafes in Tbilisi.
And because it's on Rustaveli's main avenue (right next to Prospero's), it's in a great location. I totally recommend it!
From the Staff

The hand-painted personalized wines are the perfect gift idea from Georgia!

My favourite drinks are the Kvarts Speciality, Cafe with Beilys, and the Hazlenut Double Americano.

– Teosha at Kvarts Coffee
Shavi Coffee Roasters
Address: 40 Mikheil Zandukeli St, Tbilisi, Georgia
Best for: Great coffee, lots of natural light, and reading a book as you sip on a drink
Website: https://shavi.coffee/
Another excellent spot if you're on the hunt for great coffee, Shavi have a massive reputation. If you ask someone where to find Tbilisi's best coffee, they'll often recommend this place.
It's not the strongest stuff on the planet, but it's still pretty tasty. Shavi have various types of beans, and they roast them all in-house. If you can't get enough of all the lovely flavours, you can also buy some beans to take home with you.
If you like plopping yourself down on a chair and reading a book, this is one of the best cafes in Tbilisi—white-walled, welcoming, and full of natural light. It's a perfect place for shoving your face into a good novel.
Oh, and they always play good music.
Fabrika
Address: 8 Egnate Ninoshvili St, Tbilisi, Georgia
Best for: Remote working, making friends, fiddling around on your laptop, and hanging out at night
Website: https://fabrikatbilisi.com/
A hipster's dream, Fabrika is a vaguely-self-indulgent hangout where about 95% of the customers are remote workers plinking around on their laptops. It's probably the most worker-friendly cafe I've ever been to—most people spend all day working here, and the staff really don't seem to care.
The coffee is okay, the food is decent, and the staff are really friendly.
But it's not just a cafe. Fabrika is a sprawling place home to various food spots, a few bars, a barbershop, an actual coworking space, a highly-rated hostel, an alluring courtyard, 300 stray dogs, and loads of graffiti. And at night, the whole complex turns into one of the trendiest nightlife venues in the city.
Don't be surprised if you spend about 20% of your Tbilisi time in Fabrika, especially if you're here for a while. If you want to be surrounded by endless packs of people, this is one of the best cafes in Tbilisi.
Fun fact: I'm writing this blog post in Fabrika right now. I guess that makes me one of those irritating remote workers I was just criticizing.
You can check availability and book Fabrika online here.
Entrée
Address: They have lots of venues around the city, but my favourite is at 86 Davit Agmashenebeli Avenue
Best for: Surprisingly good pastries and coffees in a better-than-expected chain
Website: https://entree.ge/en
Entrée is part of a Tbilisi chain. There are loads of them dotted around the city (they even have branches in Baku and London, such is their lofty success).
My favourite of them all is the one in central Marjanishvili, just south of the metro station.
But whichever one you go to, the quality is always pretty high, especially for a chain. You get good pastries, cakes, sandwiches and breakfasts, and relatively nice coffee. None of the stuff will blow your mind, but chain food and drink aren't usually this good.
Books from Past
Address: Flat 2, 10 Giorgi Akhvlediani St, Tbilisi 0108, Georgia
Best for: Buying books, buzzing for access, and finding a quiet corner
This popular venue is simultaneously a lightly-stocked bookshop and a small cafe. In true ragtag Tbilisi style, it's not just one thing, and it's infinitely better because of it.
The range of books isn't great (it's mostly classics, though you can find some decent gems), but the edible eats and treats are. They offer soups, pasta, bagels, sandwiches and more.
I reckon they serve up some of the best coffee in the city. Lots of people love their iced coffees, but I've never had one, so I can't really contribute to that conversation.
To get in, you need to press a buzzer. Yep, that's the sort of gentrified pretentious post-Soviet city you're in. Don't pretend you don't love it.
Prospero's Bookshop
Address: 34 Shota Rustaveli Ave, Tbilisi 0108, Georgia
Best for: A nice green courtyard, a quiet drink, and flicking through the best selection of English-language books in Tbilisi
Another book-based place, Prospero's is famous for its decent selection of international books. They have a book shop, then a separate cafe next door with another small selection of books inside.
If you're looking for non-Georgian literature, here's the place to go—they offer the best range in the city (that I know of). They have fiction, non-fiction, kids' books, local oddities, everything in between, and even an online store. On top of all that, they also offer stationery, notebooks, and second-hand bargains.
Prospero's is also a nice spot for eating and drinking, with decent coffee, cakes, salads and sandwiches. I recommend having a lemon tart here, just like I did yesterday,
They have a surprisingly-spacious seating area in the cafe and a great green courtyard. No matter which of the two you choose, Prospero's is a lovely place to sit with a drink and your newly-bought book.
For bookworms and boffins, this is one of the best cafes in Tbilisi.
Cafe Gallery
Address: 34 Alexander Griboedov St, Tbilisi, Georgia
Best for: A casual drink in a casual spot and staying late to party post-coffee
As you've probably worked out by now, no one venue in Tbilisi is just one thing. Instead, they're mostly all hodgepodge combinations of different places.
And Cafe Gallery is probably the best example of that so far. During the day, it's a standard but rudimentary cafe, where you can eat, drink, read a book, type on your laptop, and all that stuff. Small, comfy and cozy, it's like sitting in your friend's house. It's alluringly laconic.
But at night, it becomes one of the best nightlife venues in the city, open 'til late and full of groovers and movers. They host some of the city's best techno DJs, and you always get a party-hard crowd of friendly faces.
For staying out late, it's one of my favourite places in the city—it's often open until (and way beyond) 6 am.
Coffee and Culture
Address: 22 Zhiuli Shartava St, Tbilisi 0160, Georgia
Best for: Playing board games, eating some waffles, and doing a spot of laid-back remote working
Coffee and Culture is another top hangout for Tbilisi's remote workers. Spacious and light, it's a good place to pitch up with your laptop.
The menu is massive, with loads of sweet and savoury stuff, and the waffles are very popular. I've never had one, but they're covered in all sorts of sweet treats—they look like the sort of thing that might make you diabetic within 24 hours of eating them.
Some of the food, drinks and decor have a Turkish twist. I'm not sure if that's intentional, but it's a nice little quirk.
They also have an okay selection of board games, which you can rent for just over a dollar.
Hurma
Address: 21 Petre Melikishvili St, Tbilisi, Georgia
Best for: Great brunches, good alcoholic options, and some lip-smacking vegan and vegetarian stuff
One of the most popular cafes in the city, people are always banging on about how good this place is. It's a little more expensive than most other cafes in Tbilisi, but it's worth it.
Lots of the flavoursome fayre here is brunch-style, with tasty offerings including omelets, oatmeal, crepes, granola, shakshuka, and scrambled eggs.
They specialize in vegan and vegetarian food (though they do meat-based stuff too, for amoral carnivores like me) and great cakes and pastries.
And on top of all that, they also offer smoothies, cocktails, craft beer and wine. If you're looking for a brilliant all-rounder, this is definitely one of the best cafes in Tbilisi.
Bagelin
Address: 5 Luarsab Sharashidze Street, Tbilisi, Georgia
Best for: Fresh tastes, regional produce, and gobbling on some tasty bagels
Website: https://bagelin.com/
Though you probably have the mental dexterity to work this out for yourself, it's my job as a writer to make it clear that this place specializes in bagels. Their tasty treats are New York-style and surprisingly authentic, and they're the best bagels I know of in the city.
You get classics like smoked salmon with cream cheese, and good ol' BLTs. They also serve up unusual offerings with ingredients such as breakfast foods, oyster mushrooms and cookie dough.
They also have okay coffee, great doughnuts, and a lovely spacious interior.
Best of all, they specialize in promoting local produce, using lots of flavours and ingredients from farmers and suppliers in the neighbouring area.
For chowing down on tasty treats, this is one of the best cafes in Tbilisi.
From the Staff

The Hot Mess is my personal favourite, fresh chorizo made by our partnering business Saidanaa, fried and scrambled with egg, served with house-made coriander cream cheese, house-made jalapeno hot sauce, pickled jalapenos, and house-made marinated charred red peppers.

We make literally everything in-house, and it all comes together to this spicy, tangy, salty, herby absolute mess of a bagel sandwich. Glorious!

– Andrew at Bagelin
Cafe Mziuri
Address: 23 Chavchavadze Street 23 Tbilisi, Georgia
Best for: Outdoor seating, eating and drinking in a nice park, and socially-conscious cuisine
Website: https://cafemziuri.ge/en/
Set inside charming Mziuri Park, Cafe Mziuri is pretty and naturally lit, and it's a great place to while away a couple of hours.
It's most famous for promoting various different causes—they offer meat-free Mondays, and they're often staffed by young, disadvantaged and disabled people. The cafe is also accessible for everyone, and it specializes in offering healthy (but still drool-inducing!) fayre.
It's a little more classy than your average cafe. The food is delicately assembled, and sometimes looks more like an art installation than something you'd cram into your big fat mouth.
It has a hugely popular outdoor seating area, and it's always busy in summer. Because of its location and style, it's pricier than most other places we've featured.
Linville
Address: 11 Kote Afkhazi St, Tbilisi, Georgia
Best for: Indulgent interiors, cafeing in the center of town, and feeling like you've stepped back in time
Inside, Linville looks pretty glamorous and glitzy, but it's actually surprisingly laid-back.
Set inside an old Georgian home, it's a weird little place, and it feels more like you're visiting your grandmother rather than sitting in a cafe. The music is ambient and relaxing, and it's a surprisingly quiet place, given its bustling location.
It's brimming with loads of oddities, including chandeliers, an old piano, retro TVs, stained-glass windows, and lots more kooky (and frankly sometimes creepy) paraphernalia.
Because it's just a short wander from the Old Town area, it's a good choice for short-term tourists: you don't need to stray far from the city's central sprawl to find it.
Stamba
Address: 14, 0108 Merab Kostava St, Tbilisi, Georgia
A trendy place, Stamba is (sort of) like a more upmarket version of Fabrika.
Once a printing factory, the bohemian hub is now home to a hotel, a restaurant, a library, lots of weird decor, a multimedia museum, and some of the coolest people in the city.
But I know you mainly came here to read about cafes, so let's talk about the one located inside Stamba. It is much more expensive and upmarket than most other places on this list. They combine Georgian classics with modern flavours and tie it all together with largely regional ingredients.
It's one of the best cafes in Tbilisi for a fancy brunch, and it's a great venue for treating yourself.
Cafe Dante
Address: Giga Lortkifanidze Street 1, 15 Mikheil Lermontovi St, Tbilisi 0114, Georgia
Best for: A big food menu, lots of homemade alcohol, and lapping up the unusual surroundings
Website: https://cafedante.ge/
Cafe Dante is another place that isn't quite a cafe yet also isn't quite a restaurant (as you've probably worked out by now, that's pretty common in Tbilisi).
But because this one literally has the word 'cafe' in its title, it definitely belongs on this list.
It's pretty similar to Linville, but it's a little smaller. Again, you get miscellaneous furniture, an arbitrarily-placed piano, and various knockabout items (this time including a sewing machine, hanging baskets, and retro records).
They offer pasta, pizza, salads, Georgian specialities, tea, coffee, milkshakes and more. They also serve up generous portions of homemade wine and chacha (that's a Georgian spirit, if you're confused). For good food and drink, this is one of the best cafes in Tbilisi.
Puri Guliani
Address: Saarbrucken Square Tbilisi Tbilisi, 0102, Georgia
From Georgian into English, 'puri' translates to 'bread'… so as you might have worked out for yourself, Puri Guliani specializes in bread-based products.
You get sweet and savoury pastries, cookies, cakes, and more. Most of it is made with regional products—even the burgers and hot dogs are sandwiched between slices of local bread.
The foody fayre isn't all wheat-based, though lots of it is. But no matter what you eat, you'll love it—this really is some of the best food the city offers.
The location is also nice. Perched right over the city's river, it's a great spot for sitting in the summer, and it's a perfect place for a hearty dose of people-watching.
For both food and location, this is 100% one of the best cafes in Tbilisi.
Cafe Maria Magdalina
Address: 5 Mikheil Zandukeli Dead End, Tbilisi, Georgia
Best for: A classy bite to eat, a healthy meal, and getting ridiculously lost en-route
Named after one of Jesus' best mates, this cafe is notoriously hard to find.
Tucked away in the maze-like mess of some oddly-labyrinthine streets, don't be surprised if you get lost on the way—but that's part of the fun. The cafe's official Instagram page has an instructional video helping customers find the place (and, no, I'm not joking), so seek that out for some insider tips.
Inside, you're rewarded with excellent drinks, but the place is most well-known for its superb food. More upmarket than most places we've featured so far, it's a classy place for a bite to eat rather than a laid-back venue to plonk yourself down with a book.
The menu is brimming with brunch-style options and healthy stuff like salads, tacos, and veg-based dishes.
144 Stairs
Address: 14 Salami St, Tbilisi, Georgia
If you've ever thought to yourself, 'I don't think enough cafes are perched at the top of lung-busting flights of crooked stairs,' you'll love this place.
Tbilisi is one of the steepest cities I've ever been to, with winding staircases and near-vertical roads lurking around its entirety. Most cafes are in the flatter parts of the city, but this one isn't. Steep but central, it embraces the city's climbs. So if you want a great view while you sip on your coffee, this is one of the best cafes in Tbilisi.
And as a handy addition, it's quirky and charming, and the food is pretty good. I highly recommend this place—especially if you're a short-term tourist.
Cafe Leila
Address: 18 Ioane Shavteli St, Tbilisi, Georgia
Okay, I've got to be honest with you—I've never been to this place.
But when I consulted some of my friends for this list, lots of them recommended it, and I don't want to look ungrateful (but don't tell them I said that).
Another retro-style spot, Cafe Leila has art deco interiors and lots of mismatched furniture. But it's most well-known for its excellent and extensive vegetarian menu. If you're on the hunt for meat-free meals and morsels, this is one of the best cafes in Tbilisi.
They also serve a few vegan dishes and some fish-based stuff for pesky pescetarians.
Sol Cafe
Address: 28 Vasil Petriashvili Street, T'bilisi, Georgia
Best for: Healthy food, natural light, and finding a quiet corner
Website: N/A (yet!)
One of the newest cafes in Tbilisi, this place has just popped up.
Well-lit and welcoming, it's a nice place to sit with a book or a laptop. It's not (yet) massively popular, so it's a good place to find some space. But that'll probably change in the future!
Lots of Tbilisi's hangouts are dark, gloomy, and dimly lit (I have no idea why, but it's one of the city's weird quirks). But Sol Cafe has big windows and lots of natural light, so it's an excellent spot for letting some sunshine into your life.
They specialize in healthy fayre, with lots of fruit, granola, smoothies, and salad-based stuff. But if you're on the hunt for stodge, they also do lots of sandwiches and pastries too.
Kiwi Cafe
Address: 6 Ivane Machabeli St, Tbilisi 0105, Georgia
Best for: Guilt-free feasting, a relaxed atmosphere, and eating at an exclusively-vegan cafe
For our last entry, I've brought you the best vegan spot in the city.
I often come here with my sort-of-vegan friend (don't ask), and he absolutely loves the place. They have great food (both sweet and savory), and lots of pictures, paintings and slogans to proudly (and repeatedly) declare how vegan they all are.
Menu options include burgers, wraps, falafel, curry, baklava, cakes, and plenty more—there's a surprisingly-diverse amount of stuff on offer. I'm not vegan, but I think it's all really tasty.
If you're vegan, this is of course one of the best cafes in Tbilisi. And best of all, it's really central, so you don't need to wander very far to find it!
Final Thoughts on the Best Cafes in Tbilisi
There they are—the 23 best cafes in Tbilisi. Thanks for reading!
If you like cafe culture, you'll fall in love with the city. Brimming with places to eat, drink and relax, there are lots of excellent spots.
For more on Tbilisi and Georgia check out our other articles:
See you next time!
🌍 Ready to Jet-Set on a Budget? ✈️

Maximize your savings with these travel essentials:

✈️ Sky-high Savings: Book budget-friendly flights with Skyscanner.
🏨 Rest Easy: Find the perfect accommodation on Booking.com or Hostelworld.
🛄 Travel Light: Store your luggage securely with Bounce.
📱 Stay Connected: Grab affordable eSIMs from Airalo or SimOptions.
🌄 Unforgettable Adventures: Find tours and experiences with GetYourGuide.
🛡️ Travel Worry-Free: Stay protected with travel insurance from SafetyWing!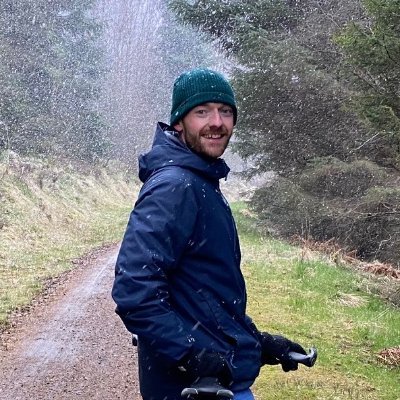 Paul McDougal is a handsome and hilarious travel writer originally from the UK. He likes hitchhiking, working remotely, and having absolutely no idea what's going on.