Last Updated: September 14, 2023
If you're on the hunt for the best restaurants in Queenstown, let me be your guide. After living in Queenstown for more than a year and seldom using my kitchen, it's safe to say I have an epic handle on the best places for a budget, mid-range, or luxury meal.
Whether you're looking for a quick bite or a lavish steakhouse dinner, you'll be able to find it all on this list.
Without further ado, let's dive into our picks for the best restaurants in Queenstown.
Budget Bites
If you don't feel like spending an arm and leg on a meal or are tapped out after a $200 bungee jump, these are the best restaurants for an affordable but high-quality feed.
Saigon
It's hard to beat the Saigon Kingdom as they strike the perfect balance between price and quality. With unbeatable lunch deals and scrumptious dinner offerings, you'll never leave Saigon hungry.
The main draw to this Vietnamese restaurant is the steaming bowls of all sorts of phos. They come in three different sizes to match your hunger level. There are also plenty of stirfries, curries, skewers, and even vegan options for any plant-based eaters. And you can't forget about the traditional Vietnamese coffee and prawn crackers to top off any meal.
If you aren't sure what to have, start with the summer rolls, spring rolls, and the crispy fried chicken. Enjoy a beef pho with fresh herbs and chilis for a main, with a side of pickles for the table. After a bit of seafood? The tiger prawns are to die for and will complement any meal perfectly.
Erik's Fish and Chips
Tucked away on Earl Street, you'll find Queenstown's premier fish and chip shop, because what's a Kiwi town without one?! Serving up buttery fried fish and crispy chips, this is one takeaway shop you can always count on getting it right.
Choose from different deep-fried fish and seafood options, or opt for chicken tenders or a hot dog if you'd prefer to stick to land. There's a veggie section on the menu where you can find chips and wedges galore, served with your choice of sauce or topped with piping hot gravy or cheese.
Perfect food for a day trip or after a long day of skiing, scoop up a $10 meal deal with hoki and small chips. Or, dig into the family meal deal for $30. It comes loaded with two hoki, six fish bites, large chips, and two cans. Who says you can't eat for cheap in Queenstown?
Taco Medic
For a quick feed, Taco Medic hits the spot every time. This taco stand is hidden away in Searle Lane with a few seats inside and a couple of picnic tables outside. They have a second location in Five Mile.
Step up to the window and choose from 11 handcrafted tacos on homemade tortillas. The menu is divided into land, ocean, and soil, with creative options across the board. Some of the top tacos are:
Ken Tuckyman: spiced fried chicken, salsa, mango, and chipotle mayo
Stockman: 12-hour slow-braised beef brisket, chipotle sour cream, and pickled onions
Koura: lime and chili prawns with honey dressing and jalapeno radish
The soil section contains all vegetarian and vegan options, so no one is left behind on Taco Tuesday.
Speaking of Taco Tuesday, from 3 pm to 6 pm every Tuesday, all tacos are $5 instead of $7.
There are also a variety of other dishes on the menu, including nachos, chicken tenders, chips and dips, and grilled corn to turn a snack into a full-blown meal.
Fat Badgers
You'd be hard-pressed to find better pizza in Queenstown than at Fat Badgers. Whether you're after a slice or a massive 20-inch pie, you'll be able to find it at this buzzing Queenstown restaurant.
They have all options for dine-in, takeaway, or delivery, with classic pies like Margherita, pepperoni, veggie, and even a Hawaiian. They kick things up a notch with offerings like:
The McBadger: their take on a cheeseburger pizza
The Arnold Schhwarzerbadger: seasoned chicken, prime beef, mozzarella, and a honey soy swirl
The Remarkable Bader: topped with sliced beef, portobello mushrooms, and braised onions
What's more, there's are a whopping five vegan pizzas and plenty of sides for all.
You can't ask for more from a pizza place when it comes to ambience. There's a heated outdoor section where you can people watch to your heart's content over a cold one. Or sit inside and watch the pizzas come out steaming! Fat Badgers is open until 11 pm on the weekends. If you need a snack after a few drinks at the bar, this should be your first port of call.
Hikari
When it comes to Japanese food on a budget, nowhere does it better than Hikari. Hikari is great for grab-and-go sushi or a quick bowl of noodles. There are two Hikari locations in town, plus one in Five Mile, all operating under the same concept: a long self-service bar of freshly made sushi. Either load up a plate or pack a takeaway box with creative rolls, different nigiri, and a range of tempura goodies, all for around $2 apiece.
If you'd prefer something warm, there's an entire menu as well. They have different udon and ramen soups, fried noodles, and seasonal bento boxes.
While the locations in town are good, for the best experience, visit the Five Mile storefront. It's their best location, in my humble opinion.
Fergburger
Even though it's not a fine dining establishment, it's nearly impossible to write about restaurants in Queenstown without mentioning Ferg. While you'll be hard-pressed to secure one of the few tables on-site, you cannot miss this iconic burger spot.
With tons of offerings, you're sure to find something that tickles your fancy. Some of the favourites are the:
Classic Cheeseburger
Tropical Swine: beef, bacon, cheese, grilled pineapple, and all the fixings
Holier Than Thou: tempura tofu, spicy satay, coconut and coriander sauce, with plenty of veg
Sweet Bambi: wild Fiordland deer with Brie, boysenberry and carmelised onion chutney and accompaniments
There's also a lamb burger, a pork belly burger (call the Chief Wiggum, haha), four chicken burgers, and of course, tons of milkshakes.
While standing in line is somewhat of a right of passage for tourists, take it from me and call your burger in ahead of time. You'll save yourself a 30-minute wait when starving.
If you're looking for a slightly nicer dining experience, pop into the posh Fergbar. Order some charcuterie and loaded bloody marys, and have yourself a time.
King Made Noodles
After a long day up the hill, warm up with a steaming bowl of noodles from King Made Noodles. King Made is typically packed with tons of people slurping down hand-pulled noodles. There's something nice about the constant thwak from the owner smacking fresh dough against the metal countertop.
King Made Noodles is pretty legendary, not only because you get to watch the guy making your noodles fresh. It's pretty much as authentic as it gets. The broth simmers with bones and spices for 10 hours every day. In the words of Guy Fieri, welcome to flavour town!
There are different soups to choose from, all with the same base but different toppings. Toppings range from pickled cabbage to pork mince to beef falling off the bone. You also get to choose how thick you want your noodles from seven different sizes.
King Made also has a variety of dumplings, buns, scallion pancakes, and side dishes to complement the noodles. If you'd like any of the above, arrive early because it all sells out fast!
Caribe Latin Kitchen
With such a colourful exterior, it's hard to miss Caribe, sitting proudly on Ballarat Street. This Latin kitchen is known for its burrito takeaway or a quick meal before your next adventure.
Full of intricate flavours and tons of options, choose from tapas, arepas, chimichangas, nachos, tacos, burritos, and more. There are plenty of protein choices for carnivores. There are also vegan and veggie options like the mushroom quesadilla, vegetarian burrito, and fried cassava.
The icing on the cake is the churros and tres leches topped with Mexican Jarritos. For a budget meal in Queenstown, Caribe hits the spot every time.
Mid Range Feed
Don't mind spending a little more? These restaurants cater to a mid-range budget and have everything you could ever dream of in terms of selection.
Yonder
Yonder is where you head for a towering breakfast, boozy brunch, and afternoon beers. Don't worry; we're not judging.
With an extensive menu filled with plenty of healthy vegan options and decadent indulgences, it's no wonder why people flock to Yonder. The patio with sun all day certainly helps, too. Fan favourites include the miso eggplant bowl, fruity french toast, and the pork belly burger, though the menu changes seasonally, so you can always find new and creative dishes.
Aside from the quality feed, Yonder also has the best iced tea in Queenstown (feel free to quote me on that) and has half-priced coffee every morning for those who bring their own to-go cup.
With funky decor, a decent cabinet selection, and all the outdoor seating you could dream of, this is one of the best restaurants in Queenstown for those on a mid-range budget.
World Bar
World Bar is essentially Yonder's less healthy sibling. Sitting right next door with a patio that rivals any in town, this sunny spot does the best pub food, with the shining star being the dollar mac and cheese balls.
Aside from the crunchy and creamy fried mac n cheese, World Bar does a smattering of incredible burgers, next-level bar snacks, and mains to die for. Choose between tacos, nachos, or chicken and waffles. The one guarantee is you'll never leave hungry.
World Bar often has live music outside in the summer and friendly bar staff pouring up signature teapot cocktails or beers on tap. Open from the afternoon until late. World Bar is one restaurant in Queenstown you don't want to miss.
Margos
One of the liveliest restaurants in Queenstown, Margos is always buzzing. The bright atmosphere is brimming with pops of colour, unique artwork, and a seasonal menu that will always keep you coming back for more.
For Mexican lovers, Margos hits all the sweet spots. They have a great selection of tacos, fajitas, and chips and dip, perfectly complemented by one of their jumbo frozen margaritas. The daily happy hour from 5-6 pm is the best time to enjoy their spoils with $7 tacos and $14 frozen margaratis.
Some favourites from the menu include:
Three-cheese queso topped with toasted seeds
BBQ duck nachos with pineapple salsa, goats cheese, and soy caramel
Smoked wild mushroom taco
Another restaurant with a full vegan menu, Margos has insane plant-based offerings like spiced kumara taquitos, cashew queso, and cumin cauliflower fajitas. Everyone can enjoy Mexican food, Queenstown style.
White and Wong's
If you're looking to eat at not only one of the best restaurants in Queenstown but the top restaurant in all of New Zealand, White and Wong's is the place to hit. Recently named the Best Restaurant in New Zealand for 2021 by the Lion Hospitality Awards for Excellence, this Asian fusion tapas-style restaurant never disappoints.
The plates are designed to share, which means you'll get to try a little bit of everything. There's a huge selection of dumplings (go for the wagyu beef and cumin ones or the prawn crystal skins), larger plates of stirfry and noodles, and even Peking style duck with thin pancakes and all the fixings.
Great for a big group meal (cue: the Tiger beer towers) or a chilled out date night, either dine in the main restaurant or in their signature cocktail bar next door, Sardines, which also serves the full menu. And don't forget the wok-fried greens!
Tanoshi
Tanoshi is a staple in Queenstown. The Japanese sake and teppan bar is ultra-cosy, with a few outdoor tables tucked away in Cow Lane. It's another one of those small plate style restaurants, with lots to share, which means you end up with a bit of everything.
It's not just for sushi lovers, either! While Tanoshi has a sashimi platter, they're better known for their creative, warm dishes like beef tataki, spicy fried chicken wings, tempura, fried noodles and skewers. They serve up different ramens and donburi at lunch with a smaller selection of tapas. If you feel like really going all in, try the 'Trust the Chef' option for a selection of classic dishes, or opt for a sake pairing or tasting for the full experience.
Aside from the location in town, there's also Tanoshi Iko in Searle Lane, which is more focused on takeaways, ramen, and sushi bowls, along with the new Tanoshi location in Five Mile, which has a little bit of everything.
Pedro's By the Lake
You can find authentic tapas at one place in Queenstown: Pedro's By the Lake. Sitting right on the shores of Lake Wakitipu, snag an outdoor table and enjoy your meal among the buskers and views of the Remarkables range.
With authentic Spanish food, it's no wonder why Pedro's is constantly brimming with people. It's one of the best restaurants in Queenstown for an early bite or leisurely dinner, with an awesome selection to choose from. But if you don't feel like selecting from the extensive menu, choose the Trust the Chef option and let them pick for you.
Expect classic dishes like garlic prawns, calamari with chorizo, and patatas bravas, with some Kiwi flavours like whitebait with garlic and chili, a whole roast lamb shoulder, and lamb croquettes.
While a meal here certainly adds up, it's well worth the cost to kick back and watch the people float by with an ice-cold sangria in hand.
Joe's Garage
For a budget American feed, pop into Joe's Garage. Located in Searle Lane with a second location in Five Mile, they're known for stacks of pancakes, huge salads, and classic burgers. It has an old school diner feel with an open kitchen and counter seating. There are additional tables undercover outside with heat lamps to stay warm during the chillier months and a slew of banquets insides, as well.
Overall, Joe's is a stellar pick all day long, whether you're craving a huge cup of coffee with a filling breakfast, light lunch, or heavy dinner. Though no matter which time you choose to eat, you'll be surrounded by families (thanks to the great kid's options) and twenty-somethings that are attempting to kick last night's hangover.
Aside from the pancakes, you can't go wrong with the breakfast burrito, fried chicken, classic caesar salad, or any of the decadent desserts.
The Bathhouse Cafe
Sitting right on the shores of Lake Wakitipu at the beginning of the Queenstown Gardens, you can't get any closer to waterfront dining than at the Bathhouse. This cafe is directly on the sand and serves up a fresh feed from morning until late afternoon.
Grab brunch here before starting your day with an epic selection of breakfast favourites like benedicts, muesli, pancakes, or a big breaky. Or visit for lunch and have a massive burger, oven-baked camembert, or the best seafood chowder in town.
While you may have to fight for an outdoor table, it's well worth the wait even to just have a drink before moving on to the next place.
The Boat Shed Cafe
There is no doubt that Boat Shed deserves to be on this list. This charming cafe is housed in the old New Zealand Railways Shipping Office, dating back to 1869. Aside from the history and the rustic interior, I think the Boat Shed has the best view in all of Queenstown. It sits right on the lake, with a patio with an unobstructed view of the Remarkables. If you time it right, you'll see planes taking off and landing at the airport just down the road and boats launching from the marina next door.
Aside from the view, which makes Boat Shed worth the visit alone, the food is nothing short of incredible. While the menu has regular staples, it changes monthly with seasonal dishes using only the freshest ingredients, cranked out of the cafe's fun-sized kitchen.
While anything you eat at Boat Shed will be delicious, some dishes to look out for are the:
Blueberry french toast with fresh fruit, caramelised lemon pistachio and honey, and thyme mascarpone
Decadent seafood chowder with pan-fried salmon and caviar
Boatshed benedict, which is likely the best in Queenstown
Arrive early or call ahead for one of the highly coveted patio tables, and don't forget to grab a brownie from the cabinet on the way out!
Halo Forbidden Bite
When it comes to breakfast, no one does it better than Halo. This sweet little cafe is tucked behind St Peter's Anglican Church, one of the oldest in the area and a neat historical landmark. Halo's patio is basically in the church's backyard with plenty of sun, landscaped grounds, and old stone construction to admire, only a block back from the lakefront.
Halo has just about everything one could hope for when it comes to breakfast. The menu boasts pancakes, french toast, eggs any way you can imagine, and the signature breakfast burrito that keeps locals coming back time and time again. On the flip side, there's an entirely vegan menu for our plant-based friends with tons of creative offerings like a fully vegan breakfast, rainbow toast, corn fritters, toasted muesli, and so much more.
Breakfast is served from 7 am until 3 pm every day, and then you can expect light lunch options, burgers, and a variety of bowls until 4 pm. They also have sandwiches, sweets, and scones in the cabinet and excellent coffee.
Slow Cuts
Some old-timers in town have said that Slow Cuts makes the best burger in Queenstown, and I'm inclined to agree. Situated in stunning Arrowtown, Slow Cuts simply needs to be included in this list of Queenstown restaurants. Its lively atmosphere and food simply cannot be beaten.
The burgers are the best in town, but if you know what's good for you, you'll try the fried chicken burger decked out with chipotle aioli and mango salsa, with a side of fried smashed potatoes. Other stellar offerings include:
Smoked brisket sandwich
Rotisserie chickens: choose from a quarter, half or whole, and make it a combo for some sides
Any of the steaks
Additionally, there are plenty of kid's options and sweet finishes that you won't be able to skip, no matter how full you are. Chocolate fudge brownie, anyone?
Madam Woo
For Malaysian food done right, Madam Woo is everything and more. This upscale Southeast Asian restaurant is bursting with authentic flavours and high-quality cuisine.
The menu changes seasonally, but you'll always be able to find a variety of hawker rolls, satay platters, and big Malaysian dishes like rendang, laksa, nasi lemak. Service is exceptional, and the tap beers flow freely, creating an atmosphere reminiscent of a Malaysian food market.
Madam Woo is right on Ballarat Street in the middle of all the action. It's the perfect pit stop before a big night out on the town.
Mandarin Seafood Restaurant
I hunted for good Chinese food for ages before finding the Mandarin Seafood Restaurant – easy to miss but truly unforgettable. This huge, authentic Chinese restaurant sits above Beach Street and is everything you could ask for when it comes to feasting. The back wall is lined with fish tanks, where you can choose your very own crayfish, and the opposite wall is filled with windows for one of the best views of Lake Wakitipu and the Remarkables.
While everything on the huge menu is exceptional, the wonton soup, mapo tofu, and spicy braised eggplant with pork are the go-tos. Other dishes include Western favourites like egg foo young, sweet and sour chicken, BBQ pork spareribs, and lots of different stirfries. Opt for the crispy roast duck, Chinese cabbage, and a whole fish for more traditional plates or check out the entire Sichuan section (if you can handle the heat).
It's not super inexpensive, but the portions are huge and great for sharing. It's all worth it when you factor in the million-dollar view.
Luxury Fine Dining
Not to sound dramatic, but Queenstown has some life-changing fine dining. For the best meal you could ever imagine, dip into some of these pricier restaurants for a luxurious experience. Trust me – they are well worth it.
Botswana
If you're hankering for a fine cut of meat or lavish dining experience in general, Botswana Butchery should be your first port of call. While it's likely the most expensive restaurant in Queenstown, the food here will never disappoint. The upscale atmosphere and top-notch service tie the restaurant together to bring Queenstown a fine dining restaurant that rivals that of large global cities.
Botswana Butchery is a classic steakhouse with a Kiwi twist, offering a large selection of New Zealand and Australian meats from the butcher block, extravagant main dishes, and a large selection of creative starters.
Choose from plates of Fijian yellowfin tuna tataki, Botswana Peking duck, wild Fiordland red deer tartar, or a half roasted honey glazed quail to start. Move onto your choice of merino lamb, high-end beef cut, or beautifully prepared fish, and finish off with mouthwatering sauces and sides like Wagyu beef fat braised carrots, potato puree, and chicken gravy, or macaroni and cheese with bacon.
Visit for lunch and chow down on oysters paired with prosecco on the terrace with a view of the lake.
Rata
Rata is where you go for a true fine dining experience. New head chef Michael Bickford has mastered his craft, creating unique dishes that are nothing short of extravagant and centred around the freshest New Zealand produce available. The restaurant works with small farmers and producers across Otago and the South Island to keep the ingredients seasonal, many of which are harvested by the chefs themselves.
Bickford has brought the menu a fresh update inspired by his Kiwi upbringing with dishes like kingfish Crudo cured in elderflower vinegar with apple and hemp seed and a classic Southland cheese roll upgraded with Speights mustard, cornichon jam, and fried yeast. Other favorites include:
Cloudy Bay clams soaked in seaweed butter – a long-standing staple of the Rata menu:
Goats cheese profiteroles
Asparagus with stracciatella
Havoc farm pork with broad beans
Black origin Wagyu – which may just be the very best steak you ever eat
Rata is lots of small plates designed for sharing, so you'll get a bit of everything if you dine in. On the weekends, they serve a three-course lunch, which is a top way to enjoy the best of Rata on a budget.
Amisfield
As you head out of town towards Arrowtown, you'll begin to hit some of Otago's finest wineries, complete with five-star restaurants. Amisfield is one such winery and well worth the splurge.
Offering an ultra seasonal dining experience, the chefs at Amisfield create gorgeous dishes. They use local New Zealand produce that simply cannot be matched. Lunch is served from Wednesday to Sunday from 11:30 am and is best enjoyed in the sunny garden with water features and rolling hills behind. If you'd instead visit for dinner, it's served on Friday and Saturday. The rest of the week features a small plate menu which is just as good as the real thing.
While the menu is constantly changing, expect fresh charcuterie, a selection of seafood (even crayfish, if you're lucky), freshly foraged greens, and the most beautiful presentation imaginable.
Eating here costs a pretty penny, especially when you dip into the wine (a must), but it's incredible for special occasions or if you feel like balling out a bit.
Tatsumi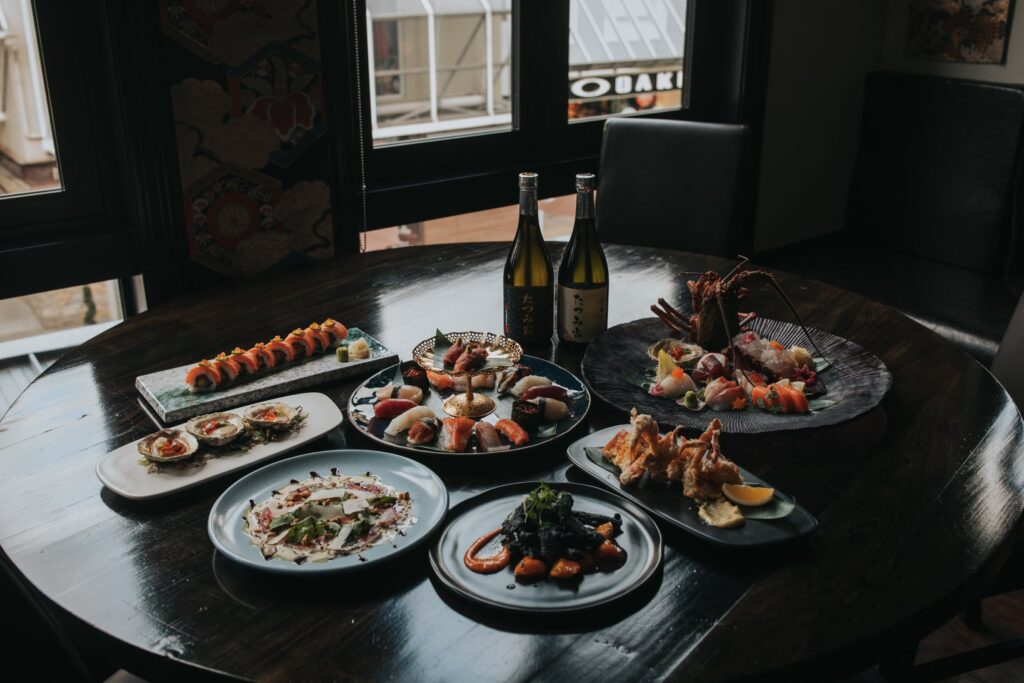 You can expect elevated Japanese food from Tatsumi. Sitting up above Beach Street, Tatsumi is filled with plush couches and cushy banquets for a dining experience that's as comfortable as it is delicious. The elegant interior draws you in, and the staff in traditional Japanese dress makes you feel as if you've touched down in Japan.
Tatsumi has so much more than sushi. They boast a modern menu with both local and Japanese ingredients and a contemporary take on fine dining. Start with pan-seared Hokkaido scallops and grilled king prawn skewers served in a shot glass atop a croquette. Then, move on to fresh sashimi, Japanse taro gnocchi, and black origin wagyu.
But the best way to enjoy Tatsumi is with the 12-course banquet menu for $85 per person to try it all.
Bella Cucina
When it comes to a heaping bowl of pasta or a wood-fired pizza, you'll find no better restaurant in Queenstown than Bella Cucina. With a menu that changes daily, you can always expect something fresh and delicious at this warm Italian spot.
Expect classic Italian fare like bruschetta, Caprese, carpaccio, and olives, spaghetti bolognese, carbonara, and conchiglie brimming with fresh veggies. There are five rotating pizzas to choose from, a signature calzone, and an assortment of mains like risotto and gnocchi. If you're feeling adventurous, opt to Trust the Chef for $65 per person and eat like royalty.
Everything is handmade at Bella, from the pasta to the pizza dough, offering an authentic experience you won't find anywhere else in Queenstown.
Jervois
While there are several steakhouses in Queenstown to choose from, the most classic (and likely the priciest) is Jervois. Sitting upstairs on Duke Street above Sofitel, you'll find a massive selection of beautifully cut steaks from New Zealand, Australia, and Japan.
Beef is undoubtedly the main draw of this Queenstown restaurant. That said, you'll find plenty of fresh seafood like oysters, king crab, prawns, alpine salmon, and yellowfin tuna.
Finish off the meal with steakhouse sides including truffle bacon mac 'n' cheese, potatoes a dozen ways, or creamed spinach. They also have a towering dessert. It doesn't get much better than this.
Further Reading
For more information on Queenstown and the surrounding area, check out the articles below:
🌍 Ready to Jet-Set on a Budget? ✈️

Maximize your savings with these travel essentials:

✈️ Sky-high Savings: Book budget-friendly flights with Skyscanner.
🏨 Rest Easy: Find the perfect accommodation on Booking.com or Hostelworld.
🛄 Travel Light: Store your luggage securely with Bounce.
📱 Stay Connected: Grab affordable eSIMs from Airalo or SimOptions.
🌄 Unforgettable Adventures: Find tours and experiences with GetYourGuide.
🛡️ Travel Worry-Free: Stay protected with travel insurance from SafetyWing!
Jane is a seasoned nomad who has been traveling full-time for 5+ years. She currently splits her time between Paris, New York City, and New Zealand, and is well known for always having a smile on her face.
You can keep up with her travels on Life in the Fast Jane.