Everyone who knows me knows that I can't cook. And because of this tragic but true fact, I've spent the past year relying on the best cafes that Queenstown has to offer. They've kept my belly full without robbing me blind.
After eating my way through New Zealand, the Queenstown cafe scene remains number one in my book. There are seemingly endless options to choose from, all boasting different takes on breakfast, the best coffee, and cabinet food. Not to mention, they all tend to be pretty reasonably priced.
On the hunt for the best cafes in Queenstown? Take some advice from someone who's eaten at them all. Read on for the top cafes to enjoy in the adventure capital of New Zealand.
Budget Travel Tip: Looking for affordable places to stay in Queenstown?

Driftaway Queenstown is a holiday park 6km from the resort town in Frankton. It has near-perfect reviews, stunning views in a cabin-like atmosphere, and modern shared areas like a kitchen and lounge. You can check availability and book online here.

If you're looking for a hostel directly in the resort town, here are five of our favourites:
• Haka Lodge Queenstown: check availability and book here
• Nomads Queenstown: check availability and book here
• JUCY Snooze Queenstown: check availability and book here
• Southern Laughter Backpackers: check availability and book here
• The Black Sheep Backpackers: check availability and book here
Map of the Best Cafes in Queenstown
Halo Forbidden Bite
Address: 9300/1 Earl Street, Queenstown
A true local favourite tucked away on Camp Street; Halo Forbidden Bite is the best cafe Queenstown has to offer if you're an early riser looking for a delicious breakfast and velvety coffee. It opens at 7 am every day with plenty of seating indoors and out. Halo is a great place to tuck into breakfast burritos, huevos rancheros, or European favourites like eggs benny and pancakes along with an assortment of fresh-squeezed juices. What's more, there are plenty of gluten-free, vegan and veggie options for those with dietary restrictions.
The cabinet has plenty of sweet and savoury treats. Moreover, the abundant patio seating is the icing on top of the perfect Queenstown cafe.
Hustl.
Address: 19 Grant Road, The Market Five Mile, Frankton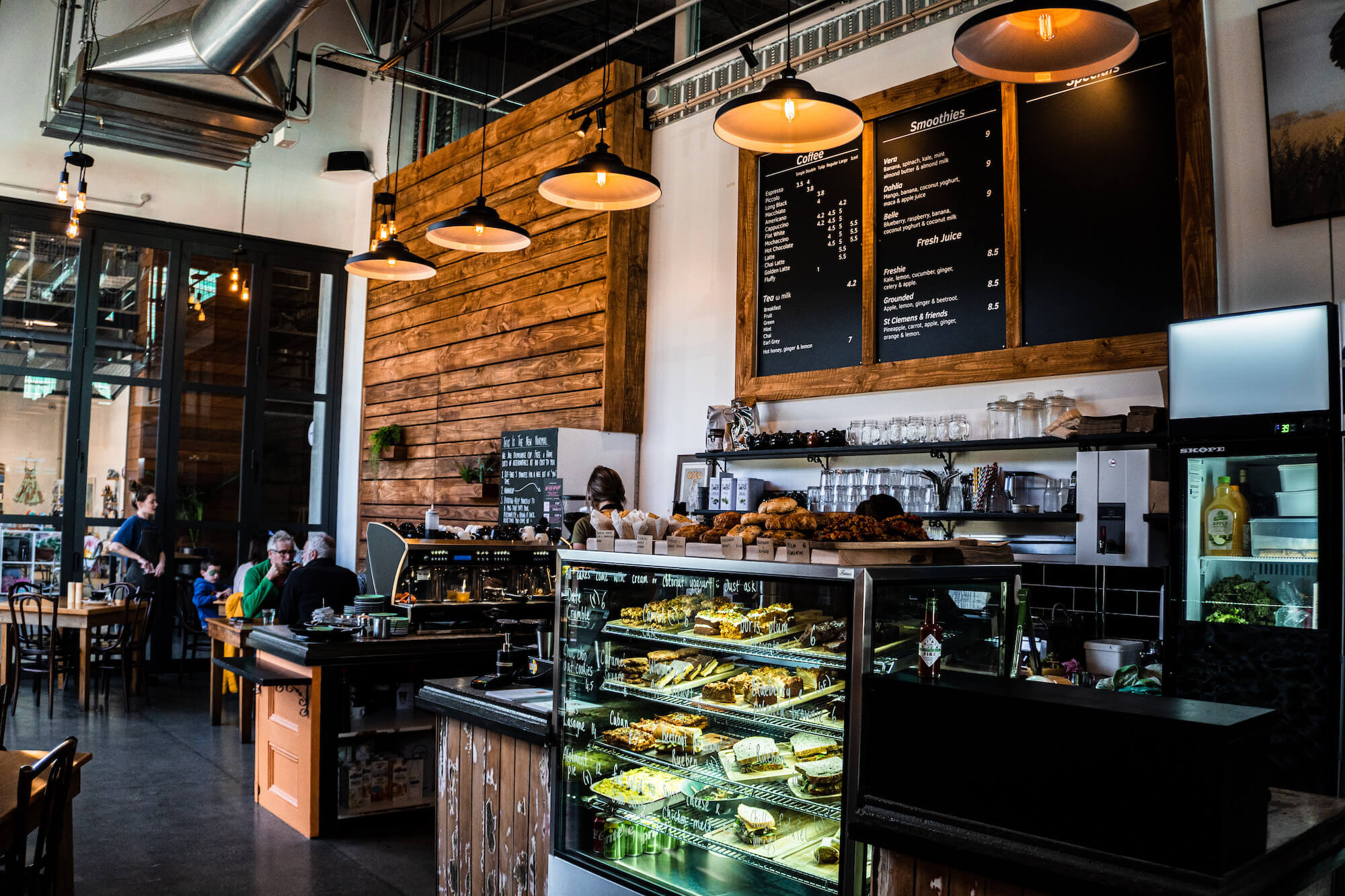 One of Queenstown's newest cafes, Hustl in Five Mile, was recently opened by the same family who owns Halo. And lucky for us, it doesn't disappoint.
This family seriously knows food, and the two siblings who run it have been part of the Queenstown hospitality scene since they were young. They know what the people want, and deliver through the creative menu and funky interior, which definitely passes the vibe check.
On the menu, expect classics like breakfast buns, muesli, and the breakfast burrito that's reminiscent of Halo. But the fun twists like a bubble and squeak benny and banana french toast is where this Queenstown cafe shines through.
Be sure to try the staff and local favourite: bubble & squeak Benny.
Note: Hustl is a disposable cup-free cafe. They have a mug library that allows you to take your coffee to go without needing a disposable paper cup. Simply bring the mug back next time your stop by.
Frank's Pantry
Address: Ground Floor, Wyndham Gardens Hotel, 32 Red Oaks Drive, Frankton
Frank's has a collection of eateries and cafes in Frankton, known for cranking out unmatched coffee and scones from all of their locations. One of the best Queenstown cafes for getting some work done, Frank's Pantry reigns supreme in my book. It has speedy WiFi, staff who won't bother you, and a delectable selection of treats to try.
One aspect that sets Frank's apart from other cafes in Queenstown is the build your own breakfast. Either load up a plate with eggs, bacon, smashed avo, and other treats, or opt to create your own bagels and choose from the dozens of toppings like cured and hot smoked salmon, an assortment of spreads, and plenty of accompaniments to top it off.
If you're looking to keep it simple, nothing beats the jalapeno, cheddar, bacon scone with a cuppa to go, or one of their housemade pies for lunch.
We've tried all kinds of t-shirts from various companies and with different materials. Merino wool has been our preferred material trip after trip! It's odour-resistant, breathable, and great in a variety of temperatures.
Unbound Merino makes some of our favourite merino wool clothing, allowing us to pack less and do fewer loads of laundry while away. Check them out below.
Patagonia Chocolates
Address: 2 Rees Street, Queenstown
Patagonia Chocolates is undoubtedly a favourite amongst Queenstown tourists. The cafe is perched next to the lake, so grab your goodies and head to the beach to enjoy. If you're visiting Arrowtown or Wanaka, there are also locations there.
The assortment of sweet treats, technicolour tubs of ice cream, blocks of fudge, and popsicles are certainly dizzying but sure to satisfy any sugary cravings. Warm-up with a cup of freshly roasted coffee or a deluxe hot chocolate with all the fixings if you're feeling fancy.
Try a staff favourite: raspberry sorbet and tramontana ice cream in a cone with a drop of white chocolate!
Fergbaker
Address: 40 Shotover Street, Queenstown
While Fergburger gets all the hype, Fergbaker is one of the best kept local secrets. Take it from me, skip the burger to save room for one of everything from the bakery next door.
One look at the sweets-lined cabinets, and you'll be in sugar heaven with tarts, eclairs, pastries and more. But if you're after something a bit more substantial, there's a great selection of seasonal sandwiches (breakfast wraps and baps are the best!), pizza slices, and of course, Ferg pies.
Fergbaker is the place to load up on supplies before heading for a lakeside picnic. Grab a bacon and cheese baguette, along with a couple of the famous Boston cream doughnuts (this is one Queenstown cafe treat that you cannot miss). Feeling extra sweet? The hot chocolate is practically melted fudge in a to-go cup.
When you find yourself craving a nicer breakfast, try out Fergbar next door with decked-out Bloody Marys, and a full breakfast served on freshly-baked provisions.
Yonder
Address: 14 Church Street, Queenstown
With an Asian flair and the promise of boozy brunch cocktails, Yonder is among the most unique Queenstown cafes. The brunch menu offers the likes of chipotle chili scramble, confit pork eggs benny, and a miso eggplant bowl, along with more classic choices like eggs on toast, porridge, and bubble and squeak.
The cabinet has excellent offerings, there's WiFi inside and on the patio, and the drinks flow freely, without judgement. If you want to toss a couple back or work on your laptop in the sun, give Yonder a try.
Bespoke Kitchen
Address: 9 Isle Street, Queenstown
If you don't mind a wait, Bespoke Kitchen is one of the most popular Queenstown cafes and almost always has a line out the door (especially on the weekends). Those with patience will be rewarded with a lavish assortment of seasonal treats ranging from spiced porridge, smoothie bowls, and local granola. Those looking for something truly different should try out the Breakfast Board with a wellness shot, chia pot, bagel, eggs, greens, and more.
After something a little more basic? Opt for the classic eggs benedict, creamy vegan mushrooms on toast, or the kumara hash.
The cabinet is worth a peruse as well, with creative salads and healthier sweets.
Balls and Bangles
Address: 62 Shotover Street, Queenstown
The American in me loves that someone decided to open a bagel shop in Queenstown. While it's no NYC bodega, they do make a pretty mean bagel. So if you're after a breakfast sandwich, no matter what kind, this is the best Queenstown cafe around. Plus, they have WiFi.
Choose from an assortment of bagel flavours and sandwich options ranging from classic breakfast bagels with eggs, bacon, and a hashbrown inside to smoked salmon and more creative picks like the Hawaiian chicken, Philly cheesesteak, and chicken cranberry.
But the real draw to Balls and Bangles is the doughnuts. While they don't have squat on the Ferg Boston creams (in my honest, East Coast opinion), they're still worthy contenders with decadent toppings like pavlova, salted caramel brownies, candy bars, and syringes dripping with caramel and chocolate sauce. More of a traditionalist? The simple vanilla glazed is pretty dang delicious.
The Bathhouse
Address: 38 Marine Parade, Queenstown
If you've gone for a wander along the lake or through the Gardens, you're sure to have passed The Bathhouse, the quaint little cafe sitting right on the water. Though more upscale than the traditional Queenstown cafe scene, you can expect a seriously good meal here from 9 am to 5 pm every day.
There are plenty of classic breakfast offerings to choose from, like pancakes with fresh fruit and cream, eggs on toast, and an eggs benny with the protein of your choice. As the day carries on, you may be tempted by the seafood chowder, New Zealand lamb hot pot, or a snack of oven-baked camembert, topped off with picturesque Lake Wakatipu views.
Try one of the staff favourites: seafood chowder and eggs benedict.
Odelay Cafe
Address: 10/5 Hawthorne Drive, Frankton
Odelay is for those mornings when you just need to get out of town. This charming Frankton cafe has something for everyone. It's nestled in Remarkables Park, a few doors down from Neat Meat (another must-visit for foodies in Queenstown).
Health-conscious eaters will be delighted by the seasonal fruit platter served with granola or the superfood smoothie bowls, while die-hard breakfast fans will froth over the brunch plate, pancakes, and avocado toast.
If you're out running errands and need a quick place to stop, Odelay also has an extensive cabinet lined with sandwiches, muffins, salads, and scones. And the coffee isn't half bad either.
Vudu Cafe & Larder
Address: 16 Rees Street, Queenstown
Vudu is good, albeit slightly pricey as far as the best Queenstown cafes go. It's pretty tiny and sits right in the middle of town with an outdoor terrace overlooking the lake and in prime time position to enjoy the buskers. The food is okay (though I'm sure many would argue it's incredible), but I find the real draw to this place is the cabinet.
Filled with sweet and savoury muffins, iced slices, and salads, Vudu has perfected the grab-and-go game, which is just as well, considering how busy they usually are. The coffee is also quite good, and there are tons of vegan and health-conscious options if that's your cup of tea.
The Boatshed Cafe
Address: 847 Frankton Road, Frankton Marina, Queenstown
Hidden along the Frankton Marina in a building that dates back to 1869, you'll find The Boatshed Cafe, a true Queenstown treasure. While this site once housed the New Zealand Railways Shipping Office, today, it's one of the best cafes in Queenstown. Sit outside and enjoy marvellous lake and mountain views while dining on gourmet fare. It hardly gets any better than this.
At The Boatshed Cafe, expect intricate dishes like blueberry french toast with honey and thyme mascarpone, or raspberry, mango, lemongrass chia pudding with chocolate bark. But if you'd rather snack on something simple, go for toast with local berry jam, eggs your way on toast, or a crispy buttermilk chicken burger.
The Dishery Restaurant
Address: 4 Buckingham Street, Arrowtown
Another one of the nicer places to enjoy breakfast is The Dishery in Arrowtown. The Dishery offers upscale cafe vibes with a gorgeous patio and scrumptious menu.
With all-day breakfast on offer, you can't go wrong with the omelette, chorizo hash, or big cooked breakfast. Or build your own plate with eggs how you like them with an assortment of meats and veggies to add on.
The Dishery also offers lunch and a couple of muffins and scones if you want a quick bite before walking one of the many trails in the area. There's even 'Dog Parking' if you feel like bringing a furry friend along!
Joe's Garage
Address: Searle Lane, Queenstown / 8/36 Grant Road, Five Mile, Frankton
There's something about Joe's Garage that simply does the trick. It's no-frills and no fuss but consistent and warm, with diner-style counter seating, a stretch of banquettes, and outdoor tables on Searle Lane.
On the weekends, it's often filled with families and hungover twenty-somethings devouring pancakes, plates of eggs, and big breakies. But if you know what's good for you, you'll order the breakfast burrito, which is the best in town.
I find that Joe's is one of the best places to work in town early in the morning, so bring your laptop, grab a cup of coffee and settle in. On your way out, don't forget a scone for later!
There's also a location in Five Mile if you're out Frankton way.
Ma Boulangerie
Address: 2D/12 Hawthrone Drive, Remarkables Park, Frankton
If you've read my round-up of best Tauranga cafes, you know I have a thing for little French spots. Ma Boulangerie in Frankton is the best cafe Queenstown has if you're after unique treats like raspberry-filled shortbread, custard croissants, and decadent cakes.
The freshly baked baguettes are ideal for sandwiches, and the French staff always serve up coffee with a smile. While there isn't too much seating, there are a couple of outdoor tables if you want to enjoy your spoils on site.
Cafe Society
Address: 6/32 Grant Road, Five Mile, Frankton
Cafe Society is the best Queenstown cafe in Five Mile with a sprawling selection of cabinet food and a delicious menu to enjoy between trips to the Warehouse and Boardertown.
From the cabinet, the cinnamon scrolls are the best around, and the rotating salads make for the perfect fresh bite. Their takeaway food is ideal for taking on picnics or a day skiing at the Remarks, and they even have kid's lunch boxes to make things easy.
If you'd rather eat in, the menu boasts an all-day breakfast with funky offerings like brunch bruschetta (my personal favourite), tropical french toast, and a chipotle pork belly hash.
Try a staff and local favourite: avocado toast!
Queenstown Signs
Address: 87 Gorge Road, Queenstown
Queenstown Signs is certainly the best cafe Queenstown has if you're looking for a spot off the beaten path. Sitting right on Gorge Road at the front of a print shop, you'll find this cute cafe filled with retro decor and grab-and-go fare.
I genuinely believe that this place makes the best breakfast bap in town, with a runny egg and your choice of aioli or HP. It's also nice and quiet, making it a charming place to answer emails or catch up on work. Swing through the stationery store on-site for cute notebooks and fancy pens. The entire shop is quite a unique and creative place!
The Exchange
Address: 39 Ballarat Street, Queenstown
For a quick breakfast right in town, The Exchange always hits the spot. The Exchange is the best cafe Queenstown has for simple food like toasted crumpets, granola bowls, and buttermilk pancakes. There are also some exciting options like grilled halloumi, nasi goreng, and brioche french toast with berry compote and vanilla mascarpone. The prices are pretty reasonable, and the atmosphere is inviting.
The Exchange is great to work from, has fast WiFi, strong coffee, and staff who will leave you to your own devices (literally).
Final Thoughts
The Queenstown cafe scene seriously has it all. Whether you're looking for a lazy breakfast of bacon and eggs or an ultra-involved french toast with brunch cocktails, you'll find it here.
Hopefully, this list gives you some inspiration for the next time you need a big breakfast, coffee, or cabinet food in Queenstown. From town to Frankton and everywhere in between, Queenstown has some excellent cafes.
Looking for more things to do in the area? Read our other New Zealand guides below: