Last Updated: September 14, 2023
Sitting in the north of the Isle of Skye, there's a mystical little natural attraction called the 'Fairy Glen.'
In this guide, I've unpacked everything you need to know about Fairy Glen, including what it is, where you can find it, why you should visit, and why it probably wasn't built by fairies (despite what some superstitious locals might tell you).
Note to readers: the Fairy Glen is not the same as the Fairy Pools. They have a similar name and are similarly cute, but they're two different things.
What is the Fairy Glen?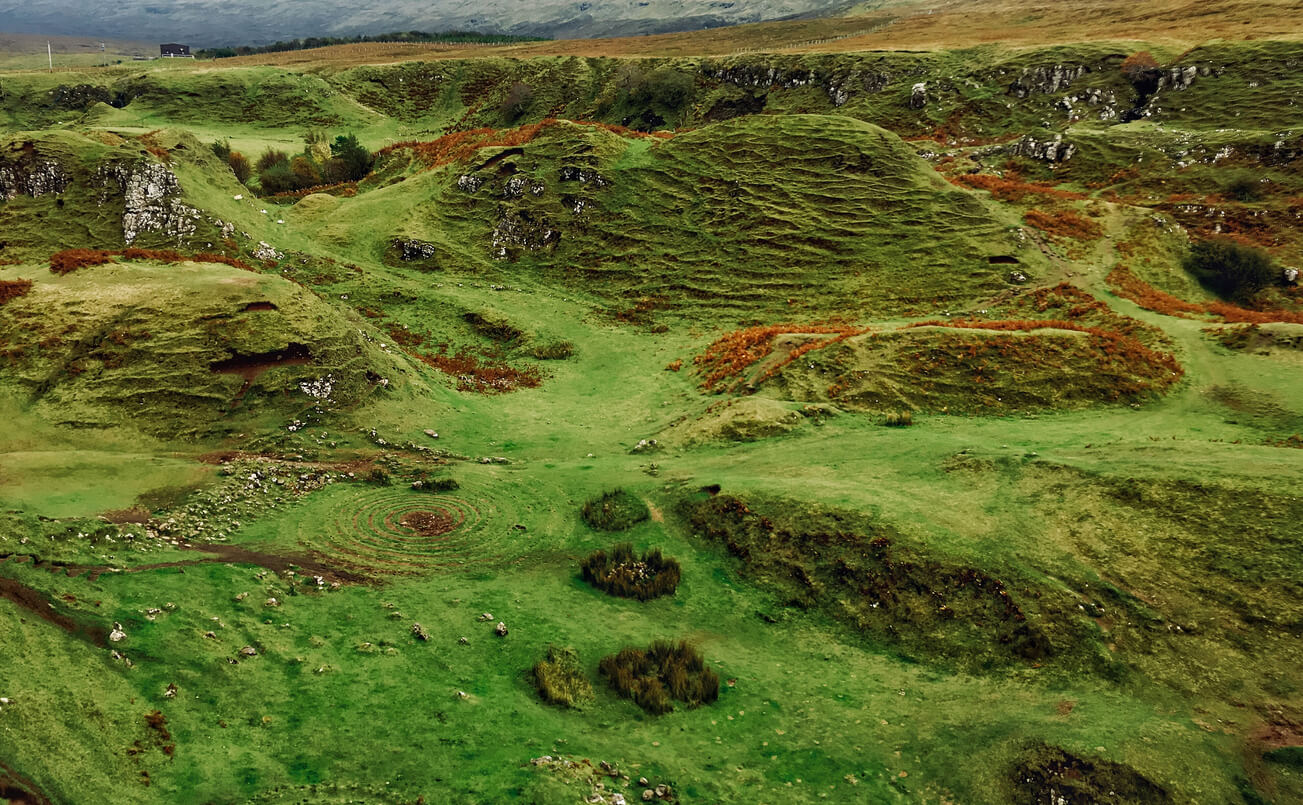 If you're a big romantic, you'll probably want to believe the otherworldly Fairy Glen was lovingly carved out by ethereal beings who wanted nothing more than a cute green playground to share with tourists and travellers. Ridiculously verdant, it's lumpy, marshy and bizarre, and it looks like some sort of weird magical miracle.
But if you're a realist, the cold hard truth is that the Fairy Glen is just a mystifying land formation, which was actually formed when glacial movements smoothed over various landslides. Or something like that; I'm no geologist.
But anyway, travellers are all romantics, so let's blindly pretend it's the former.
The truth hardly matters when you get to the place; the Fairy Glen is one of the most beautiful, unusual and enchanting places on the Isle of Skye, and everyone falls in love with it. Get yourself there, and you'll feel exactly the same way.
How Do I Get To Skye's Fairy Glen?
Getting to Fairy Glen by Car
The easiest way to explore Skye is with your car—and that's, of course, the case for the Fairy Glen.
Getting to the Fairy Glen by car is pretty straightforward. The last time I was there, there was no signpost to point you in the direction of the glen, but all you need to do is follow Sheader Road east out of the village of Uig. The entrance to that road is pretty much opposite Uig Tower and just past a bus stop.
Drive down that road for a couple of minutes, and you'll reach the Fairy Glen car park. From the car park, it's then a short walk to the start of the glen. The walk should only take you 2-3 minutes.
Top tip: there's not a huge amount of space in this so-called car park. It's not some multi-storey behemoth; it's just a small gravel area with room for around five cars. So if you're in an RV, or if you're visiting in the middle of a summer day, there's a good chance you won't be able to get a spot.
Getting to Fairy Glen by Public Transit
If you don't have access to a car, you can reach Fairy Glen by public transport, but it's a bit of a challenge. First, you have to take a bus from Portree to Uig (your options are the 916 and the 57A). Then you need to take a shuttle bus from Uig to Fairy Glen. I've never seen this shuttle bus in action, and I don't know if it's actually even real—but I've heard rumours that it is. Sorry, I can't be more helpful.
If this shuttle bus isn't operating or doesn't even exist at all, you can walk from Uig to the Fairy Glen—it's an easy-to-follow (and very pretty!) 30-minute stroll along an asphalt road.
Hitchhiking to Fairy Glen
Hitchhiking is the easiest way to reach the Fairy Glen without hiring a car. But before you assume you're going to be brutally murdered by an axe-wielding psychopath, hitchhiking in Scotland (especially on the islands) is easy. I do it all the time. So stick your thumb out, join the fun, and make some friends. It's quicker, easier and more enjoyable than using public transport.
What Can I Do at the Fairy Glen?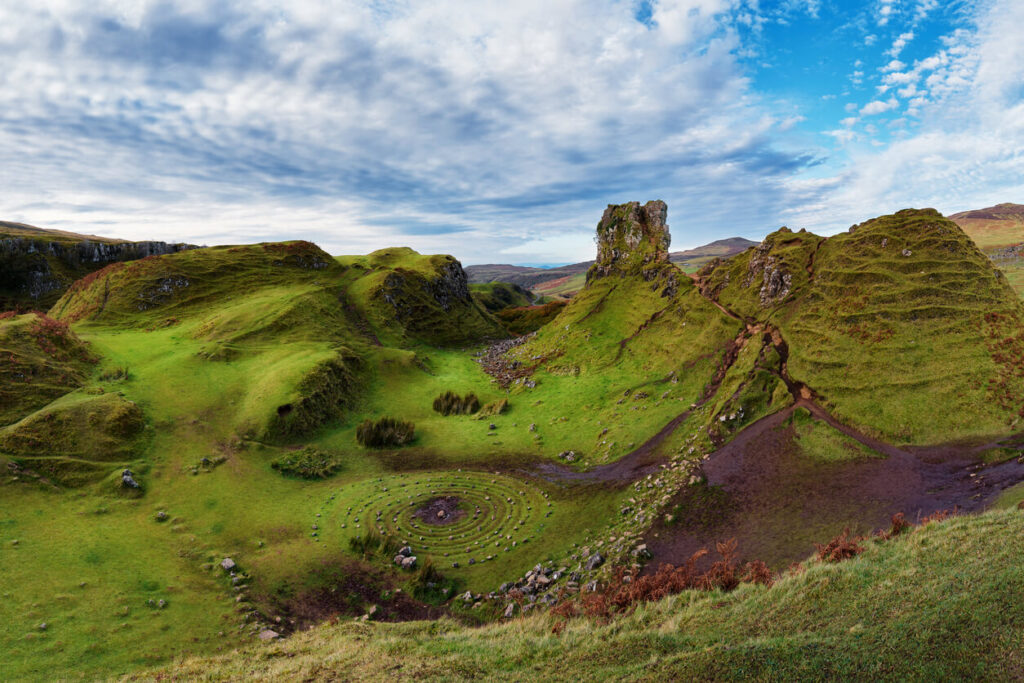 Good question.
The first thing you'll want to do is go on a wander and point at parts of the glen, saying things like 'wow, look how lumpy that is; it looks like something from the Hobbit.'
Don't worry about finding an official trail when you're doing this—there isn't one. And don't worry about finding the 'best way' to explore the place, because there isn't one of them either. Instead, wander aimlessly, and you'll see all of the best parts (it's pretty tiny).
If you like following specific routes, here's a detailed one.
On any wander around the Fairy Glen, make sure you explore Castle Ewan (or 'Castle Ewen', depending on who you ask), a natural rocky tower that sort of looks like a castle. The highest point of the area, the views from here are great. Many photographers come to the 'castle' to take pictures of the surrounding area. It's a little scramble to get to the top, but it's still pretty accessible.
Beside Castle Ewan, there's a tiny little cave. According to legend, this cave can grant good luck to visitors. If you want a dose of fortune for yourself, all you need to do is find a small crack or crevice, fish a tiny coin out of your pocket, and cram the coin into the crack. Do that, and all of your dreams will come true (apparently).
You can also wander around the surrounding area, which offers waterfalls, mini hills, little ridges, and lots of fields, farmland and forests.
What to Pack and What to Wear for Skye's Fairy Glen
If it's looking like you'll have good weather (though there's no guarantee of that in Scotland), you should take a packed lunch with you. The Fairy Glen is one of my favourite picnic spots in Skye, so I recommend taking some sandwiches for a cute little alfresco feast.
(If you want to eat without carrying a packed lunch, my favourite Uig eatery is The Galley Cafe & Takeaway, one of the most lovely places on the whole island.)
And because there's no guarantee of good weather in Scotland, you should also take a waterproof jacket and good waterproof walking boots. Even if Skye's skies are blue, and the weather forecast looks good, don't be lulled into a false sense of security.
If you're visiting during midge season (that's from May until September), you'll inevitably be harassed by packs of midges, the most irritating insect on the planet. You should carry some midge deterrent, and wear light colours and long sleeves.
Things to See near Skye's Fairy Glen
Fairy Glen is in the Trotternish Peninsula – the big northern 'finger' of the Isle of Skye. As such, the Fairy Glen is close to lots of Skye's most famous attractions. They include Portree, The Old Man of Storr, the Quiraing (which is like a bigger version of the Fairy Glen), and those Fairy Pools I mentioned earlier. Make sure you visit them all.
Very close to the Fairy Glen, you also have the Falls of Rha, another of Skye's most underrated attractions. A wooded waterfall that tumbles down a set of remote rocks, some tourists combine a Fairy Glen visit with a trip to the Falls of Rha. And you should too.
Make sure you also visit Uig itself. Diminutive and charming, there's not much there, but that's sort of the point. If you like tiny places, it's a massively underrated base and has a population of less than 500 people.
In Uig, you can explore the western shores of the Trotternish Peninsula, grab snaps of photogenic Uig Tower, and wander to nearby Caisteal Uisdean (or Hugh's castle, if you prefer easy-to-pronounce names). From Uig, you can even catch a ferry to Tarbert, the main settlement on Harris, another island in western Scotland.
Top Tips for the Fairy Glen
If you don't want to be surrounded by endless packs of other tourists, visit Skye's Fairy Glen early, before 10 am. Yeah, it's not quite as busy or popular as lots of the island's other attractions, but it's still frequented by visitors.
If you're visiting outside of peak season, make sure you check the sunset and sunrise times. Nothing's worse than travelling a great distance and end up looking at a big load of nothing. Skye can have as little as 6 hours of sunlight per day in winter.
The Fairy Glen is sometimes called the 'Faerie Glen.' Call it that to score bonus points with the locals, but don't be surprised if they also don't know what you're talking about since most people know the place by its Anglicized name.
You'll probably spend an hour or two at the Fairy Glen as most tourists do. But you'll spend longer if you settle on a picnic, or if you want to wander to every last corner of the place.
You should definitely visit the Fairy Glen if you're travelling with kids. Some attractions on Skye are relatively inaccessible and remote, with challenging terrain. But the Fairy Glen is small and easy to explore, and kids love how cute, cozy and strange it is.
You don't need a map, compass, or any of that stuff. Yeah, Scotland can get misty, but this isn't Ben Nevis.
Recently, tourists and travellers have started moving the Fairy Glen's rocks to make spirals and circles in the ground. So, no, these weird formations weren't crafted by fairies. Locals don't like the tourists moving the rocks because they want the place to remain in its original state. What I'm trying to say is: don't move the rocks around!
Final Thoughts
There you are —everything you need to know about Skye's Fairy Glen. One of the island's most underrated and overlooked attractions, it's definitely worth a visit.
If you want to know anything else about visiting the Isle of Skye, wander over to our articles on the best beaches, including Coral Beach, the best time to visit Skye, and how you can get to Skye from the Scottish mainland.
Thanks for reading, and we'll see you next time!
🌍 Ready to Jet-Set on a Budget? ✈️

Maximize your savings with these travel essentials:

✈️ Sky-high Savings: Book budget-friendly flights with Skyscanner.
🏨 Rest Easy: Find the perfect accommodation on Booking.com or Hostelworld.
🛄 Travel Light: Store your luggage securely with Bounce.
📱 Stay Connected: Grab affordable eSIMs from Airalo or SimOptions.
🌄 Unforgettable Adventures: Find tours and experiences with GetYourGuide.
🛡️ Travel Worry-Free: Stay protected with travel insurance from SafetyWing!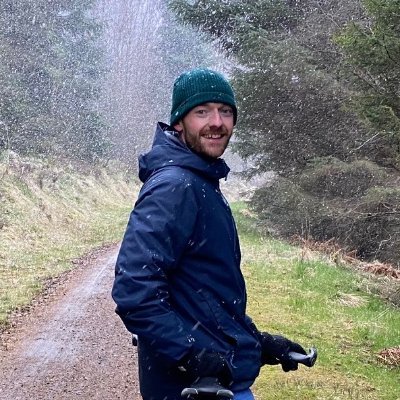 Paul McDougal is a handsome and hilarious travel writer originally from the UK. He likes hitchhiking, working remotely, and having absolutely no idea what's going on.