Last Updated: September 14, 2023
Most people will tell you to build a 3-day Isle of Skye itinerary.
Don't listen to those people. They've probably never even been.
Yeah, in three days, you can, of course, see the highlights—but there's way more to Skye than just the highlights. Because there is a lot to do, I recommend going for at least five days.
You could easily (and happily!) spend two weeks on Skye, and you still wouldn't see everything.
So in this info-packed guide, I've brought you the perfect 5-day Isle of Skye itinerary. There are many ways to get to the Isle of Skye. To follow the plan I've outlined, however, you'll need a car. Public transport isn't very regular, and it won't take you to the most remote places. And if you're travelling with more than one person, hitchhiking may not be an option either.
A quick note, before we get to all the juicy stuff: you should visit Skye in the summer. You'll get better weather, but way more important than that, the days will be much longer—so you'll get a lot more time to enjoy the stuff you're seeing.
And one final note: it's possible to use Portree as a base for your entire trip. But I wouldn't—other places are much more beautiful, and spending a couple of nights outside of Portree allows you to do way less driving.
Alright, here we go, my speedy 5-day Isle of Skye itinerary!
Day 1: Southern Skye
For most of today, you'll be looking at the Cuillins. A massive range of ridge-lined mountains, they dominate the southern part of the island.
If you're a keen hiker, they offer some of the UK's best and most challenging treks. But for this itinerary, I've just suggested some gentler stuff.
If you've arrived in Skye the night before your first full day on the island, you should spend that night somewhere along the Sleat peninsula. Verdant, underrated and full of beautiful drives; it looks hugely different from most other parts of Skye. So make sure you explore it. I've stayed at this AirBnb right in the middle of Sleat, and I recommend it. For other recommendations, be sure to check out our post on where to stay in Skye.
Anyway, here's your 4-part plan for today:
Sleat
Get up early and drive the length of the Sleat peninsula. Wherever you're staying, drive west to Aird of Sleat before doubling back on yourself then eventually heading north to Elgol. Quick work—you've seen some of Skye's best landscapes already, and you haven't even left your car.
Elgol
When you get to the disparate smattering of houses that make up the small village of Elgol, explore Elgol Beach. Rocky, remote and barren, it's a nice place to spend an hour or so.
The Fairy Pools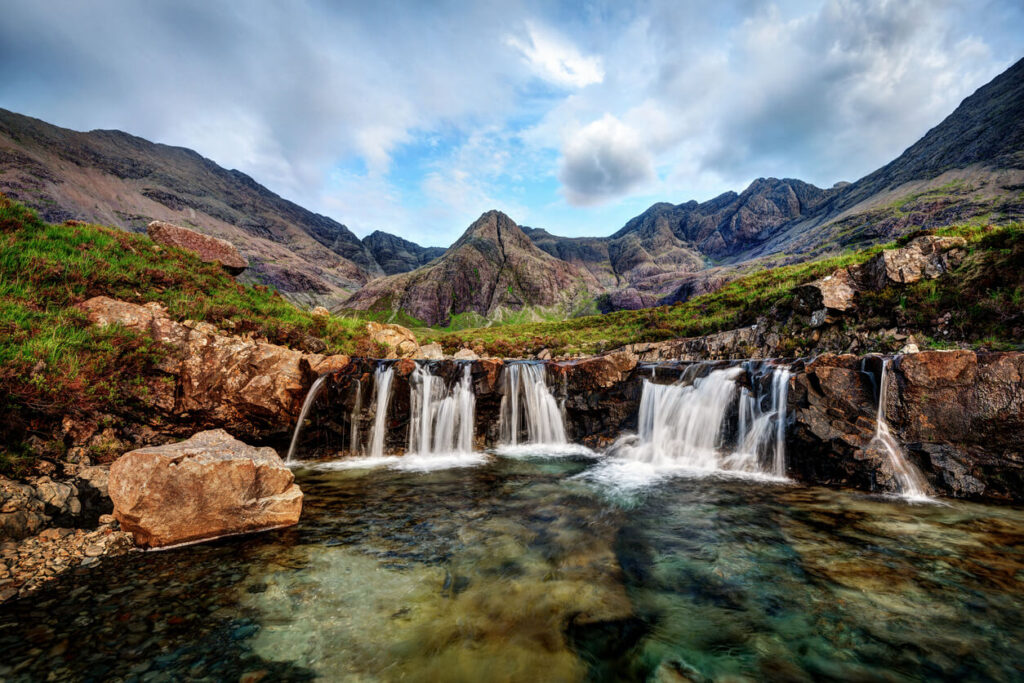 One of Skye's most famous attractions, the Fairy Pools, are a big ol' tourist trap. But they're stunning, so who cares. Aim to get here by 11 am at the latest, so you miss the bulk of the crowds. The 3-hour walk around the Fairy Pools lets you see the Cuillins without having to spend an entire day hiking. Bring a packed lunch.
Loch Coruisk
Head back to Elgol for one of Skye's best adventures—and the best part of your day.
Hire a boat (with a driver) who'll take you to Loch Coruisk; a secluded lake sandwiched right between the Cuillins. It's beautiful, but more importantly than that, you're in with a chance of seeing sharks, whales, dolphins, and loads more marine life. Spend around three hours in and around the loch, and come in summer if you can.
Afterwards, head back to Sleat to rest your sleepy head.
Day 2: Raasay, Sconser and Portree
The most exciting part of today is your trip to the tiny island of Raasay. This little journey is the Russian doll of Scottish boat trips, an island adventure from an island adventure.
Raasay is massively underexplored, and not enough tourists venture to its shores. Fertile, wooded and much more intimate, it's hugely different from Skye.
To access the island, take a ferry from Sconser. The journey takes 25 minutes each way and runs regularly, but make sure you book in advance.
In order, here's 3-part your itinerary for today:
Raasay
While you're on Raasay, here's what you want to tick off:
Calum's Road: the story behind this place is excellent. 56-year-old postman Calum Macleod kept requesting the construction of a 2-mile road to Arnish. The council kept refusing—so instead, he built it himself.
Isle of Raasay Distillery: slurp on some of Skye's finest drams with tasting sessions at one of the most modern, elegant distilleries in Scotland.
Hike: there are many Raasay walks, but I recommend the wonderful 4-mile (6.5km) jaunt through Churchton Bay, Inverarish and Raasay woods. You can find info about this hike, and other Raasay wanders here.
Inverarish: the tiny capital of Raasay is home to around 160 people. Raasay House (though I've not been!) is allegedly a brilliant food stop, serving local delicacies and regional produce. It's the only full-time eatery on the island.
When you're done with all that, take the ferry back to Sconser.
Sconser
After your Raasay trip, explore tiny Sconser. Small and alluring, there's not much to do here, but that's the point. Have a 20-minute wander, then jump back in your car and head towards Portree.
Portree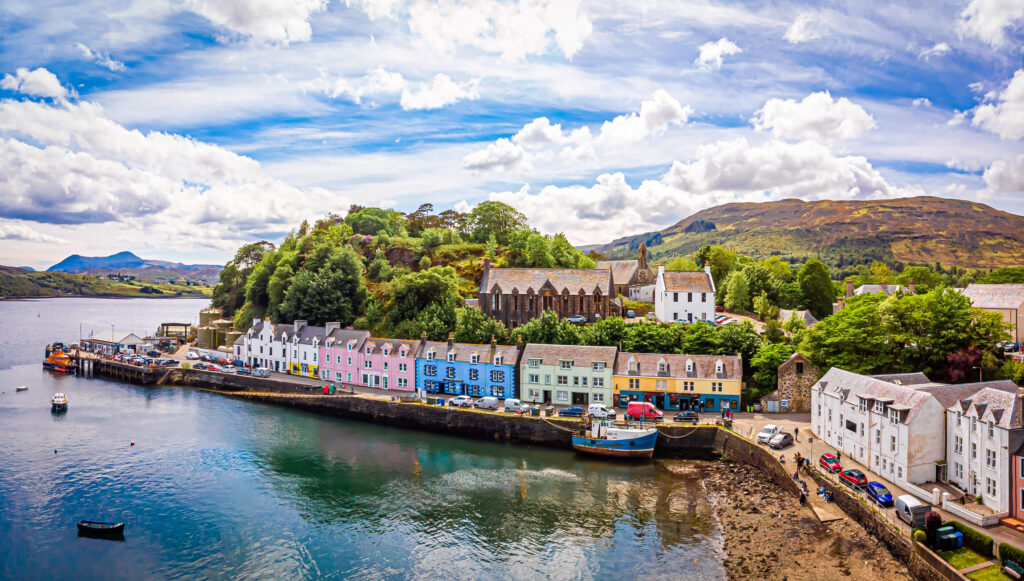 When you get to Skye's cute capital, wander down to the port, see the colourful houses, eat some food and you're done. Chow down at The Isles Inn, one of my favourite eateries in Skye.
Today, Portree is (obviously!) a logical base. Charming, homely and central, Portree Independent Hostel is perfect if you're travelling on a budget.
Day 3: Northern Skye and the Trotternish Loop
Trotternish Loop is a jam-packed day brimming with many of Skye's significant highlights. En route, you'll drive around the entire Trotternish loop, a 50-mile (80km) circle running around the perimeter of the Trotternish peninsula (the northern part of Skye).
You begin and end in Portree, so sleep there again tonight.
Today, in the following order, you're going to tackle:
The Old Man of Storr
A craggy tower surrounded by the lofty peaks of other iconic outcrops, The Old Man of Storr is the island's most famous hike. An easy 2-hour jaunt, this accessible stroll gives you brilliant views of crags, cliffs, islands and more.
Brother's Point
An underrated viewpoint on Skye's northeastern coast, Brother's Point is a lumpy little headland jutting out into the sea.
Kilt Rock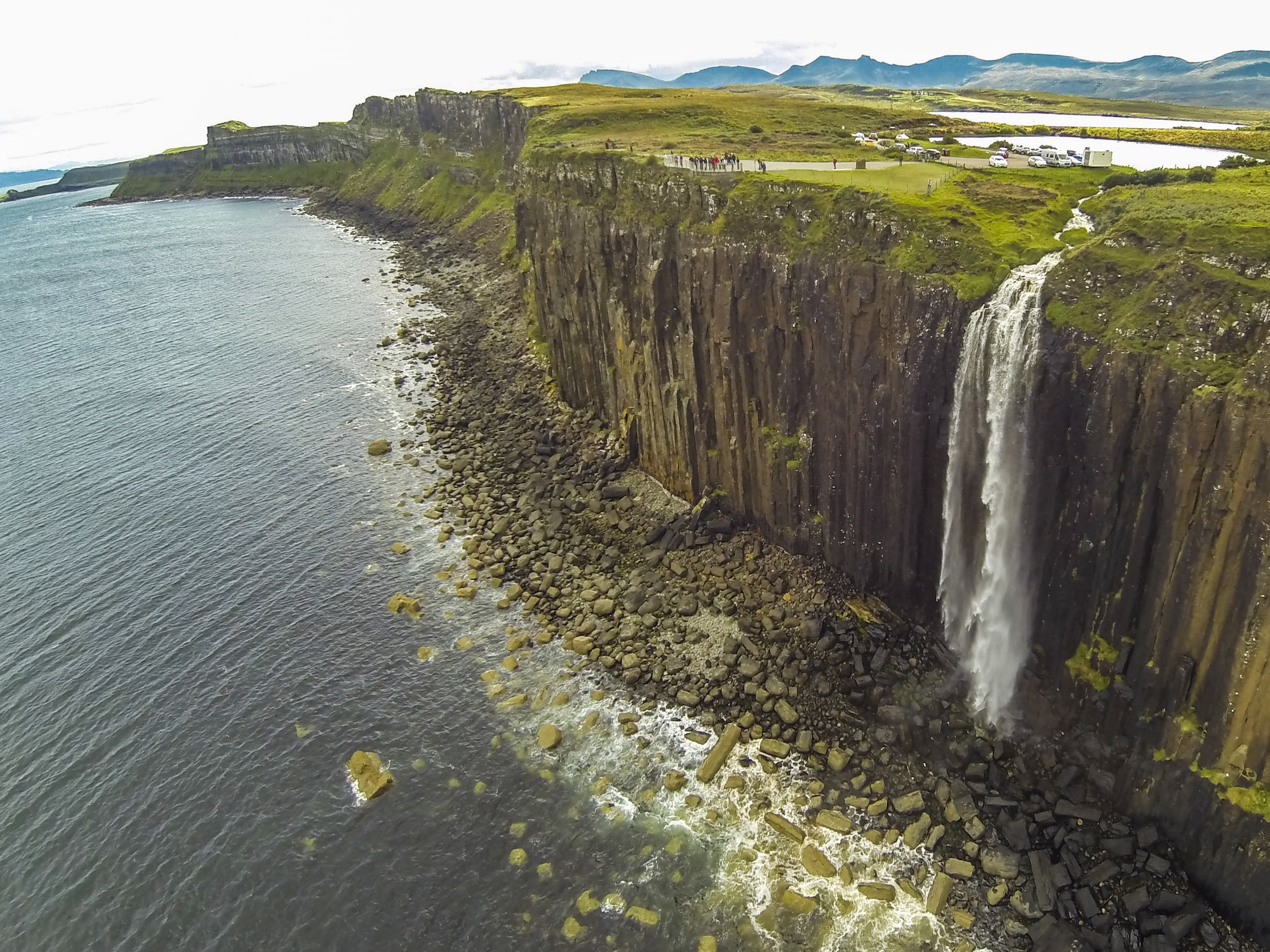 The most famous cliff in Skye, Kilt Rock, is home to Mealt Falls, a massive 55-meter cascade. The views are beautiful, and the falls are imposing.
The Quiraing
My favourite place in Skye, the Quiraing, is an unusual, undulating, otherworldly landscape. Don't visit Skye without seeing it! The most popular hike here is a three-hour stroll with endlessly incredible views.
Yeah, I know you've already hiked today, but get over it.
Duntulm Castle
Duntulm isn't the best castle in the world, but you'll be driving past it anyway, so you should stop to say hello.
The Fairy Glen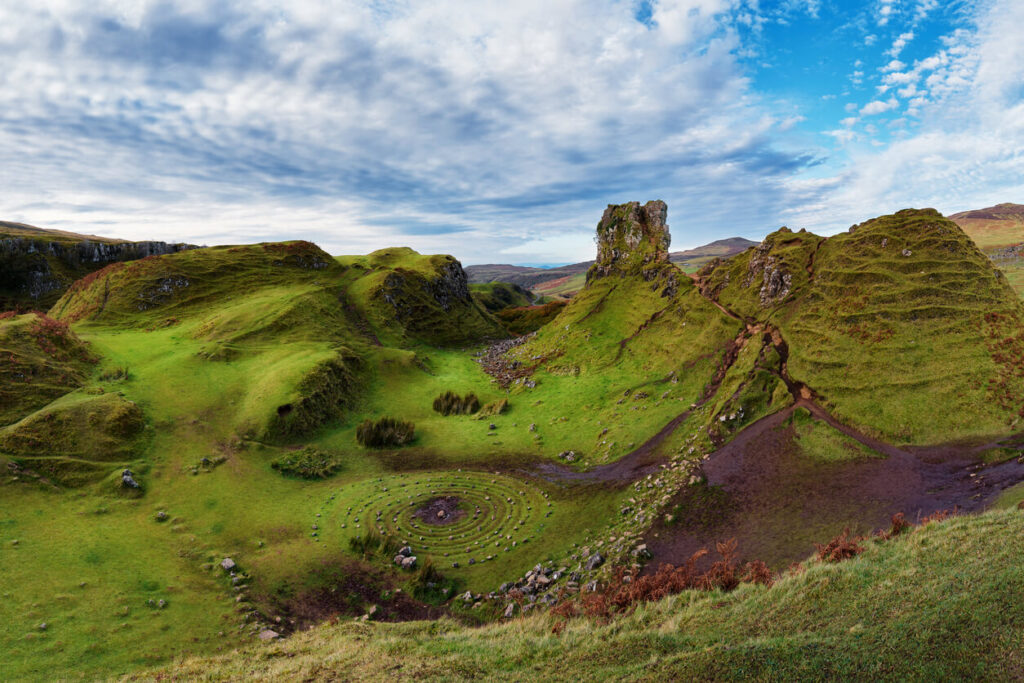 Like something from The Hobbit, the Fairy Glen is similar to (but smaller than) the Quiraing. Walk here from Uig after parking up your car.
Again, the Trotternish Loop begins and ends in Portree, making things nice and easy. Get an early night because there's much more to come tomorrow.
Day 4: Western Skye
Today is your most remote day. Western Skye is underrated and underexplored, but we're not going to neglect it!
Tonight, it's best to stay in Dunvegan, so you don't have to drive too far after you've finished your fun. The Tables Guest House is a popular and central spot.
Today, in the following order, you'll be hitting up:
Dunvegan Castle
Skye's most iconic castle, Dunvegan, is massive and beautiful. Don't go inside—there's better stuff to do. But get a brief peek from the outside.
One of Skye's most famous beaches, this is lovely. Secluded and serene, you'll likely have the place to yourself.
Orbost Coastal Walk
Welcome to the most remote adventure I'm recommending. Park up at Orbost, and follow the cliffs and coast heading south. On a ten-mile round trip, you can reach Macleod's Maidens, a set of remote sea stacks right at the end of the peninsula.
But you don't need to walk that far—follow the path for as long as you like before turning back. No matter how far you wander, it's a beautiful walk.
Gulp and Gobble
For a late lunch or an early dinner, head to the Oyster Shed. One of Skye's most famous chow-down spots, the no-frills food here is ridiculously fresh and tasty.
Before or after you eat, explore Talisker Distillery, one of Scotland's most famous whiskey-making sites.
Neist Point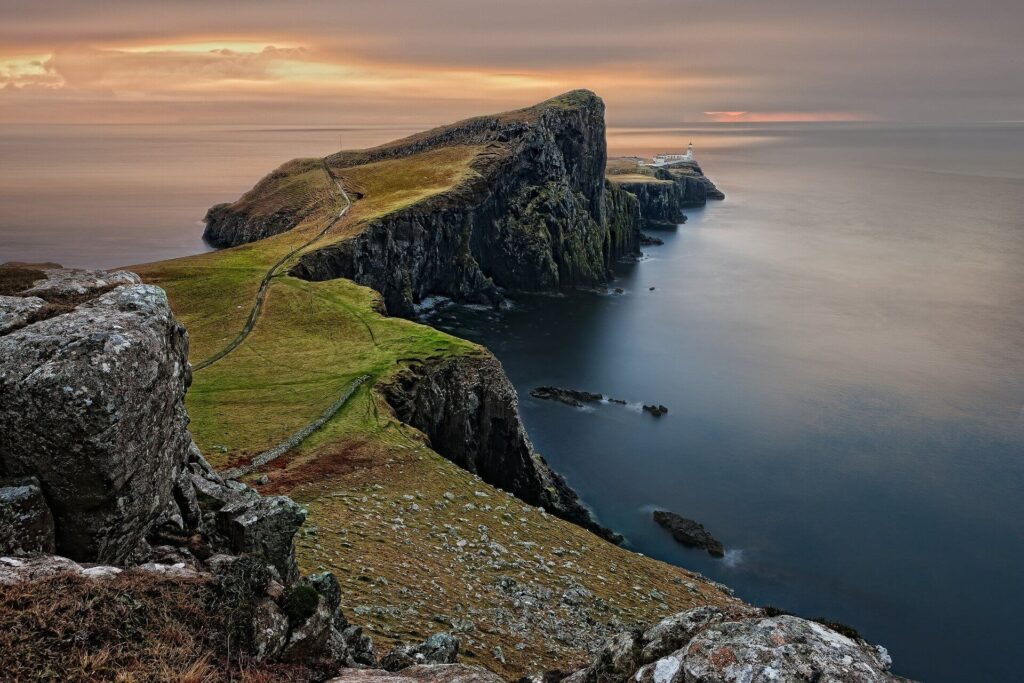 One of the most picturesque places I've ever been to; I love this place.
Wander along the headland towards one of Scotland's most famous lighthouses, and make sure you stay for sunset. If you're lucky, you might see whales and dolphins.
Day 5: Loose Ends and Two Tiny Trips
Today, you say goodbye to Skye. But you still have adventures to come, both on the mainland and the island. Here's what you're doing on day five:
Sligachan Old Bridge
You start the day at one of Skye's prettiest places. This disused aesthetic bridge has beautiful surroundings, so it's a perfect spot for photos.
Dunscaith Castle and Northern Sleat
Yeah, you could have come here on your first day, but you wouldn't have had time. The single-track road in this region is remote and rural, and it's a lovely drive.
More importantly, this area is pretty close to Kyle of Lochalsh, the mainland point where you'll be waving goodbye to the island.
Plockton
On your way out of Skye, head to Plockton for a couple of hours. A ridiculously charming fishing village just 8 miles (13km) northeast of Skye, it's honestly one of the sexiest settlements I've ever seen. It has a tiny population of fewer than 500 people.
I guarantee you'll fall in love with the place.
Eilean Donan Castle
For your final slice of fun, drive over to Eilean Donan Castle.
One of the best-known castles in Scotland, it's incredibly photographable. Perched on the shores of Loch Duich, it's a brilliant place to end your adventure.
Final Thoughts
Thanks for reading our Isle of Skye itinerary!
One final note: if you can spend longer than five days in Skye, you absolutely should. If that's the case, I recommend spending even more time west and south and going to the most remote places you can.
Skye is one of my favourite places on the planet. So give it the time it deserves and explore as much as you can. But most importantly, have fun!
For even more information on Skye, check out our other guides:
Thanks for reading!
🌍 Ready to Jet-Set on a Budget? ✈️

Maximize your savings with these travel essentials:

✈️ Sky-high Savings: Book budget-friendly flights with Skyscanner.
🏨 Rest Easy: Find the perfect accommodation on Booking.com or Hostelworld.
🛄 Travel Light: Store your luggage securely with Bounce.
📱 Stay Connected: Grab affordable eSIMs from Airalo or SimOptions.
🌄 Unforgettable Adventures: Find tours and experiences with GetYourGuide.
🛡️ Travel Worry-Free: Stay protected with travel insurance from SafetyWing!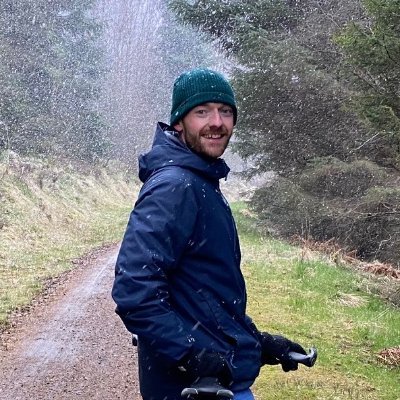 Paul McDougal is a handsome and hilarious travel writer originally from the UK. He likes hitchhiking, working remotely, and having absolutely no idea what's going on.