Last Updated: September 14, 2023
One of the most famous beaches on the Isle of Skye, Coral Beach, sits on the western part of the island, just north of idyllic Dunvegan village.
Isolated, serene and peaceful, it's one of my favourite places on the island—so in this guide, I've unpacked everything you need to know about the place.
Want to know what you can do there? How to reach its shores and sands? Or all the reasons you'll fall in love with it?
Pack your Speedos, blow up your inflatables and come join the fun. Today, Budget Travel Plans are adventuring around Skye's Coral Beach. And you're coming with us!
Why Should I Visit Coral Beach on The Isle of Skye? And What Can I Do There?
There are loads of reasons to visit Coral Beach on Skye.
But most importantly, you should visit because it's one of the most beautiful places on the island. A bright-white beach with deep-blue seas, this is about as close to tropical as Scotland gets. And because you can only reach the place on foot (the nearest road is 20 minutes away), it's always pretty peaceful and serene.
Why is it called Coral Beach
It's called 'Coral Beach' because the vast majority of the shoreline is made up of coral-like stuff rather than standard sand. But contrary to popular belief, these strange shapes aren't actually pieces of coral. Instead, they're tiny skeletons of Red Coralline seaweed.
These seaweed skeletons are formed into strange, unusual, colourful shapes, and tourists absolutely love them. So have a play around, take some photographs, and fire up that Instagram.
When you're done with all the kooky non-coral, jump in for a swim. Yeah, the water's cold, but Coral Beach is one of the best wild swimming spots on the entire island.
Wildlife and Sea Creatures on Coral Beach
And while you're splashing around in the water, keep your eyes open for seals, which are visible on this part of Skye year-round. If you visit in late summer or early fall, you might even see some adorable seal pups!
It's also possible to spot sea otters on Skye's Coral Beach. Still, you'll have to be pretty lucky—otter sightings on this part of the island are relatively rare.
Make sure you check out some of the rock pools, which you'll find dotted along various parts of the beach. You might find creatures and critters, including crabs, sea anemones, starfish and shrimp, perfect if you're visiting Skye with kids (or if you're just a big kid yourself).
Ghrobain Lookout
You should also tackle the tiny ascent up Ghrobain, a lovely viewpoint that looms over the beach. This lumpy mound on the right-hand side of the shore offers the best possible view of the place—it's genuinely one of my favourite shoreline views on the Isle of Skye. Best of all, it's a very low-level peak, so it's a low-effort walk. Make sure you clamber up!
Tide on Coral Beach
But here's my top tip for visiting Skye's Coral Beach, and not enough people do this. If the tide is low, wander over to the tiny uninhabited island of Lampay, which is only accessible on foot. You can check the tides for the area here to see when you will (and won't!) be able to cross. Make sure you return with plenty of time to spare as you don't want to get stuck!
Slightly further from the shores of Coral Beach, there are a few more islands. The biggest of them is Isay, directly north of the beach. It's completely uninhabited, though fishers occasionally take their boats to the island to snag a haul. But unless you have a boat of your own, the place is inaccessible.
How to Get to Coral Beach on Skye
Getting to Coral Beach with your own Car
There's only one possible route for reaching Skye's Coral Beach. First, you need to get to Dunvegan before driving along the small road (which soon becomes a single-track road) leading north of the village. En route, you'll pass Dunvegan Castle, one of the most popular attractions on the island.
Park up in the small car park at the bottom of this single-track road. Liberally-potholed but welcomingly-free, it's a pretty small spot, with space for around ten cars. If there's no available space, see if you can park up on a grassy verge (but make sure you don't block anyone or anything).
The drive from Dunvegan to the car park is pretty lengthy—and 4 miles (6.5km) of it is along a single-track road. So if you're not confident on roads like this, you might want to give it a miss. Another important note: this narrow track isn't suitable for motorhomes, campervans, or caravans.
From the car park, it's a 20-minute walk to the beach. It is an enjoyable wander. The walk takes you through some flat but attractive farmland and usually past sheep and cows. The path is straightforward to follow, so you're not going to get lost or wind up stranded. If you're walking with a dog, keep it on a leash to not hassle the sheep.
You can read more about that short but impressive walk here.
Getting to Coral Beach without your own Car
If you don't have access to a car, we've got some bad news for you: there's no public transport from Dunvegan to Coral Beach (or from any other part of Skye to Coral Beach). Instead, you'll need to walk to the beach from the centre of Dunvegan on a one-way wander measuring in it around 5.5 miles (9km). The route follows the same single-track road we've already mentioned.
So if you don't have your own car, I instead recommend hitchhiking, which is super easy (and relatively normal) in Scotland. The last time I visited Coral Beach, I hitchhiked in and out, and no one thought I was a murderer. It's much better, easier and more convenient than a 4-hour round-trip walk.
What Should I Pack and Wear for Coral Beach?
If you're going to swim, you'll (of course!) need some type of swimming stuff. A wet suit is ideal because the water is cold, but if you don't mind a chilly dip, any ol' swimsuit will do.
And because the water is very clear, goggles are also a good idea.
Wear sturdy shoes or hiking boots to walk into the beach from the car park. You need to cross a couple of small streams, which are usually wet, muddy and boggy, especially if there's been some recent rain.
Last of all, I recommend carrying a picnic. Skye's Coral Beach is genuinely one of my favourite alfresco areas on the entire island, with lots of lovely places to plop yourself down with some sandwiches. Remember that lumpy Ghrobain viewpoint I mentioned before? That's a perfect place to sit with some snacks.
When's the Best Time to Visit Coral Beach on The Isle of Skye?
For the best weather and the longest days, you should visit Coral Beach in warmer months. In Scotland, that's the four months from May until August, but April and September can be pretty good too.
(Broadly speaking, those are the best times to visit all of the Isle of Skye's beaches).
That said, if you're visiting during any other time of year, you should still take a trip to Skye's Coral Beach—unless the weather is absolutely horrendous, it's a lovely place to visit.
Aim to arrive outside of peak hours no matter what time of year you visit. If you don't, you might struggle in your quest to find a parking spot.
How Long Should I Spend at Coral Beach on Skye?
That, of course, depends upon what you're planning to do. But if you do everything we've listed in this guide, you'll probably spend 2 or 3 hours at the place.
Because Coral Beach is so peaceful, it's definitely worth hanging around for a while. And the longer you wait, the more chance you'll see some seals. Win-win!
Other Things to See Near Coral Beach on The Isle of Skye
Because the place is located in one of Skye's most alluring areas, you should combine your Coral Beach visit with a trip to some other nearby attractions. I recommend these three:
Dunvegan Castle: combining Coral Beach and Dunvegan Castle is very popular. Because they're both located on the same road, visiting them both on the same day makes sense. So you should do exactly that!
Dunvegan village: just south of Dunvegan Castle, you have Dunvegan village, one of my favourite settlements on the island. Dunvegan is Skye's second-biggest village and is a great place to eat and drink. It's ridiculously charming!
Neist Point Lighthouse: just west of Dunvegan, you have one of the world's best sunset locations. Here, there's a lonely lighthouse perched at the end of an undulating headland, and lots of people flock here to watch the sun go down. Highly recommended.
Top Tips for Visiting Coral Beach
I know we've mentioned this already, but you should definitely visit Coral Beach outside of peak hours if you can. It's not the most bustling destination on Skye, but the car park can fill up quickly. And if there's no space to park, you won't get to enjoy the beach!
Dogs are welcome on the beach, but you should keep them on a leash. Sometimes, livestock wanders close to the shores, and farmers (understandably!) aren't keen on dogs hassling their cows and sheep.
Skye's Coral Beach is a great spot if you're travelling with kids. It's safe, swimmable and beautiful and has both rock pools and weird sand. And behind the beach, there are flat green fields—perfect for kicking a ball around or playing games or whatever.
Midges are pretty rare on Skye's coast. However, suppose you're travelling during midge season (typically from May until September). In that case, you'll still find some of the pesky little boys. So carry some midge spray when you visit Coral Beach.
Skye's Coral Beach is also known as 'Claigan Coral Beach'. So, yep, in case you're confused, those two beaches are exactly the same as one another.
Are There Any Other Good Isle of Skye Beaches?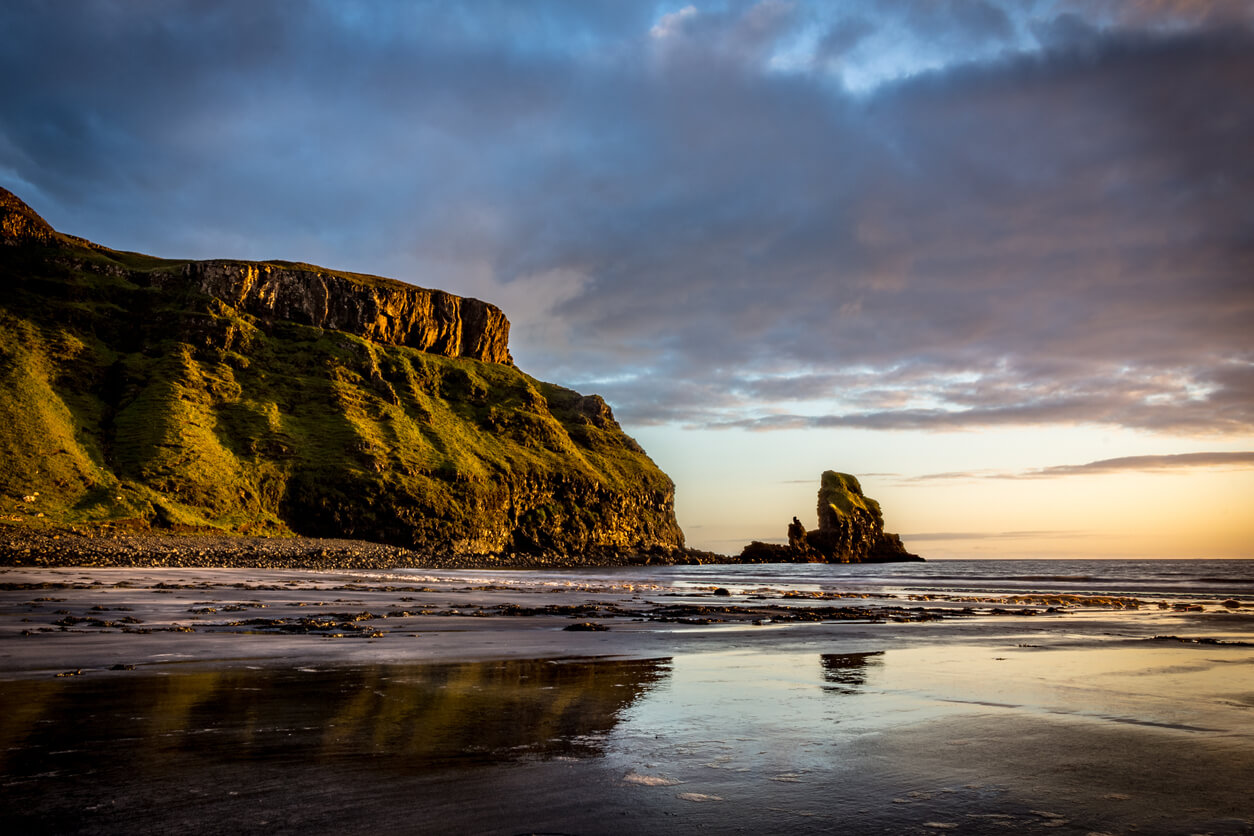 Yes, there are lots of beaches dotted around the entirety of the island.
Two more great west coast options are Talisker Bay and Glenbrittle Beach. Still, we also recommend Inver Bay, Armadale Bay Beach, and Portree Bay.
Because Skye is an island, it's packed with great beaches, cliffs, and shoreline wanders. If you like seas and sands, make sure you visit! For more information and inspiration, check out our guide to the 9 best beaches on the Isle of Skye.
Final Thoughts on Coral Beach
That's it—everything you need to know about Coral Beach on the Isle of Skye! Pack a picnic, squeeze into your swim shorts, and go explore one of the best Isle of Skye beaches.
If you're looking for more Isle of Skye articles like this one, check out our other guides:
Whatever you want to know about Skye, we have it right here on Budget Travel Plans. So stick around for much more.
Thanks for reading, you adventurous icon, and we'll see you next time!
🌍 Ready to Jet-Set on a Budget? ✈️

Maximize your savings with these travel essentials:

✈️ Sky-high Savings: Book budget-friendly flights with Skyscanner.
🏨 Rest Easy: Find the perfect accommodation on Booking.com or Hostelworld.
🛄 Travel Light: Store your luggage securely with Bounce.
📱 Stay Connected: Grab affordable eSIMs from Airalo or SimOptions.
🌄 Unforgettable Adventures: Find tours and experiences with GetYourGuide.
🛡️ Travel Worry-Free: Stay protected with travel insurance from SafetyWing!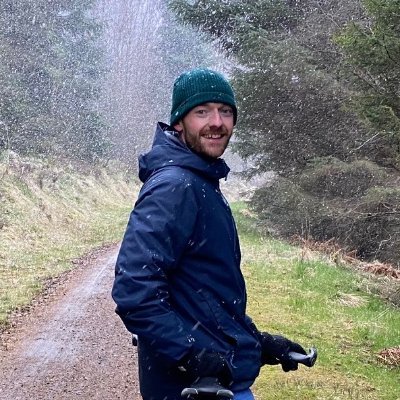 Paul McDougal is a handsome and hilarious travel writer originally from the UK. He likes hitchhiking, working remotely, and having absolutely no idea what's going on.