Last Updated: September 14, 2023
The Isle of Skye is one of my favourite places on the planet. I also love camping.
Put those two things together, and you get a handsome local genius who knows all of the best campsites on Skye (well, that's what I tell myself anyway).
In this helpful guide, I've brought you all of my favourites. I've listed the best 16 campsites on Skye, covering budget spots, higher-end options, and even places with camping pods. Then at the end, I've added a little information about wild camping (which is perfectly legal throughout Skye—exciting!).
I've separated my top 16 Skye campsites into three main regions:
Portree and the Trotternish peninsula: if your priority is exploring Portree, the Old Man of Storr, the Quiraing, and all the other stuff north of Portree, this is your best option. Staying here is also a good choice if you want lots of close-by conveniences.
Southern Skye: here, I've listed campsites in and around Broadford, Elgol and the Sleat peninsula. If you're mainly exploring southern Skye and the Cuillins, or if you're interested in Skye's most underrated areas, this is the spot for you.
Western Skye: in this region, you have Dunvegan, Dunvegan Castle, Neist Point Lighthouse, some great beaches including Coral Beach, lots of clifftop wanders, and a good compromise between remote and busy. There are fewer campsites here than in other parts of Skye.
Best Campsites on the Isle of Skye: Portree and the Trotternish Peninsula
Torvaig Caravan and Campsite
Torvaig Caravan and Campsite might not be the most luxurious campsite on Skye, but it's my favourite campsite on Skye. I LOVE staying here.
It's my favourite for lots of reasons—it's charming, basic and friendly, and it's perfect if you're looking for a cheap base in Portree. Tent pitches start from as little as £15 (what a bargain!), but they also have spots for caravans and campervans.
Just north of the town centre, this place feels way more rural than it really is, so it's a nice little escape from the (relatively!) busy bustle of Portree. If you want a good location and lots of conveniences without being surrounded by crowds, Torvaig is a perfect site.
It can get pretty windy, but so can most campsites.
Staffin Caravan and Camping Site
Much more rural than Torvaig, Staffin Caravan and Camping Site is (as you probably guessed!) located in Staffin, on the eastern side of the Trotternish peninsula.
The best thing about this place is its location. Within a short drive of the site, you have The Old Man of Storr, Lealt Falls, the Quiraing, Rubha Hunish and loads more. And if you don't have a car, the place offers bike hire, so you can quickly get around on two wheels.
For easily exploring the Trotternish peninsula, you won't find a better-located campsite than this.
Rates start at a mere £7 for a tent pitch, so it's a brilliant budget option. But if you decide you want a little more luxury, the place also has a couple of on-site cottages.
From the Staff

Guests book well in advance.

Our largest customer base is motorhomes both rental and privately owned. Booking is essential to secure a nights accomodation with electric hook up and all services we offer including complimentary wifi.

I'd advise anyone coming to Skye to book well ahead, including campers with tents.

– Ally & Norma from Staffin Caravan and Camping Site
Uig Bay Campsite
On the opposite side of the Trotternish peninsula, directly west of Staffin, you have Uig, a tiny little village (or hamlet, whatever that means). It's a really charming place, and it has just enough shops, restaurants and pubs to be a convenient base.
Uig Bay Campsite is just outside Uig's centre, right on the western shore of the Trotternish peninsula, so you get easy access to conveniences while still feeling really remote and rural. It's also easy to catch the Tarbert ferry from the campsite, so it's a good jumping-off point for further island adventures.
The site has lots of electric hookups and excellent on-site WiFi. And it's right next door to the Isle of Skye Brewery, where you can buy some tasty beers to slurp on in your tent (my favourite is Skye Black—it's all dark and malty and delicious).
Pitch prices are low, starting at around £7 per person.
Just like Staffin, Uig Bay Campsite has a couple of on-site cottages, perfect if you're tired of slumming it in canvas.
Camus More Campsite
If you like the type of campsites where you might meet no one but the people who own the place, you'll probably love Camus More. Perched right over a quiet stretch of beach, there aren't many relatively-unexplored areas in this part of Skye—but this is one of them.
The facilities are pretty barebones—there's no hot water, and there aren't many conveniences. But the staff are super friendly, the views are brilliant, the rates are low, and they also accept campers and campervans.
They're only open from May until September, and they only have 12 pitches.
Skye Glenhinisdal Camping And Caravan Site
Okay, I'm going to be honest—I've never been to this campsite, and I don't know much about the place.
But here's what I do know: it's very remote and not close to any significant settlements. It's not even on Google maps!
It's away from the Trotternish Loop's main roads, and there's basically nothing in the area except for a few houses. You won't stumble upon this place by mistake, so you're always going to be pretty isolated here.
Glenhinisdal has nine pitches, and they accept tents, caravans and campervans.
Best Campsites on the Isle of Skye: Southern Skye
Sligachan Camping
The tiny settlement of Sligachan is most famous for its cute little bridge, which has been photographed and Instagrammed more times than a Kardashian.
Just a short wander from the bridge, you have Sligachan Camping, a lovely little place to spend a few days.
In terms of location, it's arguably the best campsite on Skye. Ridiculously central, you're well-located for exploring all parts of the island—nothing you'll want to see will ever be more than a 1-hour drive away.
The site itself is great—spacious, pretty and welcoming, and close to a brilliant pub. They have lots of tent pitches and spots for caravans and campervans too.
Prices for pitches are around £8 per adult.
Glenbrittle Campsite & Cafe
South of Sligachan, you have Glenbrittle Campsite & Cafe.
Despite its rural location, it's one of Scotland's most popular campsites, and it regularly wins awards. And in terms of natural beauty and top-notch proximity to outdoor adventures, it's one of the best campsites on Skye.
If you want to hike, cycle, climb, take photographs, tackle boat trips to Loch Coruisk, explore other lovely lochs or visit the world-famous Fairy Pools, this is a brilliant place to base yourself.
The on-site cafe has fresh bread, fresh pastries and artisan coffee, perfect if you want to combine outdoor adventures with being a big ol' hipster.
The prices are steeper than most other Skye campsites (with fees at £11 per adult per night), and you won't get a phone signal. That said, if you're okay with those minor downfalls, this is one of the best campsites on Skye. In truth, Glenbrittle Campsite is probably one of the best campsites on the planet.
Lochside Caravan Site
Lochside Caravan Site is pretty hard to find because it doesn't come up on Google maps. But drive around 5 miles (8km) north of Broadford, and you'll find the place. It's in a tiny settlement called Strollamus, which sounds more like a Harry Potter spell than a village.
Once you find the site, you'll love it—it's small and charming, and you get great views of Loch na Cairidh and the tiny island of Scalpay. The place is owned and managed by the local community, and that's exactly how it feels.
Because the site is near Broadford, it's a good option for travellers who want decent proximity to lots of conveniences—Broadford is one of the best-equipped towns on Skye.
Quiet and relaxing, only adults are allowed here. It's basic and rudimentary, but that's part of the charm. Although it mainly caters to caravan users, it offers small pitches for tents too.
Ashaig Campsite
One of Skye's most famous and popular campsites, Ashaig is situated between Broadford and the bridge to the nearby mainland.
Because of that, it's perfectly located for exploring both southern Skye and the mainland hotspots of Plockton, Duirinish and Kyle of Lochalsh.
Ashaig Campsite is part of the UK's official Camping and Caravanning Club, so you need to be a member to stay here. If you aren't, you can quickly sign up here (they have more than 100 campsites across the UK, so it's definitely worth it).
The site is immaculate, the showers are warm, and the staff are friendly. It's more expensive than most (at around £12 per person per night), but it's a lovely place to stay and great for adventures in and around some of Skye's most underrated areas.
Camping Skye
This imaginatively-titled place is right in the heart of Broadford, perfect if you want a relatively rural adventure without having to forego helpful conveniences. It's especially great if you're travelling with kids—Broadford has plenty of places to eat and drink.
I really love this campsite—it's modern and comfortable (since it's one of the newest on Skye), but it's still gorgeous. The place has a communal barbecue area, excellent views, great laundry services, a sheltered area for campers, hairdryers, and plenty more handy stuff. There's also a great coffee shop, Cafe Shia, within walking distance.
Prices start at £11 a night. They have 26 tent pitches and 26 hard-standing pitches.
If you're the type of person who likes camping but also likes a bit of convenience and comfort, you should stay here. It's brilliant.
Skye Yurts
Skye Yurts isn't an actual campsite—but because Sleat is massively short on camping options, this is our top pick for the peninsula.
Right at the northern tip of the peninsula, it's well-located both for outdoor adventures heading south and accessing the easy conveniences of Broadford.
Here, you can get all warm and cozy in the three on-site yurts (or their one cute little cottage). It's like being a Mongolian goat herder, except on a Scottish island. Yurt prices start from £70 a night, and the biggest yurts fit up to 5 guests.
For homely, comfy and cozy, these are fantastic.
Reraig Caravan and Camping Site
Reraig Caravan and Camping Site is on the Scottish mainland just east of the Isle of Skye.
And I know that's not what you've Googled. But stick with me—the site is only 6 miles (9.5km) from the island, so it's a perfect base if you want to explore both the Isle of Skye and all the nearby mainland stuff.
And most importantly, the campsite itself is excellent—the owners are super friendly, the facilities are clean and modern (having recently been updated in 2021), the showers and toilets are some of the best I've ever seen on a campsite. Most importantly, the views out to Loch Alsh are amazing.
Again, this is another top pick for people who like camping without getting too rural and rudimentary.
Tent pitches start from £10 per night.
From the Staff

I would suggest booking at least 1-2 months in advance for peak summer season (June-August).

– James at Reraig Caravan and Camping Site
Best Campsites on the Isle of Skye: Western Skye
Kinloch Campsite
Kinloch Campsite is undoubtedly one of the best campsites on Skye. And because of that, it's hugely popular.
In the centre of Dunvegan, most people who want to camp in the west of Skye camp here. You can easily walk to shops, restaurants and pubs, and it's only a 30-minute wander to Dunvegan Castle, which is perfect if you don't have a car.
The place is perched over the shores of Loch Dunvegan, and the views from the site are breathtaking. The facilities are excellent, with sockets, free WiFi and a great laundry room. Prices start from around £11 per person.
Skye Camping and Caravanning Club Site
Like Ashaig Campsite, this place is an official Camping and Caravanning Club Site, so you must be a member to stay here. But if you're not, signing up is easy and cheap—again, you can do that here.
The facilities are clean and tidy, the staff are welcoming, and the place feels homely. I remember the showers being a little weak and cold, but that's the only negative.
They also offer camping pods and yurts if you're tired of sleeping in a tent.
Skye Camping and Caravanning Club Site is a good choice if you want to stay in a rural spot because it's around 9 miles (14.5km) east of Dunvegan and not near any other large settlements. So make sure you take some snacks!
It's also in a good location if you want to be halfway between western Skye's quiet attractions and eastern Skye's popular ones. For brilliant proximity to lots of great stuff, this is one of the best campsites in Skye.
Dunvegan Camping Pods
Okay, Dunvegan Camping Pods isn't technically a campsite. But if you're into camping, you might also be into this spot.
Here, instead of pitching up a tent, you can only stay in the on-site camping pods. They're all insulated, heated and super comfortable, even for people who don't usually like to camp. They're even more cozy and homely than your average camping pods, with great cooking facilities and a nice warm shower.
Cozy up with friends and family in a pod for just £100 per night. It's a pretty good deal, considering this glamping option comfortably sleeps 3 adults or 2 adults and 2 children.
The pods are right in the middle of Dunvegan, perfect if you want close proximity to lots of conveniences.
Because they're so comfortable and convenient, these pods are very popular for family stays.
From the Staff

Like all of Skye the sooner people book the better. We'ree already well booked for next year.

– John from Dunvegan Camping Pods
You can check availability and book Dunvegan Camping Pods online here.
Skye Eco Bells Glamping
Skye Eco Bells Glamping isn't a proper campsite either. Instead, it's a lovely little glamping spot that looks more like a hobbit village than a proper accommodation.
Probably the most unusual pick on our list, the place has three cozy cabins along with a cute little bell tent. They're all welcoming and comfy, and they're in a massively-underrated part of Skye. They're situated in Orbost, a great place for heading west in pursuit of clifftop walks, sea views, hidden lochs, and endless uninhabited landscapes.
If you want the comfort of glamping along with the isolation of a rural pocket of Skye, this place is brilliant.
You can check availability and book Skye Eco Bells Glamping online here.
Wild Camping on Skye
If you don't want to stay on an official campsite, wild camping is completely legal on Skye, across the entire island. For a proper outdoor adventure, wild camping is loads of fun.
Because of Scotland's 'right to roam' act, you can basically pitch up a tent wherever you like in the nation (assuming it's not someone's garden or whatever).
Some of my favourite wild camping spots in Skye are Aird of Sleat, the remote little lump of land west of Dunvegan, and the island of Raasay. But anywhere can be great—if it looks good, pitch up your tent, and you'll have a lovely time.
Midges on Skye
Before we finish this one up, here's one more handy slice of info for camping on Skye: in Scotland, summer brings endless numbers of midges (tiny little flies that love buzzing around your head, biting you, and making your life horrendously miserable).
Honestly, if you've never before endured midges, you've got no idea how annoying they can be.
The only way to completely avoid them is by visiting Scotland outside of midge season (which is usually from May until September). But if you're camping, you'll probably be travelling in this season. And if you're camping, you're way more vulnerable to midges than your average traveller.
So when you're camping on Skye, make sure you buy a midge head net, take some midge spray, and follow other midge-dodging tips.
Final Thoughts
That's everything you need to know about the best campsites in Skye. Thanks for reading!
If you've decided the tent life isn't for you, check out our bumper guide on where to stay on Skye (which includes hostels, hotels, and everything in between).
Or for more general information, wander over to our articles on the Fairy Glen, the best time to visit the Isle of Skye, all the things you can do there, and why you should visit for (at least!) 5 days.
So get booked up, get yourself to Skye, and have one of the best vacations of your life.
See you next time!
🌍 Ready to Jet-Set on a Budget? ✈️

Maximize your savings with these travel essentials:

✈️ Sky-high Savings: Book budget-friendly flights with Skyscanner.
🏨 Rest Easy: Find the perfect accommodation on Booking.com or Hostelworld.
🛄 Travel Light: Store your luggage securely with Bounce.
📱 Stay Connected: Grab affordable eSIMs from Airalo or SimOptions.
🌄 Unforgettable Adventures: Find tours and experiences with GetYourGuide.
🛡️ Travel Worry-Free: Stay protected with travel insurance from SafetyWing!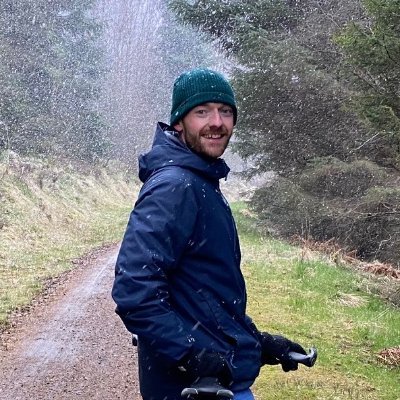 Paul McDougal is a handsome and hilarious travel writer originally from the UK. He likes hitchhiking, working remotely, and having absolutely no idea what's going on.